The UK government has undergone a significant shake-up in personnel.
One surprise move has spooked the markets. The unexpected change of chancellor of the exchequer suggests the UK could be about to ramp up its spending plans.
The UK economy could do with a boost to its GDP, but government borrowing is a double-edged sword with implications for the UK currency and equity markets.
UK prime minister Boris Johnson's reshuffle of his management team has been in the diary for some time, but some of the moves have surprised the markets. The change in personnel at the UK Treasury looks set to bring about a change in economic and financial direction. Key elements of government policy and public spending, and possibly more, importantly public, borrowing looks set to take a new direction.
UK equities started Thursday in negative territory as global analysts tried to decipher newly released data coming out of China, which had caused many to revaluate the potential for more bad news. Adding to the downward pressure was the announcement made soon after the open that Johnson had relieved current chancellor of the exchequer Sajid Javid of his position as the second most powerful person in the UK government.
UK100 – 1Hour Candles — 10th February–13th February:

Javid now holds the unwelcome title of second shortest serving chancellor since World War II. His 204 days in the post came to an end on Thursday when presented with the option of resigning or forsaking his existing team of advisors. The prime minister's proposal to have a team answering to number 10 as well as number 11 Downing Street was a compromise too far for Javid who has since been replaced by Rishi Sunak.
A new direction? 
Markets don't like uncertainty and Javid may on a personal level be even less fond of it right now. Faisal Islam, Economics editor of BBC News, reported of Javid's demise:
"He [Javid] had been reassured of his future in post, when I spoke to him 48 hours ago. He was planning not just the Budget, but also a Spending Review, and a finance white paper involving negotiations with the EU over the ongoing access of UK finance to the EU."
Source: BBC News
Long term planning is now no longer his responsibility. Islam continued:
"His [Javid's] team had signalled the Budget was going to be a significant new chapter in UK economic policy. The first Budget of this government and its healthy majority, able to plan its own long term strategy."
Source: BBC News
For the financial markets, this could reflect more than a game of political musical chairs. The current Conservative government has a resounding majority. With power bordering on absolute, there is scope for wide-ranging changes to the role of government and if, or possibly more accurately, how, it implements its expansionary policies.
GBPUSD — one-hour candles —10th February–13th February:

EURGBP — one-hour candles — 10th February–13th February:

The dilemma facing the new chancellor is how to match the public spending programme with limited resources. Capital expenditure on projects designed to 'level up' the nation's economic welfare should benefit firms involved in implementing the plans. All UK firms, even those fortunate to be involved in the new programmes, will remain aware that the financing of public expenditure requires an increase in taxation, a reduction in other spending or an increase in government borrowing. The immediate market reaction was that the yield on 10-year government paper hit its highest level since 23rd January this year, at 0.630%.
Current budget 
The buzz word to look out for in the coming days is the so-called 'current budget'. The December 2019 general election included so many spending proposals by all parties that the Conservatives felt a need to differentiate themselves from more profligate policies of their rivals. At that time, Johnson sided with Javid and the current budget was included in government plans. The sensible enough fiscal rule differentiates between one-off investments and on-going running costs. The capital expenditure on grand schemes would be ring-fenced from the rest of the Treasury's accounts. To prevent a free-for-all, there would be a requirement for day-to-day spending to be balanced to public revenues. Before Thursday's events, the government had already abandoned proposed corporation tax rate cuts, which had been due to come into effect in April. With the change of personnel, this may be about to change.
Rising star
Rishi Sunak is a rising star of the Conservative party. His career history prior to his time in politics includes a spell at Goldman Sachs, the high profile hedge fund The Children's Investment Fund Management and even a stint as a founding partner of a start-up hedged fund called Theleme Partners, which had a day one AUM of $700m.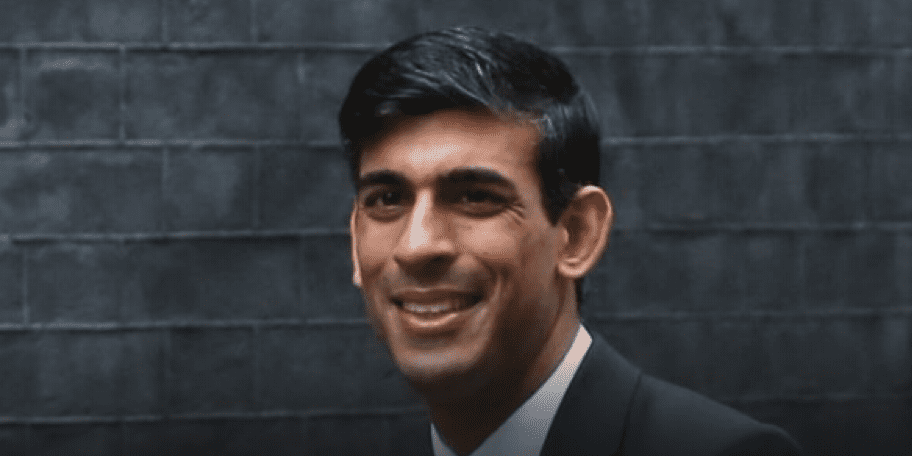 How Sunak's profile fits in with the prime minister's plans is yet to be seen. It is to Sunak's advantage that to lose two chancellors in quick succession would be extremely damaging for the prime minister. Johnson is already finding that, following his radical move, there is consternation even within his own party. Former minister David Gauke tweeted:
"The credibility of the Chancellor & the Treasury matters to this country. It is the Treasury that has to ask the bothersome questions (like "how are we going to afford this?", "is this good value for money?" & "does this make us more or less prosperous?") that can annoy No 10."
Source: Twitter
Balancing the books  
It's not unusual for the two offices at the head of the UK government system to clash. The current budget issue reflects the detail that the Treasury officials have to consider. Partitioning off the initial outlay on new hospitals (40 are planned) is one thing, but once completed, the costs of operating them falls into the 'current budget' column. The outlay is immediate, but the revenue stream is accrued over the long-term. This conundrum comes at a time when current account spending is already moving further into the red.
Average of independent forecasts for Current Account 2019–20: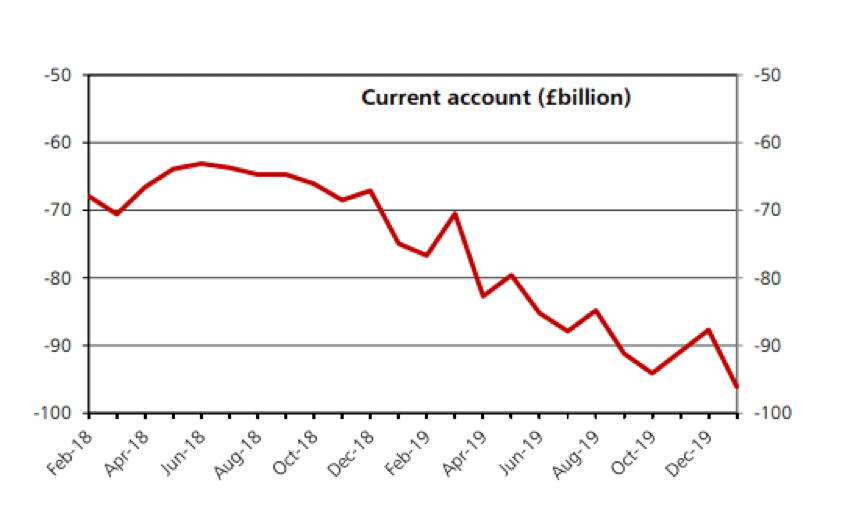 Borrowing 
If shortfalls are to be met through increased public borrowing, this could ultimately lead to higher interest rates. Sterling would strengthen as a result. On the other hand, UK equities might appear less attractive. Not only would there be increased borrowing costs for UK corporations, but the FTSE 100 includes so many firms with considerable foreign revenue streams that it thrives on a weaker pound.
Treasury borrowing forecasts have already been rising. Thursday's news can act as a warning that borrowing levels may exceed current predictions.
Average of independent forecasts for Public Sector Net Borrowing, 2019–20:
Average of independent forecasts for Public Sector Net Borrowing, 2020–21: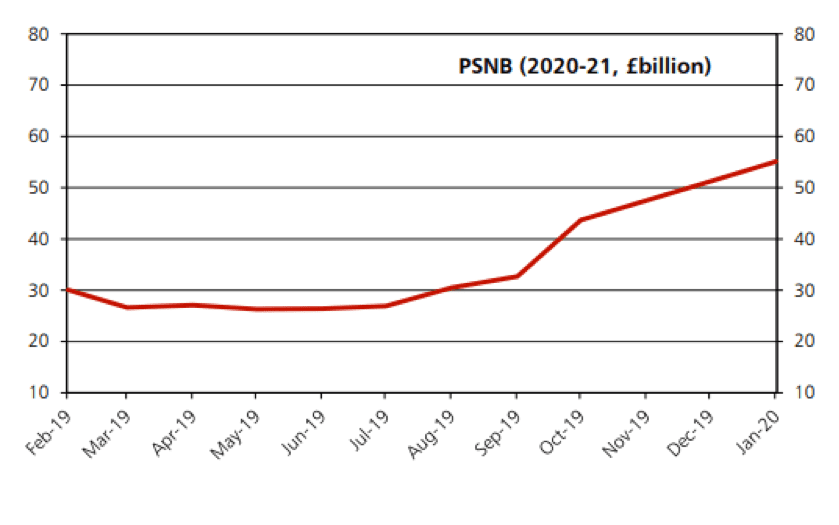 References to 'current budget' should be carefully considered. If the term drops completely out of use, then that might be a sign that the free-for-all is about to kick in. If that is the case, then even those firms that win lucrative contracts will also be exposed to the macro risks associated with rising interest rates. The market moves of Thursday, FTSE weakness and sterling strength suggest some are already reading between the lines as to how this plays out. Paul Dales chief UK economist at Capital Economics was speaking to CNBC when he said:
"We already thought that the Budget on 11th March would involve an extra loosening in fiscal policy worth 0.5% of GDP, which coming on top of the extra government spending announced in September 2019 would mean a fiscal boost of 1.0% is in the pipeline. It's now possible that the Budget will provide a bigger bang."
Source: CNBC