It's the season to load up the car with the kids and head out on the road for a family get together, and as soon as you start your journey, the cry from the backseat is, "Are we there yet?" Such are the utterings of the Bitcoin faithful of late, as the premier digital asset in Crypto-Land makes it best effort in over a week to form a bottom. For the first half of today's trading activity, BTC fell below $7,000 and was playing tag with $6,500, when suddenly, the bulls entered stage left. Bitcoin bolted to $7,170 for relief.
Will this station for "relief" hold or is this just one more head fake before another dive to the lower or even lower depths? Believe it or not, quite a few analysts are seeing signs of life again, no more flat lining screens, no more bears howling all through the night, if this recent mini-surge is to be believed. The slight move to the north was sudden enough to assume that new buyers showed up, after eight days when none could be found, but let's take it one day at a time, before we get too over confident.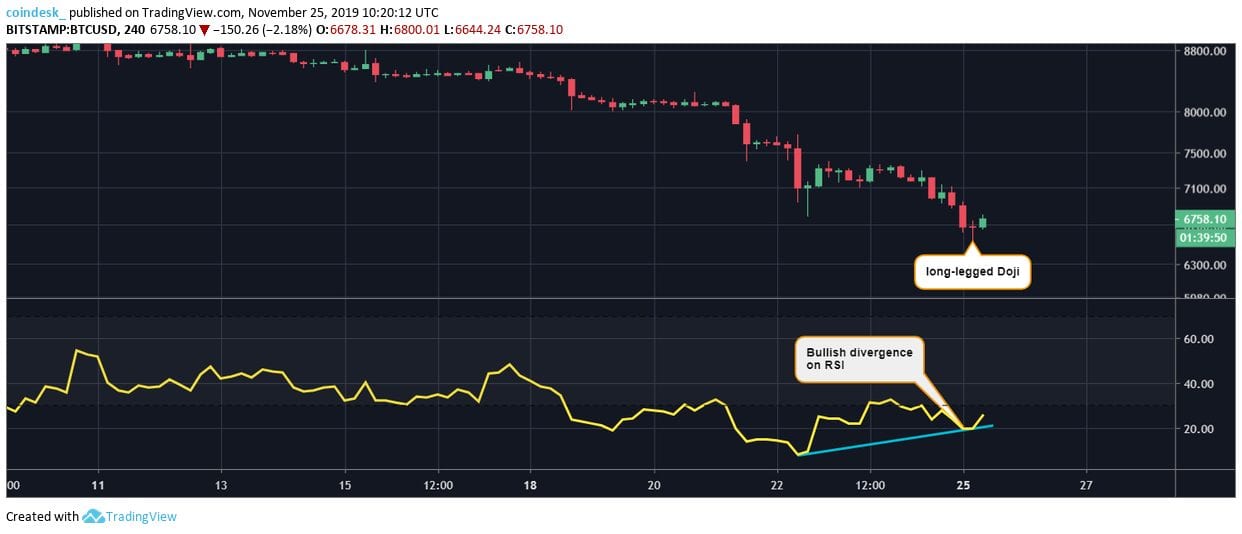 This 4-Hour chart, courtesy of CoinDesk, provides the cause for so much optimism amongst the Bitcoin faithful, after eight gloomy days in November. The Relative Strength Index (RSI) has hit bottom in oversold territory and managed to rise above it, while tracking a positive slope. Combine this one fact with the "Long-legged Doji" candlestick, and you now have two indications that a reversal is imminent.
Is it time to celebrate and pop corks? Sadly, no. Bitcoin has a history of "head faking" and not taking too seriously even the most convincing of technical imperatives. Having repeated that truism, the amazing takeaway for the past week or so is that BTC followed the technical tealeaves to the letter, refusing to deviate and act in a contrary manner.
Analysts are still scratching their collective heads to pinpoint the exact reasons for this surprising price behavior of late. The only general consensus is that there was not a single trigger that started the shedding of nearly $4,000 in gains, if you measure the fall from $10,500 down to $6,500. If there had to be a single cause, then it is that everyone overreacted to President Xi's remarks in China and misread his true intent. The gains that followed that special Friday have since disappeared.
There are a host of other reasons that have been proffered, as well, many of which sound as plausible as any of the others. Here is a partial list:
BTC's safe haven capital returned to a "risk-on" market;
Whales are forcing weak hands from the market before the halving surge commences;
BitMEX exchange accused of dumping on the market;
Confidence shaken when $7,000 psychological level came into play;
Whatever the true reason or reasons, Jeff Dorman, chief investment officer of Arca, told CNBC: "This was one of the worst weeks in the history of digital assets. The market is clearly in contraction, with no new money coming in to soak up the supply."
But many analysts have continued to look long term and claim that everything happening now is right on course, as illustrated by this monthly chart: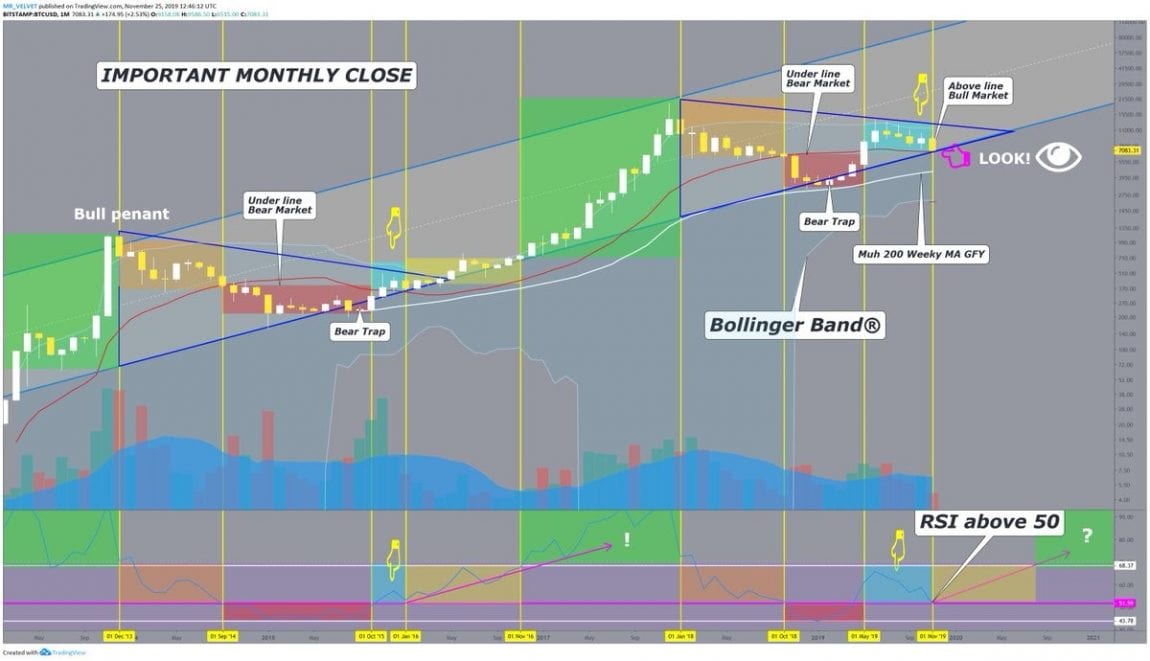 This presentation comes from a "Mr. Velvet", a popular analyst and trader on social media. The depiction certainly has a natural beauty and symmetry about it, as it telegraphs two major "Pennant" formations over time. The future seems to be spoken for, but let's not forget the contrariness of Bitcoin and how it likes to march to the beat of its own internal drummer.
And then we have George McDonaugh, managing director and co-founder of publicly listed cryptocurrency and blockchain investment firm KR1, who told CoinDesk: "We essentially went from $5,000 dollars to $13,500 in 3 months and now, like the swing of a pendulum, the market wants to know where the bottom is again. In my opinion, we are in the early stages of a bull market, you'll see that the bottom this time around is much higher than $5,000. We will find higher lows all the way back to all-time highs."
As for this time of year, John Bollinger, the creator of those famous "bands" that include his name, speaks words of wisdom and good cheer, when he told U.Today that he sees a Bitcoin bottom forming: "Turkey week bottom in crypto space? The setup is looking good. $BTCUSD." Can we pop the corks now? If we are there yet, then be my guest.