Bitcoin has found a rhythm – every 24 hours, step it down another $100. The progress may not be in the direction that "hodlers" might want, unless you prefer to short, but the action has been consistent. Volatility has waned, as well, and as everyone knows, when the Bollinger Bands tighten for Bitcoin, it tends to explode in one direction or another.
Guessing at that direction might be fool's play at the moment, if you are waiting on the sidelines and trying to decide when to jump back into the market. A recent study released by researchers at Binance suggests that "hodling" might be he best course to follow, the reason being that Bitcoin gains tend to take place on a few selected days out of a year. In other words, if you are not in, you may not win. The report received mixed opinions from traders in the audience, many noting the ability to short, as a way to make up the differences and to then actually come out ahead.
Most analysts are settled on a "bearish" take over this weekend, not venturing too far away from the present narrative that points south before an upward surge can be possible. There are optimists, however, and they hang their hopes on this chart, courtesy of CCN: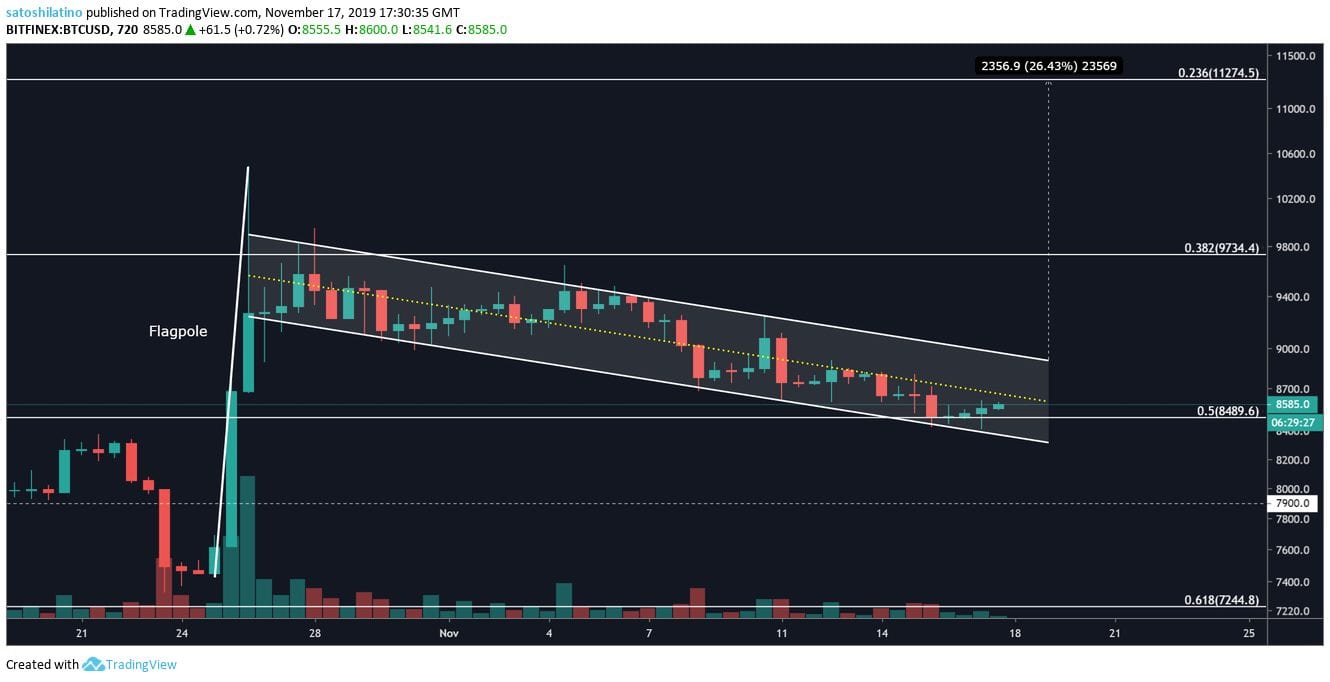 First take this quick quiz to help us find the best path for you
Less than 1 min to do
For many observers, they can only see a declining channel to nowhere, other than more down, but for the optimists in the crowd, it surely looks like a "Pennant and Flagpole", formation, also known as a "continuation" pattern, which means it only signifies a brief consolidation phase before the "Flagpole" trend continues. This 12-hour chart depicts this subtle view better than on other time frames. The height of the pole also suggests a surge toward $11,300, if previous reactions are any indication about what could happen.
There is also another group of "well-wishers" that look at the daily version of the BTC chart and see a well-defined "Falling Wedge" pattern. Ethereum World News points out: "According to the technical analysis site "The Pattern Site," legendary chartist Tom Bulkowski's studies have found that falling wedges break upward 68% of the time, and break upward by an average of 38%. For some context, a 38% jump from current prices would bring Bitcoin near $11,000."
There are several other weekend musings worthy of your consideration. Here is a brief review of the more notable ones:
Carl "The Moon", a popular analyst on social media: "Bitcoin may be providing investors with an opportunity for some price upside. The technicals are actually favoring bulls, not bears. There is more money on the short side of BitMEX than long, the cryptocurrency has just hit the 61.8% Fibonacci golden retracement level, and BTC is in the midst of a bullish falling wedge pattern — marked by tightening price action and falling price action."
Nick Pelecanos, Advisor to NEM Ventures: "Currently Bitcoin appears to be struggling to stay above its support, however it is showing some bullish divergences so I'd expect a rally in the short term. In terms of a trading plan, nothing has changed since last week. Those taking short positions are expecting the break of support and a roughly 20% fall, while long positions are awaiting the break of Ichimoku resistance."
Wayne Chen, CEO of Interlapse Technologies: "Bitcoin will continue to have its swings as we move towards the end of 2019. The entire market has been showing more activity, but I think the price will continue dancing up and down. We can expect some big price fluctuations in early 2020 until the Bitcoin halvening event in May. After the halvening, Bitcoin should be bullish and have significant price climbs when compared to historic halvening events."
Tone Vays, former VP at JP Morgan: "Assuming the price of bitcoin does not move at all in the upcoming hours before the week ends, the current weekly candlestick would likely close near the lows. Under this scenario, the only thing that I would expect for next week is that bitcoin is going to go lower. If bitcoin indeed goes lower next week, there is going to be reasonable support around $7,200. This price level is supported by the 50-week moving average and the 61.8% Fibonacci retracement level."
We are now mid-way into November, a month that has been favorable for Bitcoin, if you ignore last year when it suddenly dropped off a cliff. We are still in a long and protracted ranging period of price behavior. The near-term price bumps are difficult to predict with any timing certainty, but the general long-term narrative is that Bitcoin will go up. If you believe in the research from Binance, a "Buy-and-Hold" strategy may pay off in the end, and, if analysts are correct, you might get one more chance to gobble up bargains.