Bitcoin continues to disappoint its loyal fanbase. It has now been 25 days of gradual and steady deterioration of the gains posted on that awe-inspiring two-day period that incorporated President Xi's endorsement of blockchain technology. As a point in fact, 75% of the gains registered back in late October have been given back o the market. Somewhere in the crypto ecosphere, there are professional shorters with smirking grins on their faces. It has been easy money from their perspective.
As a result, the analyst community has turned sour, especially over the last 24 hours. Where there had been the good, the bad, and the ugly, there is very little "good" to be found in near-term projections, except for an acknowledgement that the long-term view is still one that includes 5- and 6-figure valuations. When prices threaten to descend below $8,000, the profitability of miners suddenly takes center stage. Bitcoin is presently hovering around $8,050, slightly above the level where some miners will begin to feel the pinch, depending on the age of their "rigs" and their operating cost environment.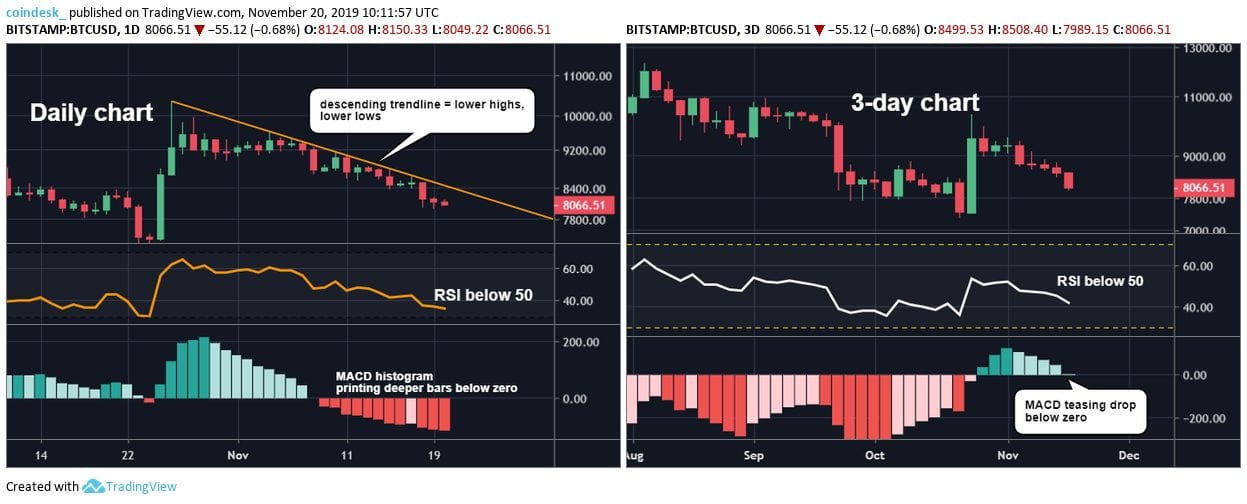 The accompanying daily and 3-day charts, provided courtesy of Coindesk, both display rather bearish conditions. We could explain recent declines as nothing more than a "risk-on" reaction of global financial markets. Fed policy announcements are accommodating. Trade talks with China appear to be heading to a favorable conclusion, although this expectation could easily reverse at a moment's notice. Chinese capital in "safe havens" has been returning to the market, and the S&P 500 index has hit a new record high.
Per the analyst's at Coindesk: "The S&P 500 index rose to a record high of 3127.6 on Tuesday, having found acceptance above the psychological resistance of $3,000 last week. Notably, the index has rallied for six straight weeks, possibly in response to the Federal Reserve's expansion of its balance sheet… Looking forward, the S&P 500 may trim recent gains in the short term, courtesy of renewed China-U.S. political tensions."
Tom Lee at Fundstrat has often proffered that so goes the S&P 500, so goes Bitcoin, but this correlation has more to do with potential gains down the road, not an immediate response to current movements. The current movements that do concern crypto analysts at the moment, however, have more to do with how the mining community may react in the near term. Reporters at the Bitcoinist contacted two such concerned analysts and received this feedback:
Twitter analyst Bitcoin Jack (BJ) believes a mining selloff could push Bitcoin down to as low as $4,200, a shockwave for sure. He tweeted: "If $BTC loses $7880 on the daily, price will trade to 5950-6666 and bounce towards $7200-7700… Here it will be 50/50 scenario A/B… A: Bitcoin bottoms in Q4 2019 near $6K… B: Bitcoin will bottom in Q1 2020 between $4.2K and $5.2K." He does provide a glimmer of long-term hope: "Miners will slowly start to capitulate and large transactions will be recorded on chain as capitulation happens, these will be large OTC deals being finalized. Shorts will close and the start of the next bull run becomes fact, targeting prices well beyond $200K."
Cryptocurrency analyst Cole Garner warns that small mining rigs, the ones with higher operating cost demographics, are already pulling the plug to wait out the lower price dips in BTC valuations. He focuses on technical measures in the mining sector and senses that today's small "stream" may soon turn into a selloff "torrent": "Hash ribbons is on the brink of inversion. That's news you never want to hear. Inversion signals a downturn in hashrate. It's a leading indicator of miner capitulation. $BTC is dangling on the edge of a cliff."
Is Bitcoin really "on the edge of a cliff"? We have not seen the $6,000 level since last May. As for $4,200 in early 2020, we would have to go back to March for such a figure. It seems incomprehensible that Bitcoin could relinquish its 2019 gains before next year's halving event, but so goes the latest negativism in Crypto-Land.
Two time-honored investment phrases come to mind. First, when the bulls are nowhere to be found, it is time to short the market. And secondly, the best time to buy a security is when there is blood in the streets. It is safe to say that a $4,200 BTC price would result in very bloody streets, if you buy into these current concerns. You be the judge.