First the good news – $7,400 is a whole lot better than $6,500 or lower. Yes, Bitcoin did recover nicely, right on cue, when nearly everyone had given up hope. Bulls did come to the rescue last Sunday, a week ago, pushing Bitcoin up off the canvas and staging a rally of sorts, all the way up to nearly $7,800, when the steam ran out. It slowly fell backwards, closing out the month of November with roughly a 25% loss, but it never looked below $6,500, a new rock bottom of support, if it were.
We are now into December, starting with a $40 loss, but eyes are now focused on yearend and what the possible close could be for the year. If BTC can maintain $7,400 for the rest of the month, then it would record an impressive "2X" multiple for the year, having risen from an ending value for 2018 of $3,692. When faced with this rather simple proposition, however, analysts are reticent to confirm it as a valid target, citing concerns over the recent decline in volumes, as a harbinger of more declines to come.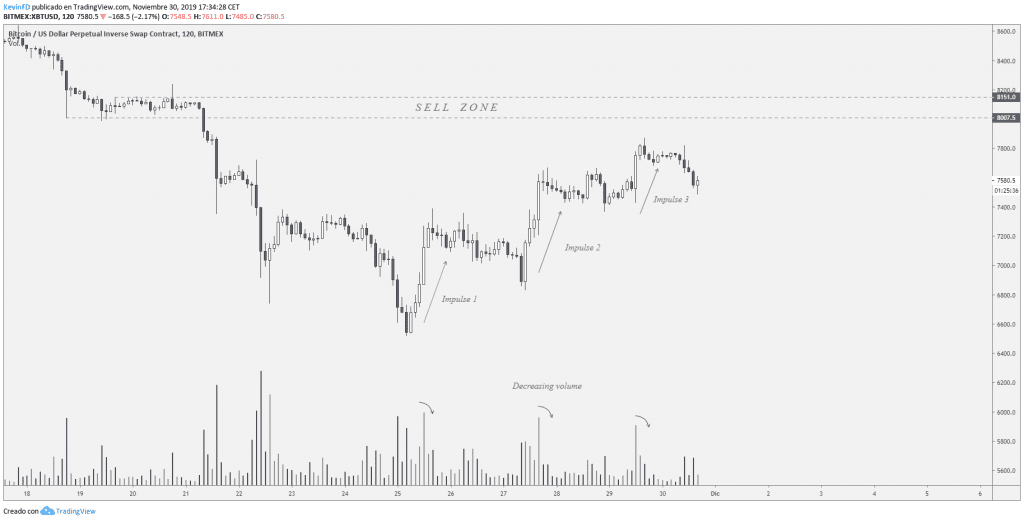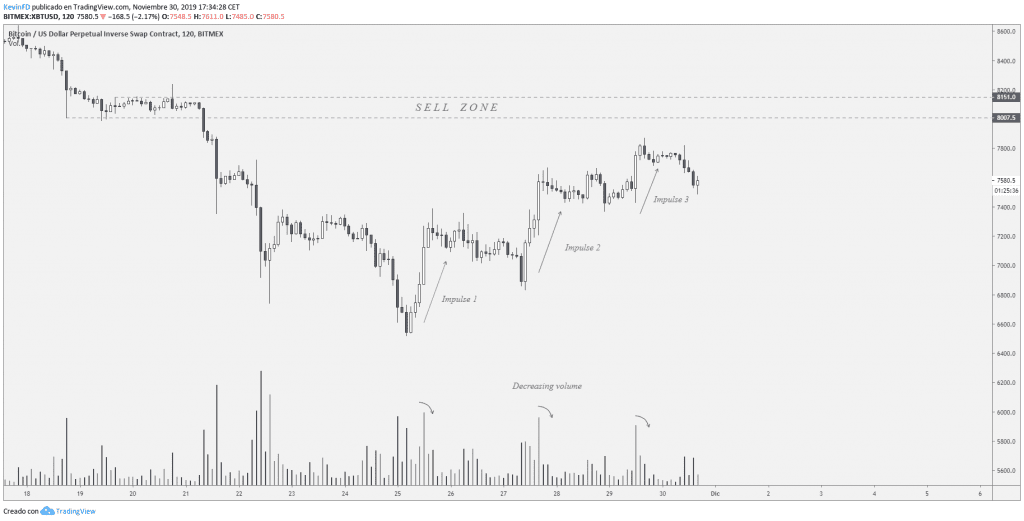 This daily chart, courtesy of The Daily Hodl, illustrates the cause for worry. Elliott Wave theorists would jump all over this chart, as a perfect display of a traditional 5-legged impulse wave. If we follow the typical textbook case, then the impulse wave would be followed by a corrective A-B-C continuation, with the "C" leg dipping down below $7,400, or thereabouts. The lack of volume follow through for each succeeding impulse phase is the disconcerting part of the chart. Declining volumes indicate bulls are losing control.
Josh Rager, a well respected trader and analyst with a 60,000 following on Twitter, warned his loyal fans not to be taken in by recent upward action: "BTC looks like a reversal with this follow through break down. High time frames don't look great. Traders keep trading and hodlers keeping hodling – if navigating the Bitcoin market were easy everyone would be here. Enjoy the ride and learn along the way… Remember, the overall trend has been down, though price can't move straight down and this relief was needed short term."
Not everyone is expecting to see more blood in the streets. There are a goodly number of analysts that have focused on the daily chart and what it portends, rather than cast a gaze at weekly and monthly versions, which do paint a sadder picture, per Mr. Rager. But lagging indicators are just that – they do not reflect recent positive price behavior. On the daily chart, the Moving Average Divergence Convergence (MACD) indicator is just about to cross over into positive territory, always a good sign.
And then we have CME futures. The last Friday in November has come and gone without incident. In the past, the Bitcoin market has fallen as the expiry date for the month approached. On this occasion, the CME futures were closing at $7,700, when the market had fallen to $7,300. Followers of these market suggest that this "gap" must be filled in short order, thereby implying that we might see a slight gain in the week ahead.
The Relative Strength Index Indicator (RSI) is finally moving out of an oversold condition and sending a "Buy" signal for anyone willing to take the risk. Lastly, we have the Chaikin Money Flow (CMF) indicator, which takes a more refined look at the MACD. CryptoThies, another popular analyst, tweeted to his fan base: "$BTC CMF suggesting that smart money is just now flowing into the market & trending upwards."
And so, we start a new week with a mixed bag of cautious predictions for the seven days ahead. Technical barometers, depending upon which timeframe you judge as relevant, seem to point in both directions, up and down. Sounds like a state of ambivalence – having mixed feelings or contradictory ideas about something – is upon us. Your guess is as good as theirs.