Bitcoin is closing in on another day, week, month, quarter, and yearend data point, a quintet of "sirens" calling its name to leap to higher territory, and it is doing just that. In the past 24-hour period, BTC has climbed slowly from $7,300 to just below $7,500. If truth be known, this mini-Santa rally began on Christmas Day at $7,200, pushed through heavy resistance at $7,450, but has since receded to $7,443. This sign of willfulness has also emboldened a subset of analysts to purport that a "rip your face off rally" will follow.
There have been no less than seven crypto "aficionados", who must have woken on Christmas morn with sugar plum fairies dancing in their heads, claiming that Bitcoin was displaying very positive signs of good things to come. I use "good" conservatively, since some of these "dreams" are off the chart. It may be that a few of these fellows had too much time on their hands. At times like those, analysts tend to search for the "arcane", that one strange indicator, which no one else has found, but which holds the keys to the Bitcoin treasure chest.
Before we visit these New Year predictions, let's start with a chart, courtesy of Cryptoslate: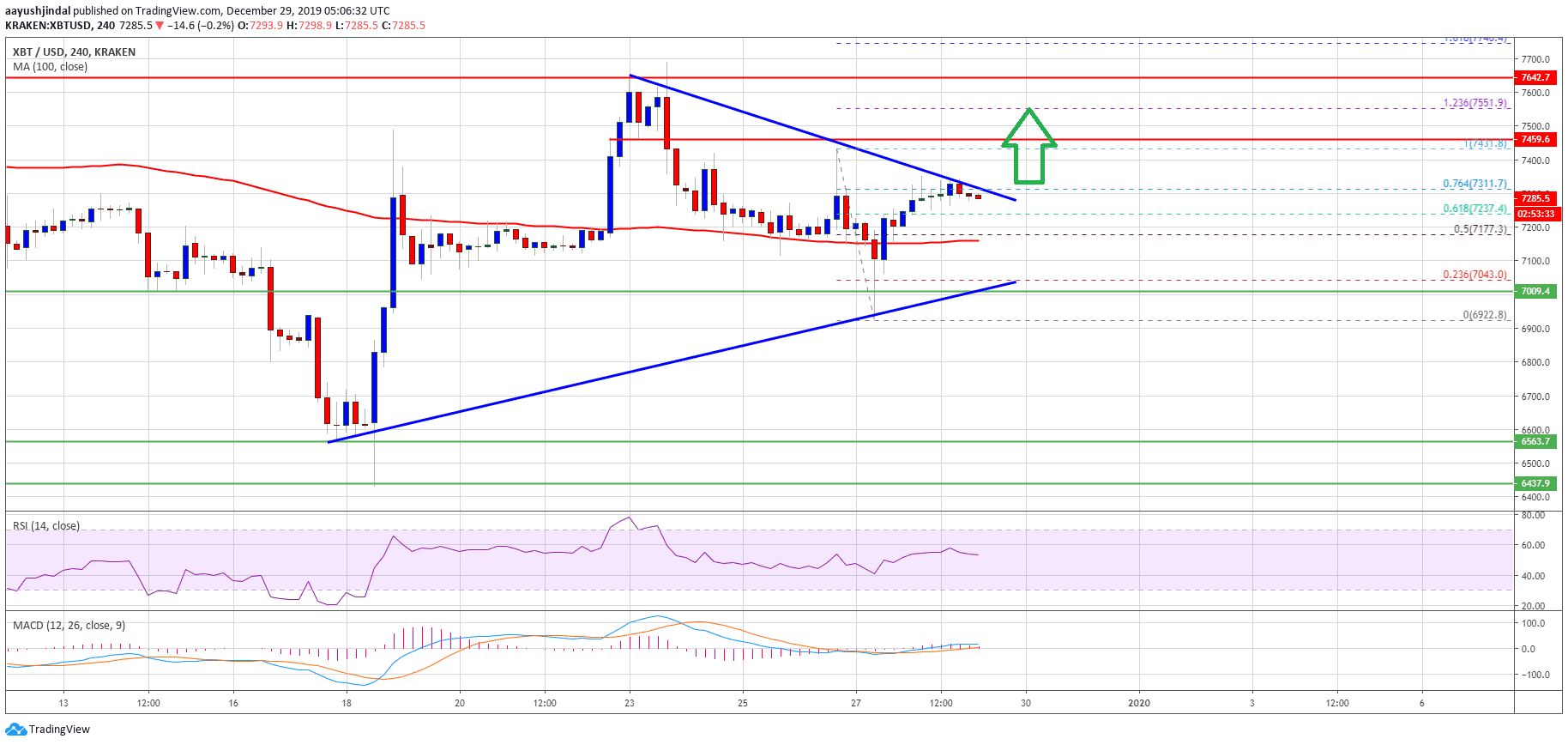 The 4-Hour version of Bitcoin's price behavior is very supportive of an imminent rally, although the skeptics in the crowd would pull up the Daily chart, which is more negative. In any event, BTC did bounce off its 100-period moving average and appears to be considering a push through the upper boundary of this converging triangle, highlighted in blue. The MACD Histogram is also printing positive scores.
It is amazing how just a little bit of "fresh air" in Bitcoin's sails can rally the troops to push on, when all was naught a few days back. The skeptics have not disappeared. Many are still prognosticating a drop of 20% or more, before any progress can be made. Their forecasts have six months of steadily declining price behavior to back up their dour beliefs of the weeks ahead, but here are six analysts that have ignored them:
Hodlonaut, a prominent Bitcoin proponent and commentator: "The kind of sentiment doldrums we are in now… People seemingly accepting that 7k is fair value… Dozens of bull narratives proven wrong… Fatigue high, hype low… Is exactly the type of place where it would be trademark Bitcoin character to start a rip your face off rally";
Crypt0mer, full-time cryptocurrency trader: He observed an "extremely positive" sign on Bitcoin's weekly chart – "The one-week Klinger Oscillator, which tracks volume and price to determine trends, has printed a buy for the first time since February 2019, when BTC was trading around $3,700."
Scott Melker, also known as the Wolf of All Streets: He observed a positive sign on Bitcoin's weekly chart – A "massive bullish divergence in oversold territory on Stochastic Relative Strength Index."
Willy Woo, a partner at crypto fund Adaptive Capital: "BTC is in the midst of a "re-accumulation" phase of bull markets that always proceeds the blow-off top rally, one that brings Bitcoin an order of magnitude or two higher than where it started."
Su Zhu, CEO of Three Arrows Capital: "BTC/USDT premiums and price action show clear signs of accumulation and money flow back into risk. Would not surprise me to see 9K+ before end of Jan."
DonAlt, a cryptocurrency technical analyst: "Still on track, still looks like we'll visit range high. Long squeeze into short squeeze has been the name of the game in the 2nd half of 2019, no reason to expect that to change."
Reporters at NewsBTC and Cryptoslate delved deep to find these opinions, but the "prize" of the day has to go to NewsBTC for finding one fellow that flies beneath the crypto radar screen, but who thinks he has found the "Holy Grail" of all indicators. His name is Charles Edwards, a crypto analyst on Twitter, and he is a believer in what he calls the "Bitcoin Price Chart Hash Ribbons" tool.
We do not know much about Mr. Edwards' "hash ribbons" tool, but we are told that it is "an oscillator based on Bitcoin miners and designed to help analysts understand when this specific subset of sellers is creating additional sell pressure on the market". It has predicted successfully when miners might be "capitulating", i.e., selling BTC stashes in order to cover operating expenses. We are also told that it is just as effective in the other direction by signaling a "Buy" sign for Bitcoin, when appropriate.
According to Mr. Edwards: "This is just the 10th time these conditions have been met for #Bitcoin. It is highly likely we never see $BTC under $6000 ever again. All other occasions saw an average gain-to-cycle-peak of +5000%. Now is the period to Buy Bitcoin and never sell."
Do you want to know when the last "Buy" signal came about? It was last year at this time, when Bitcoin was forming its bottom around $3,130. We know what happened after that favorable posting. Edwards, a fan of Warren Buffett, actually offered up one of his favorite quotes: "Always be fearful when others are greedy and to be greedy when others are fearful." Is it time to be greedy? Use your best judgment, and Happy Holidays!