Bitcoin has continued to step down in an orderly fashion, if $100 a day for the past six days fits that definition. It currently rests at $8,167 and shows no signs of changing its attitude or altitude for that matter, other than more down. Analysts, even the overly optimistic ones, are now growing grimmer with each passing day. The "Chinese Connection" effect seems also to be on the wane, as the Yuan improves versus the USD from October forward. For some, the advent of "Altcoin Season" may be at hand.
Yes, when Bitcoin runs into difficulty, the immediate reaction of the crypto faithful is that the leader of the pack may be losing its domination hold on the market. That statistic now stands at a mere 66%, a rather dramatic change from the lofty figure of 71%, just notched in late September. At that time, articles were flooding the market about the imminent demise of 99% of the altcoin programs, easily over 4,300 in number, if the tokens listed on CoinMarketCap.com are any indication.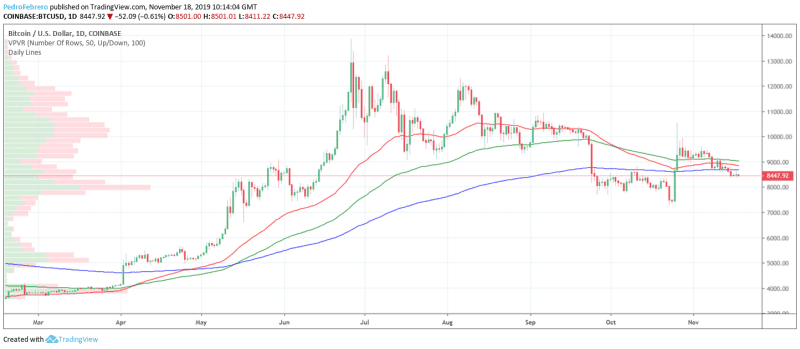 If we look back to the glory days in late September on this chart from Yahoo!, it is easy to see that Bitcoin commenced its dive soon thereafter, ranged a bit for seven or eight weeks, surged heavily for two days, and then regained its downward trend line, at least the one that connects its highs, since last June. The Bitcoin hopefuls keep hoping for another sudden surge, but, with the exception of President Xi in China obliquely poring accolades on blockchain technology, there is not much in the way of a fundamental uplift in the cards, that is until the widely anticipated halving event in May of 2020.
Until then, what are we to do? Optimists expected price action to begin recognizing that future event in November, but so far, nada. Pessimists believe the "rally" occurred during the first half of this year, a real "buzz killer", if you happen to mention that notion in the presence of BTC "hodlers".
What is new today in the Bitcoin press? The bulls are not impressing anyone with their apparent absence. $8,700 had been a nice place to settle in a week ago, but for now, the weather vane still points south. One social media trader of import, "Livercoin" by name" had this to say about the current state of affairs: "Taking a quick short on $BTC. Price swept all the upside liquidity and left multiple deep swing lows beneath while doing so. I am anticipating a pullback into the weekly open."
Mayne, another popular crypto analyst on Twitter, shares a similar sentiment, as above. He sees more descent in the near term, with a possible bounce back after hitting $8,150 or so: "$BTC: Slowly making our way to the grey block I've been watching for a few weeks. I started longing early because there is no guarantee we hit the level exactly, could get front-run, etc, I like to layer in on swing positions. 2 bids left, $8300 and $8150."
What about altcoins? Paddy Stash is a trader that senses a major dip in BTC dominance, as the signal of good things to come for altcoins: "$BTC.D looking awful and slowly slipping under MAJOR SUPPORT… IF this falls through and its confirmed with volume, then I can't see how $ETH won't blast over its major resistance… Everything seems to be perfectly lining up here…"
Eric Choe, a crypto analyst and winner of CME Group's annual trading competition in 2016, has been following LiteCoin closely and sees a solid bottom forming. His take is that LTC is representative of the altcoin market in general and has this insight to share: "This could honestly be the bottom of the alt-market end of 2019. A lot of charts look like this. Hold the floor!"
For now, there is joy in "Alt-ville", but it is based on anticipation, not iron clad facts. As BTC continues to moderate downwards, the level of enthusiasm for other tokens may climb another notch or two, but we have been down this road far too often. A few days does not a market make.