Despite the analyst community shifting to the negative, despite market sentiment taking a nosedive, and despite "bear crosses" screaming "Dive", Bitcoin has once again astonished the "herd" by choosing to act in a totally contrary manner. The world's favorite digital asset had recently fallen below the psychological level of $7,000 and was tempting to challenge the $6,500 watermark, which many analysts had claimed in the past few weeks to be a "firm bottom" of support. In the course of 12 hours, Bitcoin has surged back to $7,360, but has since settled in around $7,150.
What happened? Analysts are scrambling to discover adequate explanations for this sudden rise of BTC from its preordained deathbed, but Bitcoin is not yielding any easy answers at the moment. One laughable suggestion is that Bitcoin is reacting to the House vote on the impeachment of President Donald Trump, which would make sense since the man has been an extremely vocal critic of both Bitcoin and all things crypto. For the time being, we will wait to see what comes over the wires, but for now, lets take a look at the technical imperatives that Bitcoin managed to rebuke this evening: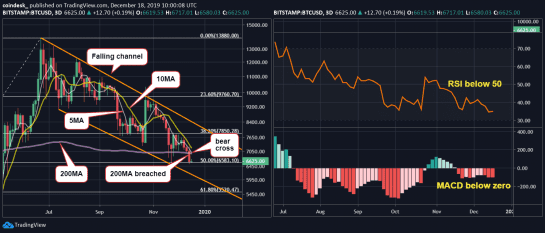 In this "split-screen" depiction provided by CoinDesk, a longer 3-day mapping points to the "deathbed" scenario alluded to in the above paragraph. There are no less than five "Bear crosses" for the 5 and 10 MAs, and, conversely, four "Bull crosses" of the same line groupings. Analysts, however, were perturbed by the impending 5 and 200 MA "Bear cross" annotated on the chart. The 200-MA had already been breached, a sign that even longer lagging indicators could suggest creditable predictions.
Bitcoin stopped its decline at $6,500, but, as can be seen, there is still plenty of room below this support level before the lower diagonal would be encountered. The fact that this room exists and that indicators on the right side of the chart showed no sign of let up had persuaded several analysts to back away from the "firm bottom" narrative and portend a Bitcoin fall into the $5,000s. Such was not to be. As one headline put it: "Bulls Roar as Bitcoin Surges 8% during Massive Intraday Rally". It was about time.
Did anyone see this massive rebound coming? Peter Brandt, a well-respected crypto analyst and trader with over 300,000 followers on social media, may be smiling broadly at this stage of the evening. He had tweeted favorable comments earlier in the day, scoffing at critics that were looking south of $6,000 and spouting ominous threats of disaster.
Brandt chose to take the long-term view, choosing a weekly depiction of Bitcoin pricing behavior on a logarithmic scale. From this perspective, there are obvious diagonal lines of long-term support and resistance. Bitcoin's recent fall landed on the lower diagonal, prompting Brandt to tweet: "Bitcoin has apparently held at important support." Both U.today and NewsBTC broadcasted the written word from today's "prophet". What happened next is history.
In hindsight, there were other hints that suggested support might be forthcoming. Omkar Godbole at CoinDesk had noted a severe upswing of long-BTC positions. As we reported yesterday, he observed: "While the cryptocurrency is losing ground, the number of bullish bets, as represented by the BTC/USD long positions on Bitfinex, have jumped to a record high of 44,523 contracts, surpassing the previous high of 40,193 reached in March 2018."
There were also positive signs on shorter timeframes. On the daily and 4-hour versions, the Relative Strength Index (RSI) had moved out of an oversold condition on the former and was moving towards the same on the latter, thereby signifying the possibility of a bounce.
A few astute traders also noticed a "gap" on the CME futures exchange over the weekend at $7,235, as reported by Cointelegraph. As hard as this notion is to grasp, CME observers swear by the fact that all "gaps" on the CME must eventually be filled. It seems that this "gap" did not waste anyone's time. It is no longer unfilled.
For now, let's celebrate that a herd of "loud" bulls returned from holiday festivities long enough to boost lifeblood back into the veins of Bitcoin. BTC continues to trade over $7,150 with no sign of a pullback. Other altcoins are also benefiting, as well, a sign that the rally is broad based. Hopefully, we will hear valid reasons in the next news cycle.
Stay tuned, and Happy Holidays!