The suspense is over. Bitcoin finally responded as the majority of analysts suggested from their technical perspectives, a novelty since BTC tends to do the opposite lately. It went dead south, below $9,000. As we last reported: "BTC is being " squeezed" by two converging lines – an upper trendline, commencing at its high in June to the present, and lower support from its 200-Day moving average. Something has got to give, possibly over the weekend." It did, but it has made a comeback, trading now at $9,100.
The move down was abrupt. After coasting a bit at $9,200, it made a small "head fake" north, then fell to $8,800 in a matter of minutes. It languished there over the weekend, but late Sunday, it had begun to mount a small recovery, pushing back above the $9,000 barrier. What caused the odd series of bounces? A variety of causes were proffered from the Fed backing away from a rate cut to bulls running out of steam to investors doubting if President Xi's remarks were really crypto positive. Analysts are now evenly split on what might come next. A nice comeback could be another "head fake".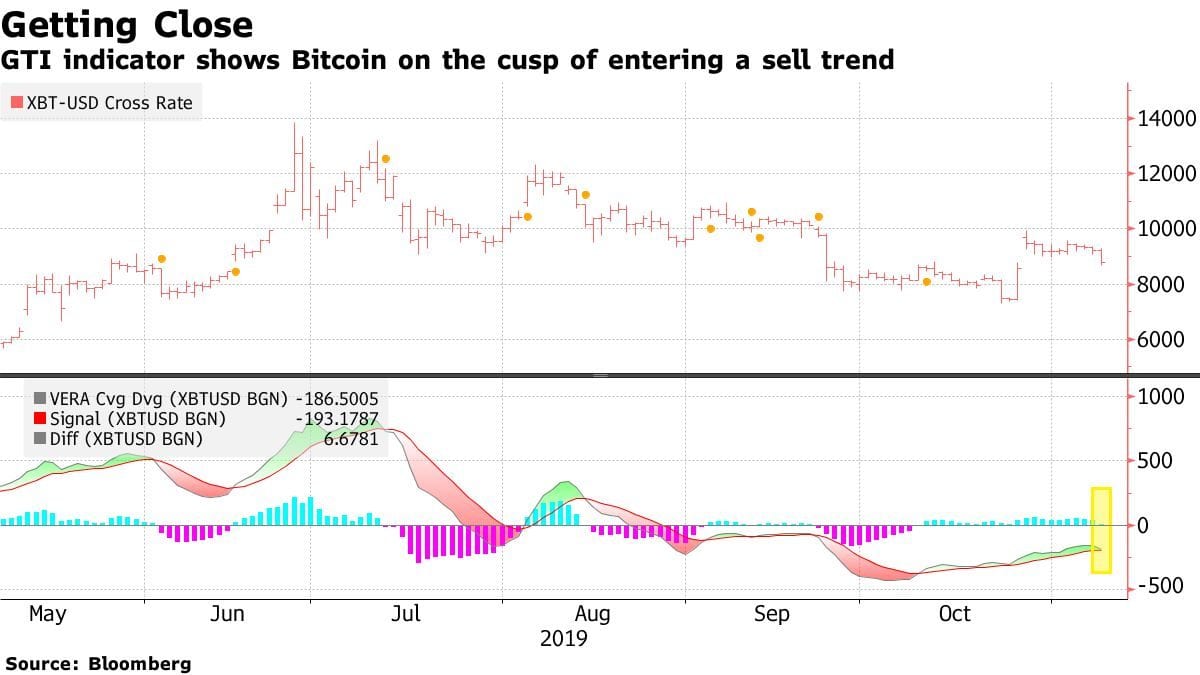 Let's start the discussion with a chart from Bloomberg. Their GTI Indicator is approaching another sell region, marked in yellow. The opinions that follow, including Bloomberg's, are generally negative. After having guessed correctly for the latest downward move, could "hubris" be on hand? Here are a few comments, as reported by Coindesk, Forbes, Bitcoinist, and NewsBTC:
Bloomberg: "The GTI Vera Convergence Divergence Indicator shows a narrowing gap between the signal and vera lines, which suggests a trend change may be on the horizon. If this occurs, the largest digital currency could retest the lows seen before its rampant run following comments by China's President Xi Jinping in October."
Kevin Kelly, co-founder at Delphi Digital, voiced downward pressure due to the Fed backing away from a BTC-positive rate cut: "This is a pretty classic example of a technical move. It just sort of broke to the downside. You have seen an unwind of the consensus on this doomsday narrative."
Greg Cipolaro, co-founder of Digital Asset Research, disputes the value of the "China connection": "My opinion is that that wasn't the right read of that news. They were clearly saying blockchain not bitcoin. You really haven't seen follow-through on the price. There hasn't been a major catalyst post that $2,000 rip two weeks ago."
Joe DiPasquale, CEO of cryptocurrency hedge fund manager BitBull Capital, sees more down in the picture: "Bitcoin was overbought after the late October surge. Presently, the 50-day moving average is acting as support around the $8,600 level. While we expect the price to respect this level, a re-test of the $8,000 range cannot be ruled out" at this time."
NekoZ, popular Twitter analyst, sees more down, as well: "Still not liking the price action with $XBT. Bullish volume looks extremely weak. I expect a drop down still.  Bloody Mondays are typical, which would coincide with this further drop. HTF I am still bearish, not as much as before but still bearish."
Peter Schiff, a prominent gold bug and no friend of Bitcoin, spoke gleefully of Bitcoin's imminent collapse: "It looks like the Bitcoin pump is finally over. Get ready for the dump. Bitcoin is never going to hit $100,000."
John Todaro, director of digital currency research for TradeBlock, summarized the general sentiments of the group: "It is still unclear to the extent, if any, China will actually embrace digital currencies and non-sovereign assets such as bitcoin or if the country is simply embracing private blockchains. 10 days and could easily push past support/resistance levels during times with thinly traded Bitcoin has seen renewed volatility over the past markets."
There you have it – the honest opinions of seven respected participants in the crypto space, if we allow Schiff to be included in that group. These comments occurred before the late Sunday bounce back. The odd thing is that, whenever so many have agreed on the imminent direction of Bitcoin, it has tended to snub its nose at the group and break for an open field run in the opposite direction. It will be interesting to see how this week pans out, as Bitcoin tries to maintain support from it 200-day moving average.