Another weekend is closing, the last weekend for shopping before that special day of days. As might be expected, Bitcoin volatility is lukewarm, tightly trading over Saturday and Sunday within a band of $100. For no apparent reason, however, Bitcoin has picked up steam, of late, as if traders returned from their shopping spree and suddenly went to work to earn the money to pay for it. Inexplicably, the world's favorite digital asset has jumped nearly $300 for no apparent reason. A new weekly figure will soon print within the next few hours, which, if BTC stays on track, looks to be a solid return of 15%.
A 15% surge in a single week is worthy of celebration, but holiday revelers, at this point, are incredulous. Too much recent history has transpired since June to make anyone jump up and shout for glee. Bitcoin surges over this period have tended to fizzle out quickly. Short-term gains are gradually given back to the market, as if professional traders in some institutional shop are having their fun at the expense of their retail brethren. With low liquidity, particularly during this seasonal lull, it is quite easy to spike the market up, and then take it back down, the reason most derivatives market are hot.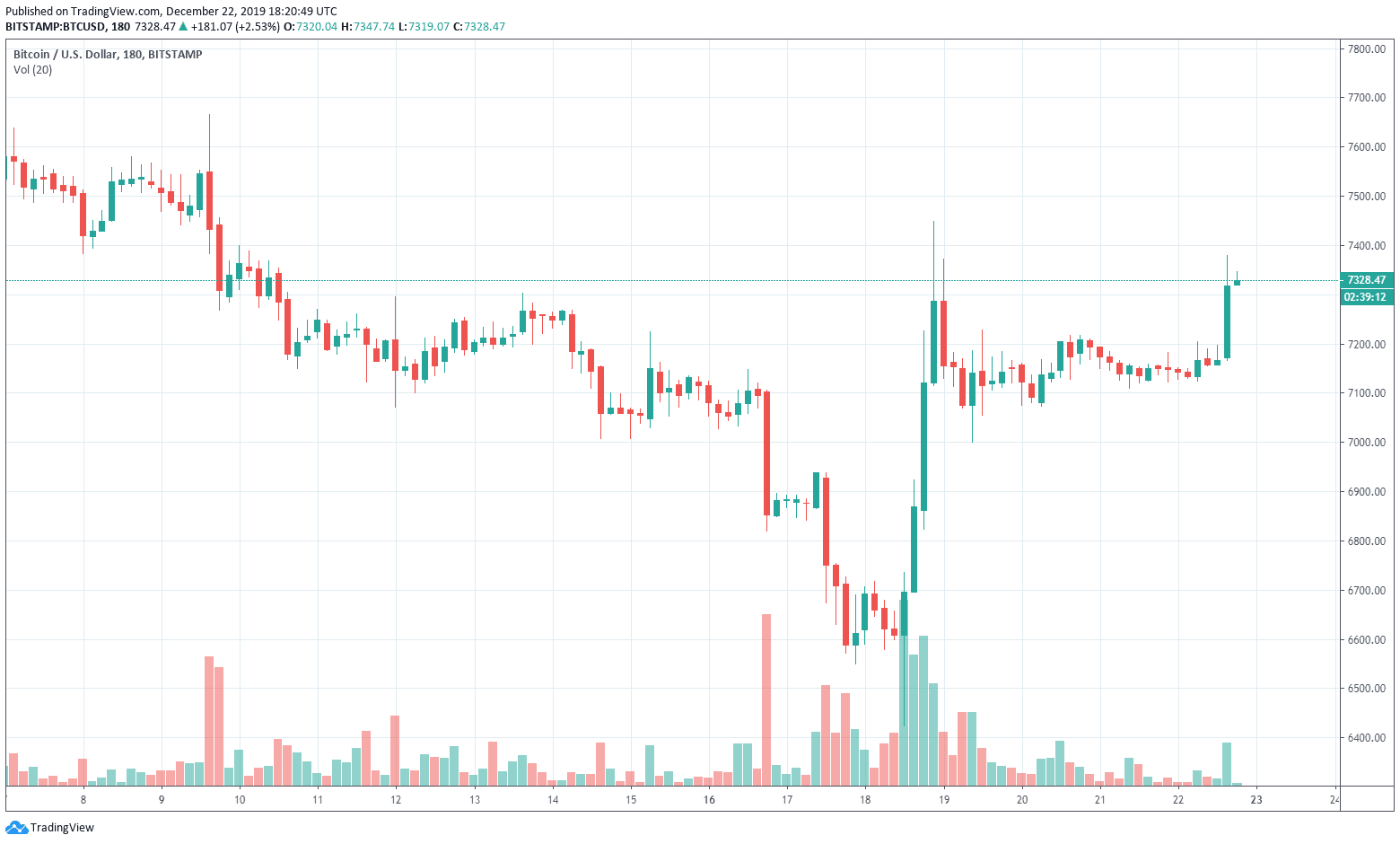 For now, let's admire this technical picture of Bitcoin's price behavior, measured on a 3-hour basis, courtesy of NewsBTC. There are a few obvious takeaways from this short-term presentation. Analysts have been swearing lately that $6,500 represents a firm bottom for Bitcoin. This theory was tested severely during the week, as bears tried to take control, but they were seriously countered by bulls over the 12-hour period denoted by the four green candlesticks on the 18th.
On the flipside of support, however is resistance, and it seems to be substantial around the $7,400 level. Over the course of ten days, there have been no less than four attempts to break through, including the latest effort. It remains to be seen if this most recent stab will actually punch a hole into the wall. Analysts are keeping quiet at the moment, or if they venture a guess, it is boxed in with caveats about how the market could head in either direction. Such is the confidence level of analysts at this stage.
If Bitcoin can manage to keep this rally going, the next stonewall of resistance is looming at $7,500. We have already spoken to other resistance levels, as well, which inhabit $7,850, then $8,450, and onward in a step-wise fashion with $600 increments right up to $10,250, but wait – we are getting ahead of ourselves. Analysts and investors would love to see a "Santa Rally" at this time, at least in late December if at all possible, but bulls have not been able to keep any momentum going for longer than a few days, if for even that length of time.
The apparent inability to commit to a positive surge over a longer length of time is what is plaguing Bitcoin advocates at the moment. The result is that ambivalent statements seem to proliferate social media, as these tweets reported by NewsBTC connote:
FlibFlib, a popular cryptocurrency analyst on Twitter: "$BTC Starting to look like it has a bit of life in it on lower time frames. Would be nice to get a rally off the back of a nice looking weekly close in the green. Alas, one can only wish for what they want for Christmas."
CryptoBirb, another popular cryptocurrency analyst on Twitter: "If struggling to find optimized stop-loss levels for $btc you can use PSAR (Parabolic Stop and Reverse) to help you decide. Closing 4h or HTF candle below 7120 leans towards 6800s. Expect volatility around the weekly close." He also noted that $7,900 was the high-end of BTC's recent range, but he felt it would have to return to lower levels in the days to come.
There are analysts that have noted that Bitcoin tends to have a good week after a preceding positive weekly close. Having said that, however, analysts have now become very solemn, almost gun shy, when the last week of the month approaches. In the past quarter or so, the CME futures market has commanded respect from all observers. The repeated trend has been that Bitcoin tends to decline during the run up to the last Friday in the month, the expiration date for CME futures contracts.
Will Santa make an appearance in Bitcoin-Land in the week to come? Will his influence precede him and will it continue past this upcoming Friday, the all-important expiration date over at the CME? If analyst sentiment means anything these days, it seems to be on the order of an "80/20" chance of a red week over the next seven days. Usually, when odds are this skewed in one direction, Bitcoin, ever the contrarian, laughs at the technicians and moves in the opposite direction. Is it time to share your holiday wishes with the big man in the red suit? Santa, are you listening?