The financial press has been alive of late with speculations regarding the possibility of a Bitcoin Exchange-Traded Fund (ETF). After the VanEck application withdrawal, the SEC still has two BTC ETF apps on its desk, one that will most likely be delayed, and another, which must by law have a decision made prior to October 14th. The latter request belongs to Bitwise Asset Management, and they pressed their case further by presenting a 31-page report to the SEC, claiming three major market reasons for moving forward.
According to Forbes, Matt Hougan, the Bitwise global head of research, made it clear that today's Bitcoin market has matured on several fronts: "The reality is that the bitcoin market of today bears little resemblance to the crypto market of a few years ago. The crypto market today is one dominated by firms like Jane Street and Fidelity; it's one where regulated, institutional custodians provide world-class service and are insured by Lloyd's of London."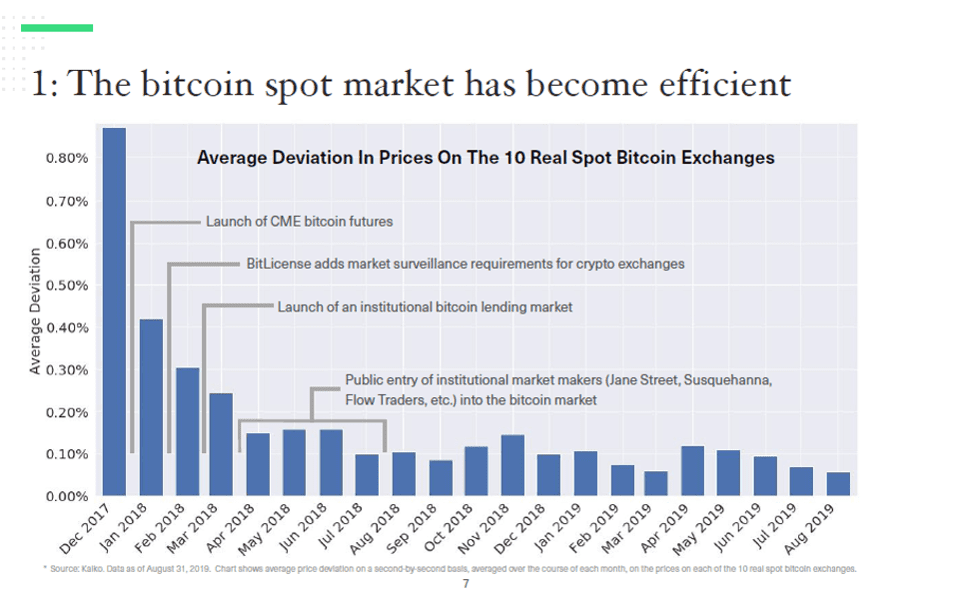 Bitwise executives made their pitch to SEC commissioners Robert Jackson, Hester Peirce, and Elad Roisman, in which they cited three major reasons that support moving ahead with a Bitcoin ETF, i.e., "spot market efficiency, institutional-grade custody of crypto assets, and a growing futures market". The SEC made the presentation available on its website, but it stipulated that, by doing so, it did not represent an endorsement by the regulator. The SEC often publishes materials furnished to it by outside parties.
The first overhead, depicted above, reflects how far the Bitcoin market has come to establishing a respectable track record of efficiency. In the twenty-one months shown, the average deviation of BTC prices in the spot market has dropped from 85 down to 5 basis points. Major crypto exchanges, especially those in the U.S., now employ institutional-grade custody arrangements to protect the investments of their customers, and lastly, the CME has an active futures contract market that settles in cash, while the Bakkt exchange will commence Monday to offer fully regulated daily and monthly futures contracts in BTC, which will actually settle "in kind".
The VanEck storyline, however, is still permeating financial headlines. The securities firm decided to focus on accredited investors and launched its Bitcoin Trust in a limited fashion. It also withdrew its retail BTC ETF application from consideration by the SEC, after it had said that it would continue to pursue approval. These moves have confused crypto advocates and led to speculation that no Bitcoin ETF is in the cards for 2019.
The hope has always been that the retail sector needs easy access to a professionally managed commingled crypto fund, where security issues are mute and regulatory oversight is a given. Institutional investors would like these same attributes, but they have had other avenues, such as the Grayscale Bitcoin Trust and other foreign funds, which limit participation to "sophisticated investors". The narrative continues that, if Bitcoin is ever to gain widespread awareness and acceptance by the public, the best route to that "promised land" would be through an ETF.
The SEC, however, has denied approval for over a dozen applications, citing several reasons that make it "uncomfortable". In a recent speaking engagement, Jay Clayton, the chairman of the SEC, commented at this week's "Gaining Alpha" conference that: "If [investors] think there's the same rigor around that price discovery as there is on the Nasdaq or New York Stock Exchange… They are sorely mistaken. […] We have to get to a place where we can be confident that trading is better regulated."
As a counter-balance to this pessimistic view, Clayton has also made it clear that he wants to see more public access to markets that have gravitated to serve only private investors, i.e., large institutional players: "If the growth opportunities have shifted not all the way but to a substantial extent into our private markets and ordinary investors don't have access to them, that's not good. The question is what do we do about it?"
Is Clayton debating the issue in his own head? Be sure to circle the 13th of October on your calendar. It is a Sunday, but we expect to see an important press release on the following Monday. Markets have been numbed out by previous delays and refusals, but this time might be different.