US retailers have long used Black Friday to kick start their holiday shopping season.
Black Friday and Cyber Monday, which follows it, have spread across the globe and now retailers from Australia to Europe use the weekend to give a much-needed boost to sales.
The spectacle is, however, losing its magic. Both retailers and consumers are increasingly feeling its 'not working for them'.
Despite the hype, or maybe because of it, Black Friday is increasingly looking like a lose-lose situation, but one that retailers can't afford to abandon.
Black Friday, the shopping day that follows Thanksgiving, has spun out from being a US tradition to becoming a global phenomenon. The date, which this year falls on 29th November, marks the unofficial opening of the holiday shopping season. It is seen as a chance for retailers and consumers to both pick some 'low hanging fruit' or impulse buys, before getting down to the business of more selective shopping through December.
Both sides of the transaction are feeling increasingly disappointed. Reports suggest consumers may not be getting the deal they thought they were. The 'feel-good' factor is missing for retailers as well. The sector isn't seeing the increase in revenue and profits that it would like. There is also increasing negative publicity around such a strong promotion of consumerism. French shoe company Faguo last month announced a boycott of Black Friday and has been joined by 600 other stores to the campaign to "Make Friday Green Again".
Spending patterns
According to Finder.com, 86% of Americans are expected to take part in Black Friday or Cyber Monday in 2019. In Australia, the number is 76%. In the UK, only 42% of UK adults plan to take part in Black Friday and Cyber Monday in 2019. Not only does this compare poorly to the other two markets, but the number is significantly down from the 62% planning to take part in 2018.
In the UK, the average spend per person is set to increase. UK shoppers taking advantage of the online and high street deals are planning to spend £251.20 / $324.68 each this year. This is a 7% (£15.37 / $19.87) increase on 2018 and still stands up well even after being adjusted for year-on-year Consumer Price Inflation of 1.5% (source: Office for National Statistics). It is some way lower than the $388 / £300 each US shopper is expecting to spend.
In the UK, those who have bought into the experience are sufficiently engaged to increase their spending, but the fall in total 'footfall' means the total amount that is planned to be spent will fall from £7bn / $9.04 last year to £5.6bn / $7.2bn in this.
USA Today reports that millennials may be bringing change to Black Friday shopping patterns. Around 65% of the younger demographic intend to shop on Monday and only 57% intend to start on Friday (source: USA Today).
Warming up
The Black Friday spending forecast from the US National Retail Federation points to the waning significance of the weekend.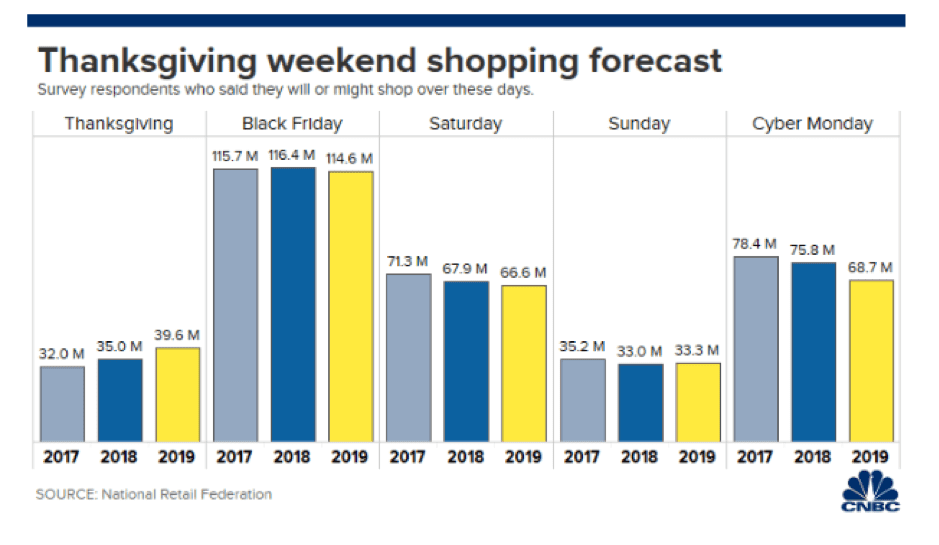 Deborah Weinswig, founder and CEO of Coresight Research, was speaking with CNBC when she explained:
"Black Friday no longer represents a narrow window of opportunity in which shoppers have to wait in the cold and sprint into stores to get unmissable deals."
Whilst retail's problems are well-known, the demise of the weekend bonanza may be compensated for by shopping over a longer period. Weinswig added:
"Holiday shopping now occupies much of November and has warmups much earlier in the year, as holiday shopping increasingly becomes a year-round activity."
Source: CNBC
Analytical intelligence form 1010data.com points out why US retailers can't afford to give up the revenue generated by Black Friday. In 2018 it equated to 6%–7% of total quarterly sales for mall-based retailers such as American Eagle and Best Buy. A 'normal day' would generate approximately 1% of sales. As 1010data.com points out, Black Friday, for some retailers equates to an extra week of sales — this at a time when the sector as a whole, is struggling (source: CNBC)
Consumer complaints
The slide in the UK participation levels may be down to the Black Friday concept being relatively new to that market and just not catching on. Two other possible causes form more existential threats to retailers.
Reports released during the build-up to Black Friday have highlighted that the 'bargains' bagged in previous years have not always brought about high levels of consumer satisfaction. Finder.com reports:
"Last year (2018), 21% of Brits purchased something on Black Friday/Cyber Monday that they later regretted, spending an estimated average of £83 on each of these items."
Source: Finder
Another less tangible, but increasingly worrying concern for retailers, is that it could suggest a move towards more 'sustainable' shopping. The French parliament is to debate if Black Friday should be 'banned' due to it encouraging overconsumption. France MP Mattieu Orphelin, a former member of President Emmanuel Macron's LREM party, said:
"Black Friday celebrates a model of consumption that is anti-ecological and anti-social."
Source: The Telegraph
The proposal is that the pre-sales publicity should be restricted through the use of French laws, which allow for a limit to be placed on the number of days that retailers are able to hold promotions. The move to curtail Black Friday could come about in time to restrict the activity in 2020.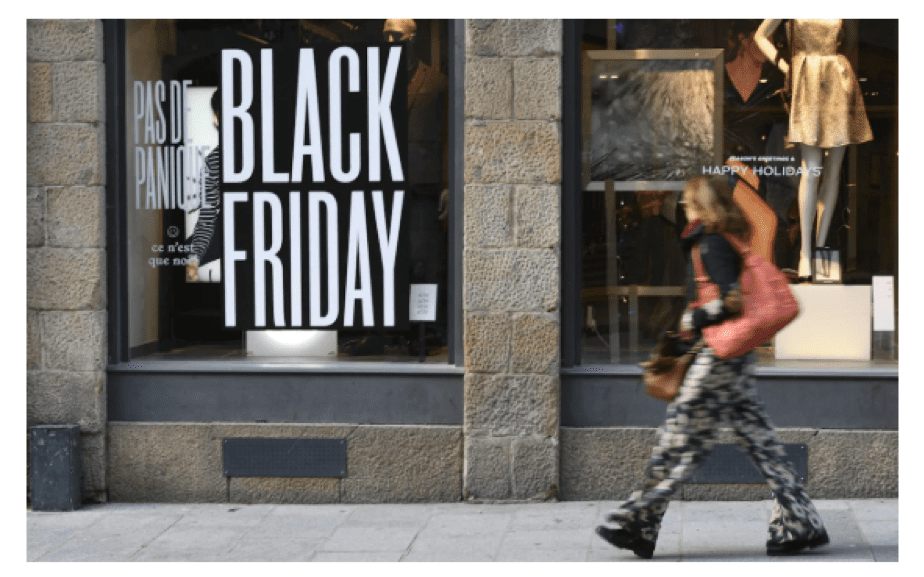 The financial markets can be expected to give a nearly instant update on the situation. Data from retailers and card payment service firms feeds back into the markets very quickly. The more comprehensive reporting provided by the Commerce Department will take a little longer to be processed but carries more weight. The following report, for example, shows that September marked the first time for seven months that retail spending contracted.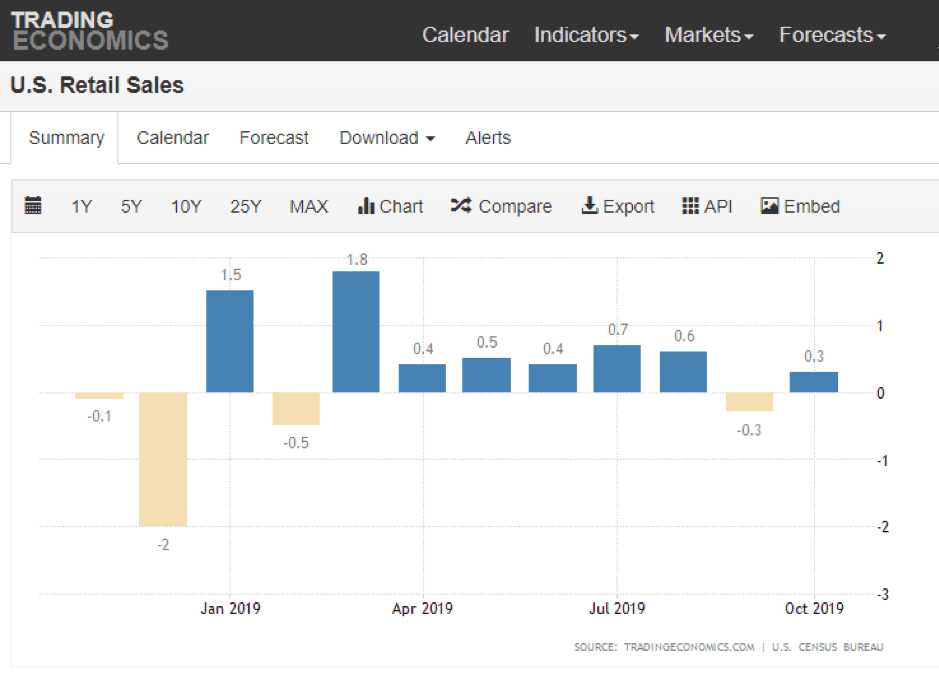 The days of Black Friday being associated with door-busting surges into stores to grab bargains appear to be behind us. Also missing are buying sprees by investors looking to snap up stocks in retailers and commercial real estate firms. Those still holding positions in the sector will be looking to see if September's US figure was just a blip.