Investors looking for more secure assets are driving up the price of government bonds
As the yield correspondingly falls, certain uncommon anomalies are occurring
The inverted bond yield curve is one example, but analysts note the yields on stocks is greater than those of government fixed income
This could be triggering support for equity markets
Going as far back as 1950, the Dow Jones Industrial Average index and S&P 500 index both count September as their worst-performing month
The increased demand for US (and other) government bonds continues to drive down the yield that treasuries pay to investors. The threats to the global economy mean demand for the safety associated with government fixed income instruments is outstripping supply. Countries such as the US, Japan and Germany — which are perceived as being most secure — are now paying negative returns to bondholders. Or to put it another way, investors are actually paying those governments for the privilege of having their money tied up in the shape of a bond certificate.
Furthermore, the 'yield curve inversion', which came to prominence in August, is widely held to have been the trigger for the August correction in equities. What analysts spotted was that the near-dated US treasuries were paying investors a higher yield than far-dated ones. The typical comparison is between US two year and 10 year Treasuries. This represents the existence of a counter-intuitive situation. Investors are receiving less of a financial reward for locking their money up in the longer-dated bonds. According to the principles of 'opportunity cost' and the standard market practice, the longer-dated bonds should pay more to investors.
The yield curve inversion is widely held to be the reason investors sold out of equity markets in August. A quick scan of the record books explains that statistically speaking, such an inversion is a fairly reliable indicator of an upcoming recession. Like most theories or statistics, the 'inversion to recession' is subject to some discussion. Causality and the time lag between indicator and event occurring are particularly contentious issues.
A third uncommon 'inversion' style anomaly can now be thrown into the mix, but this one actually involves falling bond yields supporting equity prices.
Long term interest rates on US government bonds are now lower than the average stock dividend yield.
Yields on intermediate-term US Treasuries have been below the S&P 500's dividend yield for several months. More significantly, the long-term 30-year yield US 30 Year Treasury inverted at the end of August. The last time this happened was March 2009 when stocks bottomed to mark the start of a 10 year bull run.
After so many years of excess liquidity in the markets, it is now the turn of bonds to be the hot investment. Jim Bianco, founder of Bianco Research, said in an interview with MarketWatch:
"Everyone is buying this stuff like crazy, because there is too much money in the system from quantitative easing and too much money going to government bonds."
Source: MarketWatch
The move to bonds reflects the considerable geopolitical risks facing the global economy and the disappointing data out of certain economies. Indicators are pointing towards a slowdown in growth as the current bull-run finally loses some momentum.
The drivers of the move towards lower risk assets are many and varied. The US-China trade war appears to be reporting its first casualties.
Steven Zhang, chief economist and head of research at Morgan Stanley Huaxin Securities notes:
"China-US trade friction has led to a sharp decline in China's exports to the United States."
Source: CNBC
Worryingly, the CNBC report notes that the decline in exports carries over to other non-US markets as well:
"Exports to Europe, South Korea, Australia, and Southeast Asia also worsened on an annual basis, compared with July, while shipments to Japan and Taiwan posted slightly better growth than the previous month." 
Source: CNBC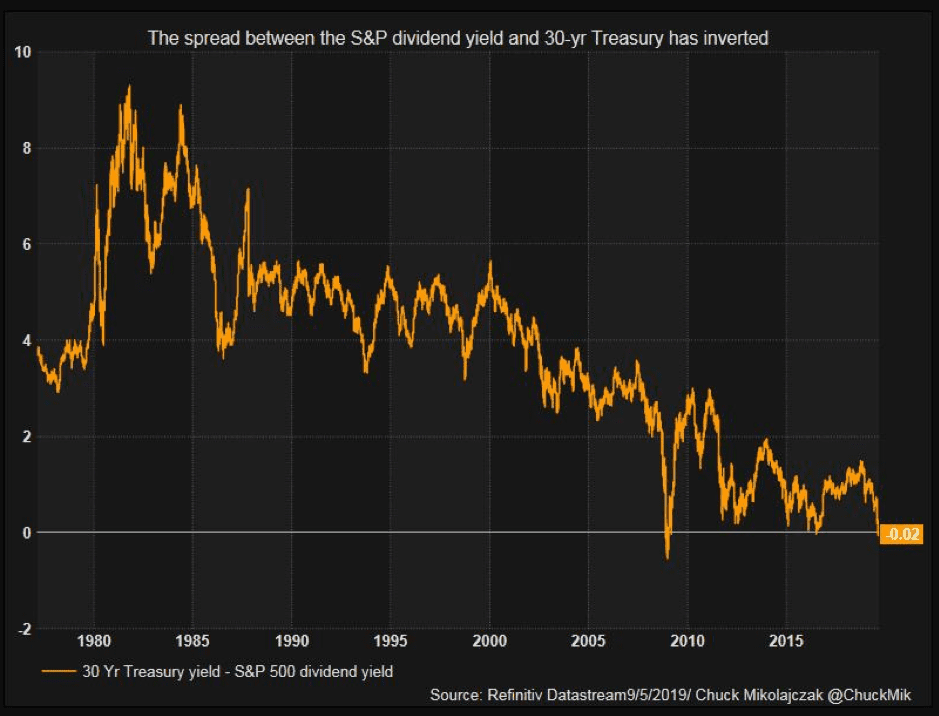 Appreciating the appreciation
Another reason to move into bonds is that it's possible to trade the momentum of even a short term price move.
MarketWatch analysts point out that there are profits to be made from these short term investment horizons:
"In July, an auction for €4 billion euros of 10-year German government bonds (Ticker: TMUBMUSD10Y, +2.67%) sold at a negative yield of 0.26%, but at a premium price of 102.6 cents to the euro. The benchmark bund is now trading at a price of 106.9 cents to the euro, meaning that investors who scooped up debt at last month's auction would have reaped a gain of around 4% from the price increase alone."
Source: MarketWatch
Following the correction of August, equity markets have rallied. The S&P 500 is again trading near the important 3,000 level. The below graph shows price action is levelling out as it approaches the not insignificant resistance levels, which it has already tried and failed to break through.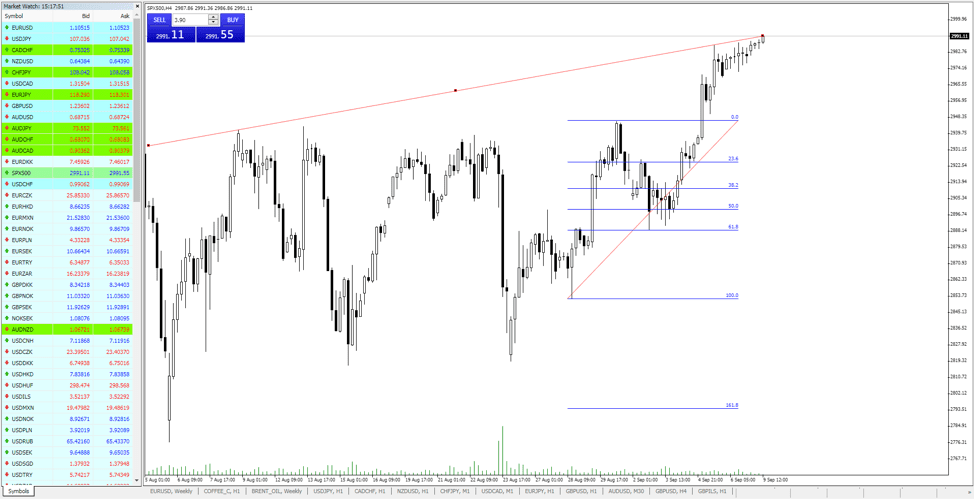 Terri Spath, chief investment officer at Sierra Mutual Funds, in Los Angeles said:
"There's a complete disconnect between the stock and bond markets… Some people are buying stocks for their dividends and bonds for capital appreciation."
Source: Reuters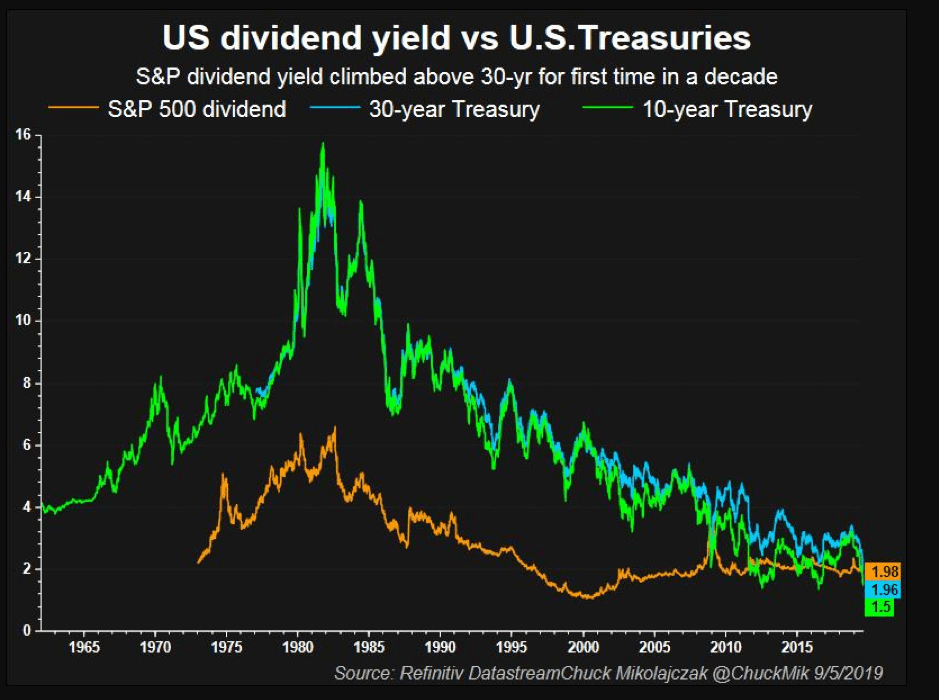 Wheels in motion
The attraction of dividend yields in stocks was picked up by some traders and analysts back in August. On 19th August,CNBC reported on a note issued by Goldman's chief US equity strategist, David Kostin, in which he said:
"With the 10-year Treasury yield at just 1.5% and the Fed likely to cut two more times this year, investors should look for opportunities in dividend stocks."
Source: CNBC
The CNBC report went on to illustrate how high dividend yield stocks are at their lowest valuation for four decades.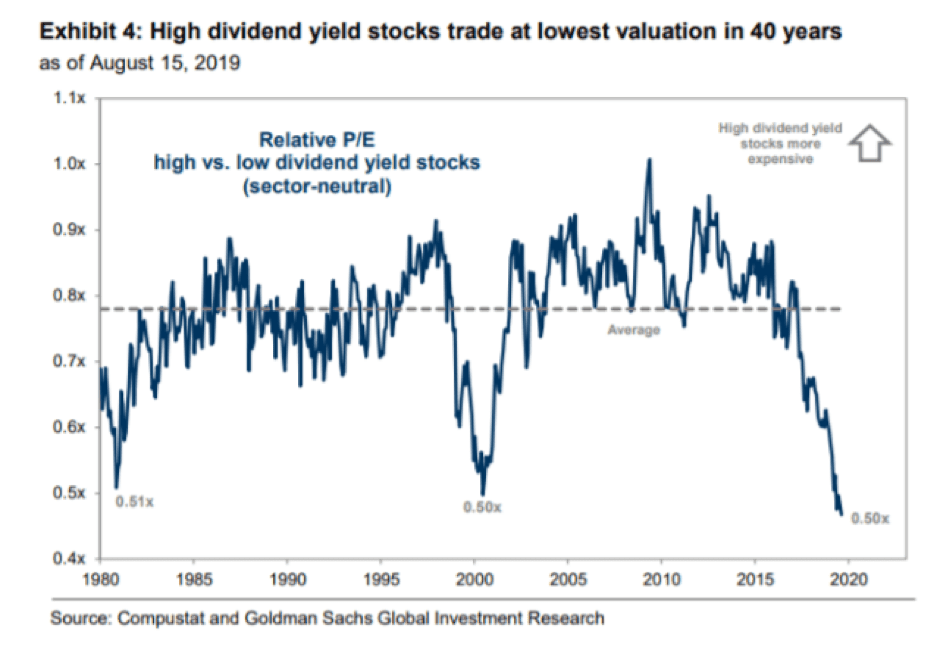 Goldman Sachs has done some of the analytical leg-work and broken out a list of some stocks, which it includes in its 'dividend growth basket.'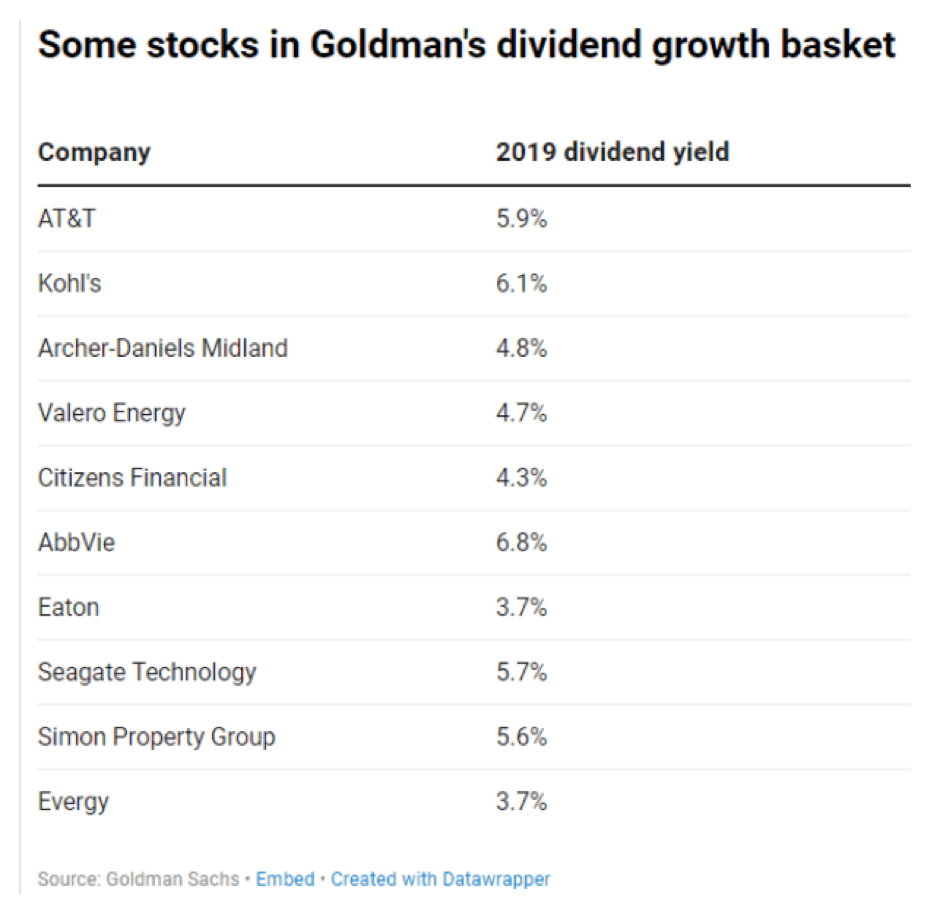 The valuations on equities are thought 'toppy' by some in the markets. Due to the surplus liquidity in the markets, earnings to price ratios are in a historical perspective at the top end of their range. The fact that bonds have recently attracted more of the excess cash in the markets has made equities relatively attractive to some investors.
Proctor and Gamble (Ticker: PG) Earnings per share: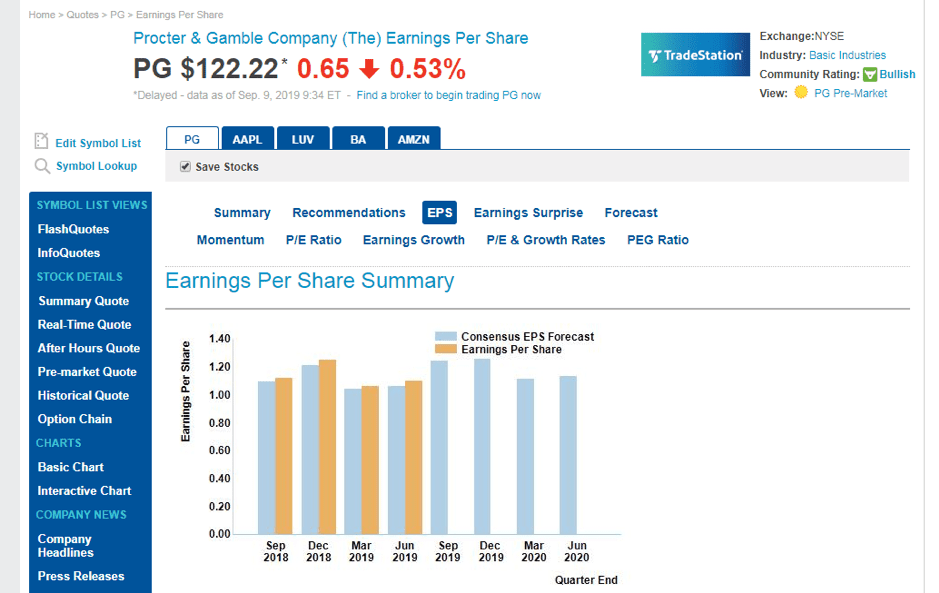 Proctor and Gamble (Ticker: PG) PE ratio: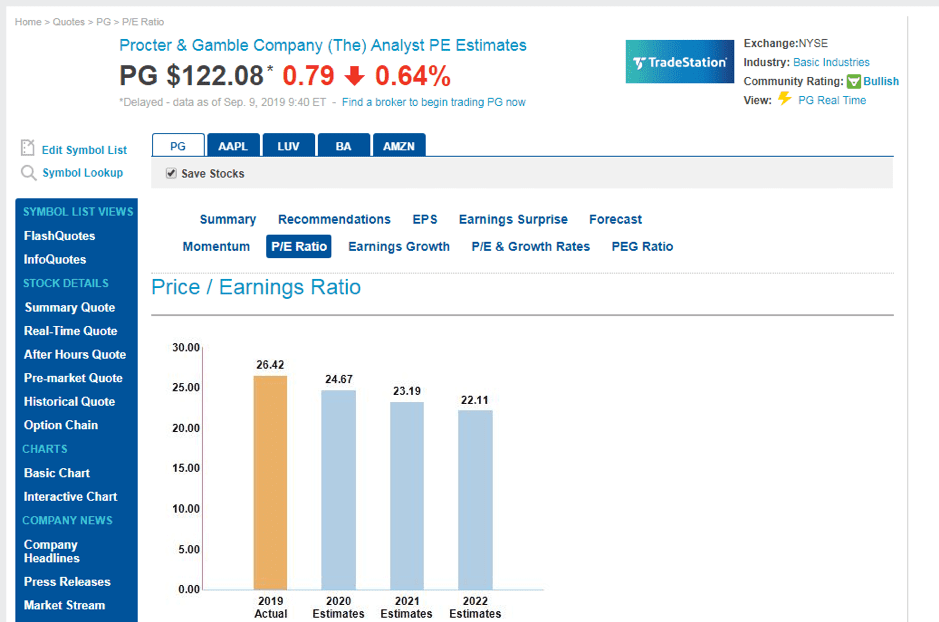 Anomalies such as bond and dividend yields inverting are statistically rare. No one can be certain of the final consequences of the surplus liquidity in the markets, but it is certainly opening the door to new trading ideas and strategies.