The year of 2019 will go down in the history books as the return of crypto-currencies from the harshness of Crypto Winter, at least for frontrunners like Bitcoin and Ethereum, but Ripple's XRP token is actually sporting a loss year-to-date, a hard thing to do when all around you are gaining big time. As you might expect, Brad Garlinghouse, the ebullient CEO for Ripple, is feeling the public pressure and has gone to Twitter to address the preponderance of remarks from his critics.
If you were an XRP stakeholder and continually looked at these two one-year charts, side-by-side, what would be your immediate reaction: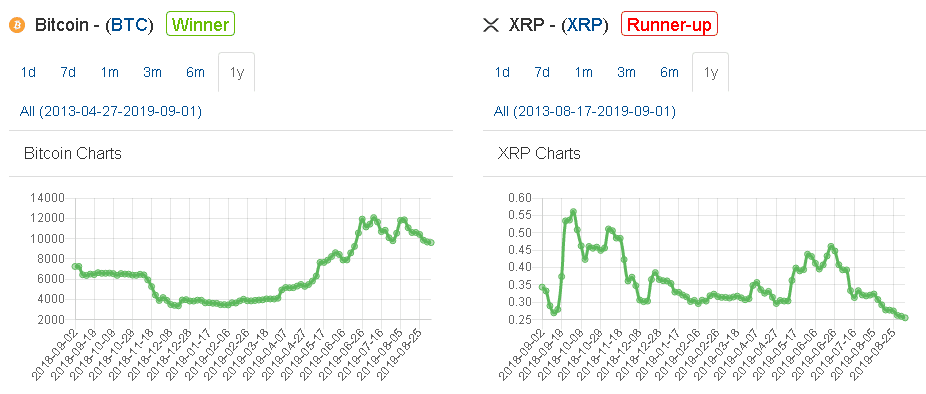 The directions of each are complete opposites of one another. Ignore the left axes for the moment. Bitcoin has a little under 18 million coins in circulation, while XRP is somewhere north of 43 billion, the reason why valuations are on such differing scales. The point of contention is that Bitcoin has nearly tripled in value over the course of 2019, while XRP is in the negative by 30%, having fallen from $0.36 down to $0.25 in eight months. Both tokens are deemed to be "utility" in nature, although the SEC has not said as much about XRP. Incidentally, UK regulators have ruled that both are not securities.
One irate stakeholder is mad as hell and not taking it any more. Known on social media as "@CryptoBitlord", CoinTelegraph recently reported this challenge to his 102,000 followers in a series of tweets: "I'm thinking about forking $XRP so we don't have to deal with the founders dumping. — This will be a community effort. Retweet if you're in… We will stage a community takeover… Brad Garlinghouse, Joel Katz, you now have 60 days to stop dumping XRP or we will stage a community takeover. If it's a decentralized network like you say, we have the power to do it."
Was that an ultimatum? CEOs do not take kindly to such over-the-top rhetoric. Garlinghouse wasted no time coming back on Twitter, as reported by NewsBTC: "I'm always struck by the questionable sources (i'm being generous here) spreading FUD about #XRP and @Ripple. Even more so over the last few weeks (Ripple's XRP sales, litigation etc)…. thus, I feel compelled to comment."
The "dumping", as it was so kindly noted by the opposition, refers to the propensity of Ripple and its management team to occasionally sell coins in the open market to raise capital when needed for an assortment of things, such as daily operations, business, partnerships, and acquisitions. Many of these activities will bare fruit in the future, near-term investments that require cash flow, but do not generate revenue, which could boost current share price.
Garlinghouse explained: "XRP sales are about helping expand XRP's utility – building RippleNet & supporting other biz building w/XRP ie Dharma & Forte. Reality is we DECREASED our sales by volume Q/Q and since then the inflation rate of XRP circulating supply has been lower than that of BTC and ETH."
Its product is RippleNet, an all too obvious "utility" that has already signed hundreds of small to medium-sized banks. Its one major "coup" is PNC, the eighth largest bank in the United States, which is already marketing its service to businesses to speed up their invoice payments from overseas users of their products. Ripple is also an investor in MoneyGram, which recently reported that its traffic to Mexico via RippleNet has undergone a 25% increase in volume. Revenues will come, but not immediately.
As for a pending lawsuit and the possibility that the SEC could rule that XRP is more like a security than a utility token, the SEC did release further guidance in this area and has specifically exempt Bitcoin and Ethereum, but it has yet to speak to Ripple. UK regulators have opined on the topic in Ripple's favor, but the obvious mission of Ripple has been to offer a more efficient, quicker, and cheaper option for cross-border payments for banking institutions, businesses and individuals.
Garlinghouse's retort to the lawsuit was also to the point: "As a defendant in the class action lawsuit, I won't get into the details (response from Ripple is coming soon). I will say: SEC guidance isn't issued by the Commission and isn't law, rule or regulation. It's clear XRP is not a security and the UK and others have said as much."
Garlinghouse has acted as any other entrepreneur with a start up business plan, raising capital when he needs it, knowing full well that the valuation will come after the current investments pay dividends in the future. Cryptos, however, are rife with speculation, and competition for investor dollars is growing fiercer still. RippleNet also is not the only blockchain solution going after the cross-border payment trade. IBM has build what amounts to an "open source" platform for business use. Facebook wants into the market, as does Binance, based on recent announcements. Even JPMorgan Chase plans to use blockchain it in its back office global cash management system.
Lastly, Ripple has not been secretive about raising funds through independent token sales. In each quarterly report, it has disclosed the activity and the reasons for it. It had stepped up the activity in the last quarter by 48%, but the executive team has promised to pull back on what others have perceived as "dumping". Let's hope XRP values rise.