The background
To say that UK betting firms have had a tough year would be an understatement. Work carried out by the Gambling Related Harm All-Party Parliamentary Group (APPG) prompted the Department of Digital, Culture, Media and Sport to bring in a £2 fixed limit on fixed-odds betting terminals (FOBT) from April this year. Shares in UK betting firms such as William Hill, GVC (Ladbrokes owner) and Flutter Entertainment (Paddy Power Betfair) fell sharply on the announcement, hitting a low in early June before recovering up until 4th November.
On 4th November the APPG produced an interim report, the contents of which spooked investors. The measures put forward included a similar £2 limit on online gambling, a limit on deposits and a ban of the use of credit cards for online gambling.
Reactions
Shares in bookmaker firms tanked following the report. William Hill dived 12%, whilst sector peers and GVC crashed 10% and Flutter Entertainment declined 3.5%. Investors have good reason to be concerned. There is a high probability that at least some of the recommendations will be imposed.
Restrictions to online gambling will be like restricting a main artery for some betting firms. One of the reasons that the share price of these betting companies was able to recover following the FOBT £2 limit was in part thanks to their online business. Post the FOBT limit some firms' business models require wild excesses online to continue profitably. Additionally, the betting sector hasn't escaped changing habits, with shops becoming increasingly less important as customers move online. The FOBT limit sped up the process.
Whilst we are still a long way from the bill going before Parliament, investors' reactions reflect the expected impact on revenue for gambling companies.
Online revenue breakdown
Besides from 888 which earns around 35% of its revenue from the UK online sector, the gambling companies don't break down their online earnings. This makes the potential impact of a £2 online limit difficult to gauge accurately. Numis has estimated that Gamesys has the most exposure with approximately 65% of online sales stemming from the UK. Flutter Entertainment and GVC had the least with 13% each. From this we could conclude the Gamesys has the most to lose should the £2 limit become law, whilst GVC and Flutter are better positioned to ride out the storm.
International Exposure
With the UK gaming industry under such close regulatory scrutiny, international expansion and exposure is the logical step to dilute the impact of the increased pace of regulatory tightening on the UK gambling market.
The Winners & Losers?
Whilst the perfect storm is brewing within the betting industry, its's worth analysing these firms individually to see whether there is one that is better positioned to face the restrictions.
Odds In Favour of Flutter Entertainment
Flutter Entertainment is ahead of the game as far as international expansion is concerned, which stands it in good stead for weathering the increasingly scrutinised UK gambling market.
In its third quarter results, flutter reported 10% revenue growth to £533 million, from £483 million, supported by a strong performance in Australia and the US, in addition to solid growth across both the sports and gaming sector.
Notably, in Australia, Sportsbet revenue increased 19% to £119 million. In the US, Flutter reported a massive 67% increase in revenue, driven by an outstanding sportsbook and gaming performance. Adjusted earnings before tax guidance for 2019 remains unchanged at £420million – £440 million.
The third quarter results are a clear example of how a strong performance in the US and Australia are offsetting falling revenue in the UK retail and online segments.
In order to drive this international expansion further, in the third quarter Flutter also announced an all shares acquisition of Canadian online gaming firm All Stars Group. All Stars Group also reported a strong increase in revenue in Q3 ahead of the 2020 blockbuster merger.
Another reason that Flutter are holding up better than its rivals is down to its business split. Approximately 80% of its revenue comes from sports betting, whilst 20% from casino style gaming. In this game of survival of the fittest, Flutter has said that it has seen an improvement in retail gaming revenue trends particular since the start of the fourth quarter as competitors have started to close shops across the UK.
With strong international expansion, limited online UK revenue and a focus on sports betting over casino style gaming, Flutter is well positioned to ride out tighter UK regulation.
Chart thoughts
Despite a 3.4% sell off on 4th November, the day of the APPG announcement, Flutter Entertainment shares have since pared some of those losses. The stock remains up 0.5% so far this month, following a 4.5% gain in October and a 12% rally in September. Flutter continues to trade firmly above its 200 sma, 100 sma and 50 sma reflecting a positive sentiment from investors towards the stock. Near term support can be seen at 7800 and resistance at 8275.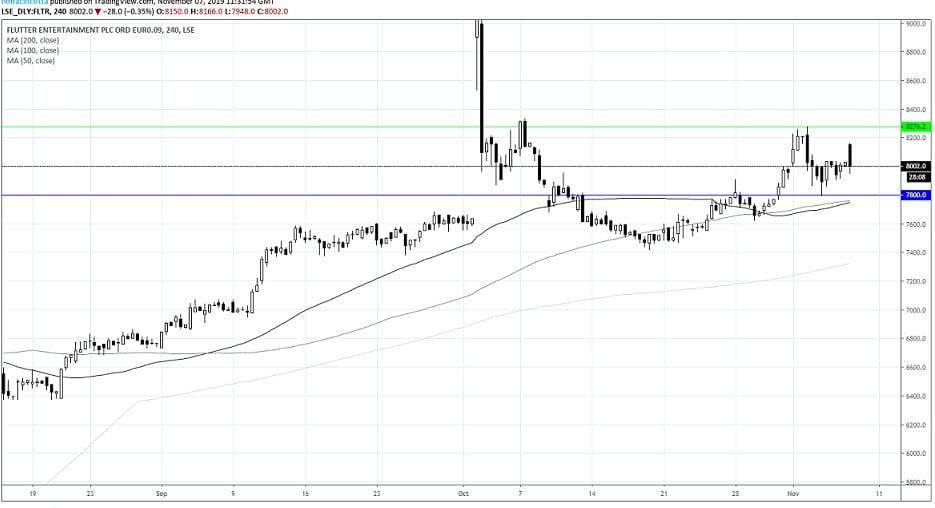 Bets Off At William Hill
William Hill lost 12% on the day of the MP' recommendation for £2 limit and has continued falling since; a reflection of how seriously investors believe such regulation could dampen revenue growth. William Hill is not well positioned to face the new regulatory restrictions. The firm still reeling in the fallout of the FOBT £2 limit, which could result in 900 stores becoming unprofitable and with 700 ear marked for closure.
William Hill is also lagging Flutter Entertainment with respect to international expansion. Dispute being quick out of the stalls when the US Supreme court cleared the way for gambling across the country, just 7% of its revenue comes from the US, compared to 15% for Flutter. Cracking the US is proving to be no walk in the park. Rivals are scrambling to grab a share of the US betting market and William Hill more dynamic rivals appear to be taking the lead. With memories of William Hills unsuccessful attempt into the Australian market still fresh in investors' minds, William Hill still needs to prove itself on the international field.
William Hill is trading below its 200, 100 & 50 sma on a bearish chart. Support can be seen at 165 and resistance in the region of 192.