Chinese mainland share indices have tumbled into the close.
Following a prolonged period of 'all news being good news', the markets have taken a more pessimistic approach.
The trigger was an announcement by Beijing on Monday that it intends to cut import tariffs on 850 goods.
The markets have been waiting all year for tariffs to be scaled back, but the surprise move by Beijing undermines the dynamics of the US-China relationship.
Mainland China stocks have tumbled into the Asian market close. One view being taken is that the decision by Beijing to unilaterally cut tariffs on over 850 products suggests the phase one trade deal may not be as reliable as was first suggested. Not much is known about the detail of the agreement, which is pencilled in to be signed off in 'early January.' The Chinese negotiating team, which has been willing to disclose information on a no-names basis, is noticeably quiet about the terms. As analysts and traders try to time jumping on the 'Santa Rally' the 1.4% fall in the Shanghai Composite Index (closing price 2,962.75) forms a timely reminder that further stock increases are not a given.
Tariff cuts
The Chinese administration surprised the markets on Monday by declaring its intention to lower import tariffs on more than 850 products. Some of the basket of goods, such as frozen pork and avocado, will see tariffs cut as soon as 1st January, while others, such as some technological components will see lower rates applied by July 2020.
The move can be partly explained by staple goods increasing in price and driving up Chinese price levels. Pork products have seen a year-on-year price increase of more than 110%.
China inflation rate: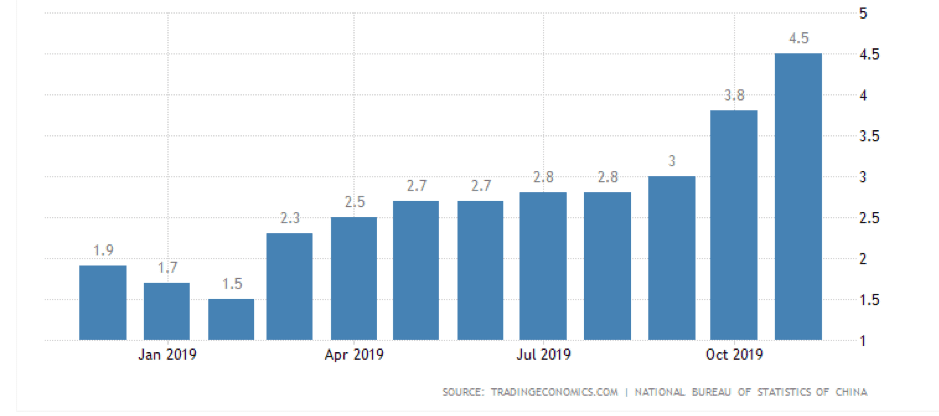 While the argument for tariff cuts makes sense from a domestic point of view, they are being made unilaterally at a time when international trading terms are a particularly sensitive topic. The move made by Beijing on Monday highlights that China needs certain American goods — in large supply. The official statement itself confirmed how the balance of power has shifted. CNBC highlighted the Chinese finance ministry's stated intention to:
"Increase imports of products facing a relative domestic shortage, or foreign speciality goods for everyday consumption."
Source: CNBC
This is sure to fortify the US team, which will feel it now has a clearer understanding of its bargaining position. The phase one deal has been dressed up as a win-win for both leaders but considered opinion is that Donald Trump rather than Xi Jinping is the greater beneficiary. Hu Xijin, influential editor in chief of the English language Global Times newspaper is often seen as the 'less diplomatic' mouthpiece of the Beijing administration. If the Global Times appraisal of the phase one agreement reflects the official view, then there are still issues to iron out.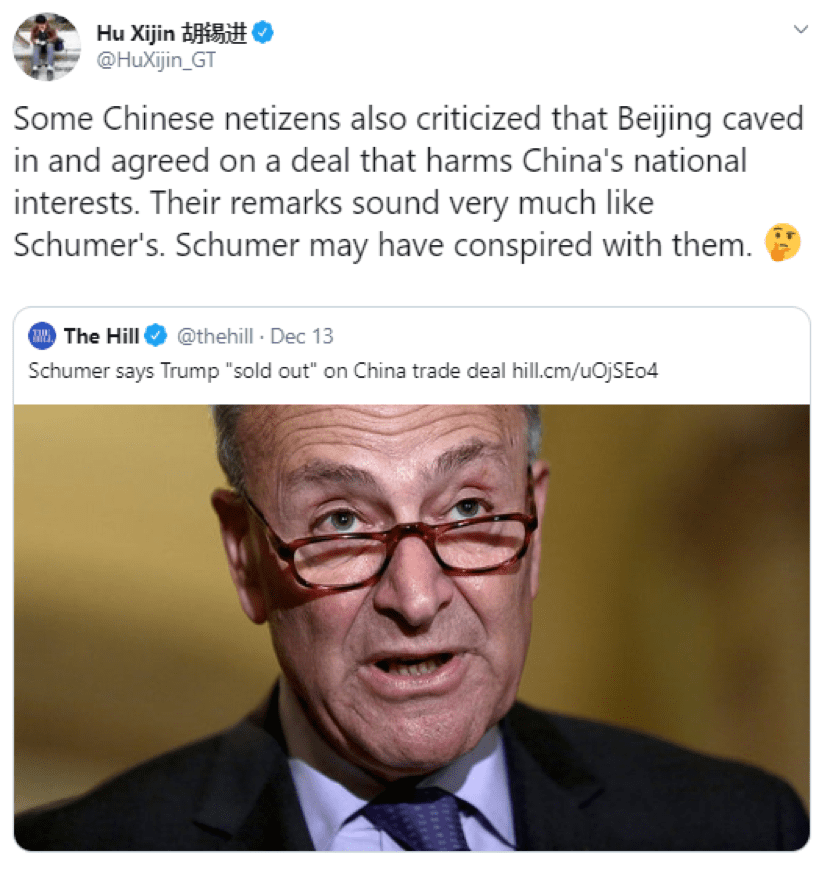 Toppy?
The fall away in prices could simply be a marker price action struggling to move through significant resistance levels. The China Internet Giants index, which is operated by BITA, shows prices stalling as they come up against the 1,200 price level. As well as being a psychologically big number, it also marks a three-month high.
China Internet Giants Index (BITA:BCINTG) — daily candle — January–December 2019: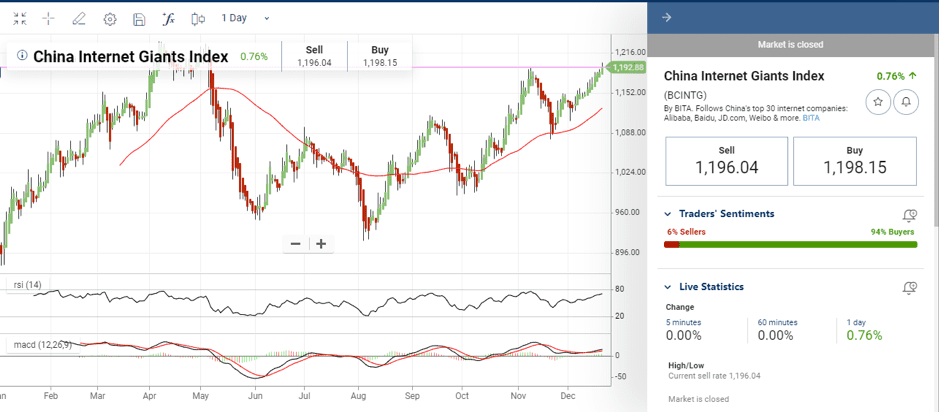 China Internet Giants Index (BITA:BCINTG) — daily candle — September–December 2019: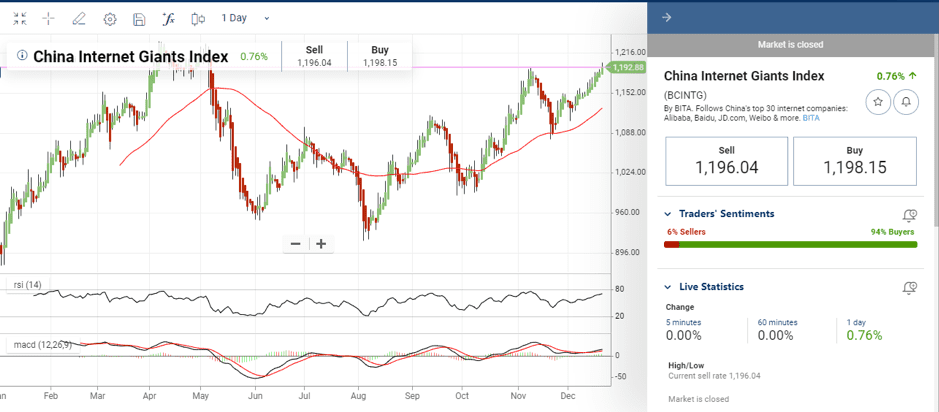 Australia listed mining stocks also declined on Monday. Rio Tinto was down 1.77%, Fortescue Metals declined 1.19%, whilst BHP Group fell 1.26%. Gold and oil stocks also saw declines. Those looking for the cause of the mini-correction could only point to China. These stocks, with particular exposure to China and global GDP growth, all fell away whilst the broader MSCI index of Asian-Pacific shares was little changed. Japan's Nikkei 225 stock index was flat, closing at 23,821.11 and the Tokyo Stock Price Index (TOPIX) fell 0.21% to 1,729.42.
Ploughing on
Investors looking to double-up on phase one becoming a reality may be interested in a report released by Morgan Stanley, which highlights the "Chinese stocks most likely to benefit from the phase one deal with the US."
Source: CNBC
The report works on the premise that not only will phase one be signed off but that the 29 mentioned names will outperform as a result.
Close to 50% of the stocks come from the IT sector. Some of the forecasted return from those names comes from the downward pressure on the sector — to be reversed by phase one. Eight of the names listed in the report come from the consumer sector. "These two sectors saw the biggest scale of valuation re-rating based on their previous reaction to de-escalation events," the Morgan Stanley report notes (source: CNBC)
The report continued: 
"We believe IT/Internet-related and Transportation stocks will benefit the most from any de-escalation of trade tensions – IT and Internet due to their exposure to tariff impacts and technology bans, while Transportation stocks, especially Airlines, should benefit from an improved global trade outlook and strengthened CNY/USD,"
Source: CNBC
Risk-on
 The stocks listed are not proxies for exposure to mainland China. Instead, they are direct plays on the likelihood of the deal being confirmed. All of the stocks are listed on either the Hong Kong, Shanghai or Shenzhen exchanges. Today's correction highlights how such names will likely see increased volatility as the deadline for phase one being signed approaches. If the deal really is at risk, then even defensive non-Chinese stocks will see their volatility pick up.
Noises from the White House remain supportive of the deal. President Trump tweeted on Friday that he had had a "very good talk" with Chinese leader Xi Jinping (source: Twitter). He added that China has already started "large scale" purchases of US farming produce (source: Twitter). Furthermore, the president on Saturday said that both countries would "very shortly" sign off on the deal" (source: CNBC). Analysts and traders, therefore, currently have two quite valid proposals to consider.