The UK has reiterated plans to impose a levy on tech giants that access its markets but pay little tax for the privilege.
While relatively straightforward in principle, the plan is hampered by technical details relating to implementation and the threat of reprisals by the US.
Spokespeople for the UK and US have discussed the topic at the World Economic Forum in Davos, and there is little they agree on.
The firms themselves may hold the key to any change, the question being what impact it might have on their bottom line.
UK chancellor Sajid Javid has declared his intention to push ahead with plans for a new tech tax on global internet giants. Firms such as Google, Amazon and Facebook are top of the list of targets. These firms are seen to be making local profits but not paying a proportional amount of local taxes.
In 2018, Facebook's UK operations paid only £28m of corporation tax – this despite the firm recording British sales totalling £1.6bn and having a brand and presence much greater than its tax bill might suggest. The firm claims to have made pre-tax profits of only £97m on the £1.6bn of revenue, an operating margin of approximately 1.75%.
Javid was speaking at the World Economic Forum in Switzerland when he said that he would continue with current plans to bring in a new 2% digital service tax in April. Describing the measures involved, until an international accord is agreed, Javid said:
"It is a proportionate tax, and a tax that is deliberately designed as a temporary tax."
Source: PublicTechnology
The UK has followed France's lead in putting forward a proposal. Despite a unified approach being more likely to succeed, the two European countries have both independently worked on implementing new tax plans. The effort by French lawmakers highlights the problems facing the UK. The 3% charge proposed last year was known as the GAFA plan as it appeared to target four major corporations — Google, Apple, Facebook and Amazon. All four are US-based, and it was proposed retaliation by the US administration that has led to those plans stalling. Washington's response was to threaten taxes on French cheese and wine imports, and this brought about a hasty retreat by Paris.
The UK's plans have also raised the prospect of the US applying arbitrary reprisals. Steve Mnuchin, also in Davos and speaking at the same event as Javid, said in reply:
"If people want to just arbitrarily put taxes on our digital companies we will consider arbitrarily putting taxes on car companies."
Source: The Guardian
Mnuchin explained how the thorny issue deserves high-level attention. It could, after all, effectively signify the start of another trade war. Mnuchin said:
"We will be having some private conversations … and I am sure the president [Trump] and Boris [Johnson] will be talking on it as well, as the president did with President Macron… We think the digital tax is discriminatory in nature."
Source: Politico
The question is how to tax firms that make profits in the ether. The feeling is that the traditional tax structure allows firms themselves to decide where tax is paid. This has traditionally led firms to establish domicile in countries that offer tax advantages. As the situation has become more high-profile, it might be the firms that offer a solution. A tacit understanding that they need to pay taxes 'somewhere' can be resolved if the tax authorities of the respective nations agree between themselves where 'somewhere' is. The firms may be the key to the situation being resolved, but it will take skilful negotiation to bring European and US governments to an agreement. No tax authorities like to give up the opportunity of bringing in more tax dollars.
Tech stocks are embracing the ethos of 'socially responsible capitalism.' In September, Amazon pledged to be carbon neutral by 2040. Microsoft raised the stakes on 16th January by pledging to achieve the same status 10 years earlier in 2030.
The firms can also draw on recent experience and the radical policies proposed by the Labour Party ahead of December's UK general election. Proposals such as the nationalisation of internet providers was a shot across the bows to the corporate world. Although the Labour Party lost the election, and shadow minister John McDonnell is set to resign from his post, it could be that the same message is presented by a younger generation of Labour politicians. On the subject of 'internet taxation', McDonnell said in September:
"How many more examples of large-scale tax avoidance does this government need before it will take action? It's no wonder people are outraged at the grotesque unfairness of our tax system."
Source: The Guardian
The trouble for GAFA stocks could represent a long-term downward pressure on tech stock prices. Back in September, financial analytics firm S3 Partners pointed out that Apple had the highest short interest of all US stocks. On 12th September, the value of shorts was $10.518bn, and in Amazon, short interest totalled $9.601bn. The graph for short interest over that time shows the two firms being increasingly targeted by bears: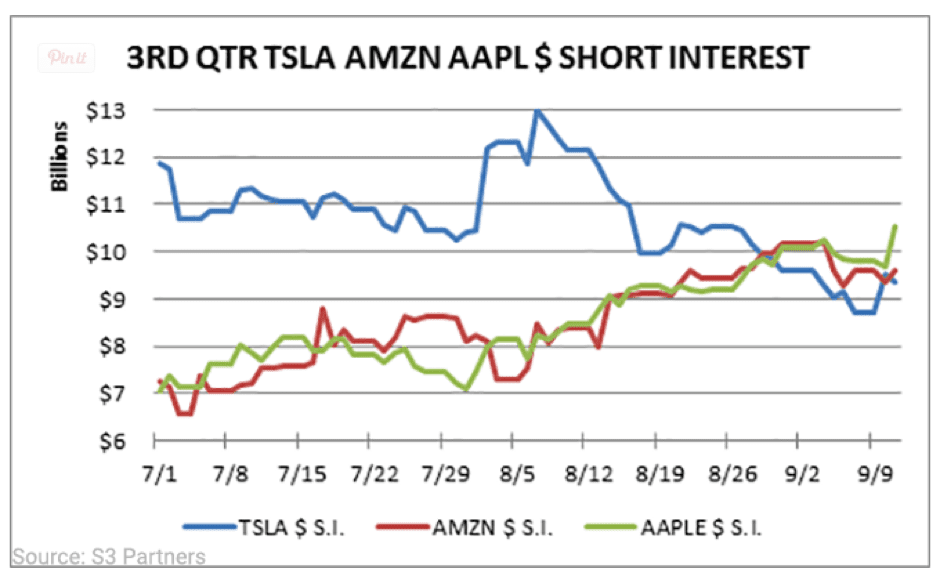 Those betting on falling stock prices have had to endure considerable losses. The graph of the Nasdaq index shows it continuing to rise and outperform the S&P 500.
Nasdaq vs SPX — six-month price chart: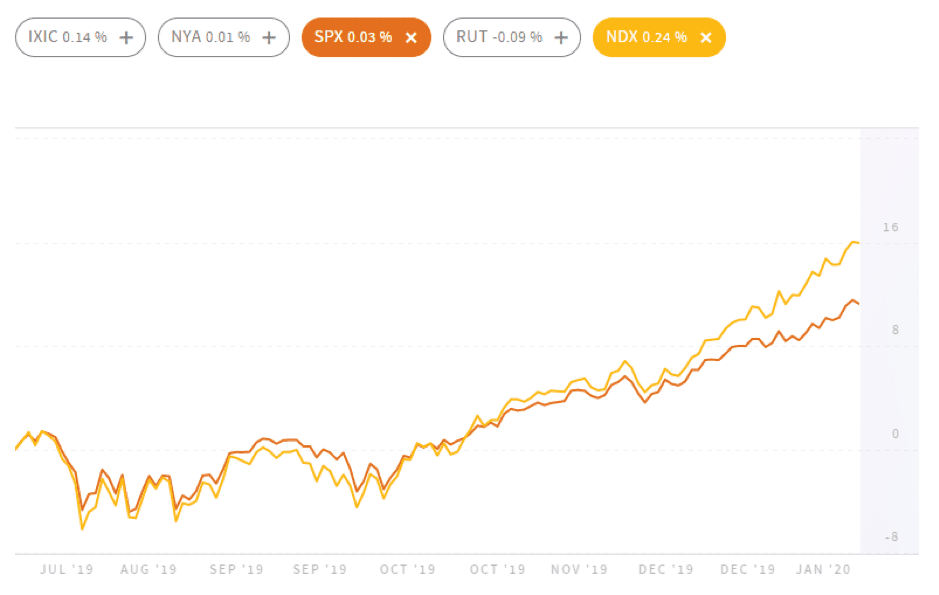 The conundrum of a heavily shorted sector continuing to show strength could be answered by this being a short squeeze. Once the more sensitive bears are stopped out of their positions, the market might see more committed 'shorters' double up on their positions. It's always useful to have a catalyst to justify being brave or foolish enough to go short into a bull market — and at least the possible digital tax offers some kind of potential trigger. Whether it will end up being a profitable strategy remains to be seen.