Latest Updates …
15:02: Facebook is in talks to buy a multibillion-dollar stake in Reliance Jio
Facebook reported to be in talks to buy an Indian technology company. Analysts have valued the company at $60billion
13:50: US manufacturing PMI came in higher than expected
In a positive sign for the US economy, although not conclusive by a long shot, the US manufacturing PMI came in higher than expected:
US Markit Manufacturing PMI March: 49.2 (expected: 43.5, Prev: 50.7)
13:32: Dow jumps at the open
The Dow Jones Industrial Average has opened 1,100 points higher after opening up at 19,722. The open higher is believed to be based on the hope that there will be a massive fiscal stimulus deal from the US Senate to help prop up the economy. It has climbed after hitting its lowest level since 2016 on Monday.
13:05: Today's limit down levels for the Dow Jones Industrial Average:
Level 1, 7% fall: 17197
Level 2, 13% fall: 16082
Level 3, 20% fall: 14780
12:45pm: Microsoft is now the only US company in the trillion-dollar club
After Apple's market cap closed below $1trillion yesterday, it has left Microsoft as the only US company in the club. With US futures markets rallying overnight, it remains to be seen whether Apples downwards slide will continue.
12:25pm: Support for airline sector expected soon
UK Chancellor Rishi Sunakhas announced that the government expects to make an announcement on support for the airline sector soon. The coronavirus outbreak has heavily impacted the sector.
12:05pm: FTSE rallies despite terrible economic data
The FTSE has rallied this morning and is now trading at 5198 despite the terrible economic data coming out of the UK and Europe. Services PMI's were hit hardest with the EU's flash markit services PMI coming in at 28.4 while the same reading for the UK came in at 35.7. Both releases were big misses, but so far stocks have remained resilient.
---
After yesterday evening's news that the UK will be going into a countrywide lockdown, we have seen shares in the FTSE 100 make gains this morning, following overnight gains in the Asia session.
There was also news yesterday during the day that the Federal Reserve will be buying unlimited amounts of government debt to help boost the economy.
These new measures have helped the FTSE which is now trading above 5000 points at 5197, up nearly 4%. As mentioned, Asian markets also gained overnight with the Nikkei closing up 7.1% and Hong Kong's Hang Seng up by 4.4%. US stock futures are also higher ahead of today's cash open.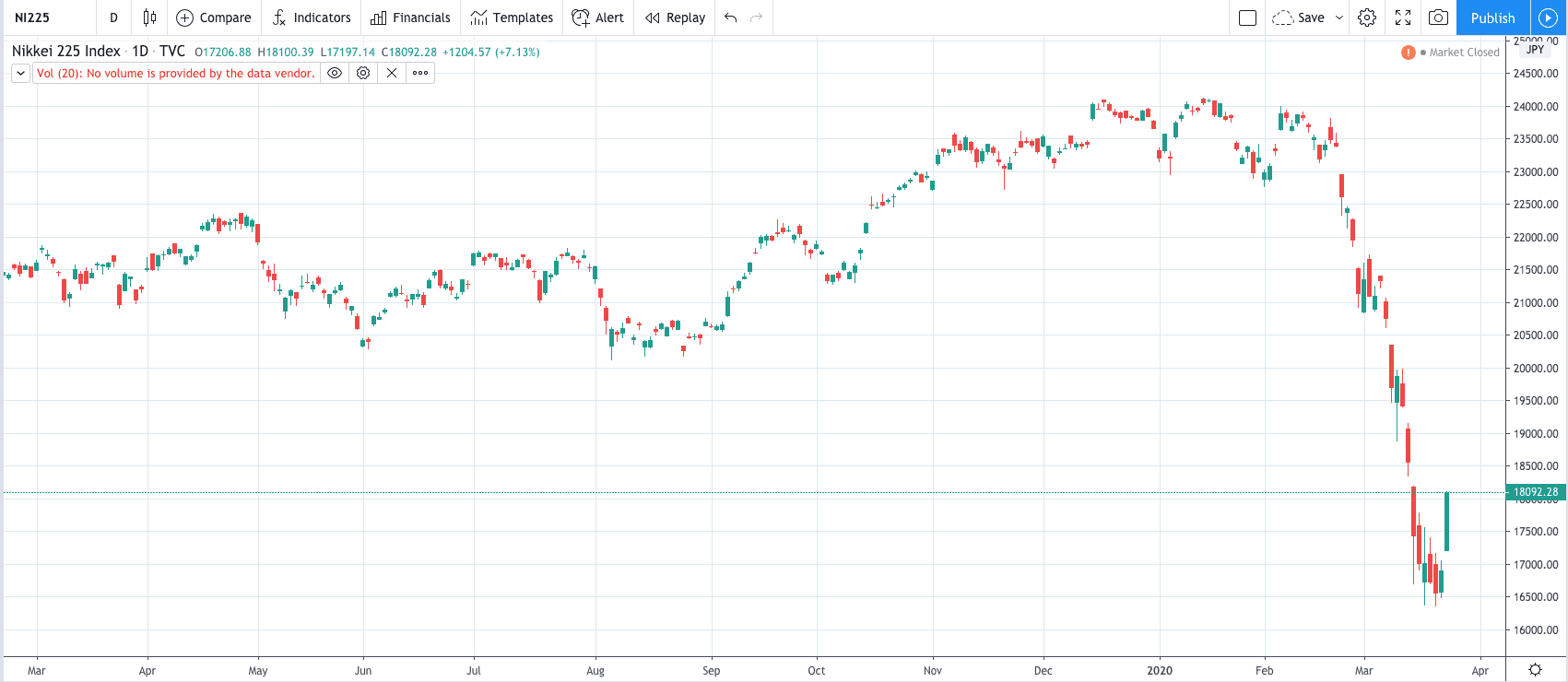 Yesterday evening was a dramatic one with UK Prime Minister Boris Johnson announcing lockdown restrictions to try and stop the spread of the coronavirus in the country. The death toll in the UK has now surpassed 350. Public gatherings are banned, and shops selling non-essential goods have been ordered to close.
US Equities
We also saw another sell off in US equities yesterday, with all three major indices having negative days. There has been an injection of liquidity from the Fed. However, the market is still awaiting fiscal stimulus from the Senate, as the democrats have twice rejected the plan so far. There is increasing pressure on the Senate to pass the bill.
They will need to take action soon as the number of coronavirus cases and deaths in the US continues to rise.
Although the S&P 500 sank yesterday, some standout names did rise. These were mainly in the IT sector where Intel, Advanced Micro Devices and Nvidia each made gains.
The Dow sank 3% lower yesterday as companies such as Mcdonalds, and Chevron struggled.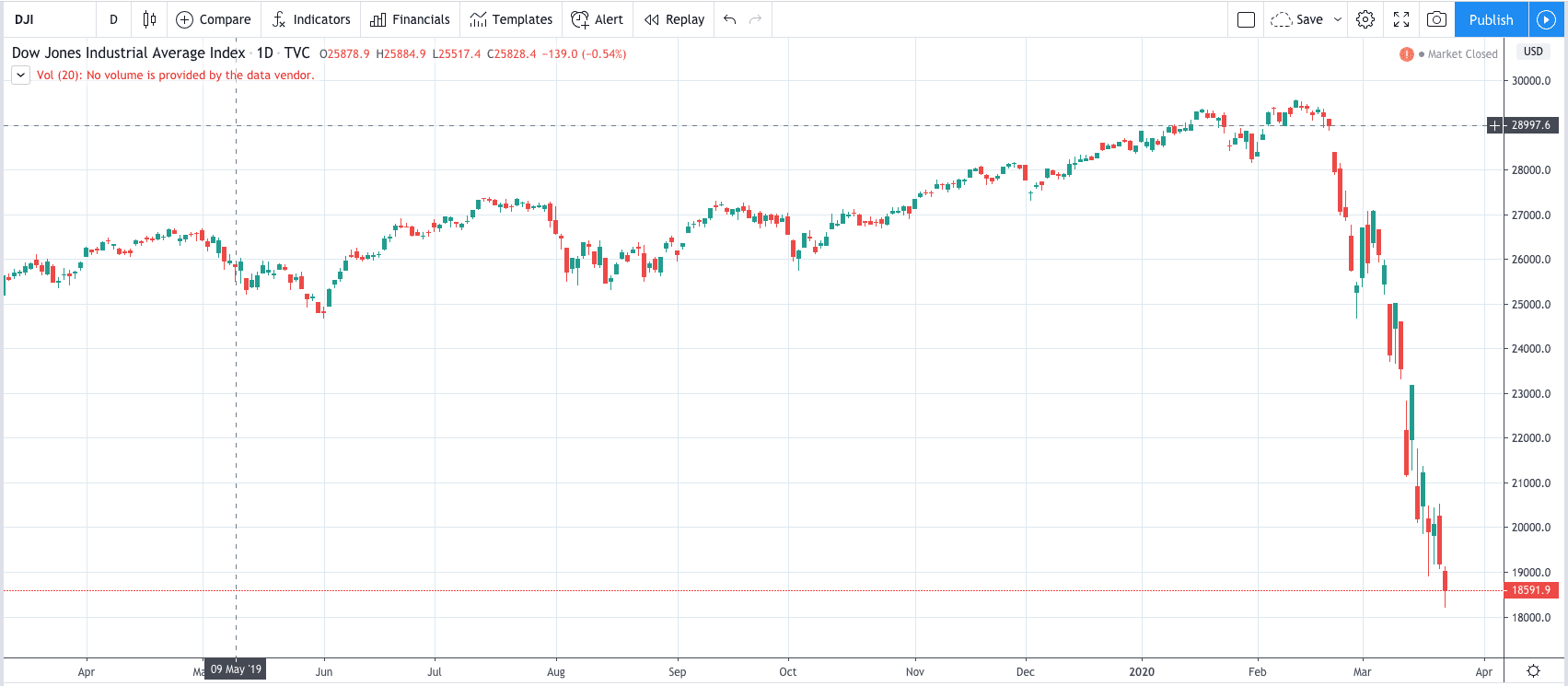 UK Stocks
Yesterday was an up and down day for stocks listed in London. Having opened lower, they then seemed to make gains up until lunchtime before then selling off once more into the afternoon.
Both the FTSE 100 and 250 ended the day down by 3.8%.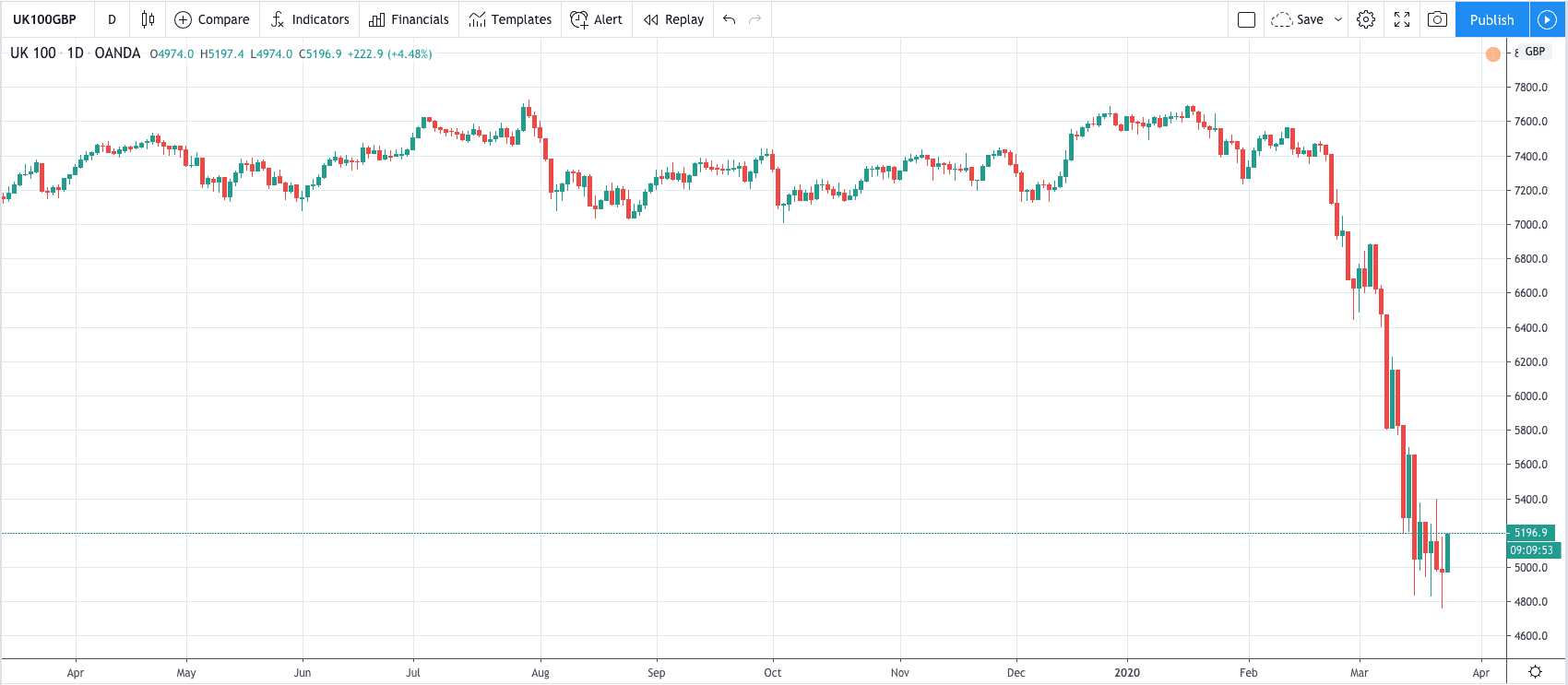 Finance companies were some of the worst-performing companies in the UK indices yesterday as Hargreaves Lansdown and St James Place both recorded double-digit losses. Next also had a terrible day, closing down 11.2% and after the market closed, the company confirmed all stores would be closed temporarily due to the coronavirus.
There was some positive news as BP, and Royal Dutch Shell made some gains after an increase in oil prices.
What to look out for:
Nike – the company, will be posting their quarterly earnings update, and with the current global market conditions, analysts will be looking to see what the impact has been on the company. They will also be looking over how consumers are spending in different regions due to Nike's global presence.
Manufacturing data – There is flash PMI for manufacturing and services out today. EU data, which was released earlier, wasn't as bad as expected, and now all eyes are on the US data to see how they have been impacted.
Cryptos
Cryptocurrencies have continued to rally from recent lows.
Bitcoin is now trading nearer $7000, while Etherum and XRP have also made moves higher. There have been high levels of volatility, and so that is something to watch out for if trading cryptos.