France announces intention to introduce a range of 'green' taxes targeted at airlines.
Price rises would be a significant factor as the sector business model is weighted towards price competition.
A developing trend for consumers to shun air travel poses a second, but related, challenge.
Airline share prices fall away on 9th July.
European airline stocks lost ground on Tuesday. Air France–KLM (Ticker: AF) was down 3% on the day. The trigger for the price move was the French government's call for the EU to introduce a new range of taxes on air travel and airlines. This threat to the balance sheet of airlines comes at the same time as consumer tastes appear to be moving away from flying as a means of transport.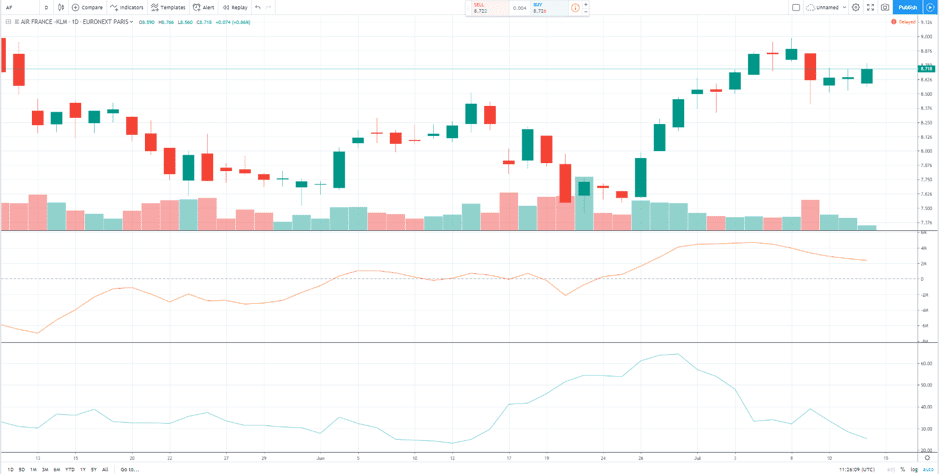 Wrapped up as a 'green' tax, the French proposal would see airlines charged each time one of their aircraft takes off from the French mainland. The tax, which would be applied on a per passenger basis, would consider travel distance and ticket type. The starting tariff is intentionally small with levies likely to range between €/$2-20 but the principle will be set and future rate hikes likely.
Due to the international nature of the airline business, a co-ordinated approach is optimal for the governments involved. Fortunately for France, the governments of its neighbouring states rather unsurprisingly also find the idea of increased tax revenue quite appealing.
The Netherlands has joined the French calls, and Germany and Sweden already have some mechanisms in place. Sweden's flight tax came into effect on 1stApril 2018. Originally set deliberately low, all flights departing Swedish airports were charged 60 SEK to 400 SEK per person (equivalent to US$ 6 – US$43). This week's fall in airline share prices reflects that the Swedish model provides proof of concept and that when France and Germany both agree on something, the EU usually adopts it as policy.
There's nothing a government likes more than a new tax that is welcomed by its citizens, and indeed collected by its corporations. According to a poll for Dagens Nyheter, when similar taxes were introduced in Sweden in 2018, 53% of Swedes were in the favour of the new tax being brought in. This kind of situation is a 'win-win' for governments, but a 'lose-lose-lose' for airlines.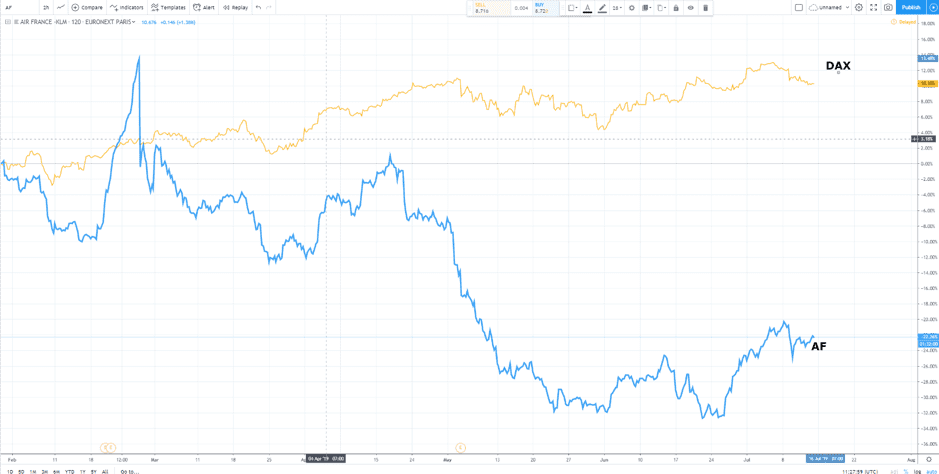 Airlines quite rightly point out that they have for a long time been getting their own house in order and have proactively been lobbying for others to do the same. The current network of flight routes over European airspace is not as efficient as it could be due to member states failing to rationalise national airspace boundaries. It's estimated that an efficiency saving of 6% would be achieved through a re-organisation of routes but even though it's been on the agenda for many years, there is still no sign of political agreement. Calling for the EU to focus on an airspace overhaul, Willie Walsh, the CEO of International Airlines Group (IAG) and owner of British Airways, said:
"We could do it tomorrow, yet politicians have been discussing this issue for over 18 years. It is now time for action."
Source: CNBC
As fuel costs make up such a considerable element of the cost base, airlines and environmentalists actually have aligned interests and a shared ambition to reduce the amount of carbon-based fuels being used. Modern aircraft are made of lighter materials. The first sustainable aviation fuel plant is due to open in 2022 and the International Air Transport Association (IATA) ambitiously targets 2% of total aviation fuel supply to come from sustainable sources by 2025. All this change is a drag on resources and the weekly technicals for AF point into the red.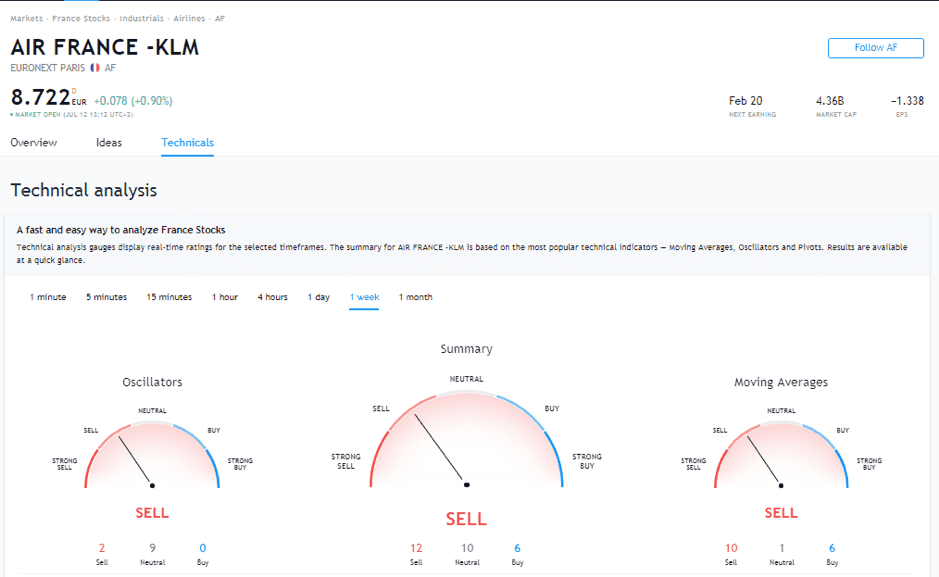 Speaking at a press conference on Wednesday 10th July, Ryanair chief executive Michael O'Leary said:
"We are paying, on behalf of our customers, a penal level on aviation taxes."
Source: CNBC
O'Leary's mood may (or indeed may not) be lightened by reading James Delingpole's book 'Watermelons' – one suggestion of that work being that a lot of eco taxes are just 'old fashioned taxes' presented in a green wrapper. The announcement by the French government on Wednesday included reference to the new funds being used to promote green transport and energy programmes. The policy is still to be finalised but the more cynical may dig down into Macron's proposal to establish if and how these funds are ring-fenced for environmentally orientated projects.
If, or should that be when, the taxes are introduced, the question will be how much of the cost airlines can pass on to consumers. In 2018, airlines that are part of the Airlines for Europe group paid in excess of €5bn in aviation and environmental taxes to individual governments or Brussels. How much of this came out of the consumer's pocket is hard to gauge but the sector is associated with cut-throat price competition, meaning corporations that take the wrong approach could get burnt.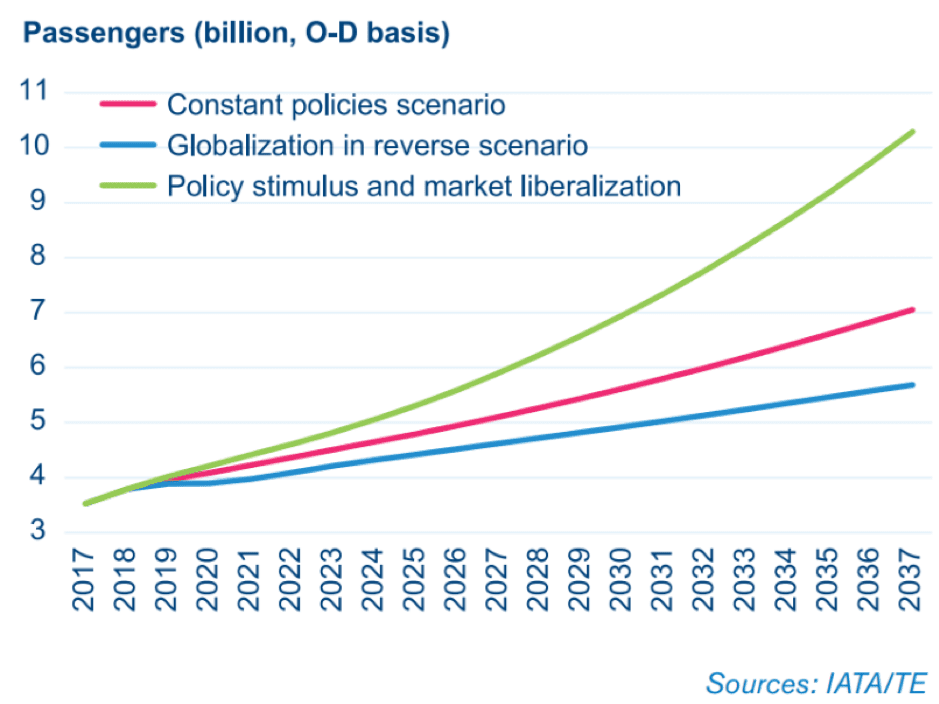 Will the taxes and the increased opposition to air-travel on environmental grounds make current projections of future travel numbers redundant? Global demand estimates are centred on the Chinese middle-class wanting to see the world. Even if this part of the demand curve stands firm, there are numerous other borderline business journeys and such like that might become less attractive.
Winners and losers?
How can such a tax be applied equitably? New world economies such as those of North and South America typically have a less developed rail network and a greater average distance between flight locations. Can governments here apply taxes in the same way, considering there are fewer alternatives for consumers to turn to? Which airlines in which countries will be most impacted?
Michel O'Leary points to a "campaign of bias and misinformation around efforts by airlines". He may be right about that, but airlines are a consumer industry and if they haven't got their message over well enough then they leave themselves exposed to the changing appetite of their passengers. Despite all the efforts of the industry, it comes down to physics and the fact that it just takes more energy to get a group of people up into the air than it does to roll them down a hill.