Tech giant Facebook (NASDAQ:FB) has a growing problem relating to 'fake' accounts.
The suggestion is that advertisers have a grasp of the scale of the issue and the terms & conditions of their promotions factor in the margin for error.
Analysts and investors face a different challenge as they try to establish if the tech giant is the 'exciting' growth stock many believe it to be.
Facebook is facing some uncomfortable questions about the number of users it claims to have. The firm with a $560bn market cap is experiencing growing pains as it moves from being valued as a young start-up to an established titan. It is now over 15 years old and investors have to establish if they see the stock as a growth or income play.
Facebook claims to have 2.5 billion users, which equates to a third of the world's population. From an advertiser's perspective, that's a lot of eyeballs. The firm also applies layers of algorithms, which allow commercial sponsors access to the kind of 'viewer' that they actually want. A question that is being asked with increasing frequency, however, is how many of those accounts are 'real'?
Facebook itself calculates the number of duplicate accounts on its platform to be approximately 11% of monthly active users. Fake accounts make up another 5%. The numbers relating to these accounts are posted as part of the firm's annual filing and the figure is growing. Facebook calculates that user numbers have grown by 18% over the last two years, but once fake and duplicate accounts are included, the total growth is closer to 7%. This discrepancy is all the more relevant considering that Worldatlast.com lists Facebook as the sixth-largest firm in the world by market cap.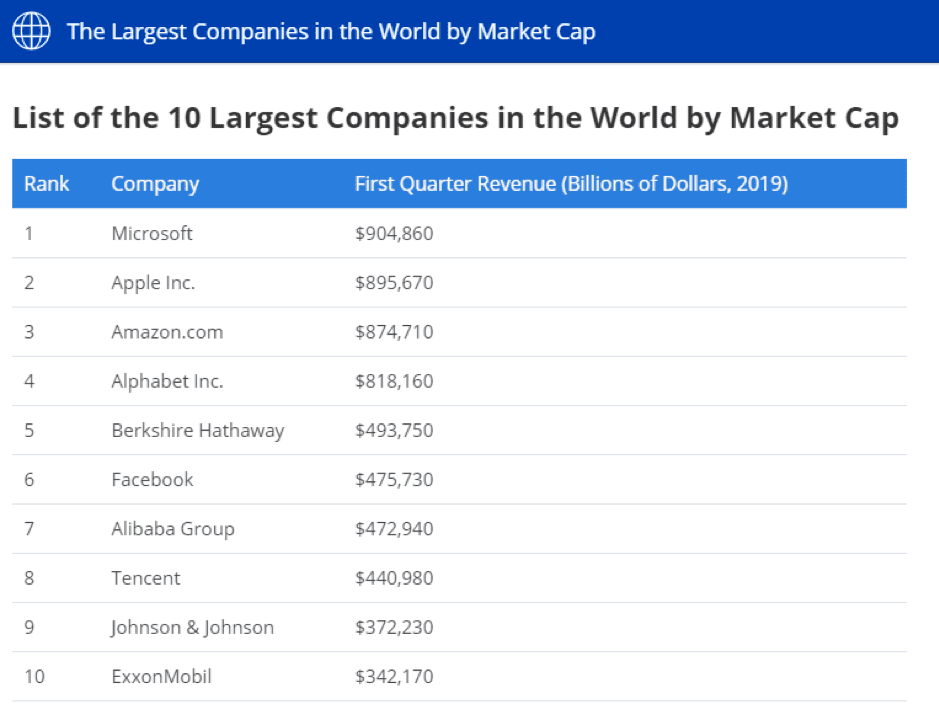 The reason that Facebook and its investors are particularly sensitive to the 'users' metric is that it is still valued by some on the basis of it being a growth stock. As with other tech startups, a valuation based on ambitious growth patterns brings about a higher stock price than a valuation based on more traditional measures such as earnings per share.
The Simply Wall St analysis dashboard for Facebook shows that it is still considered a growth stock with an investor bias towards 'future' earnings.

The earnings and growth projections from the analyst community show a fairly straight line extrapolation based on past successes.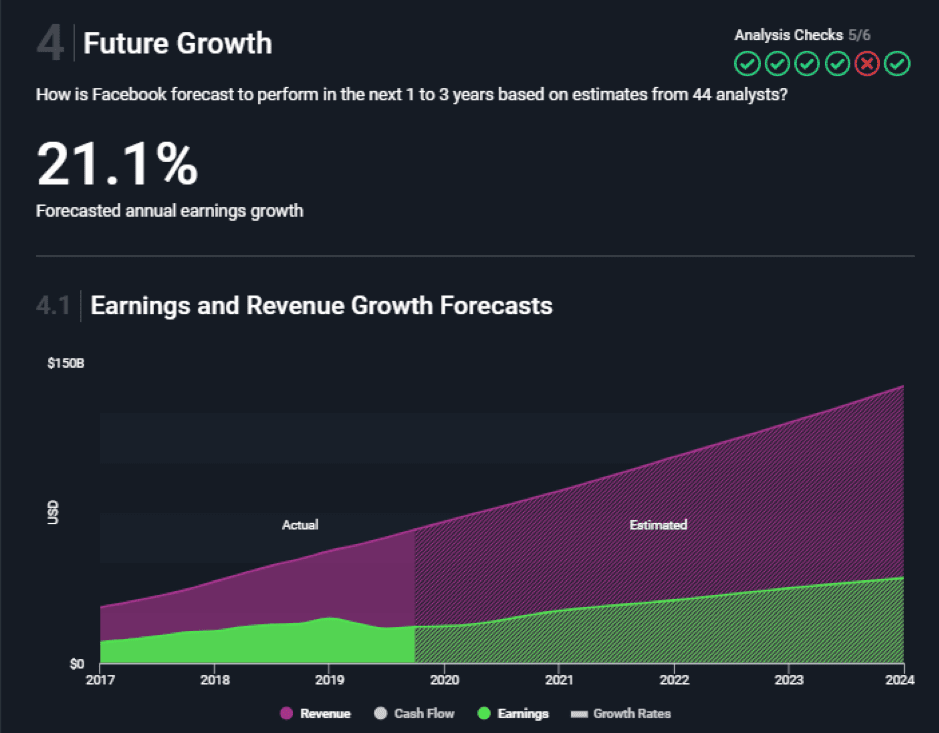 Facebook itself is aware of the problem relating to fake accounts. It states:
"We have improved our ability to detect and block attempts to create fake, abusive accounts. We can estimate that every day, we prevent millions of attempts to create fake accounts using these detection systems."
Source: Scrabbl
Facebook categorises the accounts as either "abusive" or "user-misclassified" (source: Facebook). The former includes accounts that are meant to mislead and are even sold to unscrupulous users. The Los Angeles Times highlights a Financial Times report from Monday, which notes how its analysts were able to buy 50 fake accounts for $25 (Source: Los Angeles Times).
The 'user-misclassified' type of account includes genuine users who run more than one profile or are even deceased.
Analysts working through the data are then left with harder questions to answer. Is the number of fake accounts growing because Facebook is getting better at identifying them and actually how reliable are the Facebook metrics?
Facebook share price — year-to-date: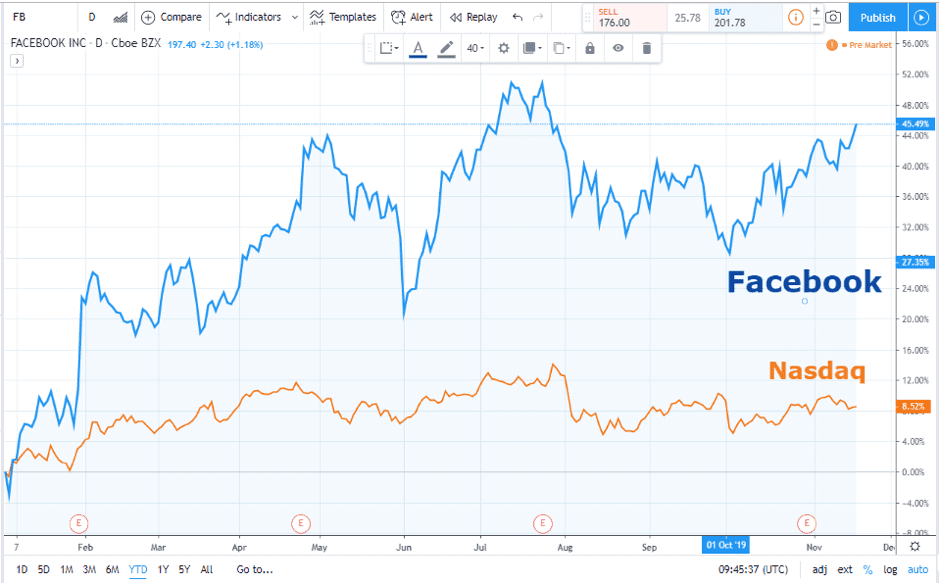 Facebook share price growth has stalled through the second half of 2019. The Cambridge Analytica scandal of 2018 and the firm's involvement in the Libra cyber-currency project has seen increased scrutiny applied by governments and regulators around the globe.
On a longer-term chart, the stock price can be seen to have peaked in June 2018.
One of the strongest drags on performance is a mood change in Washington. The traditional approach of 'no consumer harm, no foul' benefitted Facebook as, after all, it provides its services to consumers free of charge.
Congressman David Cicilline, who chairs the House antitrust subcommittee, is challenging that status quo. In March 2019, he wrote to the Federal Trade Commission, stating:
"American antitrust agencies have not pursued a significant monopoly case in more than two decades, even as corporate concentration and monopoly power have reached historic levels."
He continued by singling out Facebook:
"Given all that we've learned recently about Facebook's predatory behavior, it's clear that serious enforcement is long overdue."
Source: Cicilline.house.gov
Facebook share price — Five-year chart: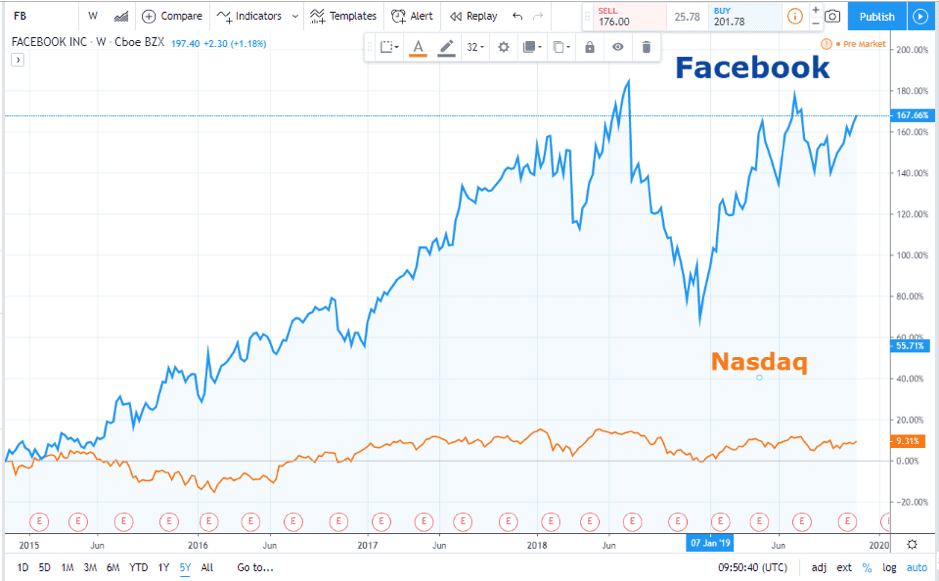 Big is still beautiful
The problems facing the firm do at the same time demonstrate its position of strength. The lack of genuine competition, which frustrates regulators, demonstrates the barriers to entry. The firm has now bought 79 companies including Instagram and WhatsApp — a move that simultaneously helps it diversify its business model and snuffs out the threat from disrupters.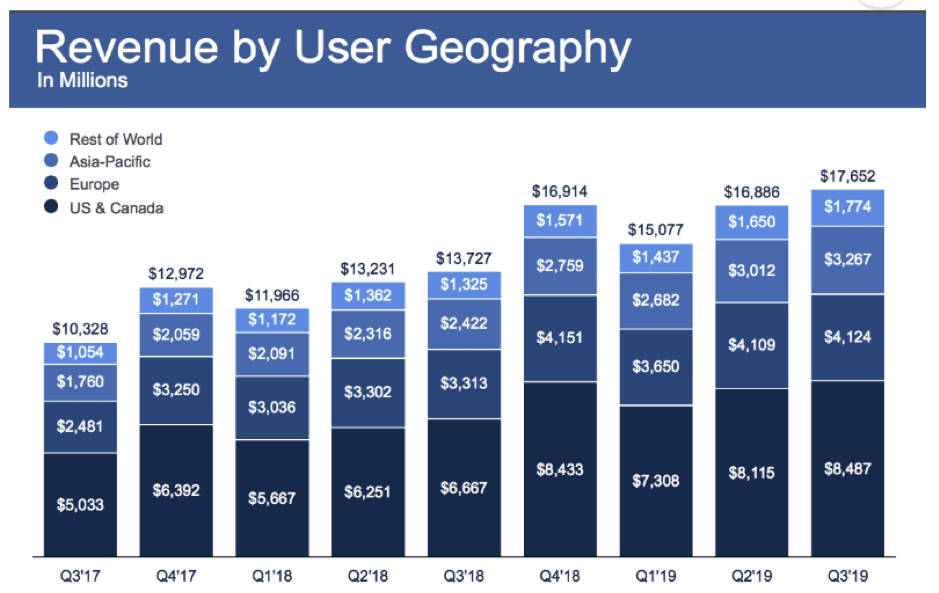 Cash is king and Facebook's Q3 earnings report shows $17.652bn of revenue — up 29% year-over-year, with $2.12 in earnings per share. This beat expectations, with Refinitiv's consensus estimate pegged at $17.37bn in revenue and $1.91 earnings per share.
Other more mature firms also make a profit, but their valuation is based on reliable revenue streams rather than 'reach for the stars' potential earnings.
Future growth
The ability of Facebook to circumvent traditional taxation systems has brought about much consternation among European politicians. Emmanuel Macron and Jeremy Corbyn have been particularly outspoken on the subject. The tech giant has to date profited, literally, from a policy of 'divide and conquer', which looks relatively secure due to the political parties being unable to agree on a coordinated policy.
Facebook is a company with an increasingly mature business model. Its size and market dominance will cause it challenges but also be its greatest resource.
What the issue surrounding user numbers highlights is that it may not be the growth stock that many investors think it is. Indeed, a reappraisal of the formats used to value the stock could further weaken the share price.