US Fed and ECB policies underpin recent moves in emerging market forex markets
Currencies of smaller nations have also reacted to geo-political and fundamental economic data announcements
Mature stage of global economic cycle working against EM FX
Reuters' poll of 5thJuly finds analysts think EM FX has already seen its 2019 peak
Last week saw major news events impact the currency markets. The ECB's appointment of Christine Lagarde as its new head signalled an era of softening monetary policy in the eurozone. In the US, strong employment data of 5thJuly suggested the economy there might not need rate cuts to be as hard and fast as first thought.
The short term noise, such as last week's news, creates forex price moves and the potential for trading profits. The currencies of emerging market (EM) nations are often disproportionately exposed to these types of moves and therefore have a lot of interested followers. Execution costs tend to be low, the forex market is unregulated and the relatively low overheads associated with trading forex mean that it is possible to trade longer term trends.
The three key drivers of the EM forex markets have all been in play recently.
Geo-political risk, trade-wars, the risk of actual wars and a contagion of deteriorating nation-to-nation relationships can be bad news for a major economy like the US. For a smaller economy, exposed to global money flows, the events running up to the recent G20 summit in Japan can have serious consequences.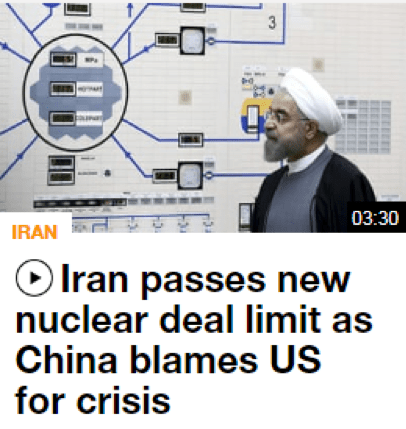 In the same way, the general health of the global economy is a key determinant of EM FX rates. The EM economies and their currencies in general outperform their 'developed country' counterparts when the tide is rising. Accordingly, they do also experience more hardship when markets tank. Demand from bigger and wealthier nations, for example, for raw materials or the products of new growth industries, can see EM currencies strengthen. As global equity markets move through another year of seemingly endless equity market bull runs, analysts are beginning to ask, if and when, the global economy is going to run out of steam.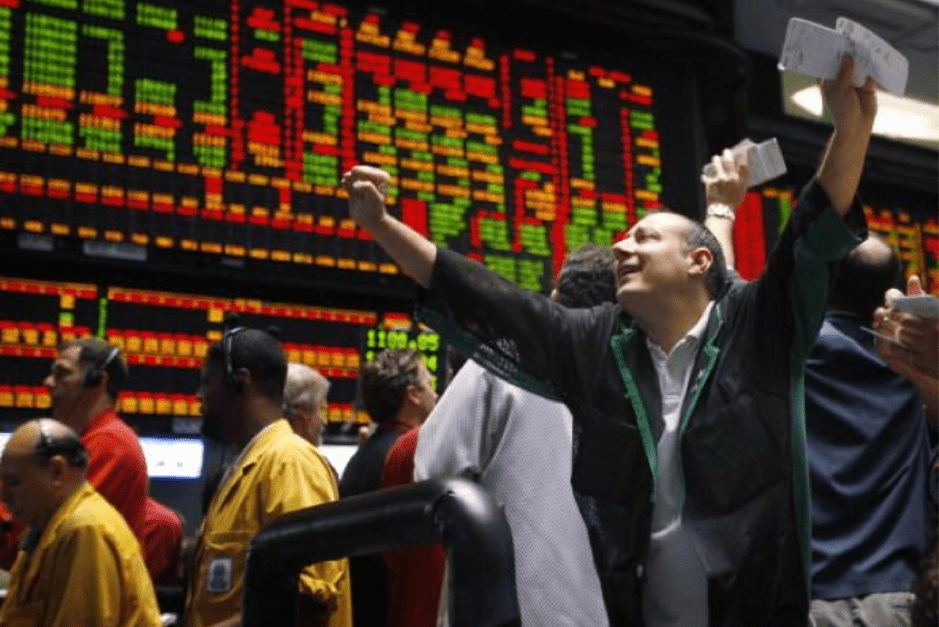 The third factor that has been particularly important recently is the guessing, and indeed second guessing, of the intentions of central bankers. The US Fed has hinted at rate cuts and the ECB has a new boss, Christine Lagarde, who comes with something of a politically inspired, more relaxed mandate. Of Lagarde's nomination, Aline Robert of Euractiv.com said:
"Her nomination to lead the ECB starting on 1 November does not seem self-evident. If her nomination is approved… it will also be the first time that the ECB is headed by someone with no prior experience as a central banker."
Source: EURACTIV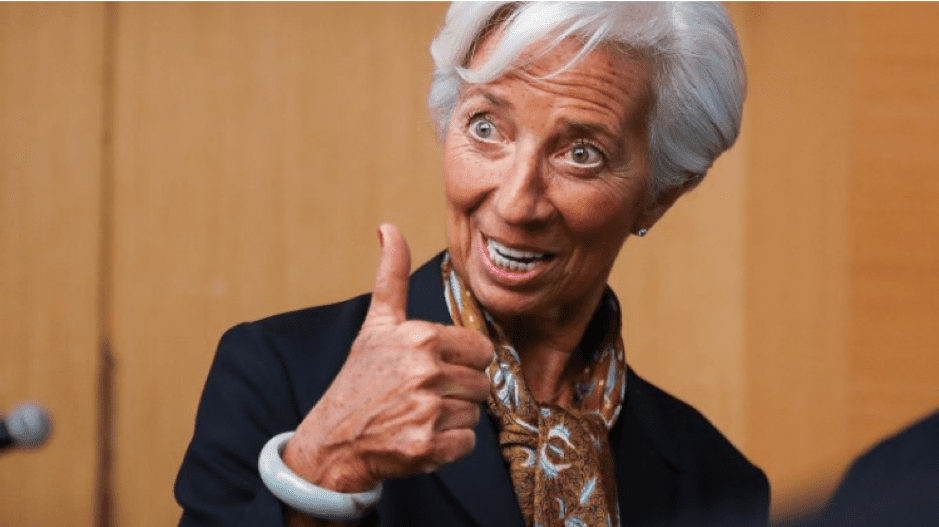 Viraj Patel, CTO at Arkera, when speaking with Bloomberg TV pointed out that for EM forex to strengthen it would need "fresh catalysts". These currently appear to be thin on the ground.
Source: Bloomberg
The USD / ZAR forex pair
The USD / ZAR short strategy that is proposed by ForexFien on TradingView, ties in with the current views of many analysts who see EM Forex weakening in the near future.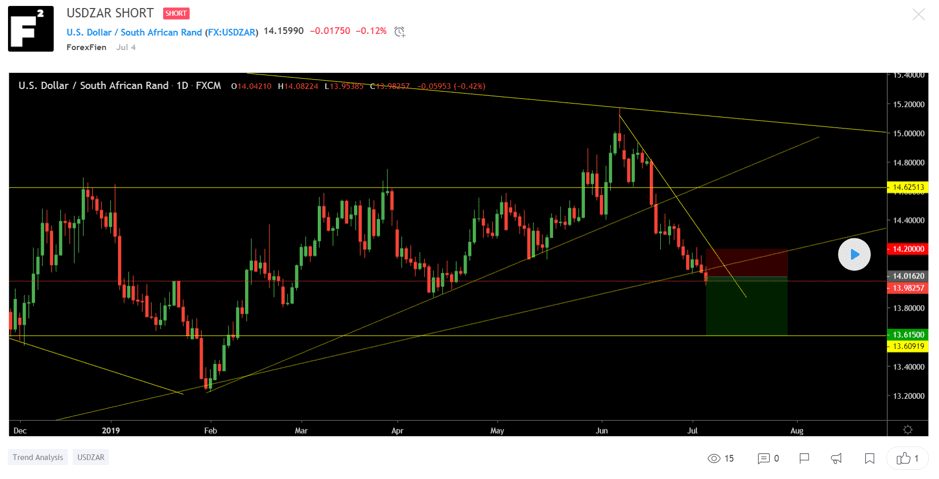 The weekly technicals on the same site have dials firmly over in the red: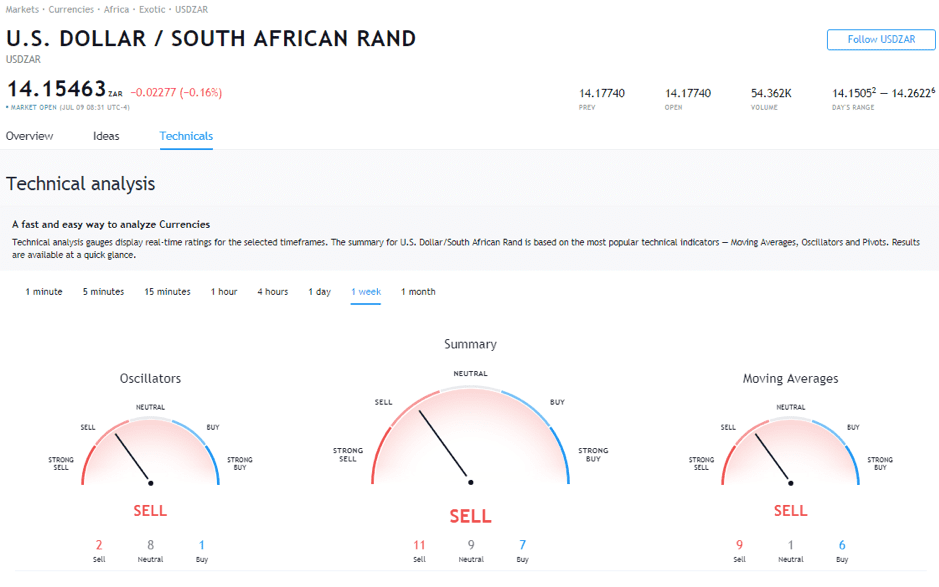 Speaking with Reuters on 5th July, Francesca Beausang, senior economist at Continuum Economics, said of the USD / ZAR forex pair in particular and EM FX in general:
"We think that the recovery will come to an end, as Trump inevitably relapses into protectionist talk and downside risks to Chinese and US growth materialise… The (current) recovery for emerging market currencies is driven by a resurgence of risk-on sentiment given the more conciliatory tone struck by US President Trump at the G20, especially vis-à-vis China."
Source: Reuters
Just to highlight that the USD / ZAR pair is not a one-off in an otherwise thriving EM FX sector, the below technicals, again from Trading View, relate to the USD / Brazilian real forex pair. The price chart of USD / BRL shows some correlation to the USD / ZAR chart: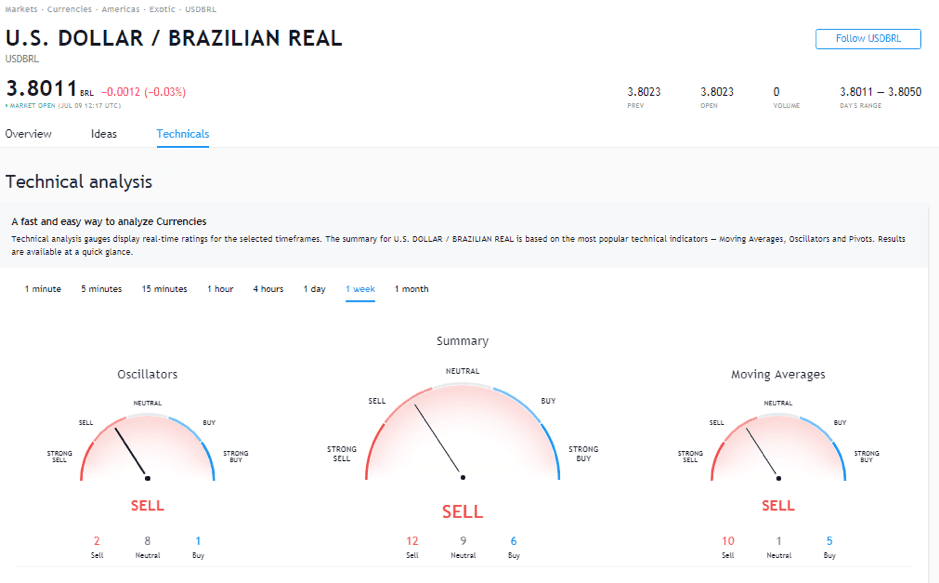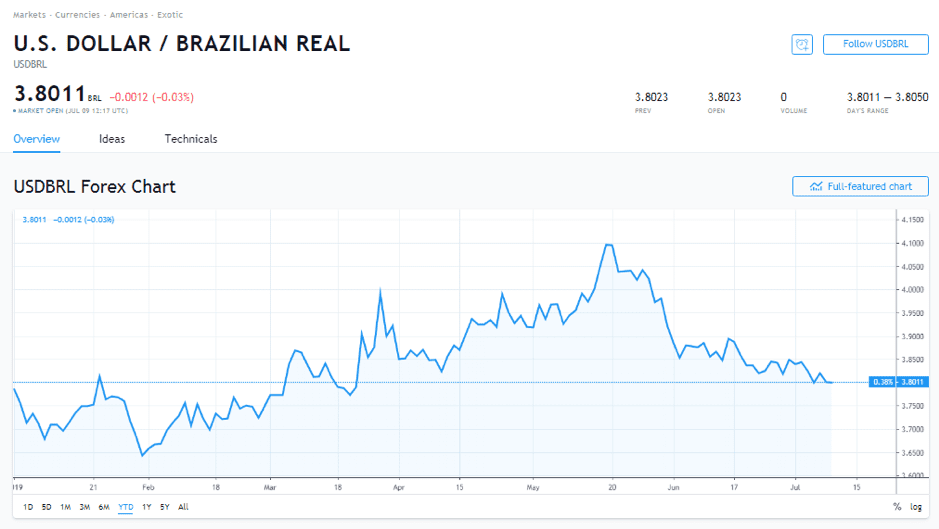 How to trade and manage concentration risk – EM FX index
Viraj Patel, without sounding disrespectful, does in his Bloomberg interview refer to the fact that even the Brazilian real is a 'local story'. Trading EM forex pairs can require an understanding of local knowledge and being under-researched opens the door to trading losses. The Brazilian real situation is influenced by domestic issues including a controversial plan to reform pensions. The South African rand being particularly exposed to events in the commodities markets.
As the individual EM Forex pairs come with a degree of concentration risk, indices representing groups of EM forex currencies are available. The below data from UK Investing gives a breakdown on the performance of the MSCI EM FX index that is formed by a basketful of different EM pairs.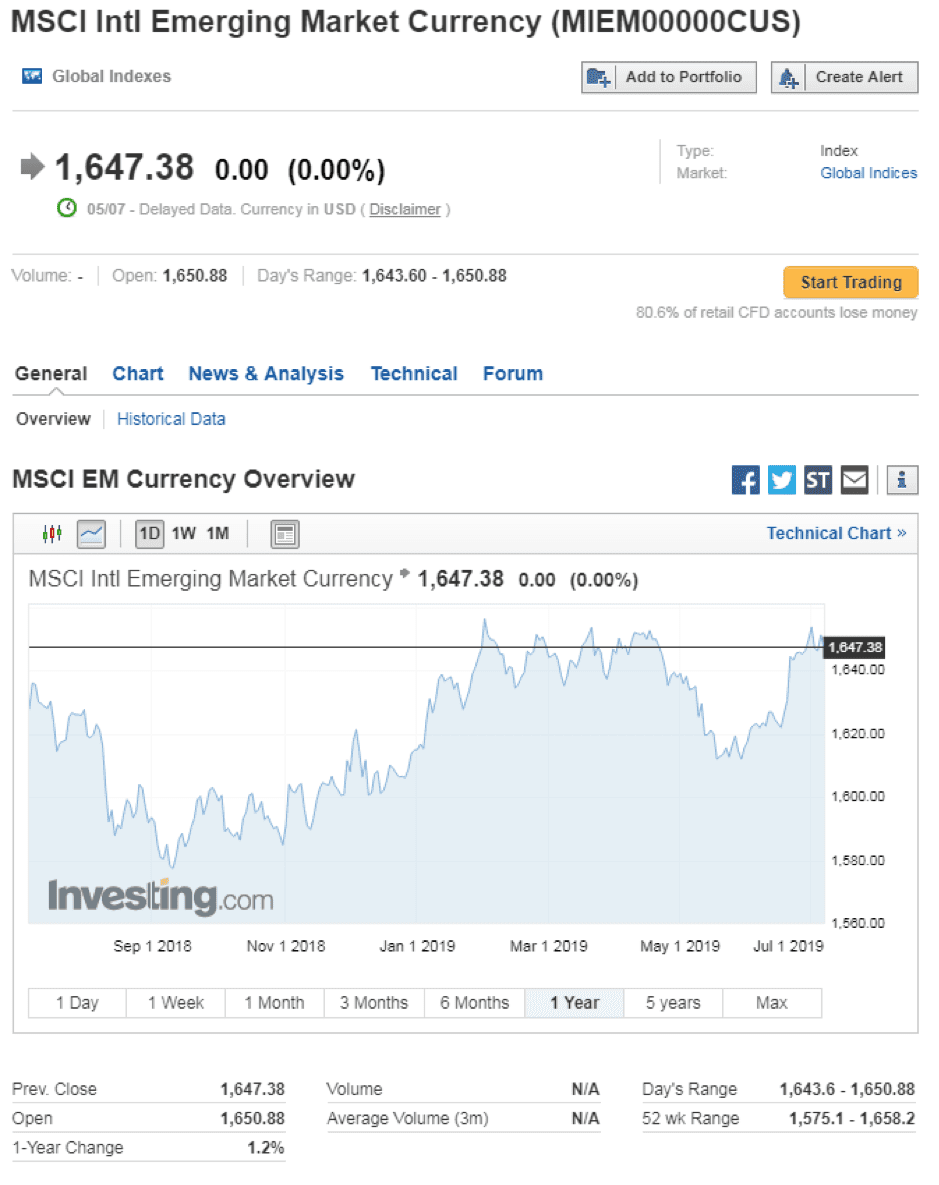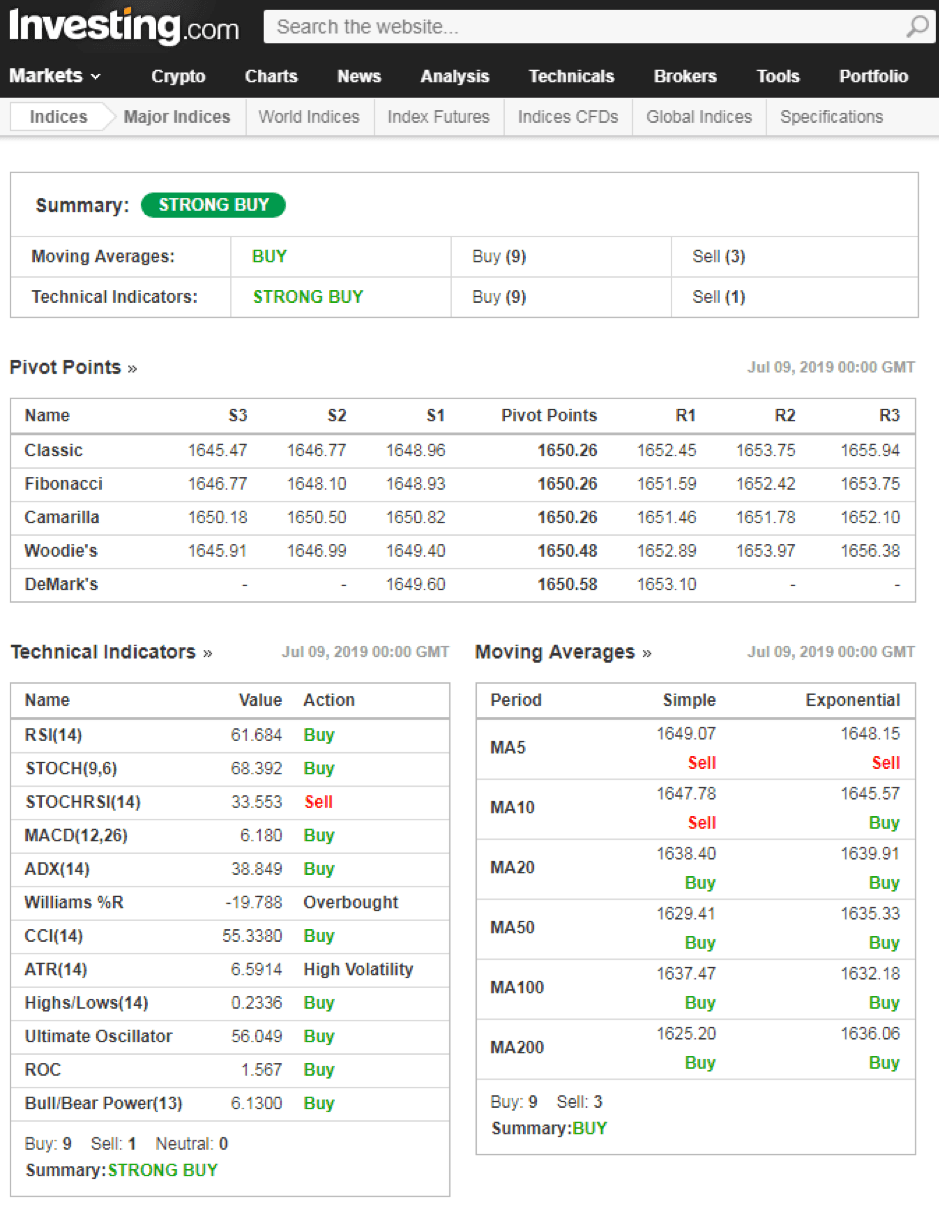 The breakdown of resistance, support and pivot points highlights that following the news of last week, the EM FX index has weakened. It's now trading below the Pivot Point and first level of support. Currently it is trading at a price of 1,647.38 and sitting very close to the 10 day moving average.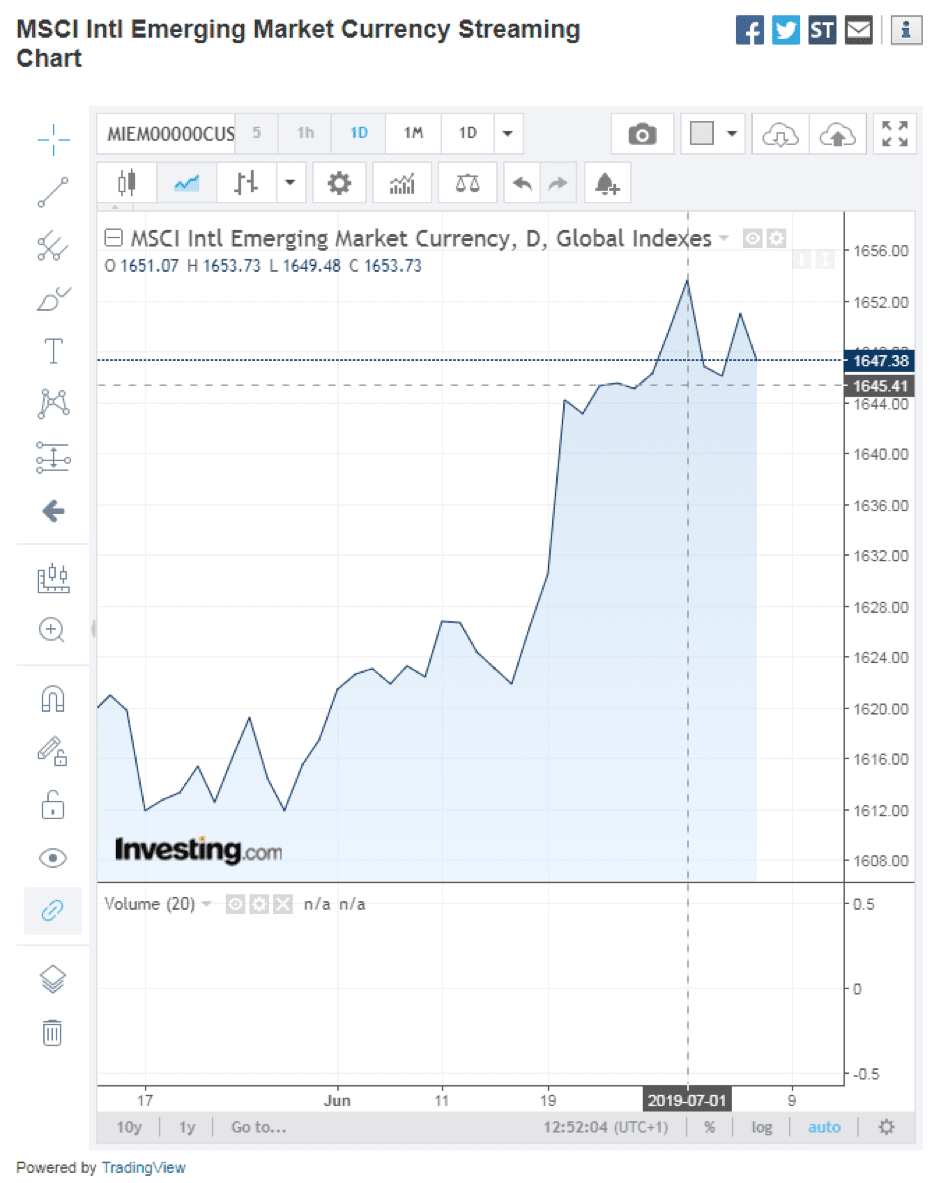 Trading specific EM currency pairs can be a risky business. The mismatch in terms of respective size of economies is one factor that results in the volatility of these pairs being particularly high. Trading a basket of EM currencies might possibly diversify some of the risks but the space is one that is full of risks and challenges.
Emerging Market Currencies
The factors that make a currency an emerging market currency are open to debate. Definitions can therefore accommodate individual preferences. However, it is generally agreed that emerging market countries have lower GDP per capita, higher inflation and higher unemployment (amongst other factors) than more 'developed' countries such as the United States.
The three main characteristics of emerging markets include:
Underdeveloped infrastructure
Younger population
Higher levels of foreign debt