Official data released Thursday shows the country avoided a technical recession in the third quarter by posting growth of 0.1%.
The figures are not too hot and not too cold to bring about much-needed reforms, so the debate continues about what to do.
The spluttering engine that is traditionally relied on to be the driver of the whole eurozone may need to make 'structural' changes according to Axel Weber, the chair of UBS.
Weber points out the benefits that would come about from public investment in tech infrastructure.
Germany's economic growth, as measured by Gross Domestic Product (GDP) was 0.1% in Q3. One sign of how bad the situation has become is that such a low figure was almost welcomed. It did, after all, exceed the -0.1% contraction expected by analysts.
A negative figure would have signalled the country was technically in a recession. While the country has just managed to avoid reporting two consecutive down quarters, the picture is far from rosy.
Germany — GDP growth rate: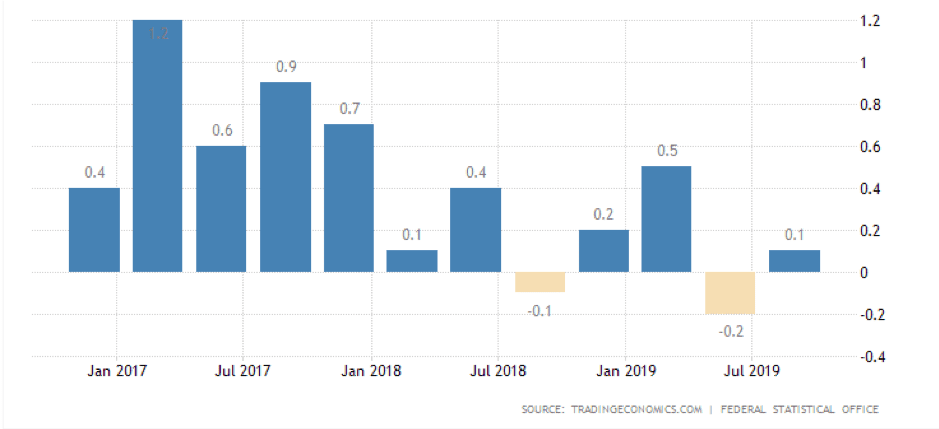 The paradox for German investors is that the news is bad, but not bad enough.The European Central Bank has little room to manoeuvre in terms of monetary policy. Interest rates are already at record low levels, quantitative easing is in place and the opinion of the management at the ECB is that governments that can use fiscal stimuli should do so.
Germany is one of the few countries in the eurozone that does have space to introduce government spending and remain within the agreed criteria for all eurozone countries. The fact is that Germany has relatively low levels of government debt. However, it takes a range of deep-seated and strongly-held values and years of prudent management to build such a position of strength. There is still little sign of the nation moving away from its prioritisation of balanced government budgets.
The German economy minister, Peter Altmaier, said on Thursday that economic growth in the euro region and his own country, in particular, is still fragile. Indeed, there are no signs of a change of approach.
A need for change
Axel Weber, chair of banking group UBS (SWX:UBSG) has entered the debate regarding the relative strengths of the different ways to stimulate the eurozone and German economies. Speaking with CNBC, he considered the current problems as not being acute enough. Third-quarter GDP growth of 0.1% is not great for business (or bankers) but doesn't lead to protests in the streets.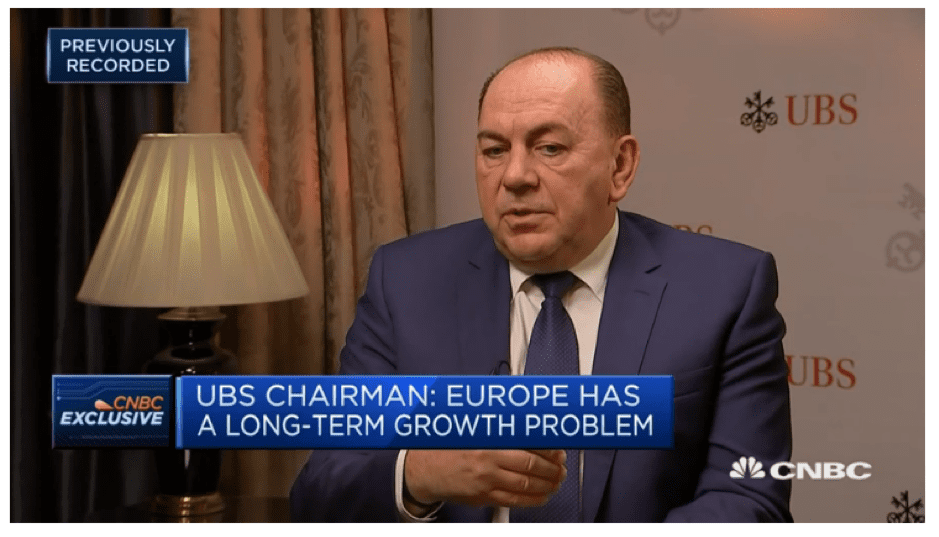 Weber points out that analysing the data to a more granular level shows the problem is related to manufacturing.
Germany — manufacturing PMI: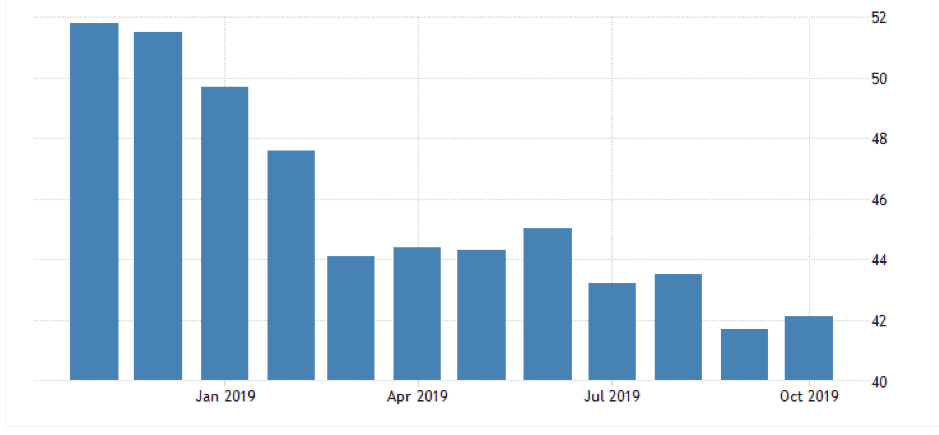 Whilst the fiscal vs monetary debate is taking place in Berlin, Weber suggests introducing a third element into the equation. His use of the term 'structural' helps those advocating the introduction of more spending. The traditional approach is to refer to the tax-and-spend and government borrowing as 'investment'. Weber notes:
"Europe doesn't have a short-term growth problem, Europe has a long-term growth problem… There is infrastructure that has not been reinvested in for many years, and now that funding is available cheaply, you can combine the fiscal and the structural and do infrastructure and many other investments… That's where the debate needs to go."
Source: CNBC
Weber's 'structural' involves spending on infrastructure to build a dynamic economy. A 5G network would be one step towards developing a framework that allows new technologies to be adopted. An approach, which he describes as "changing the age" could also include a move towards sustainable and renewable energy. "That's where I think the focus will shift," he says (source: CNBC).
Growth areas
If Weber is right and German governmental purse strings are loosened, then this will create returns for investors who can choose the stocks that will benefit. One area Weber targets is the 5G network "The new technology requires a 5G network," he highlights (source: CNBC).
The US is already working on its 5G network. Jefferies analyst, Kyle McNealy, was speaking with Investor's Business Daily when he said:
"5G will be big — the marketing machines at every wireless operator will be driving a 5G message with consumers."
Source: Investor's Business Daily
McNealy estimates Apple (Nasdaq:AAPL) will ship 208 million iPhones in 2021, above analyst estimates of 190 million.
There will also be opportunities relating to the firms involved in the behind-the-scenes operation of a new network. Reinhardt Krause wrote in Investors.com:
"5G networks will require 'small cell' radio antennas as well as links to cloud computing infrastructure. In time, the breadth of 5G stocks will expand. The future of the technology lies in the Internet of Things, autonomous vehicles, drones, remote health care and augmented reality phone apps."
Source: Investor's Business Daily
A Merrill Lynch report has predicted the market for 5G semiconductors will be $19bn by 2022, up from $593m in 2018. The report said:
"First to be involved will include companies exposed to test/measurement and front-haul including Xilinx (XLNX), Analog Devices (ADI), Marvell Technology Group (MRVL) and Infineon."
Source: Investor's Business Daily
Deutsche Telekom (Xetra:DTE) was reported by Reuters as taking steps so as not to become the incumbent operator that is undone by disruptors. Reuters said:
"Deutsche Telekom stole a march on its competitors by announcing a limited rollout of 5G services in its German home market… targeting early adopters in cities with the high-speed mobile technology."
Source: Reuters
Deutsche Telekom (DTE) — share price: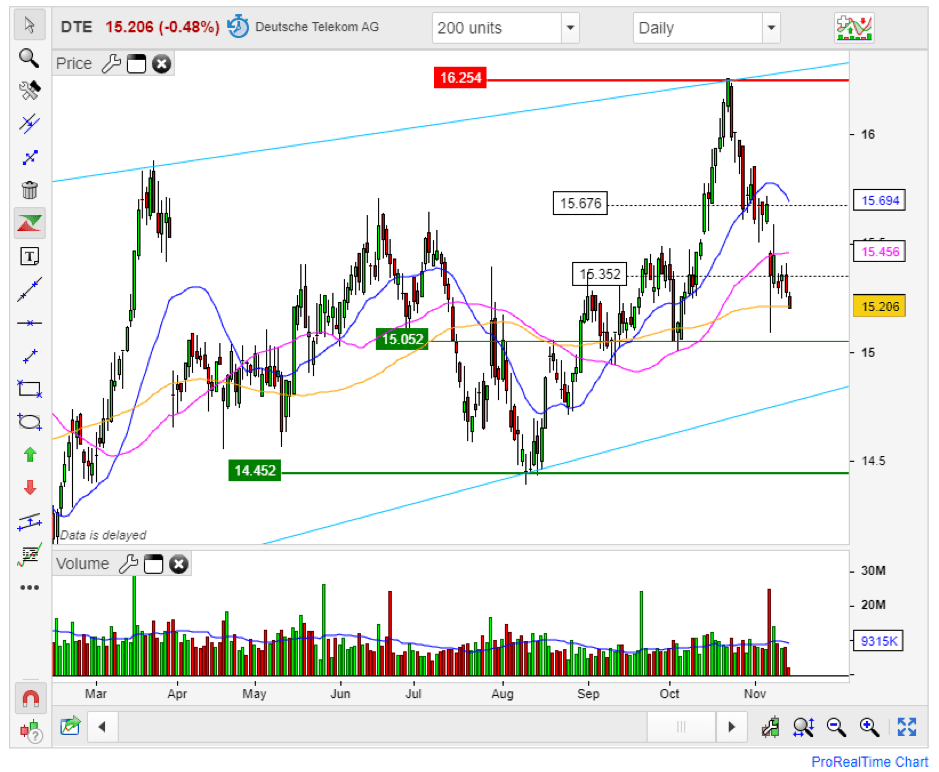 Deutsche Telekom made a bid of €2.17bn for 130 Megahertz of the 420 MHz of 5G spectrum. Its will compete in the space against other established players such as Vodafone and Telefónica Deutschland and new market entrant 1&1 Drillisch.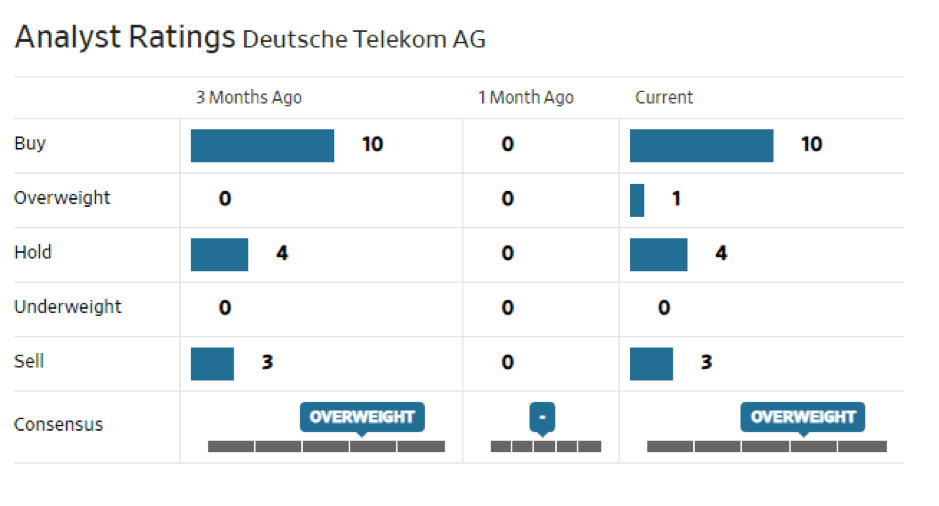 Over the last three months, analysts covering Deutsche Telekomhave held their positions on the stock, but over 50% of those covering the firm have marked it as a 'buy'. Should the GDP figures continue to disappoint, and the German government scale up investment in new mobile technologies, it might be the case that this turns out to be good advice.