The coronavirus outbreak has brought about a shift towards US assets, with the US currency and asset markets seeing price rises as pools of 'hot money' move out of Asia.
Strength in the dollar can itself be traded but is also generating extra volatility and trend patterns in other US assets such as the Nasdaq index.
While the underlying driver is the lockdown of mainland China, there are also US-based trigger points to consider, which look likely to add to the 'noise' as global funds find their new home.
The global bull market, which started in October last year, has now run for five and a half months. Those who caught the ride and took long positions and are now sitting on realised or unrealised profits may want to consider how some asset groups are beginning to fall off the pace. The party may not be over, but the dance floor is certainly thinning out.
US 500 Index – June 2019-February 2020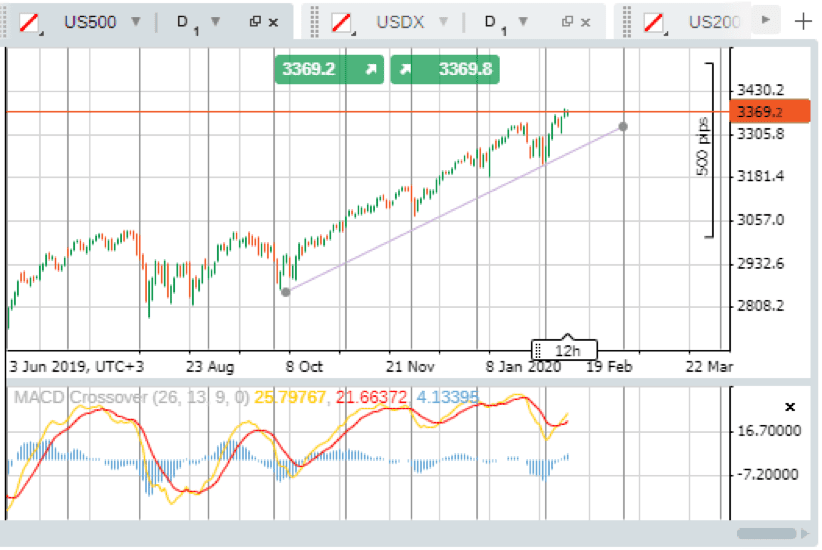 JPN225 Index – Daily candles – June 2019-February 2020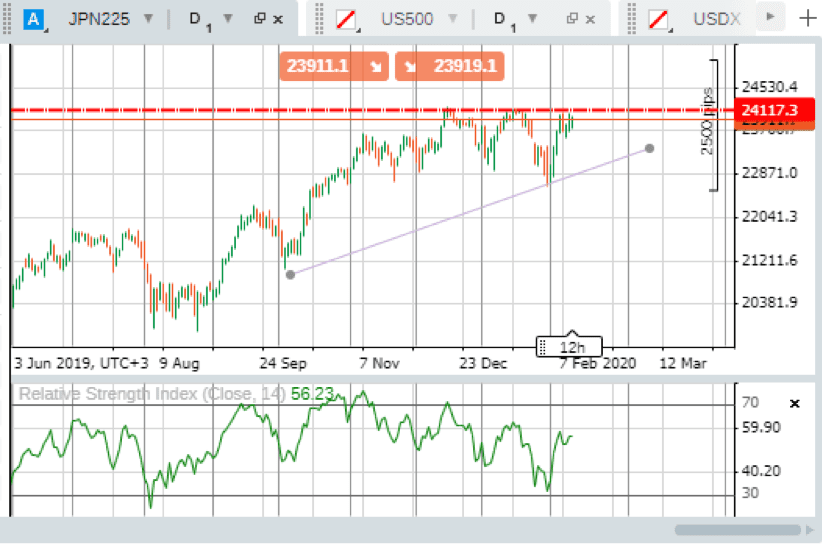 While the S&P500 Index continues to make new highs, the JPN225 Index has stalled. Bulls and bears may debate whether the JPN225 price action represents consolidation before pushing on to higher levels or whether it is forming a bearish double-top (or even a triple-top) pattern. No-one knows for certain what the next move will be, but fortunately back data is definitive and can offer some clues to future direction.
Price history shows that since 16th December, the S&P500 has outperformed the JPN225 by in excess of five percentage points. Those holding JPN225 long positions have for a lot of that timespan been underwater and only now will be at anything like break-even. The opportunity exists for a relief rally on the back of positive coronavirus news. Until then, the chart suggests that the Asian index is running to a standstill.
JPN225 vs S&P500 – 16th December 2019-12th February 2020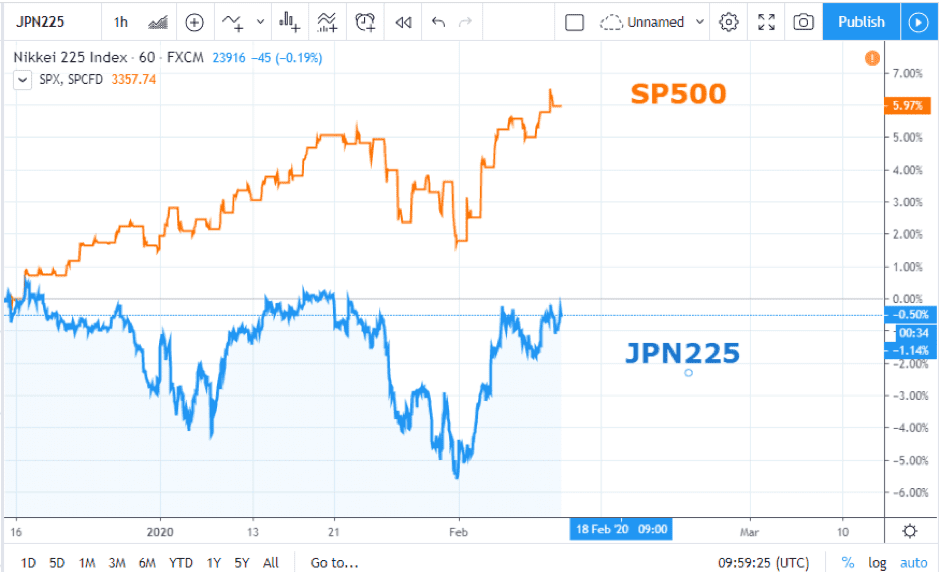 USD
One instrument that is still going strong and notably bucking forecasts of its demise is the US dollar. Tipped by many as a 2020 sell, a peculiar combination of geopolitical events has triggered demand for the greenback. Traders and investors are not only taking positions in USD on the back of it being the world's 'risk-on' currency but also as the means to buy into US markets. The Phase One trade deal between the US and China triggered the bull run in the first place. It is also good for the dollar as an uptick in global trade typically favours the world's base currency.
USDX – Daily candles – June 2019-February 2020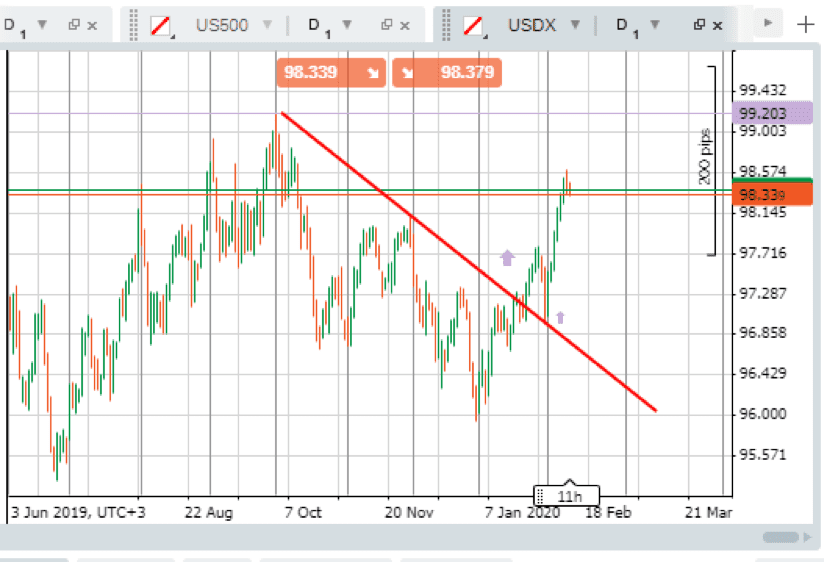 The breakout to the upside by the USDX Index comes with a confirmatory touch and bounce that took it off and away from the downward trend line. Price is currently at the 76% Fib retracement level, which is providing some resistance.
USDX – Daily candles – October 2019-February 2020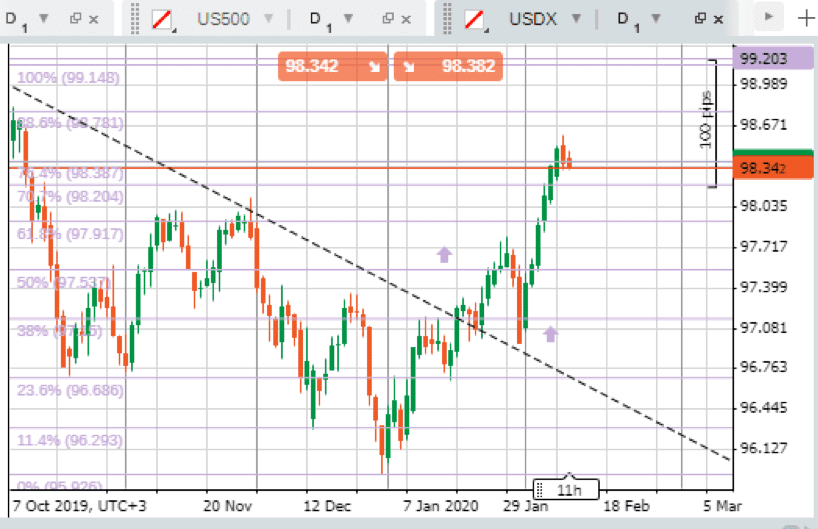 EURUSD
Focusing on the euro-dollar currency pair, FXStreet picks out 1.084 as a possible target price for short sellers of euro.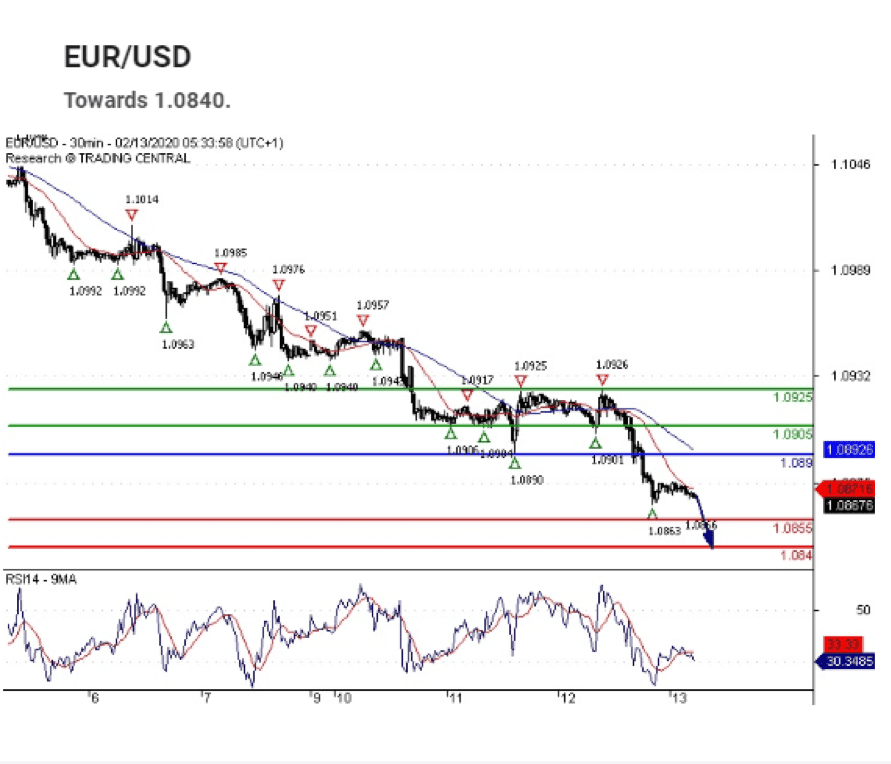 FXStreet has a preference for "short positions below 1.0890 with targets at 1.0855 & 1.0840 in extension" (source: FXStreet). The alternative scenario is a break to the upside due to the pairs being extremely oversold: "Above 1.0890 look for further upside with 1.0905 & 1.0925 as targets" (source: FXStreet).
EURUSD is trading at its lowest levels since 2017 and "a break below 1.0855 would trigger a drop towards 1.0840" (source: FXStreet).
FXStreet – Technical Overview – EURUSD

From a fundamental perspective, the risk remains of even looser monetary policy from the European Central Bank (ECB). Recent data releases such as Eurozone Industrial Production (EIP) data are pointing towards the ECB taking an even more dovish stance. Eurozone EIB contracted by 4.1% in 2019, which is a bad enough number but is made even worse when compared to the analyst forecast for the decline being a not insignificant 2.3%. Backroom manoeuvres are also pointing towards weakness. Reports are that the ECB will extract house prices from its Consumer Price Index calculations. As house prices have a long-term track record of being a more buoyant element of the index, the new average would remain lower. This would open the door to the ECB keeping interest rates lower for longer but still staying below its inflationary target.
EURUSD – 4hr candles – 3rd February-13th February 2020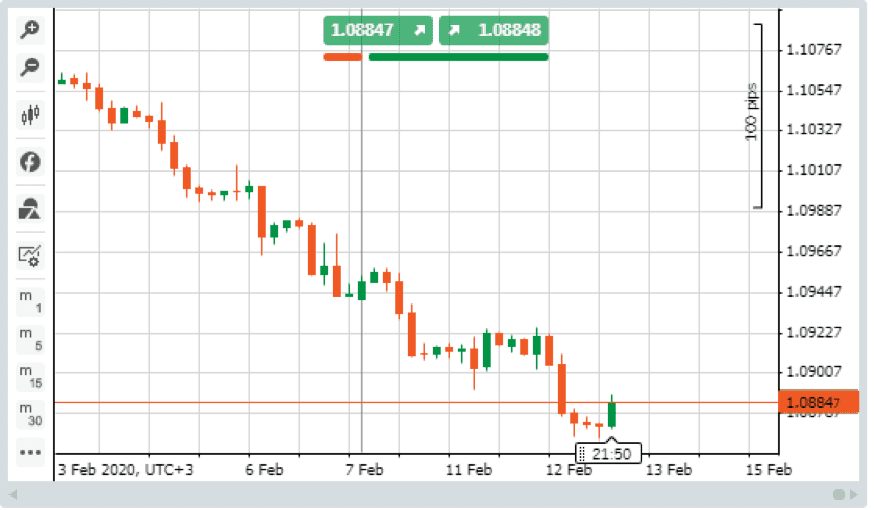 In contrast, Fed chair Jerome Powell was on Wednesday providing further guidance during the second day of his testimony to the markets. He did little to revive hopes for any near-term rate cuts and was able to refer to the underlying strength of the US job market as one reason for his 'data-driven' policy keeping rates at current levels.
USDJPY
Dollar-yen trading needs to factor in the nuances associated with JPY being held as a safe-haven asset. The dollar's rise against the Japanese yen has stalled on the back of increased concerns over the impact of the coronavirus. Buyers of yen have kept that pair pegged back at the 110 level, the psychologically significant resistance level coming into play through Wednesday and Thursday trading. Thursday's print at 109.77 marked the currency pulling back from the lows of Wednesday. Trading in the 110.10 region in the previous 24 hours had seen the currency pair making three-week lows.
USDJPY – 1hr candles – 7rd February-13th February 2020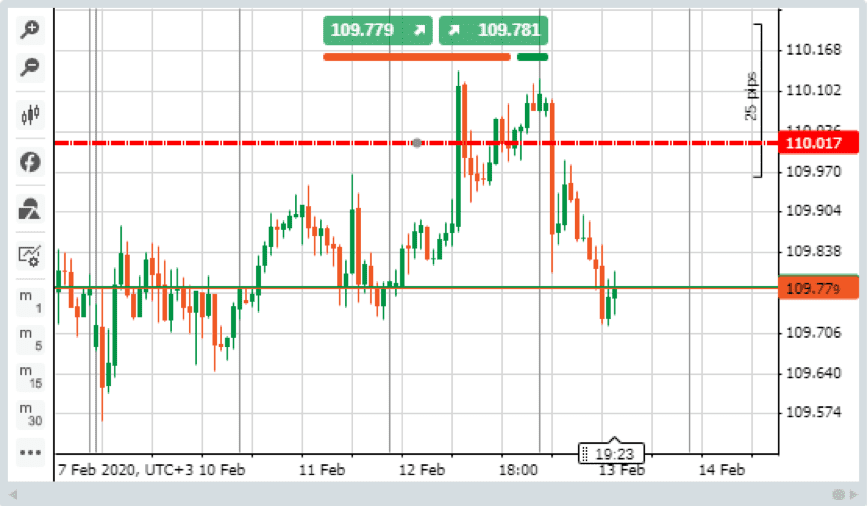 The trigger of recent yen strength was the surprise announcement by the Chinese authorities that as of 12th February, 242 more fatalities needed to be attributed to the coronavirus, taking the total to 1,310. Suggestions are that the spike in numbers is due to a new accounting methodology being used, but it also highlights the lingering doubt that Chinese reporting of the situation may not be as transparent as the rest of the world would like. Ayako Sera, market strategist at Sumitomo Mitsui Trust Bank in Tokyo, said:
"When you see numbers like this, you can't help but move to risk-off trades, which means buy the yen and sell stocks. If the authorities can reasonably explain this, things might calm down, but I expect risk aversion to continue."
Source: CNBC
USDJPY – Daily candles – 27th June 2019-13th February 2020

The long-term rising wedge is coming to a point where something has to give. Price is currently supported by the 25-day simple moving average (SMA). Support for the next move being far from confirmed is found in the Daily MACD crossover (26,13,9,0). A bearish pattern formed on 5th February when the MACD crossed the signal line to the downside.
USDJPY – Daily candles – 27th June 2019-13th February 2020 – MACD

USDJPY – Daily candles – 16th January-13th February 2020 – MACD

US equities
The coronavirus outbreak in China isn't 'good' for anyone other than the first firm to develop a vaccine. It is worse for some than others, and to date remains very much a China-Asia story. The closed factories and deserted streets of mainland China are acting as a trigger for a move into markets in other regions of the world. The Chinese government can be expected to at some time step in to stem the flow of capital out of the country. For now, global cash appears to be flowing west. The strength of the Nasdaq suggests that this index is one target market for those looking for a market that is a safer domicile for their cash but that still comes with a dash of tech-sector excitement.
The move into the Nasdaq appears to be supported by international investors. The index is highly liquid, comes with tight bid-offer spreads, and is widely available to traders. Tying in with the demand for dollars (to buy equity positions) is the relative performance of the Nasdaq to the Russell 2000 Index. The Russell, being made up of small-cap stocks, traditionally has a more 'domestic' audience than the globally recognised Nasdaq. The latter also holds larger cap stocks, which mitigates liquidity risk as and when positions needs to be closed.
NAS100 – Daily candles – October 2019-February 2020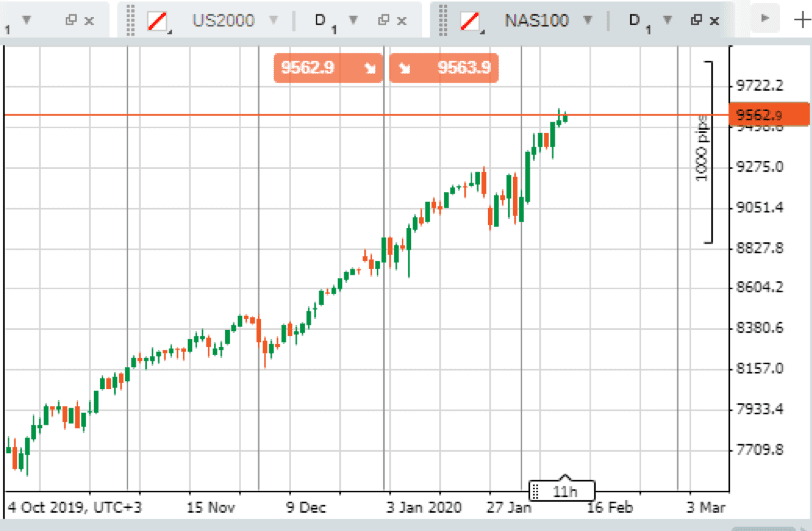 US2000 – Daily candles – Oct 2019 – Feb 2020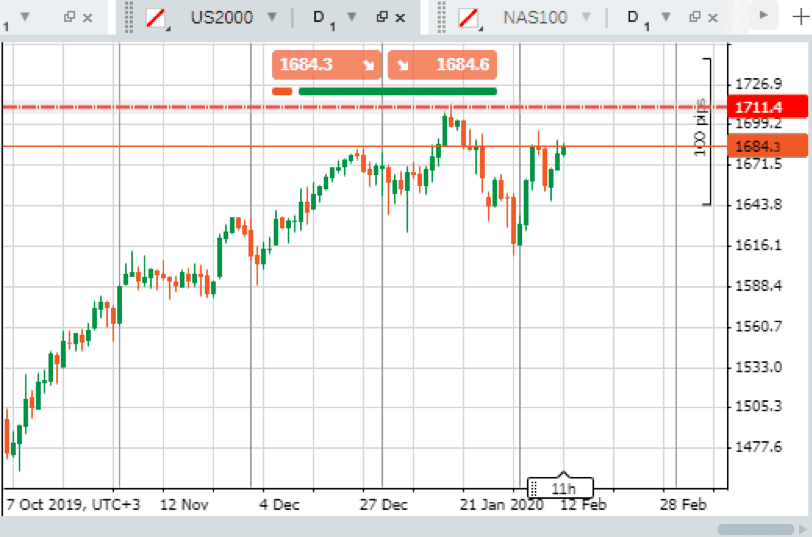 Taking the JPN225 as an example raises the very valid question of whether Japanese equities running out of steam is a local issue or a sign of a broader and more significant shift. All trends do, after all, have an end. The JPN225 may be a leading indicator of a broader market correction that would also include the US indices. Putting the coronavirus to one side temporarily and scanning other geopolitical risks that might trigger market weakness flags up one issue that will be under increased scrutiny in the coming days and weeks.
'Bernie risk'
The process of electing the Democratic candidate for the 2020 US presidential elections is picking up pace. The race is characterised by early-days front runners typically going on to win the nomination, and two candidates who have got off to a good start are Bernie Sanders and Pete Buttigieg. Sanders has served as the junior US Senator for Vermont since 2007. His career history precedes that post and he is in fact the longest-serving independent in US congressional history. Buttigieg is 38 years old and accordingly has a less extensive track record. Currently serving as Mayor of South Bend, Indiana, he sits in the middle ground of the political spectrum, even when compared to candidates who have policy ideas that are less extreme than Sanders.
'Bernie risk' refers to market unease with some of Sanders' policies. Most fundamental is his approach to the operations of the US Federal Reserve, which would likely be subject to a major overhaul if Sanders was president. An article that he wrote for the New York Times in 2015 was entitled 'Bernie Sanders: To rein in Wall Street, fix the Fed' and included comments such as:
"Banking industry executives must no longer be allowed to serve on the Fed's boards and to handpick its members and staff."
Source: Yahoo Finance
Speculation is mounting that Sanders may secure the Democrat nomination by forming an early alliance with fellow candidate Elizabeth Warren and offering her the high-profile post of Treasury Secretary. If that were the case, then the next Fed chair would be appointed by two renowned 'hawks' who have also expressed a desire to overhaul the organisation as a whole.
As politicians go, Sanders is relatively consistent. Rather than trimming his ideas to gain popularity, he has instead waited for his ideas to become more fashionable. While his policies remain the same, Sevens Report Research founder Tom Essaye suggests that the markets are becoming more comfortable with them – not because of the letter of the text, but more for the way that they might impact Sanders' chances of becoming president. Essaye said:
"Market sentiment towards Sanders has shifted lately. Two weeks ago, his surging popularity was interpreted as a negative, because many of his policies are not stock market friendly. However, now the market's opinion on Sanders is starting to change, where markets might welcome a Sanders candidacy, seemingly with the idea that he would not win against Trump."
Source: Yahoo Finance
The frequency of trigger points relating to Bernie risk will soon pick up in terms of number and frequency as more US states engage in the process of electing Democrat candidates. The results in from Iowa and New Hampshire have put Sanders in pole position, but more results are imminent:
22nd February – Nevada
29th February – South Carolina
3rd March – 'Super Tuesday' – Alabama, Arkansas, California, Colorado, Democrats Abroad, Maine, Massachusetts, Minnesota, North Carolina, Oklahoma, Tennessee, Texas, Utah, Vermont, Virginia
10th March – Idaho, Michigan, Mississippi, Missouri, North Dakota, Washington
The process continues up until 7th June when votes from Puerto Rico are counted and the ebb and flow of support for the respective candidates can be expected to play on the markets.
The simple flow diagram monitoring Sanders' chances can break down the process into two events: firstly, the chances of securing the Democrat nomination, and secondly, the chances of winning the presidential vote. Analysis would do well to not treat these entirely sequentially. There is a lot of time and a million tweets between now and November. The populist rhetoric used by Donald Trump to secure his first tenure has always been a high-risk policy and there is ample time for him to self-inflict enough damage to open the door to any Democrat nominee.