Home prices are notoriously difficult to incorporate into statistical models.
With a lot of agencies just avoiding the complications and contradictions, it falls to analysts at the Economist to patch together a best-guess style model
Although limited by the data being input, it adopts a clever approach and uses the latest methods to try and predict the next move for property prices.
Investors in the financial markets are seeing a broad spectrum of assets, which are continuing to show healthy price action. Equities are near record highs, bond prices have risen to the extent that yields are inverting. Gold and bitcoin are showing bullish trends, and oil prices spiked 10% during the last week.
The oil price spike was brought on by Saudi supply lines being reduced by 50%. A lot of focus is quite rightly being given to the geopolitical risks in the global economy. Market prices are following the sentiments of investors. Apparent lulls in risk factors are seeing prices creep up as investors place money in markets that give a better return than the near-zero interest rates, which dominate at the moment.
Gold (MOEX:GD1!) Five-year price chart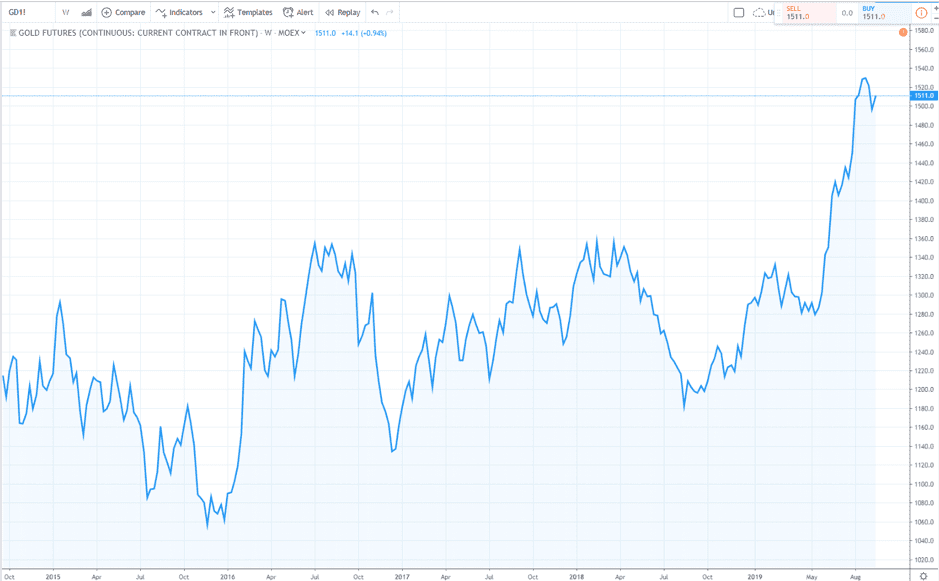 Nasdaq (TVC:NASDAQ 100) Five-year price chart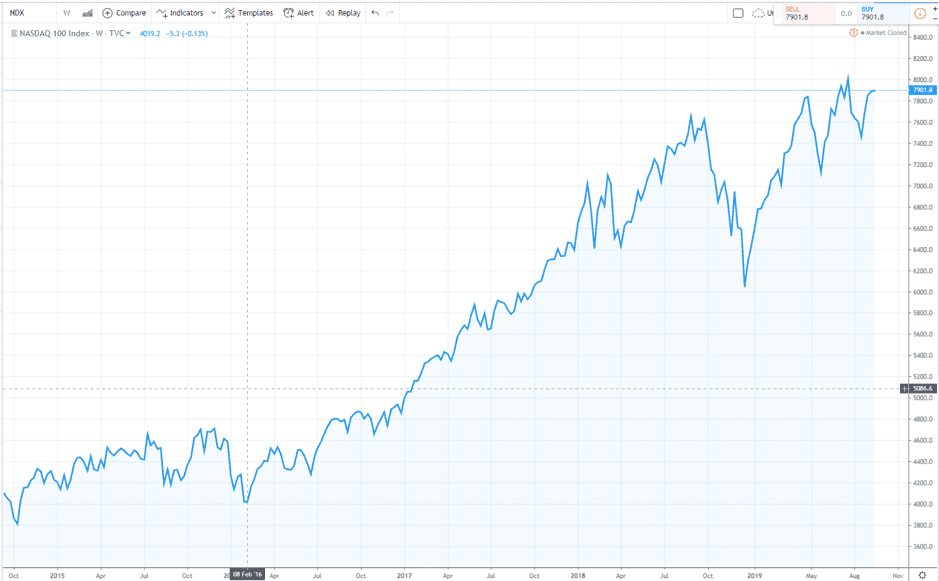 Bitcoin (Coinbase:BTCUSD) Five-year price chart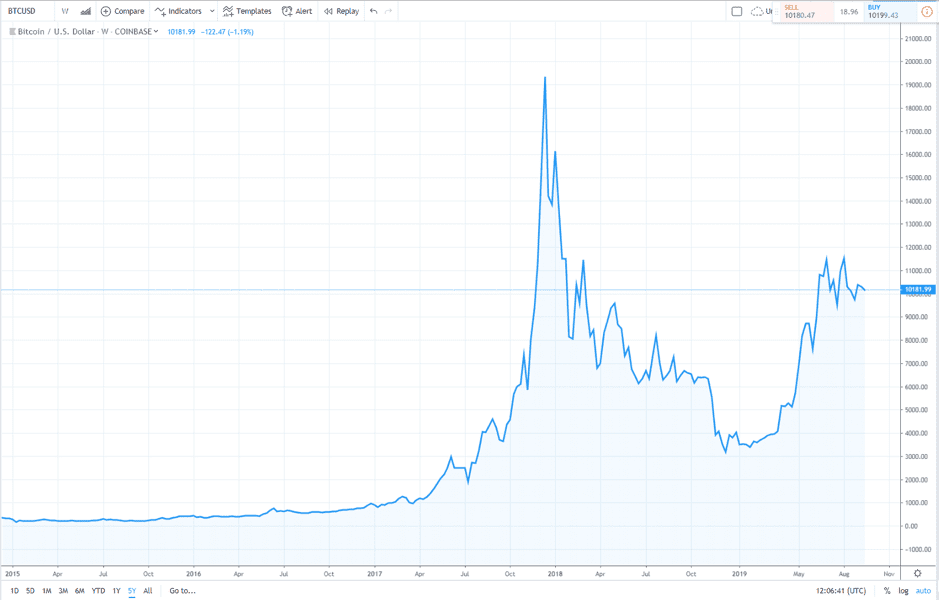 One asset class, which is lower profile and harder to quantify, is domestic property. The importance of the housing market is illustrated by the fact that the value of homes is, on a global scale, greater than the net value of global shares and bonds combined. House prices are a significant bellwether of the general economy. Not only because of the size of the market, but there are also factors such as a healthy market encouraging 'turnover' of properties, which in turn encourages expenditure on home improvements.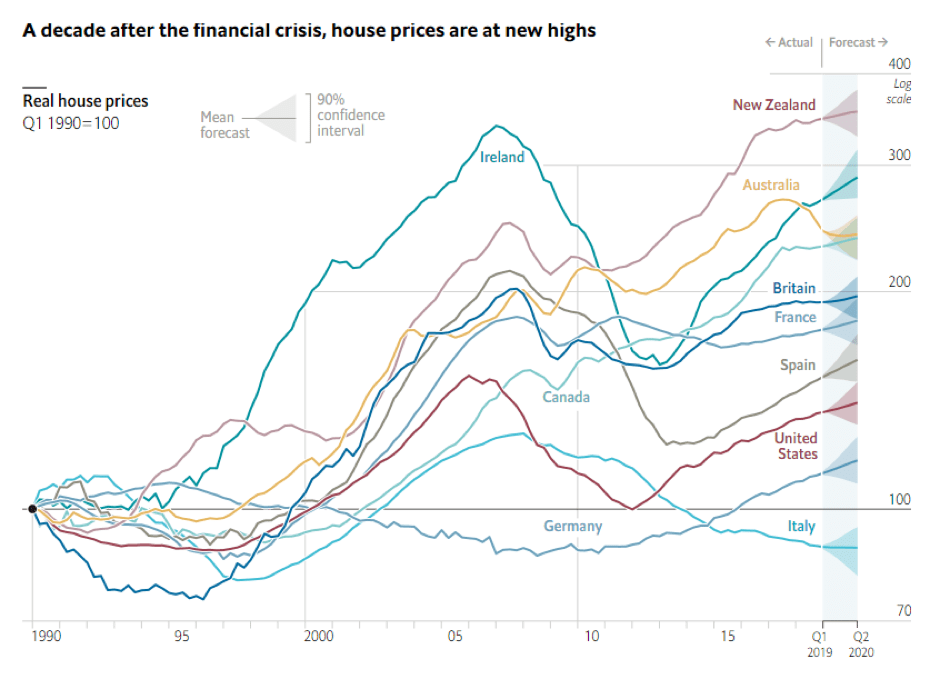 Around 10 years have passed since the last major correction, and homes in New Zealand and Canada are 40% over the pre-crisis peaks. In some other markets, such as the UK, prices or at least price growth is falling away from previous highs. There is some debate as to whether this is a time to buy the dips or if we are seeing the start of a deeper correction.
Bad data in, bad data out?
A quirk of the property market is that the large NGOs such as the IMF or OECD don't offer much data on the sector. There are fundamental problems with trying to monitor price changes in a market, which gives little opportunity for like for like comparisons. The market is relatively illiquid, often with multiple years between transactions in the same property. Properties that appear similar on paper may be very different in reality, and each individual house or apartment can be developed and changed between one transaction and the next.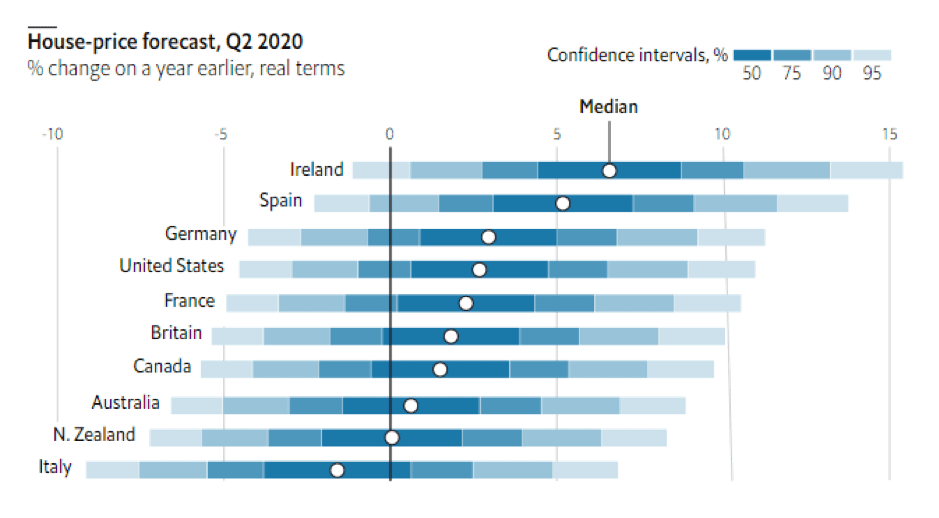 This doesn't stop people trying to get a better idea of the situation. Analysts at the Economist have developed a model, which utilises a database of house prices they have been building for decades. It uses reports from the OECD and national agencies, and rather refreshingly, the team is very willing to flag up the model's limitations. It accepts that "home values depend on local factors" but also suggests "even an inexact forecast provides more insight than no forecast at all." (Source: The Economist)
The Economist system amalgamates three types of data — economic figures such as GDP growth, market fundamentals, such as the ratios of home prices to incomes and historical prices. The data is processed using machine-learning algorithms and fares well in back testing.
Picking holes in a model is easy enough, but is also important. One truism is that 'you never see a bad back-test'. By definition, there would be an upgrade up to the model, at least up to the point where it fares well in back-testing. This doesn't necessarily equate to it being a reliable indicator of future events.
However, the team at the Economist do have research that will make investors' ears prick up. It seems that the model predicted the timing and direction of the last crash:
"In the year to March 2006 American house prices rose by 8%. Our model expected growth would slow to 0.3% in the year to September 2007. That was too sanguine: prices actually fell by 4.7%. But it still would have served as an early warning."
Source: The Economist
The model operates with a wide margin of error. On average, it forecasts how prices will change over an 18-month period with an accuracy that is within three percentage points. A tool that lacks finesse but still might be able to predict a housing market correction should be offered some lee-way.
Overshooting
The three percentage point tolerance on the Economist's housing model would look very roomy in other markets. Consider if a model suggested it could predict if interest rates or unemployment levels in a year and a half's time would be a certain figure, give or take 3%. The nature of the housing market, however, is that it overshoots so corrections can be more dramatic. As it's not possible to short-sell the physical asset, the market tends to overshoot.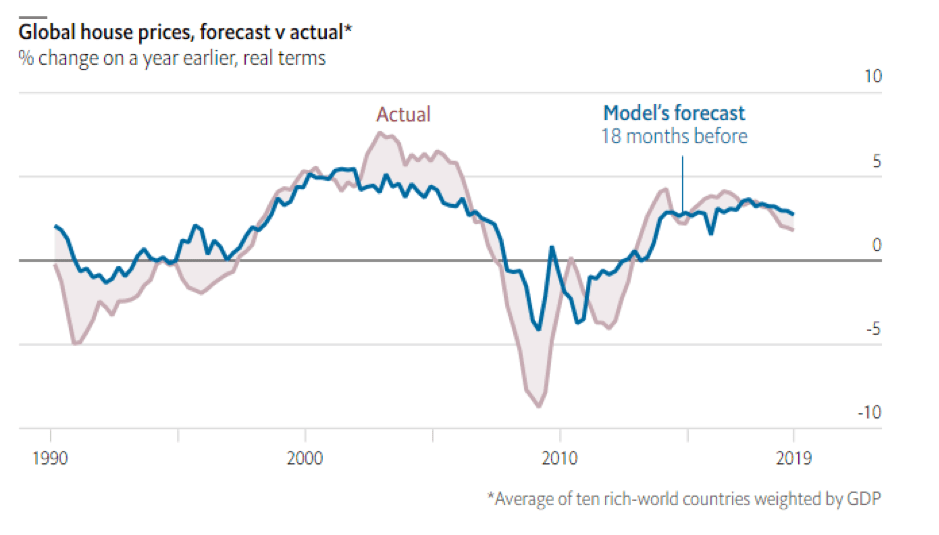 Source: The Economist
As can be seen in the Economist's study, in 2019 we are far from the situation that we were confronted with in 2006. However, with the financial markets showing signs of being in the mature leg of a bull market, it is worth factoring in the potential negative impact of falling house prices. Historical data shows that if the housing market does tip over, the ramifications for the broader economy can be considerable.