The Indian economy is slowing down and unemployment is reaching uncomfortable levels.
Monetary and fiscal policy measures have been introduced but don't appear to be working.
The weather is partly to blame, with the agriculture sector having a bad year.
More pressing is the effect that the US-China trade war is having on the world economy.
According to reports, India is about to post Q3 GDP figures that will confirm sustained downward momentum in GDP growth. Suggestions are that it might even post the lowest figure since 2013. A Reuters poll of economists predicts weakening consumer demand. Domestic investment drove median quarterly growth down to 4.7%, compared to 5.0% growth in Q2. The year-on-year comparison makes for more uncomfortable reading as Q3 growth in 2018 was 7.0%.
India — GDP annual growth rate — quarterly 2009–current: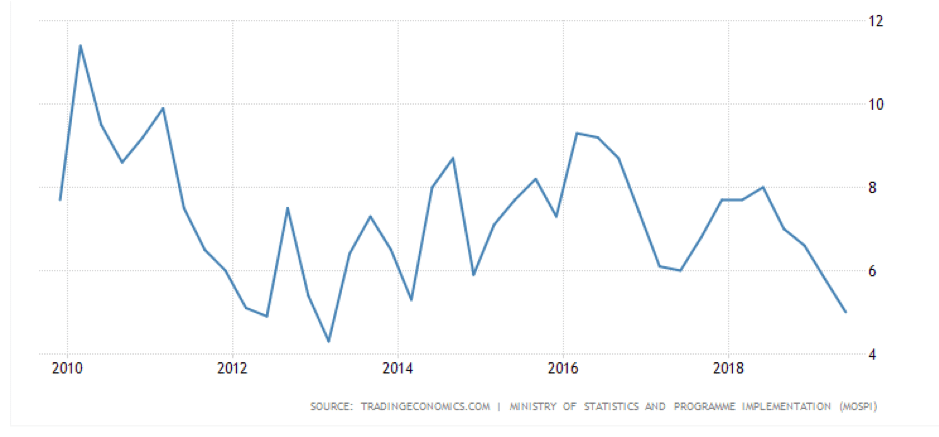 With the trend pointing downwards, there is a chance that Q4 returns could even breach the 4.3% quarterly growth level recorded back in 2013. If it does, that would form the weakest number since January 2009.
India — GDP annual growth rate — quarterly 1995–current: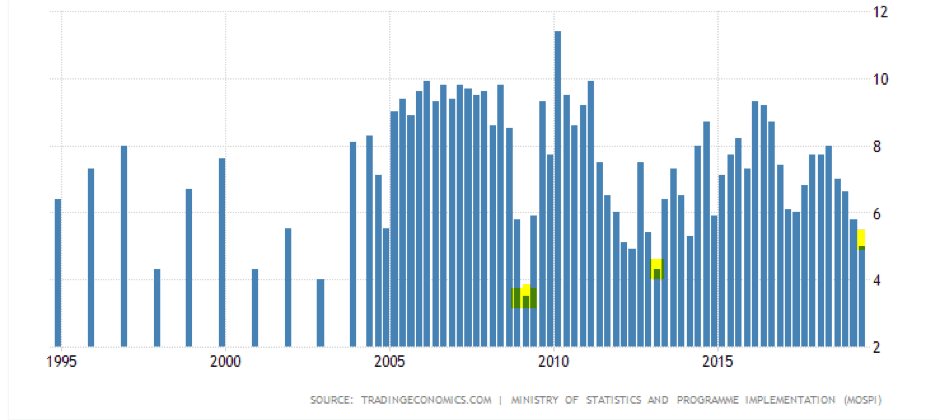 Prime Minister Narendra Modi's government has implemented a range of policies to try to remedy the situation. The continued slump has seen suggestions surface that he is set to double down on these into 2020. The buzz-word in Delhi is 'stimulus-led'.
Tax
Corporation tax rates were cut in September. The move from 30% to 22% (source: Live Mint) is set to cost the government approximately 1.45 trillion Indian rupees, which equates to about $20.45bn or 0.7% of GDP (source: CNBC). The tax cut was notable for being a surprise measure. If finance minister Nirmala Sitharaman was hoping that an element of surprise would turn his new tax scale into a catalyst for growth, he was soon disappointed. Moody's Investor Service analysts considered the move and wrote in a report:
"While the reduction brings India's corporate tax rate closer to peers throughout Asia and will support the business environment and competitiveness, a host of cyclical factors, including rural financial stress, weak corporate sentiment, and a slow flow of credit in the financial sector, remain headwinds to near-term growth."
Source: CNBC
Moving on from explaining that the tax cut was not likely to be a silver bullet, Moody's pointed out that it would at the same time leave a hole in government finances.
"We do not expect the corporate tax rate cut to revive growth such that stronger tax buoyancy compensates for the loss in revenue."
Source: Live Mint
The move shifts credit risk from corporations to the State. The companies, which now make greater profits would, all things being equal, improve their rating by holding a greater amount of liquid assets. The hope for Sitharaman is that those firms then invest in and spur growth. There is, of course, greater credit risk relating to the government's balance sheet. On 7thNovember, Moody's held India's credit rating at Baa2 stable but did state that the last credit rating move back in April 2015 was a positive one when the rating moved up a notch from Baa3. April 2015, however, was a time of GDP growth closer to 7%.
Government spending
Sitharaman on Thursday has also sought parliamentary approval to increase government spending by the equivalent of $2.7bn. These extra funds will be on top of the already agreed annual budget — equivalent to $388bn (source: Reuters). As the financial year ends in March, there will be an incentive to spend it quickly — a cash injection if ever there was one.
This week, CNBC reported on Priyanka Kishore, head of India and Southeast Asia at Oxford Economics, as shared her analysis on the situation:
"We think that the government is now more willing to push on the fiscal levers to support growth and expect the fiscal deficit to widen to 3.7% of GDP in (fiscal year 2020), compared to the budgeted target of 3.3%."
Source: CNBC
Interest rates
 Like many other economies, India is demonstrating how ineffective monetary policy can sometimes be. The Reserve Bank of India has already cut interest rates by 135 basis points this year, to the lowest levels since 2009.
India Interest Rates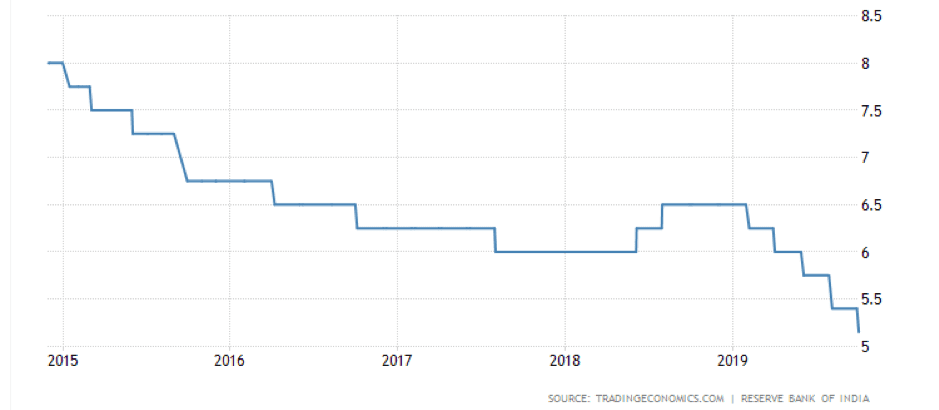 Economists in a Reuters poll predict the Reserve Bank of India will cut its repo rate for the sixth time in a row, by 25 more basis points (to 4.90%) when it meets on 3rd December. Devindra Pant, chief economist at Fitch arm India Ratings & Research, was quoted by Reuters as saying:
"Agrarian distress and dismal income growth so far, coupled with subdued income growth expectation in urban areas, have weakened consumption demand considerably."
Source: Reuters
A global problem
The Indian situation is important in its own right. But the dilemma faced by the Modi government mirrors that faced by many other economies. Germany, for example, is coming under pressure to use fiscal policy to stimulate the economy. As in India, the monetary policy levers have been pulled, and pulled again, but the German economy still shows reluctance to take off and instead teeters on the edge of a recession.
The close attention being paid to GDP numbers and cross-references to past data, of course, helps to put the situation into a historical context. It is also psychologically important whether the German economy posts negative GDP growth for two consecutive quarters and therefore complies with the technical definition of a recession.
Stepping back a moment and viewing from a higher level, it is possible to see the socio-economic implications of the data. India needs to post GDP growth of approximately 8% if it is to create enough jobs for the millions of young people joining the labour force each year. The consensus is that current growth is some way off the required level. The jury is still out as to whether the measures that have been introduced will deliver the required stimulus.
Trading Economics' data, from the Centre for Monitoring Indian Economy (CMIE) noted that the unemployment rate in October rose to 8.5% — its highest since August 2016. The steep climb through 2019 acts as confirmation of the slowing economy and is a major concern.
Indian unemployment rate: