As it happens:
Latest

21:10


US Markets Close

Dow Jones +0.43%  26,584

S&P 500  +0.74%  3,239

Nasdaq  +1.67%  10,536

US equities had a solid day. That's all from me traders…

Have a good evening.
21:09


Taiwan Semiconductor Manufacturing $TSM Stock

$TSM stock has closed 12.66% higher.
20:49


Peloton Shares

Peloton shares are trading slightly higher as we approach the close. Currently up 2.78%.

Maybe on anticipation that gyms in the US could close due to coronavirus cases continuing to spike…
20:15


Wilhelmina International Shares

Wilhelmina International shares have soared today, up 166%.

So far we haven't seen any specific news on the rise.
19:31


Johnson & Johnson Shares

Johnson & Johnson $JNJ launches US-based human trials for its coronavirus vaccine
19:29


Ocugen

Ocugen shares are trading 89% higher after the company announced that it was granted FDA Orphan drug designation for its OCU400 gene therapy.
16:58


European Equities Close

Here's how some of the Major European equities closed the day:

FTSE 100  -0.30% 6,105

DAX  +0.02%  12,838

EURO STOXX 50  -0.24  3,302

A bit flat, I must say.
16:56


US Stocks Performance

Here is how US stocks are performing so far today…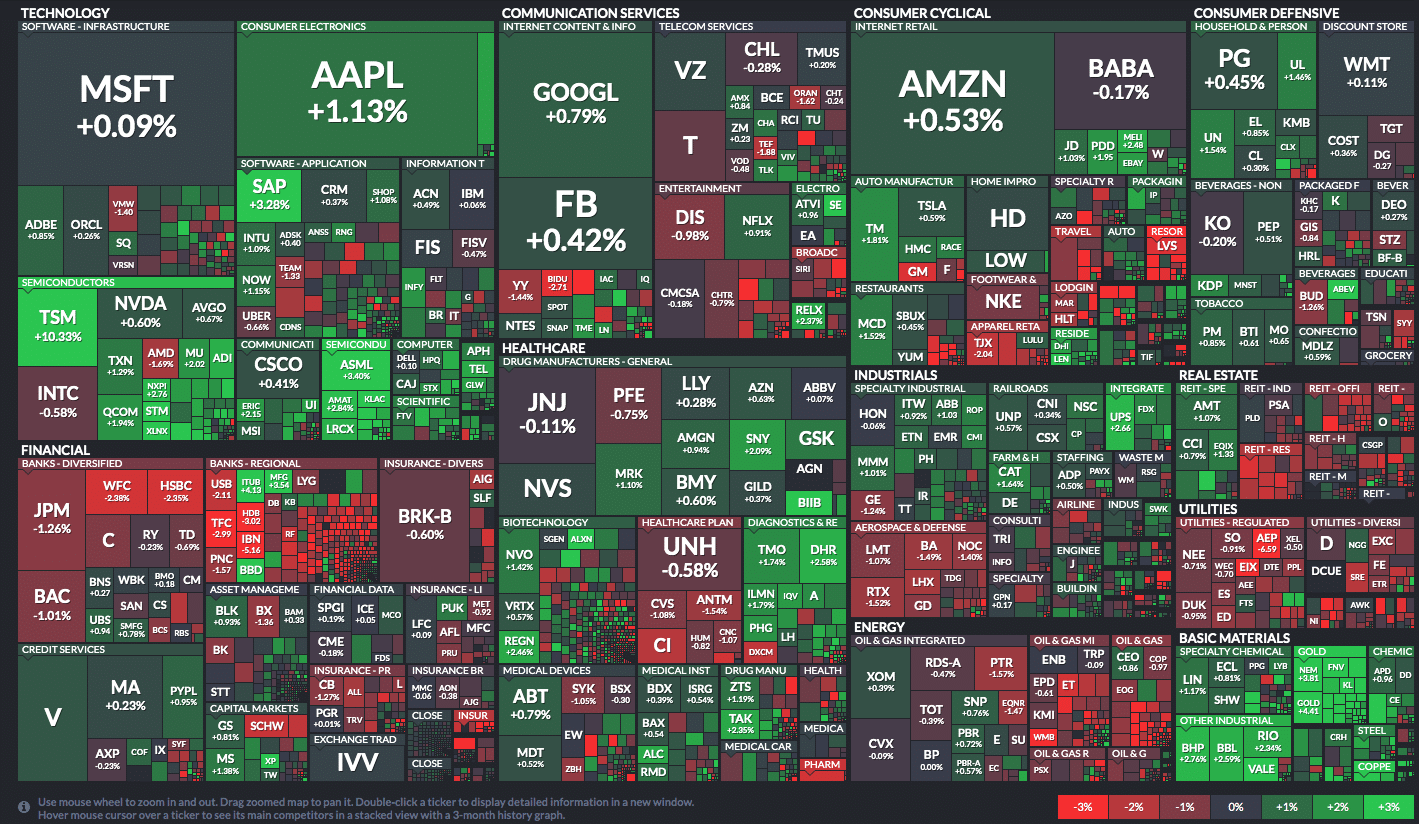 Via Finviz.com
15:55


US Stock Movers

Wilhelmina International +204%

Socket Mobile +101% – SOCKET MOBILE SHARE PRICE SURGES AFTER ANNOUNCING COVER LAUNCH

Sogou +48%

Ocugen +45%

MediciNova + 37% – MEDICINOVA SHARE PRICE SURGES AFTER ANNOUNCING JOINT COVID-19 VACCINE DEVELOPMENT

Tapestry Inc +6%  – TAPESTRY SHARE PRICE SOARS 6% ON STOCK UPGRADE FROM GOLDMAN
14:52


US Equities

Dow Jones  +0.29%  26,545

S&P 500  +0.48%  3,231

Nasdaq  +1.25% 10,492

European equities are still mixed.
14:46


Nikola Corp Shares

Nikola Corporation's share price has seen a jump, up 7.92% so far…

No news from what we have seen so far.
14:42


Sogou Receives Offer To Acquire

Some more news of Sogou here, which is another reason why its share price has popped this morning…

Sogou has announced the receipt of a preliminary non-binding proposal from Tencent Holdings to acquire all of the outstanding shares for $9 per share.
13:14


Sogou Shares Jump 22% After Announcement

Sogou Inc (NYSE:SOGO) shares have surged higher premarket after the company announced it will report its second-quarter 2020 unaudited financial results on Monday the 10th of August. 

Sogou is an innovator in search and a leader in China's internet industry. 

According to the company's announcement, its management team will host a conference call before US market trading begins on the 10th of August. 

Sogou's share price surged 24% last week and has seen a rise of 70.62% in the last three months. 

In premarket trading on Monday it is up 21.74%, trading at $7.01 per share after Friday's close of $5.75.
13:00


Under Armour $UA

Under Armour shares have fallen premarket after its executive chairman, CFO received a Wells Notice from the SEC.

For those that are unaware, a Wells notice is a letter that the SEC sends to a company or person when it is planning to bring an enforcement action against them.
12:16


European Equities Lunchtime Look

FTSE 100  -0.22%

DAX  +0.15%

Euro STOXX 50  -0.13%

US futures are trading higher. We might see a positive risk sentiment heading into the afternoon session, maybe?
10:38


Ryanair

Ryanair's CEO has said the company expects to fly around 50% of scheduled flights in August.

Here is more on the Ryanair story – RYANAIR SHARE PRICE TUMBLES 9% ON A €185 MILLION Q1 LOSS
09:54


European Market Movers

Here are some of the biggest stock movers in Europe so far…

Indivior +30%

Wirecard +21%

Kainos Group +17%

Scandinavian Enviro Systems +13%

Synairgen  +8%
08:45


European Airlines

After the UK announced new quarantine rules on arrivals from Spain, airline stocks have fallen. Here is how some of them are performing so far…

IAG   -9.57%

TUI   -14.58%

EZJ   -13.72%

RYA   -7.94%

WIZZ -4.05%
08:32


European Equities First Look

FTSE 100  -0.48%  6,094

DAX  -0.13%  12,821

EURO STOXX 50  -0.42% 3,297
07:35


Morning Preview

Good morning traders…
Asia-Pac markets were a little indifferent overnight with the Nikkei closing down by -0.16% and the ASX closing higher at +0.34%. Pretty flat overall.
The White House and Senate have agreed on the next coronavirus relief package.
The main story overnight was gold hitting new all-time highs. It is currently trading at $1932.
The US dollar has continued to weaken with both the GBPUSD and EURUSD continuing to climb.
Ryanair reported a £168 million loss, saying that a second wave of COVID-19 infections is its worst fear.
Some of the most notable earnings reports today include SAP, Principal Financial Group, NXP Semiconductors, and Amkor Technology.
Looking at today's calendar we have the German Ifo Business Climate data and US Durable Goods Orders.