A survey by Piper Jaffray shows Apple, Nike and Louis Vuitton (Euronext:MC) are the brands at the top of teenager wish lists as the Christmas present buying season approaches.
The survey also found that consumers are expecting to make 46% of their purchases online.
Louis Vuitton will be relieved by the strong support for its products as many firms have struggled to navigate the changing landscape of the retail sector.
While many eyes are fixed on December, the LVMH luxury/fashion firm is set to complete on a 15-year-long renovation project, which is due to open in Paris in April 2020.
A guided tour this week gave a hint at what the incredible flagship store will offer shoppers — especially ones from China.
Investors in Louis Vuitton will have struggled not to notice that the share price has been demonstrating a certain panache. Those who have held the stock for the last five years have seen share price growth of 175%. During the same period of time, the S&P 500 has grown by 51%.
LVMH (Euronext:MC) — Five-year price chart: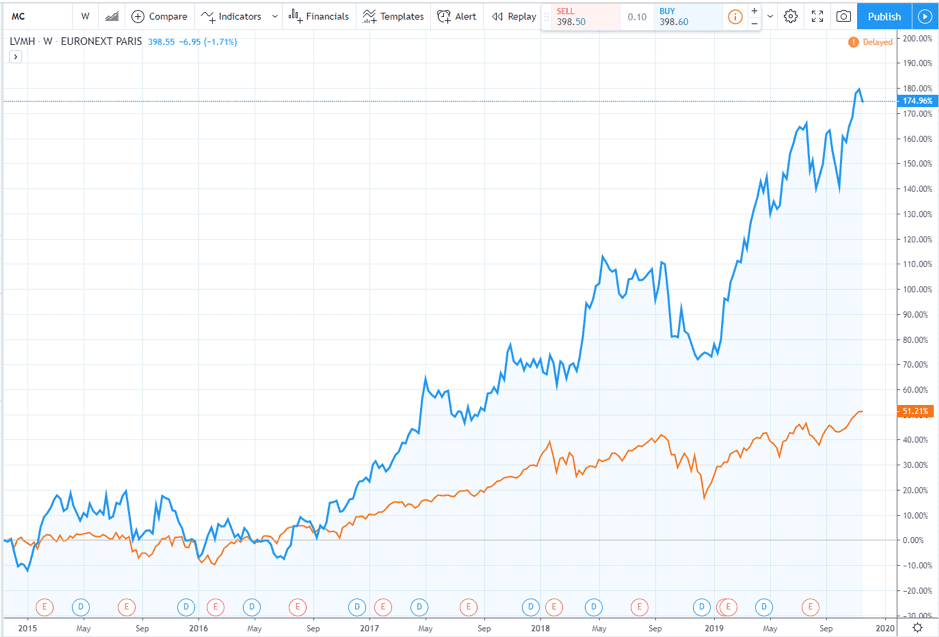 Christmas 2019
The Piper Jaffray report was based on a study group of 1,000 people. The key teenager demographic placed Louis Vuitton products as the third most desired. The ZeroHedge.com commented:
"Keeping with the reality distortion field that is the budding U.S. Consumer, Louis Vuitton — a brand that many hard working adults can't afford— rounded out the list of top brands for teenagers."
Source: ZeroHedge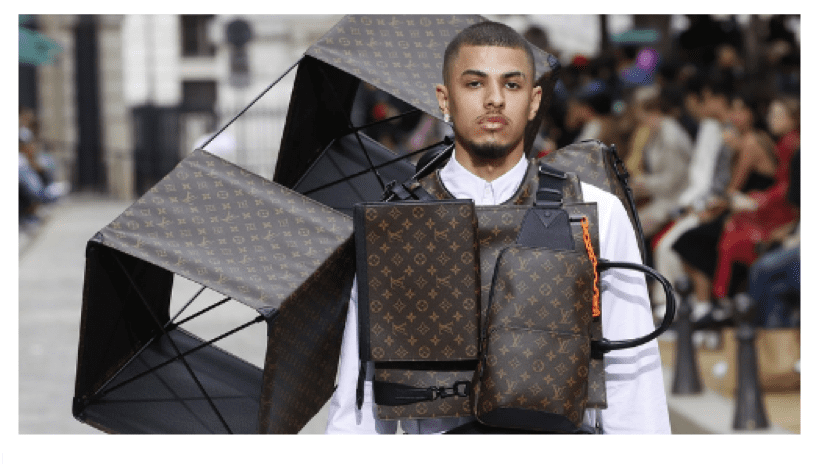 To LVMH's credit, it has managed to cross the divide between bricks and mortar and online retail. The latter looks likely to be the biggest overall winner this Christmas. Analysts will be looking to see if projected consumer trends follow through into the price of firms such as Amazon (NASDAQ:AMZN). The survey established that 46% of those asked expect to make their purchases online. CNBC stated the report as saying:
"Proprietary retail model shows acceleration of AMZN at detriment to department and specialty stores."
Source: CNBC
April 2020
Internet shopping has put immeasurable pressure on the high street and shopping malls. LVMH, the possibly surprising third most coveted brand among teenagers, is re-opening a department store which it has spent 15 years and $1bn renovating. The La Samaritaine is set to re-open next April. Tuesday saw proud LVMH owner, Bernard Arnault, give reporters a tour of the site.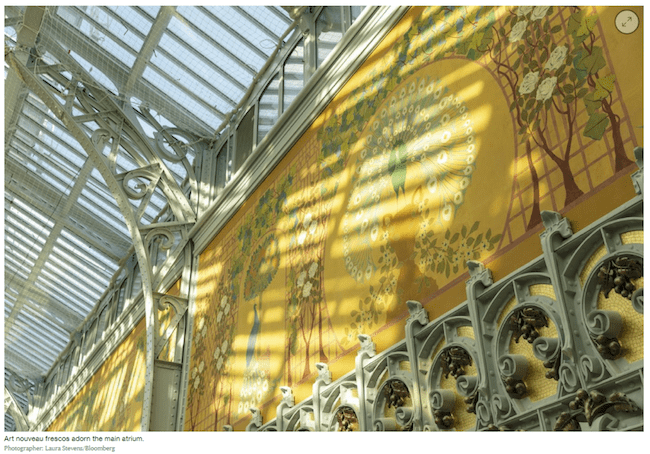 Bloomberg described the new store as a temple to consumption. One of "restored Belle Epoque glamour, including ornate frescoes, mosaics and wrought-iron staircases."
Source: Bloomberg
Louis Vuitton acquired the site in 2001 just as the switch to online retail was picking up momentum. Back then, Jeff Bezos could probably still remember the well-paid job at hedge fund D. E. Shaw, which he gave up to try his hand at selling books out of his garage. It was still possible to buy stock in AMZN at $7.58 — the price is currently $1,752.
Amazon stock price — all history: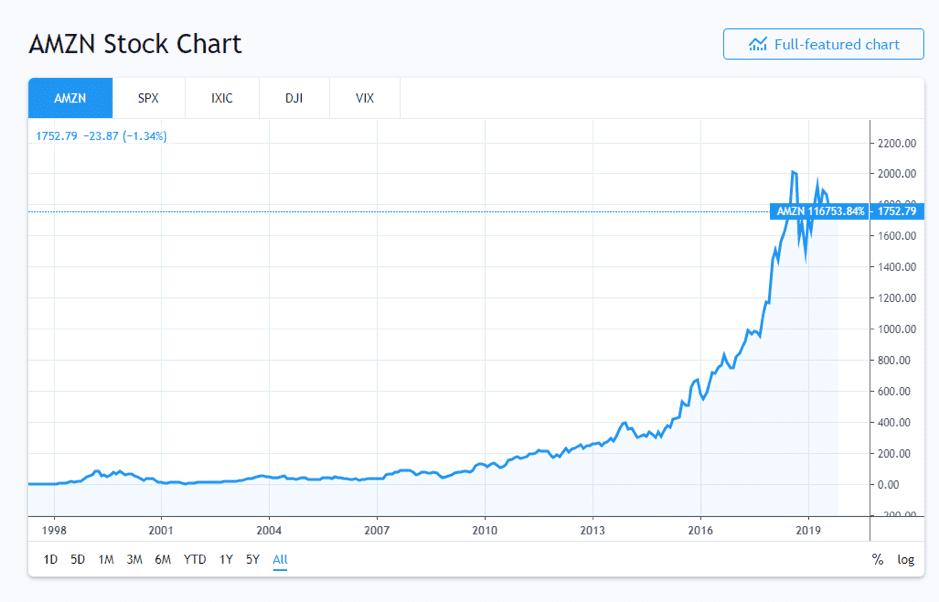 Arnault is Europe's wealthiest man, and as early as 2001, was probably aware of the need to respond to the upcoming challenge posed by internet shopping. One strategy adopted by bricks and mortar retail has been to try to find a niche as a 'retail experience' and La Samaritaine, one of Paris's famed 'grands magasins' certainly does just that. The time and capital spent in the refurbishment have changed the premises as much as they have updated them. As Bloomberg reports:
"Selling space in what had once been the largest and most affordable of Paris's famed grands magasins will be cut by half to make room for a five-star Cheval Blanc hotel, restaurants, offices and a Christian Dior-branded spa. The retail space will be filled by DFS — the LVMH-owned travel retailer known for its expertise selling Givenchy perfumes and Fendi handbags tax-free to Chinese shoppers." 
Source: Bloomberg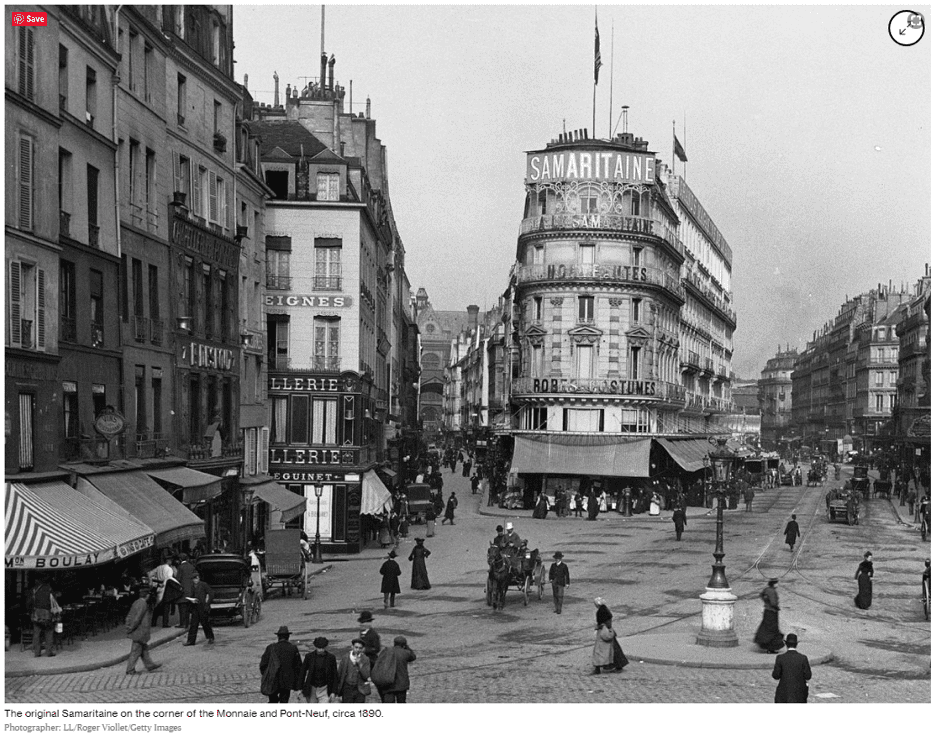 Analysts still see potential in the LVMH growth story. The average weighting is positioned between 'hold' and 'buy', and the projected revenue and earnings figures justify the optimistic approach of holders of the shares.

The key to making a return on the investment in La Samaritaine is demand from Chinese consumers. Eleonore de Boysson, regional president of DFS, part of the LVMH group said:
"The number of foreign visitors to Paris is growing larger each year," she noted, adding that clients have become"increasingly demanding for the selection of products as well as the experience you offer."
Source: Bloomberg
Travellers will have the option of duty-free checkout at every register, and tour buses will be able to use the Louvre museum's parking area.
LVMH and Paris are also offered some protection from the US-China trade wars. Should that situation deteriorate then the brand and the city may find they benefit from an uptick in Chinese demand as they are substituted in place of American alternatives.
Tiffany
The proposed acquisition of US jewellery brand Tiffany & Co. (NYSE:TIF) offers more upside to LVMH shareholders. The TIF board are holding out for an offer price above the $120 per share price, which has already been tabled. Sources suggest that the board might approve an offer of $140 per share, which equates to the high-water mark for the stock in 2018. Any deal brokered at a price lower than $140 per share would allow the LVMH board to rebuff any suggestions that it overpaid for the US firm.
LVMH believes Tiffany requires substantial capital investment if it is to reinvent and market its brands successfully. For LVMH, the purchase would plug a gap the firm has in terms of 'bridal', 'diamonds' and 'luxury US' categories. The argument is that if LVMH's pockets are deep enough to finance a 15 year $1bn building project, then they are deep enough to optimise the return from the Tiffany brand.