Markets opened lower this morning after two days of gains, for the first time since February, although, the current losses are not as severe as we have seen of late with only 1-2% losses.
In the early hours of Thursday morning, the US Senate moved to pass the $2trillion fiscal stimulus package which had been the focus of markets over the past few days, although there was a late issue in negotiations that was eventually overcome. The package will now move to the House of Representatives for a vote to be held on Friday. If as expected, it is passed, then the bill can be signed by US President Donald Trump and put into action. However, market focus will now be on US initial jobless claims…
US Stocks
The S&P 500 made some significant gains at the start of the US session yesterday. However, some of those gains were clawed back later, and the index is now trading at 2475. It failed to close above a critical level at 2486 which could indicate further downside is yet to come.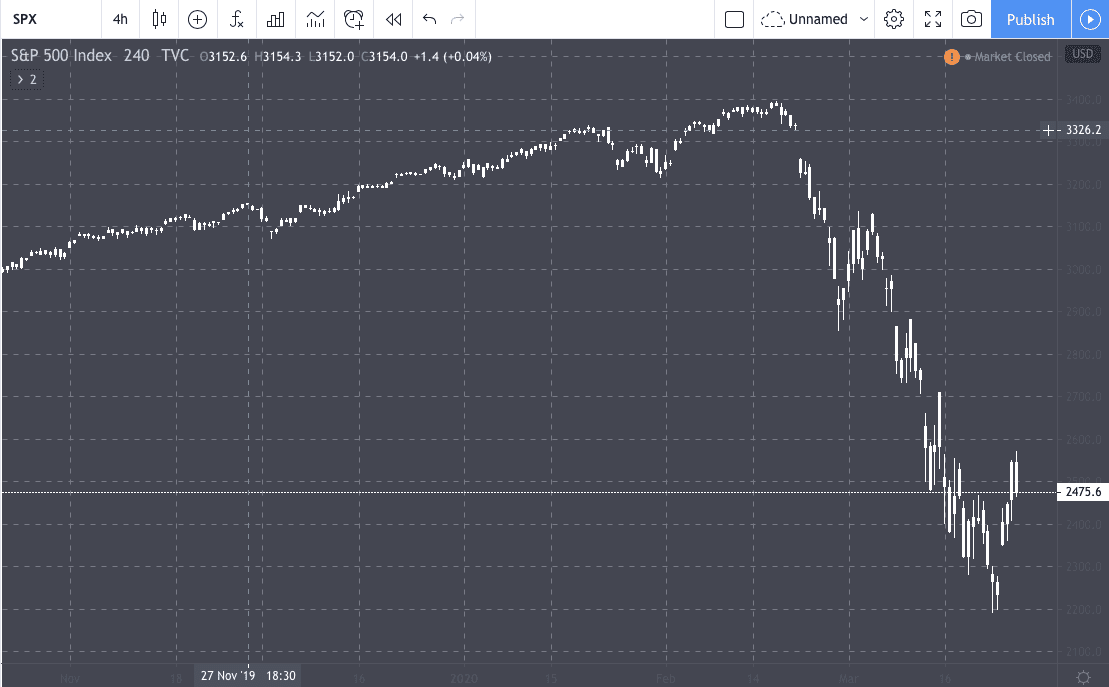 Boeing and Aerospace Stocks Move Higher Along With Nike
The industrial sector was the big winner yesterday in the S&P as sub sectors aerospace and defence performing well, up 11.1%.
Boeing made significant gains, up 24.3% as the fiscal stimulus deal that passed through the Senate last night included a support package for the aviation industry. The deal consists of $17billion in loans for companies considered to be critical to maintaining national security, of which, it is reported Boeing is one.
Nike was another company whose share price rose yesterday as they were up nearly 10% after their digital sales rose 36%, which the company said helped to reduce the impact of the coronavirus lockdowns.
Yesterday the S&P finished the day up 1.2%, the Dow Jones Industrial Average finished the day higher at +2.4% while the Nasdaq Composite was the only underperformer, down 0.5%.
UK Stocks
Both the FTSE 100 and 250 closed higher yesterday before the stall in negotiations for the Fed stimulus deal. The FTSE 100 finished the day at +4.5% while the FTSE 250 ended the day higher at 4.6%.
It was an extremely volatile session as the FTSE 100 was at one point up by 6% before falling to lows a few hours later, and then moving higher once more.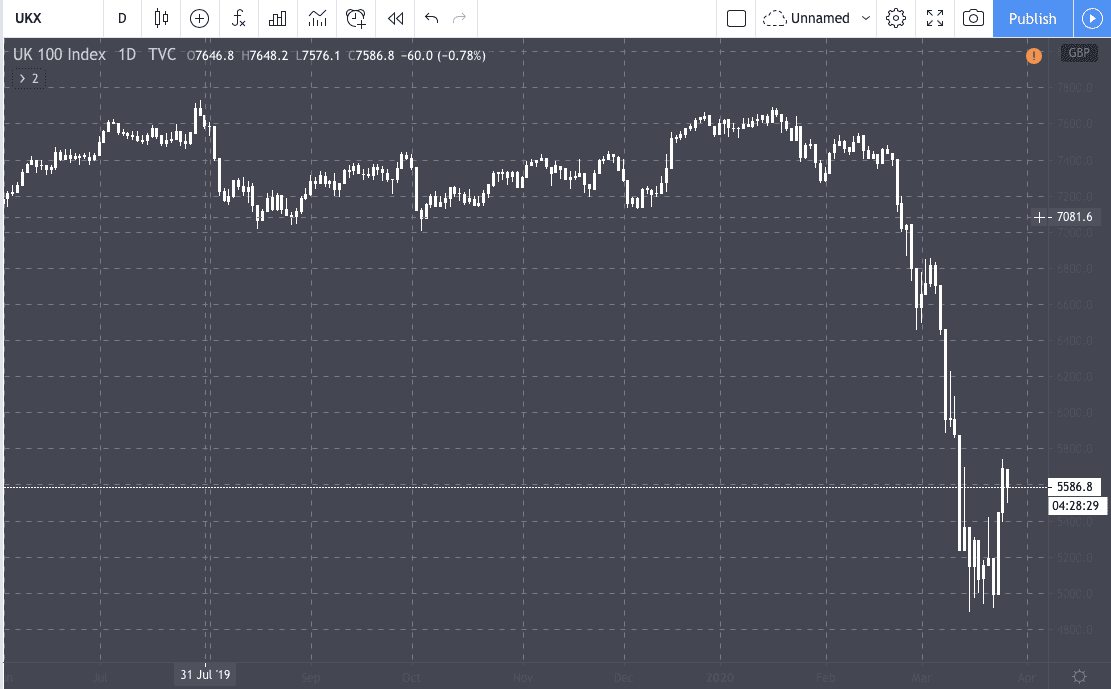 Some of the biggest movers in the FTSE 100 yesterday were companies such as JD Sports Fashion, Legal & General, and Housebuilder Permission with all gaining over 15%. JD Sports are now up over 80% in the past week but have a long way to go before they can make up the year to date loss of 38%.
What To Look Out For
US Initial Weekly Jobless Claims – This is certainly a number to keep an eye on. With last week's initial jobless claims number rising to 281,000, the expectation is that this week's number will be a lot higher. The general consensus is that around 2.5million people will have filed for unemployment. It was reported that Citibank has estimated the initial jobless claims to be about 4million.
The number will be an indication of how bad the US economy has been impacted by the coronavirus spread, and we could see a lot of selling come in if the number is higher than expected.

Lululemon Athletica – High-end brand Lululemon will release their earnings update today. Investors will again be looking at how badly the company has been impacted by the coronavirus spread and economic slowdown, causing stores to close.
Gold – Gold is one to watch over the coming days after many brokers had issues with spreads on their platform. There was also an issue with spot gold prices and futures prices being misaligned. This was put down to refineries being closed down and there not being enough physical gold to cover contracts.
If this is the case then I would expect a rise in gold prices over the coming days, especially now it seems to have woken up from its recent sell-off.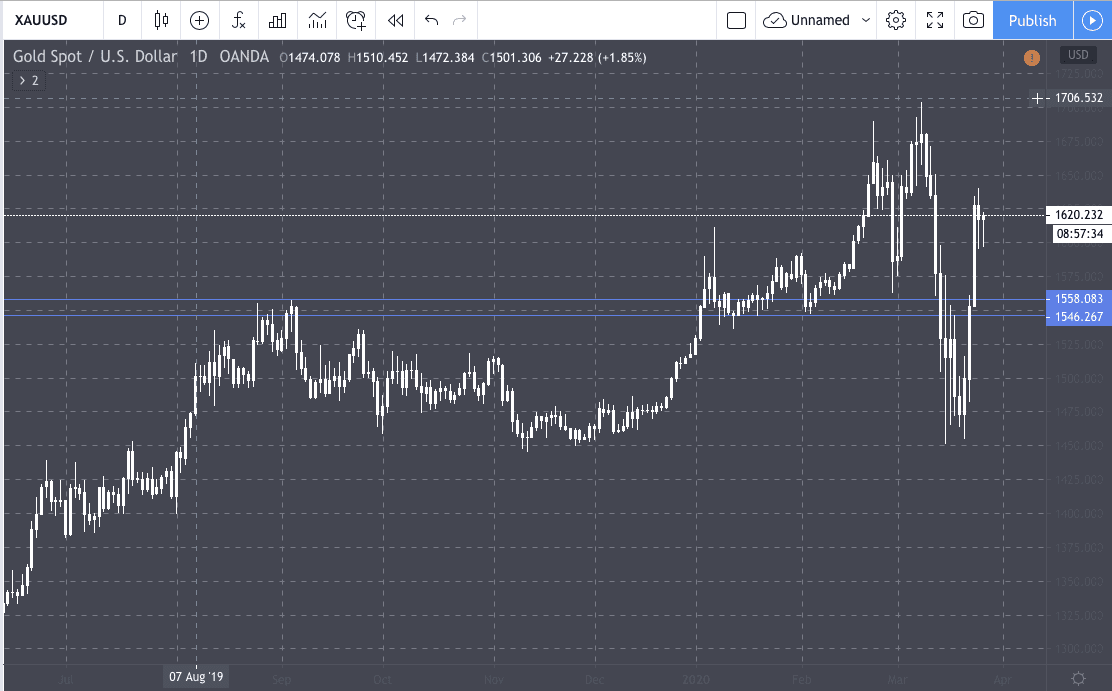 Cryptos – Cryptos have risen well over the past week, but it seems investors may be slowing down in their buying of crypto assets.
Bitcoin is currently trading at the $6600 level after yesterday hitting a high of $6733.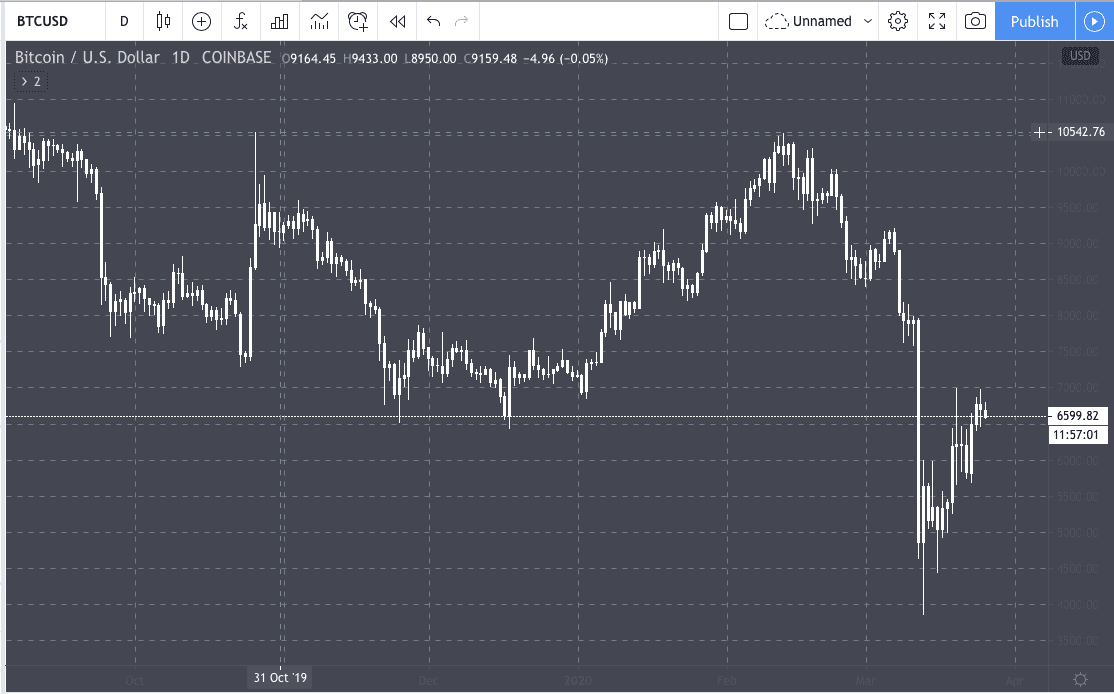 Etherum has followed a similar pattern to Bitcoin, down from yesterday's high of $139 and now trading at $134, while XRP hasn't followed the same model but is currently trading at $0.17.