The S&P 500 index started last week by posting a new record level during Monday's session. By Friday, it had once again pushed on to set another all-time high.
Futures of the global equity index are up again on Monday. Currently trading at 3,079, the index continues to show considerable strength.
The Eurostoxx 600 index was also showing strength and printed its year-to-date highs.
One bull, Edward Yardeni, is concerned that the dramatic rise in equity valuations may be followed by a sharp correction. Like many others, he takes the news on jobs, trade and earnings on-board, meaning he's not quite ready to start taking profits.
Three key drivers of the markets have all come on-line at the same time and pushed equity indices to new record levels. The stock indices are being propelled by good news on jobs, trade and earnings, and the momentum in the market is even causing bullish members of the trading community to raise an eyebrow.
S&P 500 index — five-year price chart: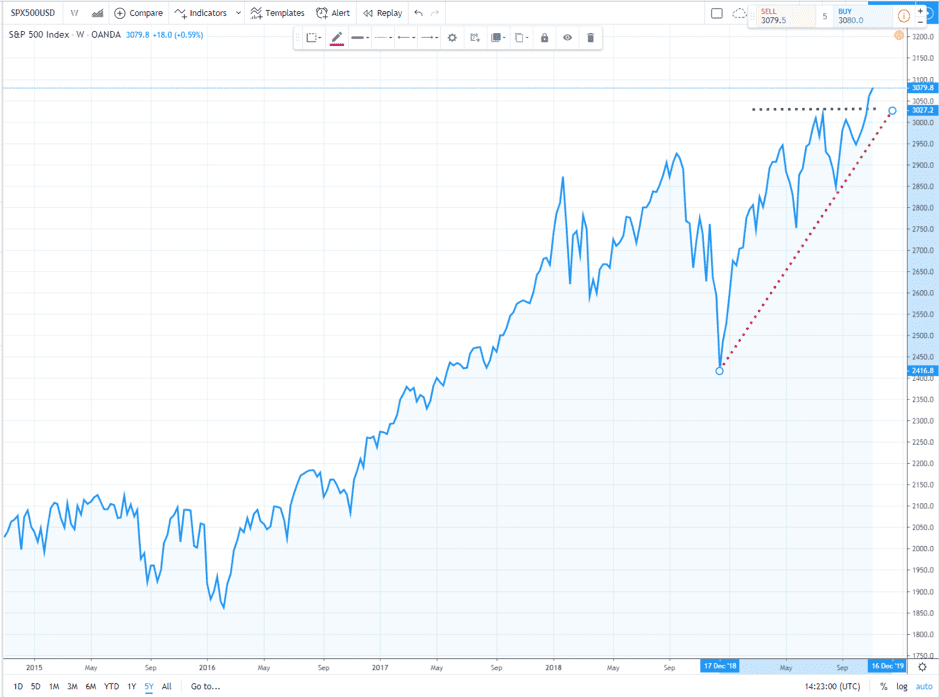 More jobs, more jobseekers
Friday saw the latest US jobs data released to the markets. The 'Goldilocks-style' numbers were just enough to take the markets to new record highs, but not too strong to suggest inflationary pressure. The markets responded well to there being less chance of prices getting out of hand. Last week, that was confirmed by the US Fed to be something of a deal-breaker in terms of its new dovish approach.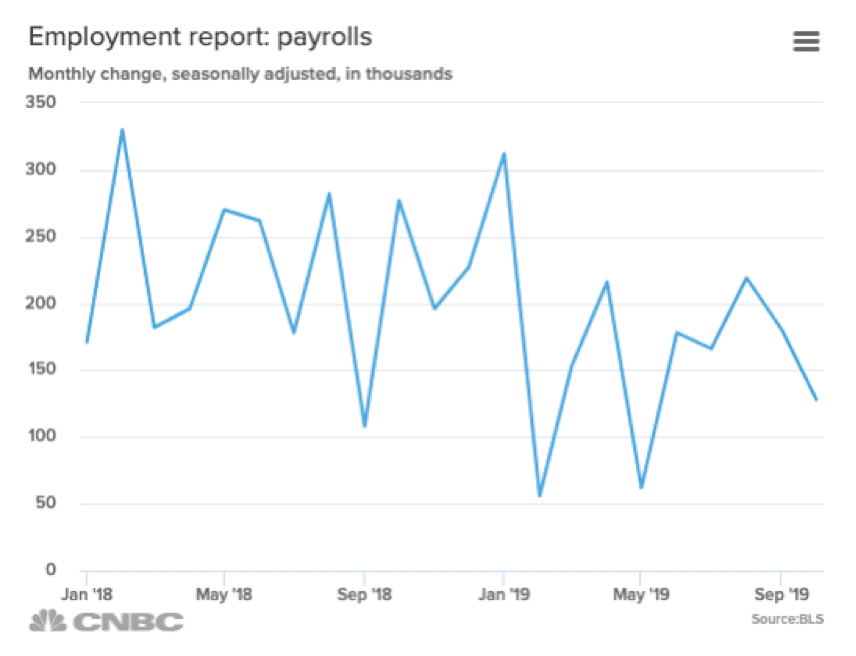 The US Department of Labor's closely watched Non-farm Payroll monthly employment report showed that the country's job growth was less than expected in October. Nonfarm payrolls rose by 128,000 in the same month — exceeding the estimate of 75,000 from economists surveyed by Dow Jones.
Potential booby-traps such as a strike at General Motors and the loss of 42,000 jobs at the auto-maker were offset by gains elsewhere. In fact, the impressive figures were further supported by the data for August and September, which was subject to positive adjustments. Both of those months experienced substantial adjustments. August's initial figure of 168,000 additions to the payroll was revised up to 219,000. September's was marked up from 136,000 to 180,000.
One of the headline figures in the data showed the unemployment rate rising from a near 50-year low of 3.5% in the previous month to 3.6% in October. Even this small cloud didn't dampen bullish spirits too much. The slip on this metric had been largely expected. Digging into the detail of the data revealed the increase in unemployment coming from an uptick in the size of the total pool of labour. The recent influx is a sign that those sat on the employment side-lines are inspired by levels of business confidence to try and find work. All of this offers some assurance that the American consumer is positioned to continue to support the economy.
Trade talks
Gauging the mood of the US-China trade talks is a difficult task, but the good announcements of last week were generally well-received by the markets. Over the weekend, Reuters reported:
"U.S. Commerce Secretary Wilbur Ross said on Sunday licenses for U.S. companies to sell components to China's Huawei Technologies Co will come 'very shortly', adding there was no reason a trade deal could not be on track to be signed this month."
Source: Reuters
European stocks, which have extra sensitivity to the state of global trade, were up on the back of the news that the US-China talks could be making progress. Automaker BMW (BMWG.DE) was up 2.2%, and Siemens Healthineers (SHLG.DE) jumped 5.5%. These price rises are buoyed by the increased chance of a deal. Should a deal be confirmed, it's anyone's guess where prices may head.
A timely reminder from the bears would suggest traders also consider where prices might head if the talks break down. Senior economist at Rabobank, Teeuwe Mevissen, was quoted by Reuters as saying:
"The question now is how much markets are pricing in a deal between the United States and China and I would say there is a 50% chance that they will get it done."
Source: Reuters
Earnings
European markets kept the party going on Monday morning. Half-way through the European trading session, the DAX Index was up 1.48% on the day and the FTSE 100 up 1.12%. The pan-European STOXX 600 Index (SXXP) broke to levels not seen since January 2018. The strength in that index had led to it posting four weekly gains in a row. Earnings on some European stocks continued the theme of positive Q3 reports spurring on the markets. The bar for European stocks had been set quite low, but most firms have cleared it. Reporting on Monday, airline Ryanair beat 1H expectations to the extent that its share price was, at one stage, up 6.5% (source: Reuters).
Eurostoxx 600 (SXXP) index — Two-year price chart: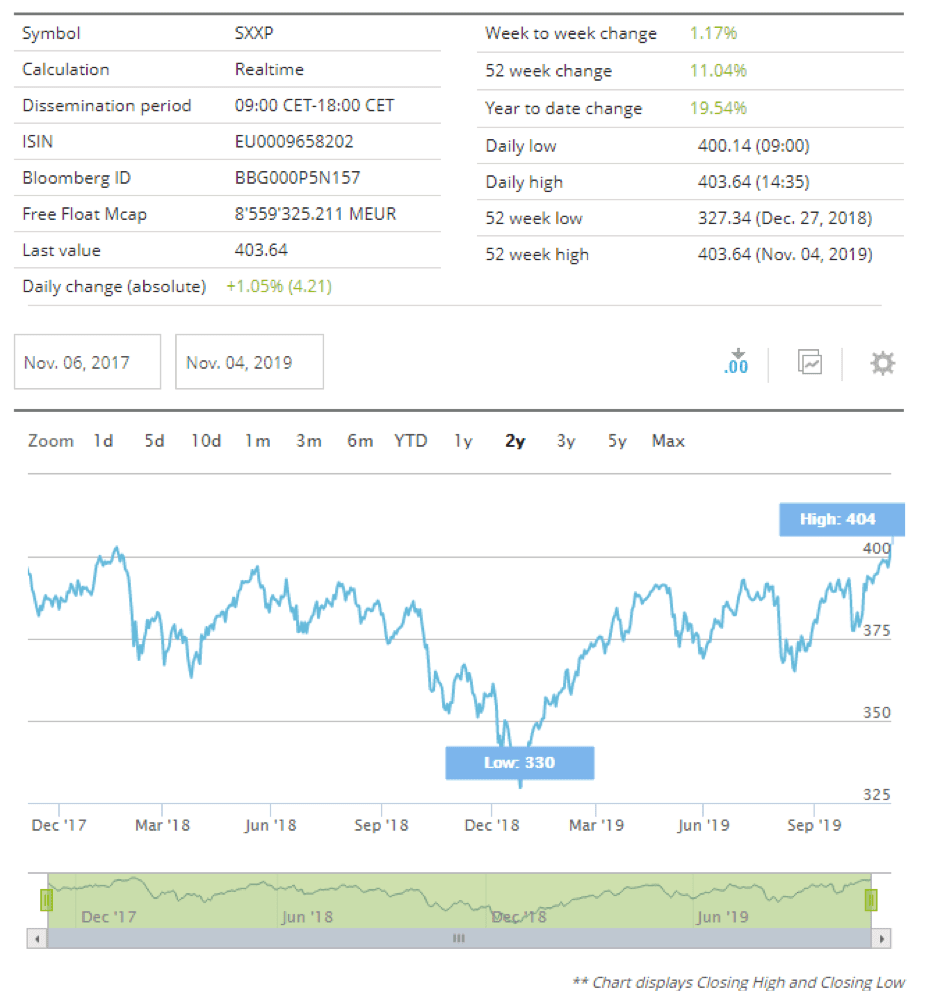 The SXXP is made up of large, mid and small capitalisation companies across 17 countries of the European region. Highs in this index reflect a broad and strong rally. However, the trajectory of the ascent has alarmed even some bulls.
Market melt-up
Ironically, all the good news is making one high-profile bull nervous. President of Yardeni Research, Ed Yardeni, has taken a positive view of equities and was speaking with CNBC's Trading Nation when he said.
"I just don't want too much of a good thing here. I'd like this bull market to continue at a leisurely pace not in a melt-up fashion… That's actually the risk."
Source: CNBC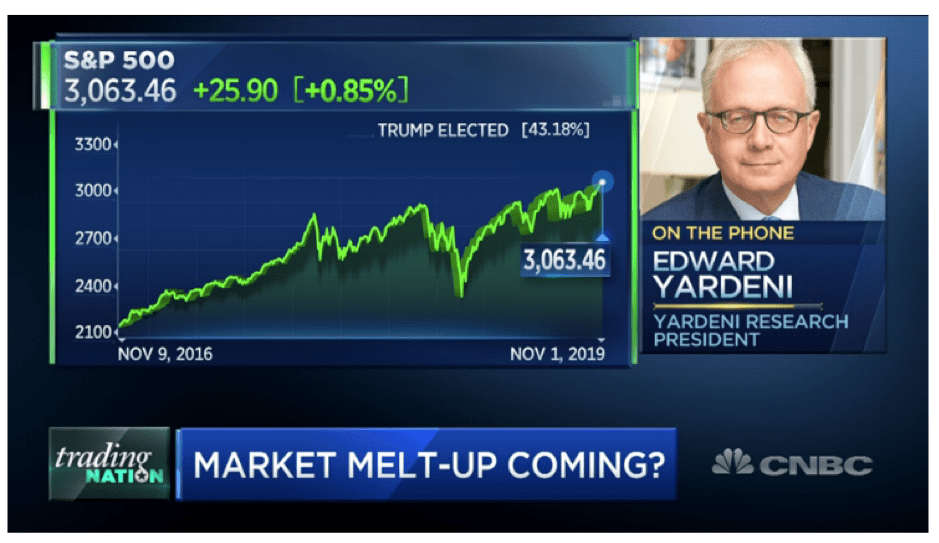 Yardeni is early to call out the role FOMO might be playing in the rally. He for one doesn't want to miss out but appreciates that overshooting may be the short term play.
"If the market gets ahead of itself and gets to 3,500 a lot sooner… I may have to consider taking some profits… I'd much rather stay fully invested in this bull market and not be forced to jump out just because it is ridiculously overvalued."
Source: CNBC