The number of firms missing earnings in Q3 is a record small size — unfortunately for owners of McDonald's (NYSE:MCD) stock, the fast-food restaurant was one.
Not for the first time, the firm is having to rebalance its public image as consumer trends change.
This week has seen the S&P 500 index of global stocks hit new all-time highs. A benign geopolitical landscape has helped, but the real driver was the Q3 earnings season. With a few firms still to report, this earnings season has so far recorded the highest percentage of beaten Earnings Per Share since 2006. Around 73% of firms have posted figures above analyst expectations.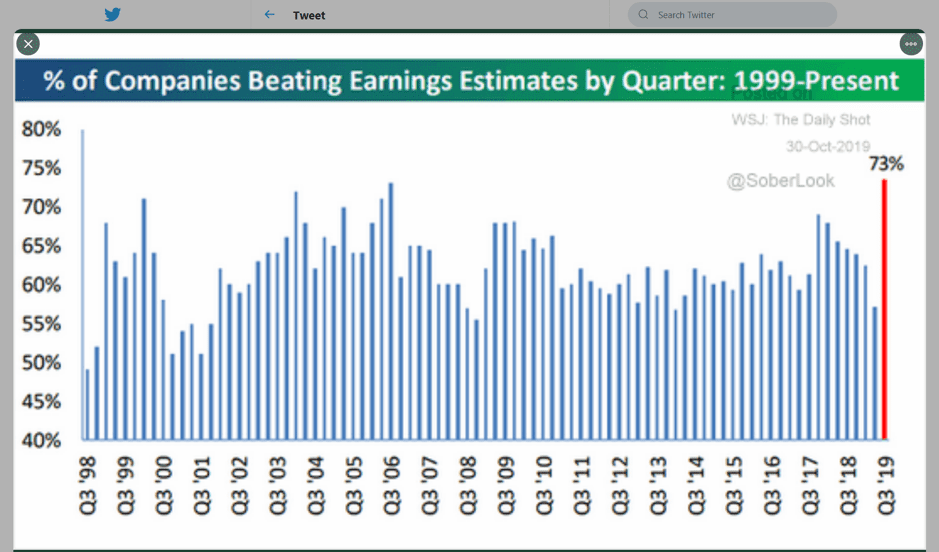 Consolidation
The index, which first made its move to higher ground on Monday, has not continued its move upwards. It's been supported by news of a rate cut from the US Federal Reserve and held its own when faced with less positive news regarding US-China trade negotiations. Reports that 'the wrong kind of stocks' are generating the upward momentum are counterbalanced by Jerome Powell, chair of the Fed saying he would need to see a "really significant rise" in inflation before hiking US rates (source: CNBC). With conflicting news reports, the S&P 500 has traded within a relatively tight range of 3,023–3,050.
SPX500 — Five-day price chart — with trading range — 24th–31st October: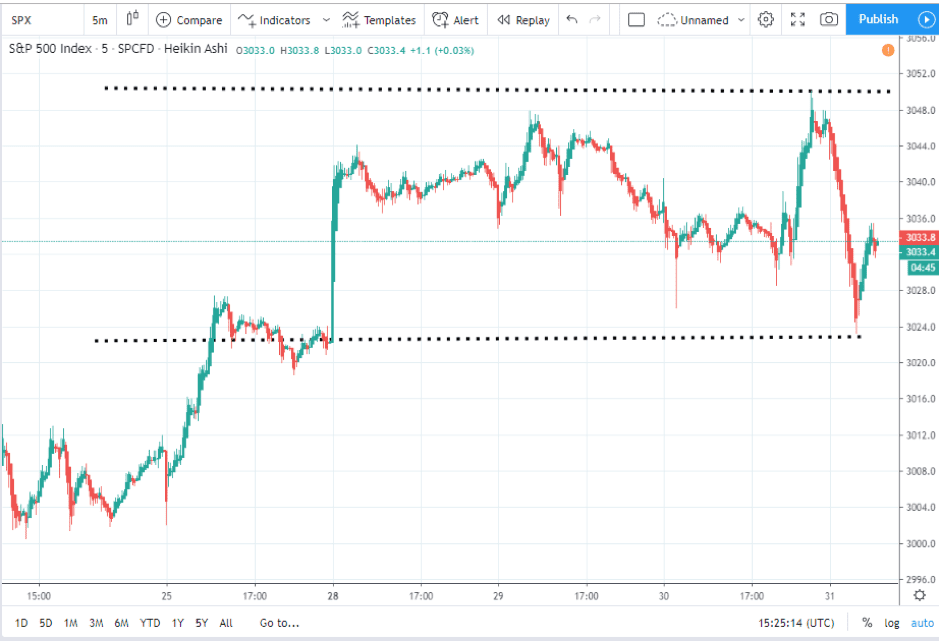 Betting against the rising tide
With equity market price action demonstrating a mixture of strength and consolidation, stock pickers looking for some single stock short positions face a tricky challenge. Picking through those firms that missed on earnings could be a good place to start.
McDonald's is one such firm. On 21st October it missed earnings estimates for the first time in two years. The supporting text suggested the firm was struggling in the face of tough competition. News that its promotions weren't drawing in the crowds like they used to, led to the share price falling 4% off the back of the earnings news.
McDonald's (NYSE: MCD) vs S&P 500 — Five-year comparison price chart: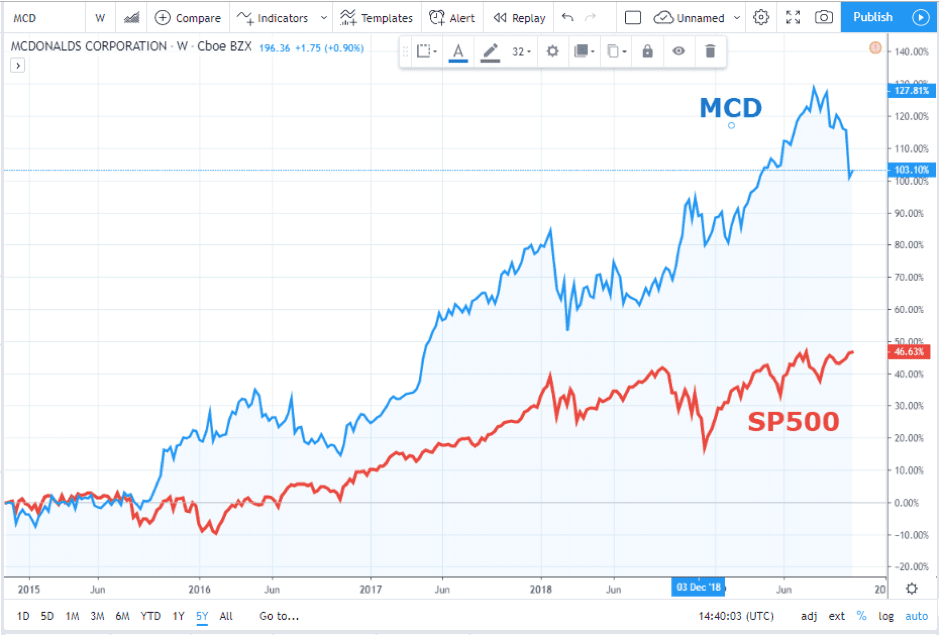 McDonald's (NYSE: MCD) vs S&P 500 — Three-month comparison price chart: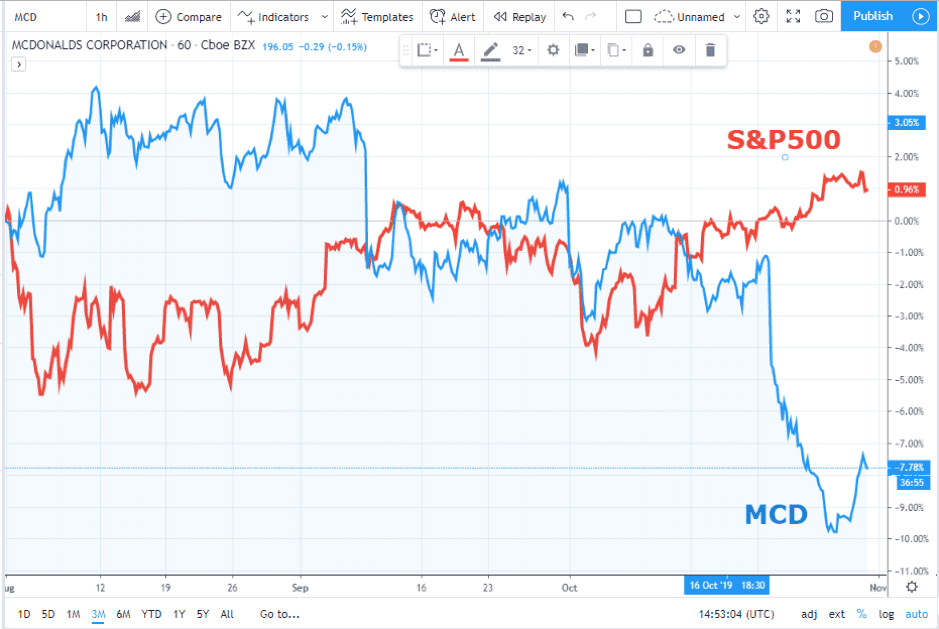 The three-month price comparison chart highlights the inline performance of both shares until the recent deterioration in MCD from 21st October.
McDonald's (NYSE:MCD) — 2015–2019: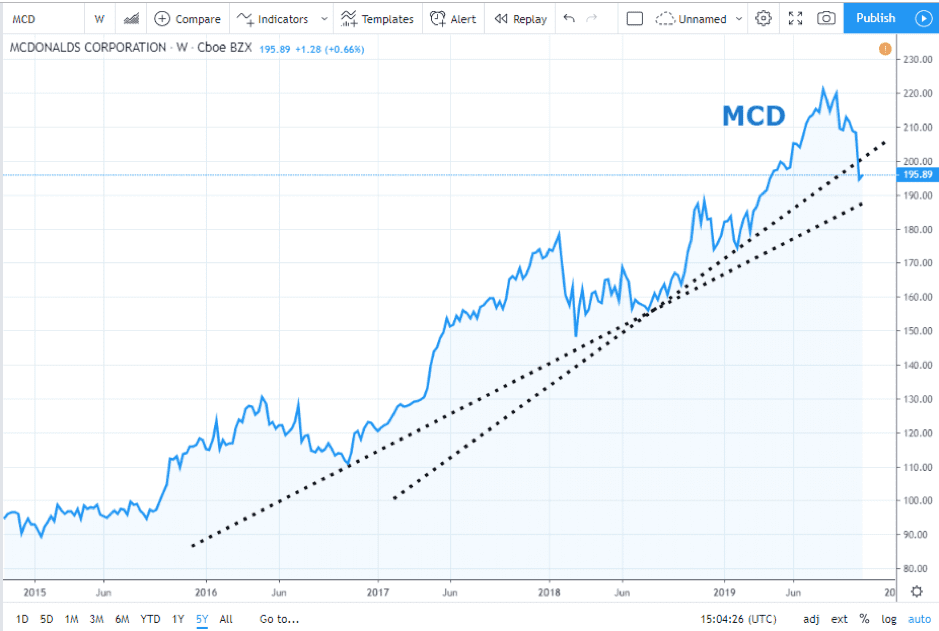 For some time, MCD has been outperforming the S&P 500. Its share price performance has been approximately double that of the index when looked at a year-to-date or five-year perspective. Only the three-month price chart shows the fast-food operator underperforming, so is this just a regression stage in price action or a sign of a more substantial change in the direction of travel?
The earnings miss has taken the stock through one of the two supporting trend lines and is a headache for the company. For investors looking for short exposure, the question is whether this might be the start of longer-term underperformance?
Eco-credentials
Possibly the greatest threat to the McDonald's share price would be sustained pressure on its eco-credentials, or lack of them. MCD is one of those stocks that is going to struggle as consumer tastes take on a greener hue. A shift away from the firm would tie in with the rise of Greta Thunberg, XR (Extinction Rebellion) and 'Flygskam.' Consumers are flexing their muscles, and from airlines to fast-food restaurants, the change in consumer tastes is being reflected in company accounts.
The extremely positive performance of Beyond Meat Inc (Nasdaq:BYND) stocks shows an appetite to invest in the success stories of the future rather than the past. Whereas MCD has outperformed the S&P 500, its performance looks particularly unappetising when compared to BYND's initial surge after its IPO.
BYND stock has recently weakened as founders off-load their equity positions and lock in some profits, but the non-meat food producer, which only listed in May, had a share price that in August was up 196%.
Tried and tested?
McDonald's benefits from having access to experienced and extensive public relations operations. It's been able to navigate its way past potential banana skins such as Morgan Spurlock's 2004 film 'Super Size Me' and still achieve commercial success. It would be a brave call to suggest the firm will fail to work through the current PR storm, but another current challenge is something it can't change — its corporate structure.
McDonald's operates a franchise system. There are currently 2,770 company-owned locations and 35,085 franchised locations. The question for investors is whether this business model can be agile enough to cope with changing consumer tastes.
The franchise system means any complaints on product quality have to be addressed to the store where the meal was bought. That falls down if it was a drive-through meal rather than eaten in-house. QSR magazine estimates that 65% of MCD sales in the US are drive-thru, and more discerning customers who drive off with a disappointing meal have no form of redress with the MCD centralised customer support desk at head office. It's just not on-message for customers to drive around trying to sort out their meal, better instead to change restaurant choice.
It's a small point, but it is increasingly the 'little things' that stack up to create an issue. Take for example the recent riots in Chile and Lebanon. The former has claimed 19 lives and started when Santiago metro fares were put up, and the latter, which has led to a run on the country's banks was sparked off by the proposal of a tax on WhatsApp messages.
Happy meals? 
Promotions have for a long time managed to lure customers to the famous 'golden arches', but consumers are increasingly exacting and increasingly aware. The first Happy Meal was served in 1979, a long time before the phrase 'single-use plastic' became such a dismissive term. In a very competitive market, it would take little for a rival to move into a position of competitive advantage. McDonald's stock is up 14% so far this year but this compares unfavourably to Burger King's parent company, Restaurant Brands International, with a share price that is up 31% year-to-date and Wendy's stock, which is up 38% in the same time period.