Low oil prices are good for the general economy and the problems for producers associated with current low prices have become a sector-specific story.
Some speculative investors have been taking positions based on the assumption that the only way is up.
The question is, as ever, one of timing, with Standard Chartered analysts suggesting the rebound might not be quite yet.
Recent events in the oil market have hammered home the old maxim that the economy and the financial markets are two very different things. News that US authorities have signed off on a $2tn support package has seen major US stocks post double-digit daily returns. On Wall Street, the Dow Jones jumped by 11.4% on Tuesday – its biggest one-day gain since the Great Depression.
While that was going on the price of US Crude rallied by a fraction of the equity gain. The price on Tuesday evening formed a 7.42% increase from last week's close. Weakness pervades the market though and by Wednesday even those relatively modest gains had been given up.
US Crude – 2hr candles – 19th – 25th March 2020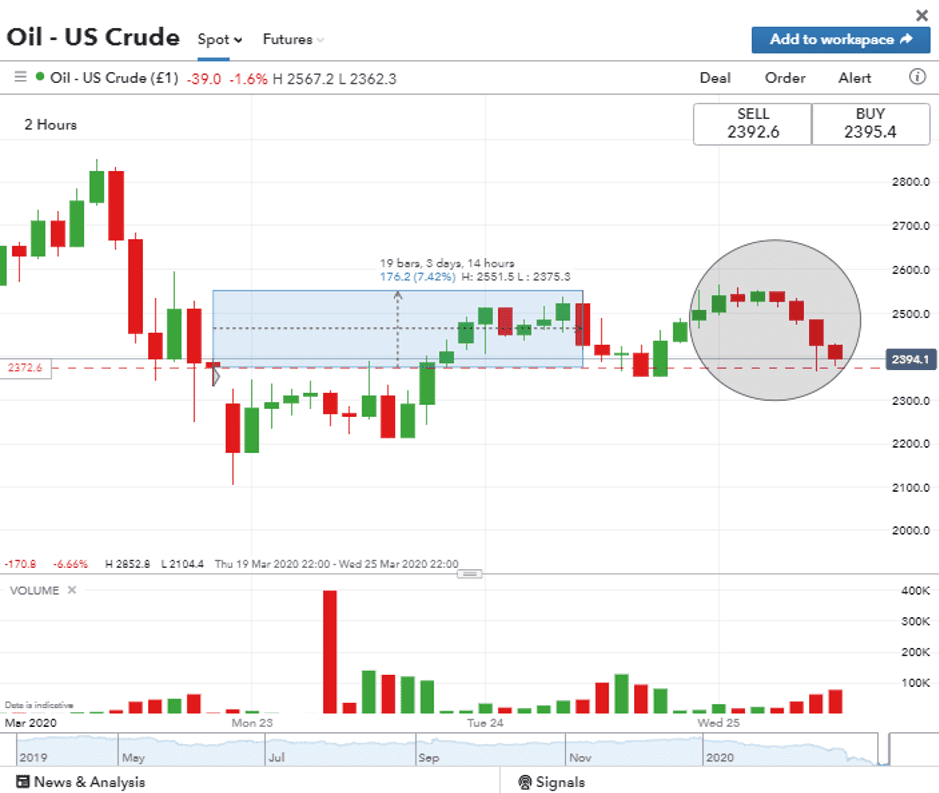 The rally in stocks and bonds stems from the US Fed announcing that the programme they are launching will allow them to keep financial markets operating efficiently. Given the concerns about the coronavirus pandemic that effectively means the authorities will step in to buy assets should selling pressure be excessive. There is now a base level for asset prices which fall within the remit of the programme and as President Donald Trump put it, "We're going big". Futures and physical holdings of oil are not on that list so are subject to the full effect of market forces.
Oil vs Dow Jones Industrial Average – Five-day chart 18th – 25th March 2020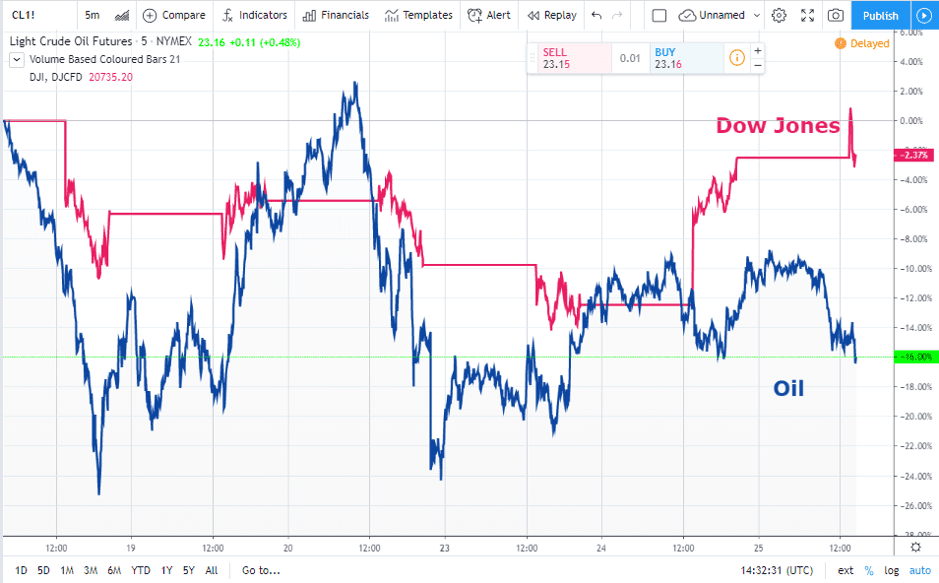 The supply side
With little help offered from the demand side of the equation, analysts are turning to the supply side for a possible trigger. After all, when did oil below £30 per barrel become the 'norm'?
Data from the EIA (U.S. Energy Information Administration) names the United States, Saudi Arabia, and Russia as the world's top three crude oil producers. OPEC's share of global production has been declining over the last couple of decades, however, it still plays a pivotal role due to its market-leading production costs. The marginal cost (the cost of producing an additional barrel of oil) in Saudi Arabia is only $8.98 per barrel compared to $44.33 in the UK. Russia can also squeeze a profit out of current price levels. Its cost of production is estimated to be $19.21 but the US average cost is $23.25.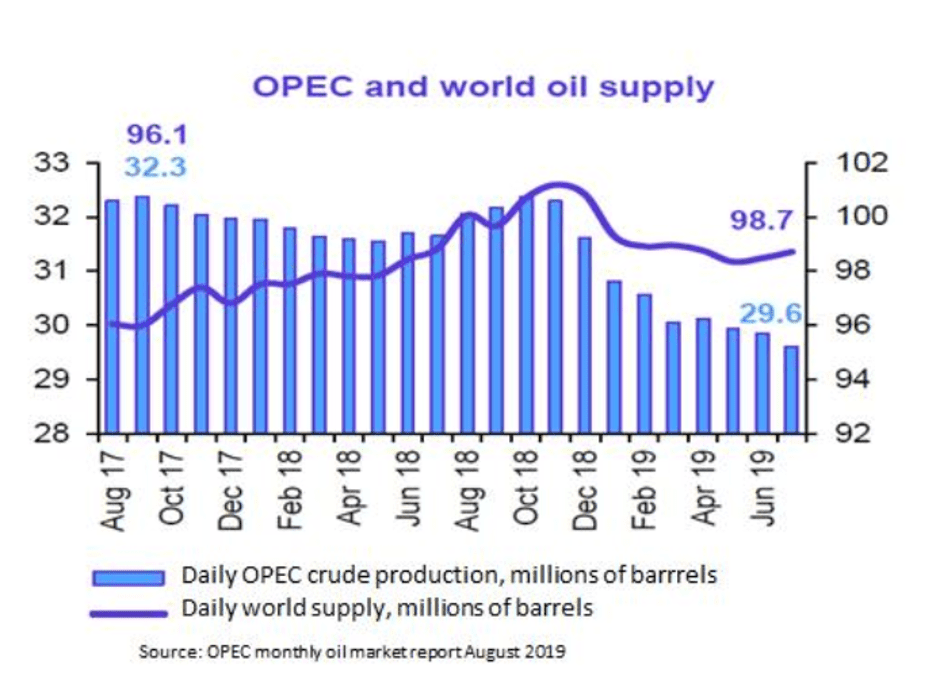 The fact that US crude is now trading below $24 per barrel means producers there are in a squeeze. For those bullish on price, this is as good as the news gets. Russia and Saudi Arabia are in a stand-off over production levels. Both need oil at higher price levels to be able to balance their government budgets. For now, both countries appear willing to endure some financial inconvenience in return for political gain.
Speaking with CNBC's Street Signs Asia, Manpreet Gill, head of FICC investment strategy at Standard Chartered Private Bank said: "Economic theory will tell you that prices ultimately come back to the variable cost of production – which is determined by US producers."
Source: CNBC
He continued: "Any sort of less bad news could be positive. We're quite far away from any sort of agreement and clearly we've got mixed messages from US producers, regulators and industry but it's something that is absolutely very important to watch."
A truce between the Saudi's and the Russians could see oil quickly return to $40 p/barrel. Part of the allure of the market is the possibility of a 'wildcard' style intervention based on a political whim. Some will be taking positions in the commodity if only because prices are hovering around the level where US producers break even. It's not out of the question that having driven prices this low that the two rivals, Saudi Arabia and Russia, will drive it even lower to ensure the US oil industry suffers collateral damage as a result of being caught in the crossfire.
Reports on Wednesday suggest that in a significant move, the US has sent a special envoy to Saudi Arabia in an effort to break the deadlock. There is a chance of success, but Gill gives it slim odds.
"To me tough it is a much longer-term story than the next few weeks or couple of months."
Source: CNBC