The geopolitical landscape in the Gulf changed dramatically Thursday night.
The US pentagon confirmed drones had targeted and killed Iranian General Qasem Soleimani during his visit to Baghdad.
Soleimani is seen in the US as a Bin Laden style figure, but in his home-country was held in high regard and something of a talismanic hero.
Tehran has warned "severe revenge awaits the criminals" responsible for the attack (source: BBC).
Oil prices have responded to the game-changing events by spiking and then holding at higher price levels.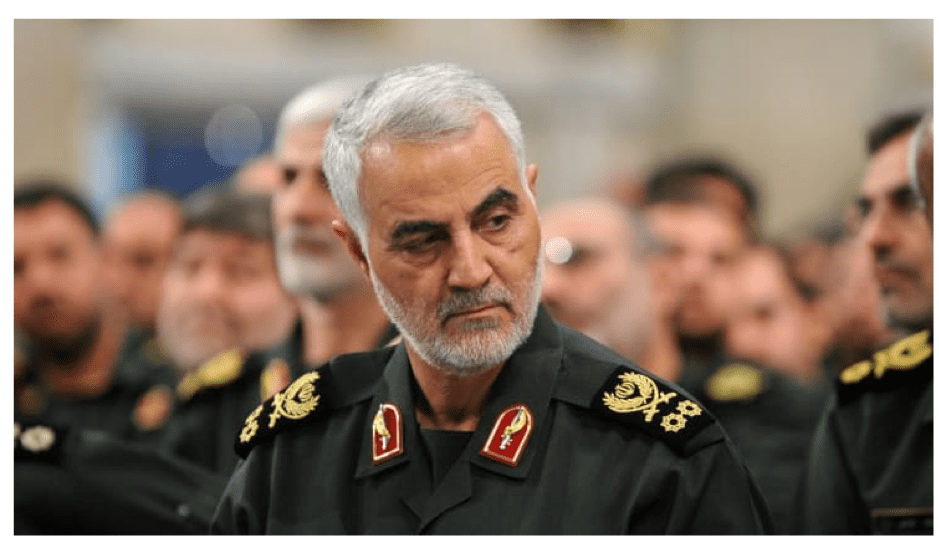 US military forces have claimed responsibility for an airstrike that killed the second most powerful man in Iran. General Qasem Soleimani was visiting Baghdad and passing through Baghdad airport when he and his entourage were subject to a drone-missile attack, which was confirmed by Iraqi officials and Associated Press as claiming the life of Soleimani. Helima Croft, head of global commodity strategy at RBC Markets, told CNBC via email:
"This brings us to the precipice of a full blown shooting war with Iran — not a shadow war or a proxy war. It is almost impossible to overstate the implications of this event."
Source: CNBC
Price shock
Oil prices have spiked on the news. During Asian trading, light crude oil futures (NYMEX:CL1!) touched $63.81 before holding above $62.00. At the opening of Friday's European markets CL1! was trading at $63.05, a 3.61% hike on Thursday's closing price.
Light Crude Oil Futures (NYMEX:CL1!) — One-day chart:

Light Crude Oil Futures (NYMEX:CL1!) — One-day chart — percentage change: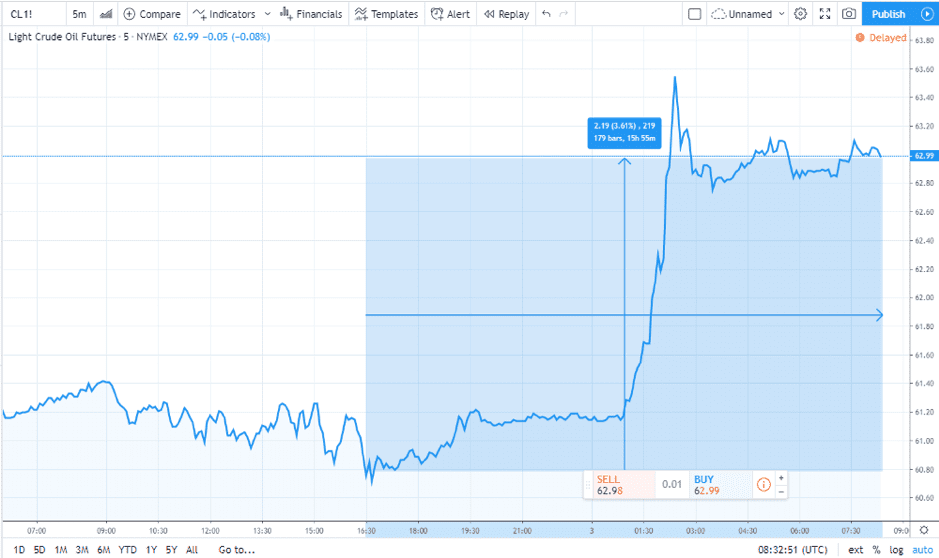 The price move is notable as it takes CL1! out of its upward trending price channel and provides further confirmation of the break of the downward trend line, which was in place from April–December 2019.
Light Crude Oil Futures (NYMEX:CL1!) — One-year chart: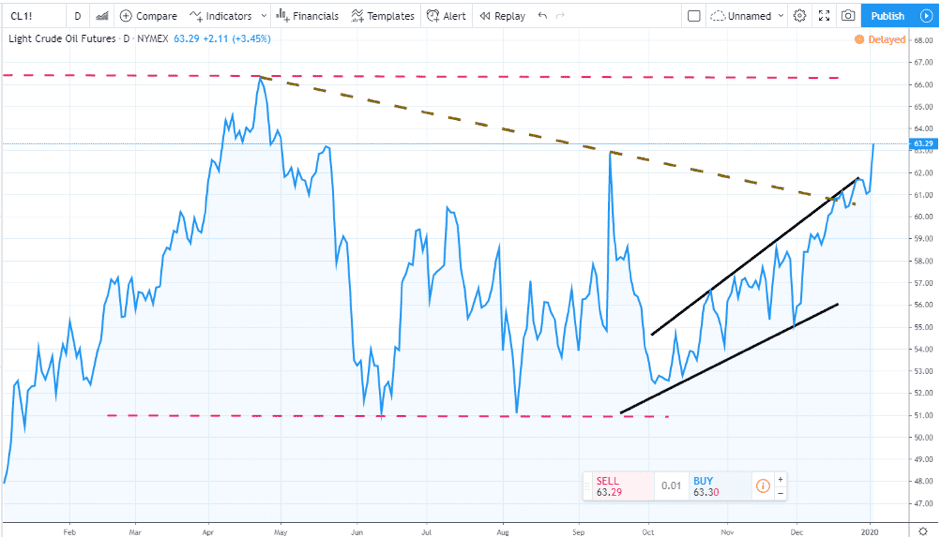 The 4% price hike shows that many in the market agree with Helima Croft regarding the significance of the general's assassination. The attack on Saudi Arabian oil refineries in September 2019 took the worlds largest oil producer off-line for one week and although prices spiked by 15% initially, by 18th September, the price shift was in the region of 5%. Price action suggesting that the killing of Soleimani is therefore roughly equivalent to taking out the world's largest oil producer.
Revolutionary
General Qassim Soleimani's prominence is largely attributable to the fact that he led the Quds Force, a special forces unit of Iran's elite Revolutionary Guards. The unit has a reputation for maintaining a degree of professionalism similar to the standards of the very best forces in the world and certainly one not seen in the regular forces. Estimates suggest the Revolutionary Guard unit is 125,000 troops strong and it is Soleimani's men who have led Iranian attempts to influence events across the Middle East. The unit engages in the support and training of allies in countries across the region and it is the Quds Force that has formed the front line of Iranian influence in the region.
Timing
The spike in oil confirms that not many saw this coming. US President Donald Trump has through his term of office actively avoided military conflict. Last year, at the last minute he cancelled a missile attack on Iran, which was mid-flight. The change of plan was seen by many as confirmation that his bias was strongly against military intervention, even when provoked.
There are two main factors to consider when trying to establish the timing involved and possible next moves. There is every likelihood that the critical path from here will likely take financial markets on something of a tortuous journey.
The first is that Iran is currently incredibly weak. The US decision to impose trade sanctions in 2019 has taken its toll on an economy overly reliant on oil exports. In November, Tehran's administration was forced to withdraw government subsidies on petrol. At-the-pump prices rocketed 50% overnight and rationing was introduced. After the death of one protestor, the Ministry of the Interior had to take the unprecedented step of warning the public that security forces may intervene in order to maintain order. The complex web of diplomatic and military support for factions in the Middle East is also expensive to maintain and reports are that budgetary restrictions are resulting in Iranian influence being scaled back.
The second factor, which is being seen as a trigger for recent events, is the US presidential election. A cursory glance through the back data shows two former presidents taking a similar course of action. Both Bill Clinton and Barak Obama engaged in president-led military strikes against Iran. It doesn't take too cynical an outlook to note the obvious political gains of the leader in the White House establishing his credentials as Commander in Chief in the run-up to polling day.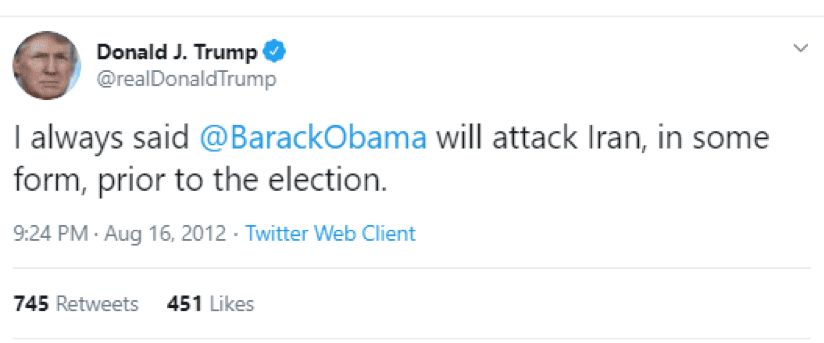 The next moves are as ever hard to call. Iran is officially engaging in a three-day period of national mourning. While this is likely to buy some time for market analysts who are busy trying to gauge the next moves, that lull is not guaranteed. After those three days, the gloves are off.
Game theory
The strike, which was ordered by US President Donald Trump, marks a major escalation in tensions between the US and Iran. The immediate response from Tehran came from Iranian Defence Minister Amir Hatami who was quoted by state news agency IRNA as saying: "A crushing revenge will be taken for Soleimani's unjust assassination… We will take revenge from all those involved and responsible for his assassination."
Source: CNBC
Matthew Bey, senior global analyst at Stratfor was speaking with CNBC and reflecting the views of the investor community when he said the attack would likely "provoke significant retaliation" from Iran as well as Iranian-backed militia in Iraq (source: CNBC).
There are arguments that the situation may not spiral to the extent that some are claiming. Iranian power and influence isn't what it was even 12 months ago. The US president may also consider his actions as an adequate demonstration of his tough-guy capabilities. But even if this is the long-term outcome, there appears to be every likelihood of near-term volatility.