Uncertainty relating to the economic effects of the COVID-19 pandemic is causing equity valuations to change daily.
That might be a headache for analysts, but traders operating shorter-term strategies are presented with numerous opportunities to make considerable profits.
The sell-off on Friday shows that not only are the moves considerable, they are also generating easily identifiable price patterns.
The Friday morning sell-off in global equity indices highlights how short-term trends are providing traders with opportunities to make profits out of market momentum. Heightened price volatility caused by the coronavirus pandemic means that as price moves from one position to another, traders can catch a ride and using elementary technical indicators can manage their risk and still post handsome gains.
Trading shouldn't be, and isn't usually, this easy. Opening a Demo or Live account with a regulated and high-quality broker such as Pepperstone opens the door to understanding how it is done.
UK100 – 5M candles – Intraday 22nd May 2020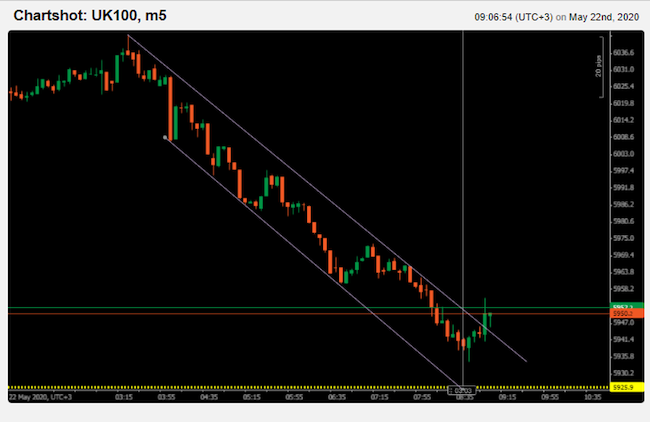 Zoom in
The five-minute candle price chart illustrates a particularly clean downward price channel. The downward move started half-way through the Asian market trading session on Friday. It was possibly triggered by investors looking to bank some of the week's profits before the weekend.
By the time that European markets were to open, the UK100 index (which trades on a 24/5) basis had fallen by 108 points. That equates to a 1.8% market move in the space of five hours and 20 minutes. Pepperstone provides clients with the ability to 'sell-short' as well as go long in the markets and selling at the start of the fall would, in this instance, not only have been profitable but would have included a healthy amount of risk management.
A short position with a stop loss above the entry point of 6044.2 would soon be showing a profit and setting the stop loss to trail the downward price move was possible by setting the close-out price above the upper trend-line. The eventual break of the upper trend line inevitably came: every trend has a bend in the end. The long wick on the green candle which eventually broke the line tells its own story. Positions which had been set with stop losses just above the trend line were triggered in quick succession, causing a price spike.
UK100 – 5M candles – Intraday 22nd May 2020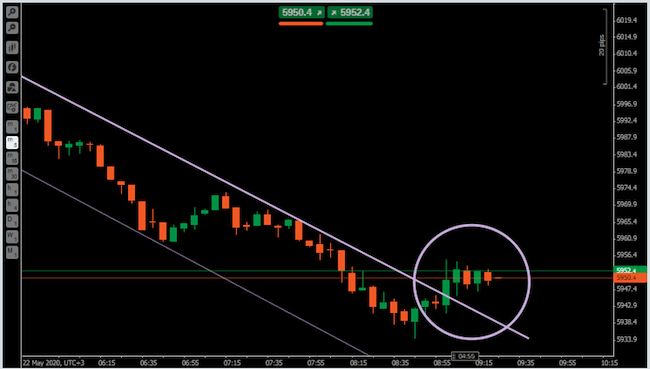 Until that point, traders had enjoyed several hours of opportunity to profit from the downward shift, and even those who missed the first entry point had seen opportunities to jump in when the price got close to touching the resistance line. The flip to the upside might not signify it is time to buy; price action still appears to lean towards bearish.
UK100 – 5M candles – Intraday 22nd May 2020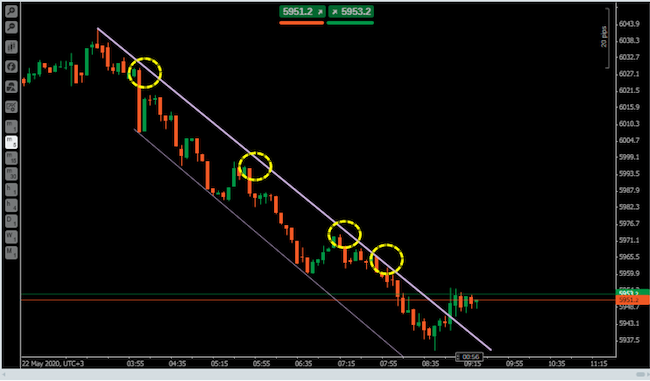 Being a global broker with an abundance of resources means that Pepperstone has all the trading tools needed to work the mechanics of this kind of trade. That's a good thing as there is still no sign of market volatility drop-off as investor sentiment flip-flops on the question of 'are things really going to be normal after the coronavirus pandemic?'
The challenge remains, how to pick the trade entry points and gauge which direction the next move will be. But the reward can be 'clean' moves as price takes a smooth ride to its next level.
Zoom out
It's essential to not take markets for granted. Things always change, but making profits while the opportunity exists helps buffer trading accounts over the periods when making the right call is more difficult.
The extra volatility appears likely to stick around for some time yet. Hopefully, more clean trend patterns will appear and offer traders the opportunity to make further returns. Getting a handle on how to spot them from the start is possible by visiting Pepperstone and taking advantage of their free research and training material.
Viewing the markets over a more extended period shows price moving into the end of a wedge pattern. The UK100 daily candle chart shows price taking its time to consider if its next move will be a break out over the yellow resistance line or below the supporting trend line.
UK100 – Daily candles – 22nd Jan – 22nd May 2020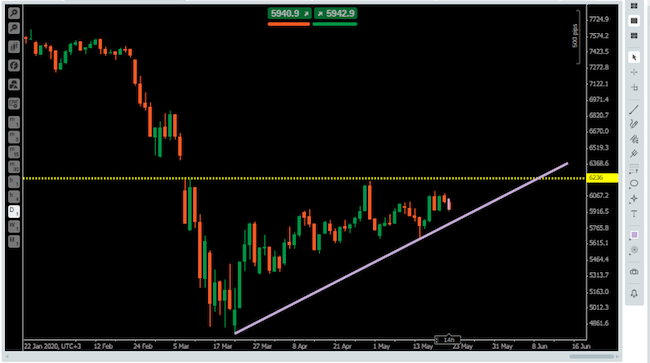 At some point, something has got to give. It could be that a significant move takes place with the possibility of market values shifting in percentage terms by double digits. Those looking to the next long-term shift being to the upside will take comfort from US president, Donald Trump's comments of Thursday. Speaking during a tour of a Ford car manufacturing plant he offered his thoughts on how bad any second wave of COVID-19 might be. He said:
"We are going to put out the fires. We're not going to close the country. We can put out the fires. Whether it is an ember or a flame, we are going to put it out. But we are not closing our country."
Source: CNBC
The CEO of Facebook, Mark Zuckerberg, offered further support. His firm's stock outperformed the market when he announced a culture of remote working would be supported. His opinion is that the market is responding well to the idea that despite the risks of a second wave, some firms are demonstrating a willingness and ability to future-proof themselves from that eventuality.
Until the next major trend is confirmed, traders can take advantage of shorter moves, and  Pepperstone provides all the tools needed to build an effective strategy. While the moves are as clean as Friday's shift, it will be possible to incorporate a reasonable degree of risk-management at the same time.