Oil markets saw prices rise higher when they opened Monday.
The US and Iran appear to have both made public threats regarding escalating the conflict.
Supply-side risks are highlighted by analysts as likely to support prices through 2020.
Brent crude futures broke the $70 p/b price level. Touching $70.27 a barrel, a $1.67 / 2.4% increase from Friday's close.
U.S. West Texas Intermediate crude futures reached $64.39 a barrel, up $1.34 / 2.1%.
Understandably so, the weekend has done little to calm the oil markets.
CFDs on crude oil — TradingView technical analysis: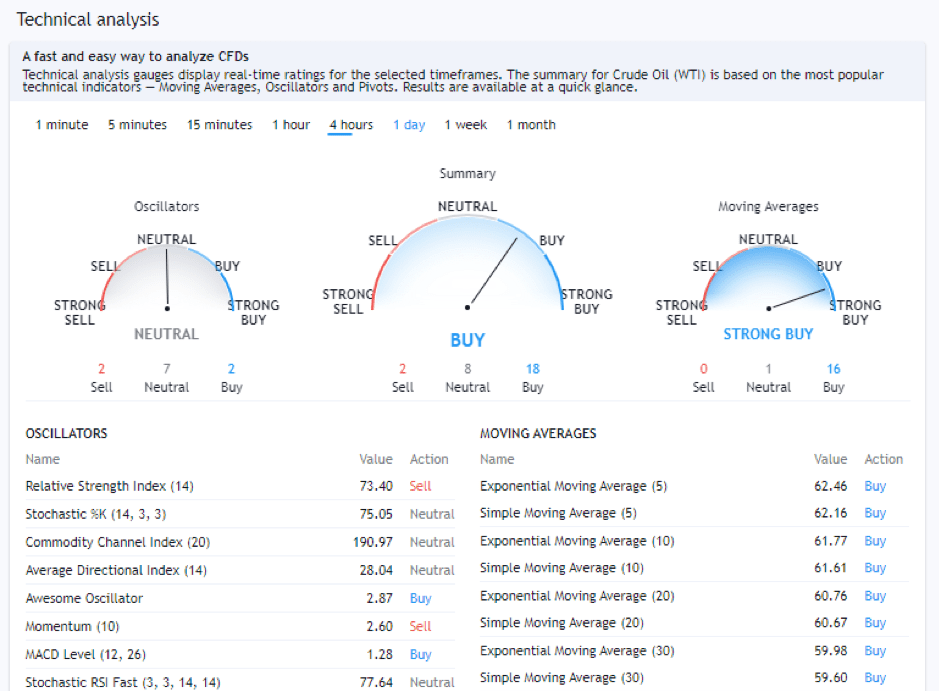 CFDs on crude oil: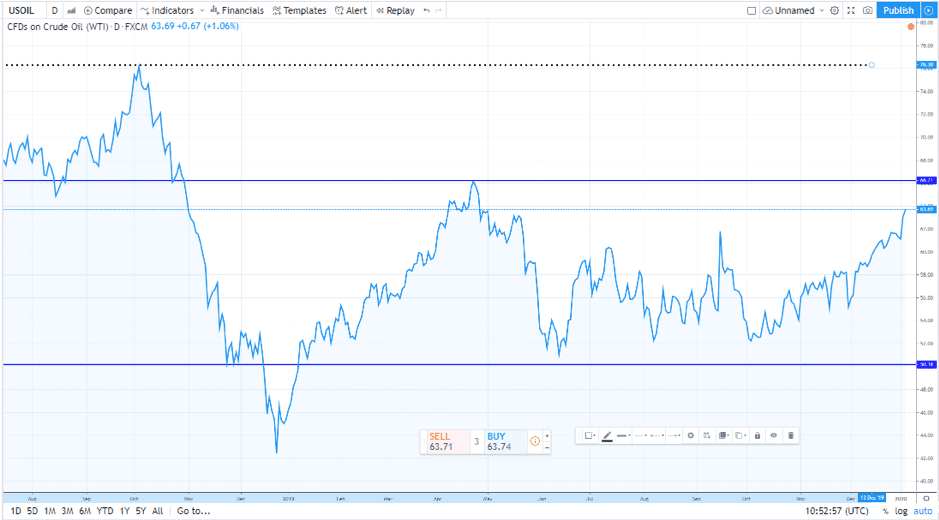 Iranian General Qasem Soleimani's funeral proceedings drew crowds of tens of thousands of mourners on to the streets of Tehran. The Supreme Leader of the Islamic Revolution, Ayatollah Ali Khamenei, commented on Soleimani's demise and said "severe revenge" is awaiting the powers responsible for the death of the commander of the IRGC's Quds Forces (source: The Guardian). The US demonstrated Thursday's attack was not a hit-and-run. President Trump's desire to remain central to Gulf events saw him threaten Iraq with a "very fast and very hard" response to any Iranian retaliation.
Supply-side issues
The potential of considerable restrictions on oil supplies are have seen oil prices push on higher through Monday's trading. This is on the back of an approximate 3% rise on Friday. TradingView's 'CFDs on Crude Oil (WTI)' five-day price chart shows the recent double-step-up: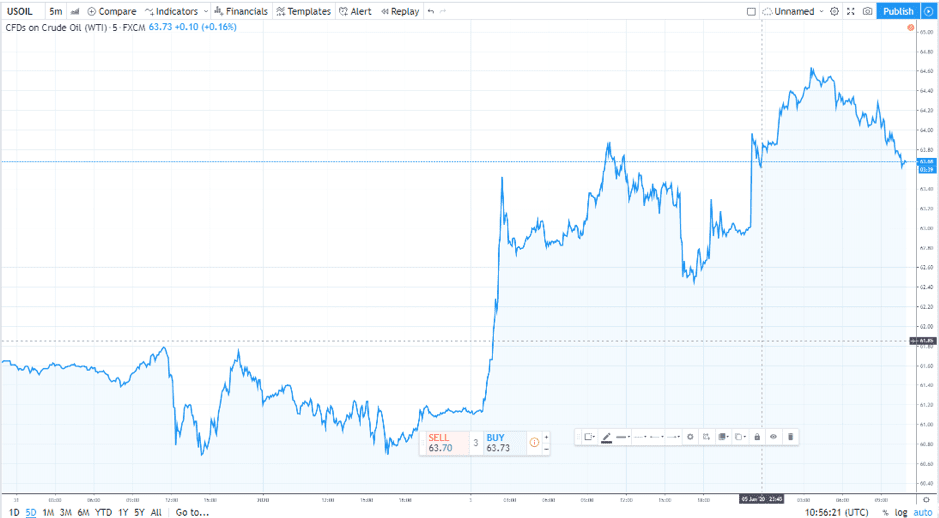 The Middle East is responsible for almost half of the world's crude oil production. Saudi Arabia, the largest producer in the region, found in September that its production operation is a sitting duck for Iranian-led missile strikes. Iraq, the second-largest oil exporter in OPEC (Organization of Oil Exporting Countries), might see its supply hit by American sanctions if it takes sides with Iran.
Saudi infrastructure
The attack on Saudi oil infrastructure in September created a price spike followed by gradual retracement. Over time, the price hike was almost negligible as it became increasingly apparent that there would be no immediate military retaliation against Iran. The issue became a matter of engineering rather than politics. Within a week, the effected Saudi refineries were back up and running. This time it is different.
The September attack was by Iranian-backed forces on a US ally. While it severely tested Trump's declared intention of reducing US involvement in the Gulf, he stood by that policy. Thursday's attack is by the US on Iranian forces. The Tehran regime has no declared intention to de-escalate tensions in the area, quite the opposite. This makes Iranian retaliation look highly likely. It could be argued that 'Iran got their retaliation in early' as the US strike against Soleimani followed weeks of attacks by Iranian backed groups on US interests. Events such as attacks on the US embassy in Baghdad finally brought about material US involvement and now both parties are in the fight.
Many will be wondering why the US has reacted to protests outside the Baghdad embassy but not Saudi refineries being hit by cruise missiles. Back in September, any rallies involving long-range missile strikes would have only exposed the extent to which Saudi oil defences are woefully ill-prepared. By not reacting in September, the US/Saudi Arabia bought time to enable new and technically more appropriate defences to be commissioned and put in place. How much of an improvement can be brought about within three months is a pertinent question. If military hostilities are scaling up while there are still weaknesses in Saudi defences, then current oil prices could look comparatively cheap at some time in the very near future.
Iraq
The Iraqi parliament held an emergency meeting on Sunday and passed a resolution.
"The Iraqi government must work to end the presence of any foreign troops on Iraqi soil and prohibit them from using its land, airspace or water for any reason."
Source: CNBC
The resolution isn't legally binding but does show Iraq leaning towards Iranian interests, or at least against American ones. This could have severe consequences for oil prices. Iraq has a position as the second-largest producer in the region. The country has made up for a lot of the Iranian oil supply that was itself lost to US sanctions. If sanctions are imposed on Iraq, then there are even fewer countries left to make up the shortfall in global supply.
President Trump was speaking on Air Force One when he explained his uncompromising approach to Iraq to reporters.
"If they do ask us to leave, if we don't do it in a very friendly basis, we will charge them sanctions like they've never seen before ever… It'll make Iranian sanctions look somewhat tame."
Source: CNBC
2020 price forecasts
Last year saw oil prices bumped and nudged by changes to global demand forecasts, which were largely a reaction to the state of the US-China trade dispute. This year has started with supply-side issues taking centre stage.
Caroline Bain of Capital Economics had already picked out supply as a feature for 2020. Updating her 2020 forecast only a few days into the year, she noted:
"Friday's incident has all but removed the possibility of a lifting of Iranian sanctions, a large downside risk to our oil price forecast."
Source: New York Times
Scaling up
Asked by reporters if he was worried about retaliation from Iran, Trump said:
"If it happens it happens. If they do anything there will be major retaliation."
Source: CNBC
Militarily speaking, taking out an individual who is critical to an opponent's operations makes complete sense. The downside is that Soleimani was a high-profile figure and Iranian public opinion will require some form of reciprocal display of force. The concern for the markets is that the tempo of the escalation appears to have been dictated by Tehran, not Washington.