Shares of Synairgen a British biotechnology company were down 3.1% today extending the sideways trend witnessed since Monday after rallying 451% last week. Most investors are wondering whether it is a good time to take profits on their position and for those who missed the move, should they establish new positions?
Well, we shall delve into these two questions in this article.
Firstly, those who owned the stock from the beginning of the move last week should definitely take some profits on their position. It is not common to get a 451% gain within a week, hence, you should definitely secure some of the profits from the trade. I'd sell half of my position at the very least.
Traders who missed the entire move are in luck because there is a new setup developing on the stock's price chart as broken down below.
Synairgen share price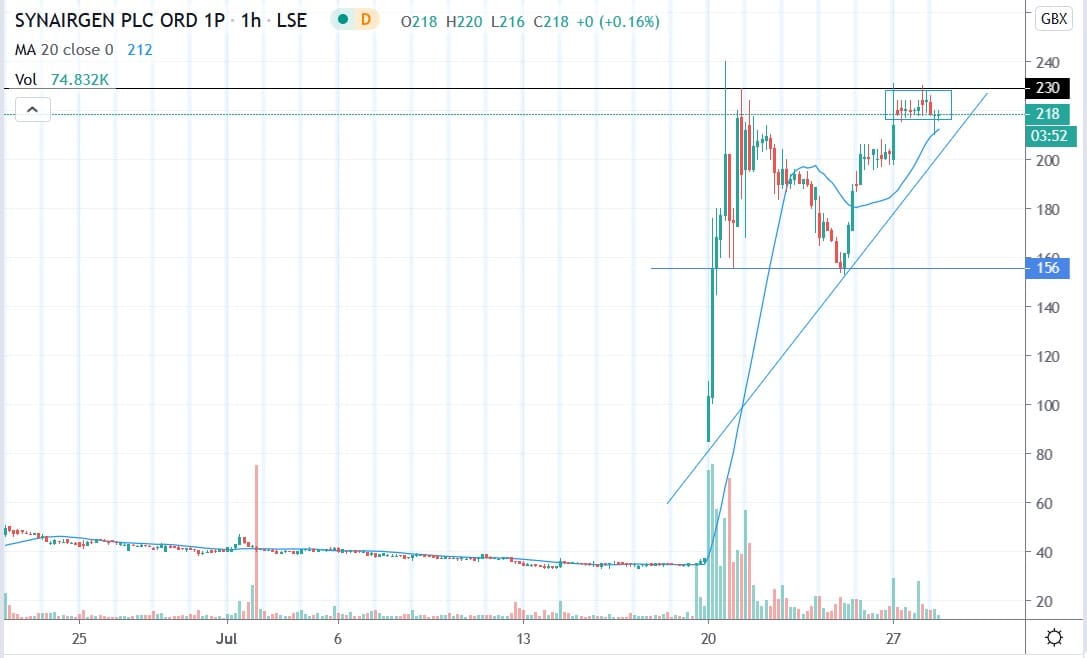 The rectangle in the chart above shows that Synairgen's share price is consolidating at the top of a triangle pattern. We do not have a crystal ball, but the price usually breaks out of such patterns either to the upside or the downside.
If the price breaks to the upside and above the critical 230p resistance level, I would establish a long position since such a break could lead to a new rally. On the other hand, a break to the downside could lead to the price dropping to the 160p level leading to a 50p gain for short-sellers.
You can set your stop-loss order slightly below the rectangle for long trades and slightly above it for short trades.
There you have it, two trade ideas that could see you profit from Synairgen's share price movements.