Tech sector valuations called into question by top analyst Tono Sacconaghi
Share price, as a multiple of future earnings, reaches new highs
Nasdaq has spent a week trading sideways
Tono Sacconaghi, a highly regarded analyst at AB Bernstein, has warned that stocks in the tech sector are becoming overvalued. Interviewed by CNBC on 9thJuly, he pointed to the aggregate multiples, which are at a 15 year high. The sector's share price in relation to forward earnings is now running at a multiple of x21.5. At a more granular level, Sacconaghi compares the multiple to earnings in the tech sector with those of the general market; the tech sector is operating at a 30% premium. Sacconaghi's job is definitely not to scare the market, but his understated delivery carries considerable weight.
"There is some merit to it but it's always good to look at history."
Source: CNBC
In some respects, there are signs of the market over-shooting. The Bernstein analyst team feels there is no reason to rush in and buy at these levels, explaining that the exciting news was released last year, not this. Stocks in the sector have valuations that are reliant on potential growth, which might already be priced in. Another gauge of sentiment is the enthusiasm for IPOs that perhaps does not match up with long term sustainability – as highlighted by UBER, which is currently trading below its IPO list price.
Where next?
The Nasdaq index has spent the last week trading sideways within a 1.5% price range. The weekly chart with 15 minute candles picks out the downturn following the US jobs data of 5thJuly and subsequent recovery in price.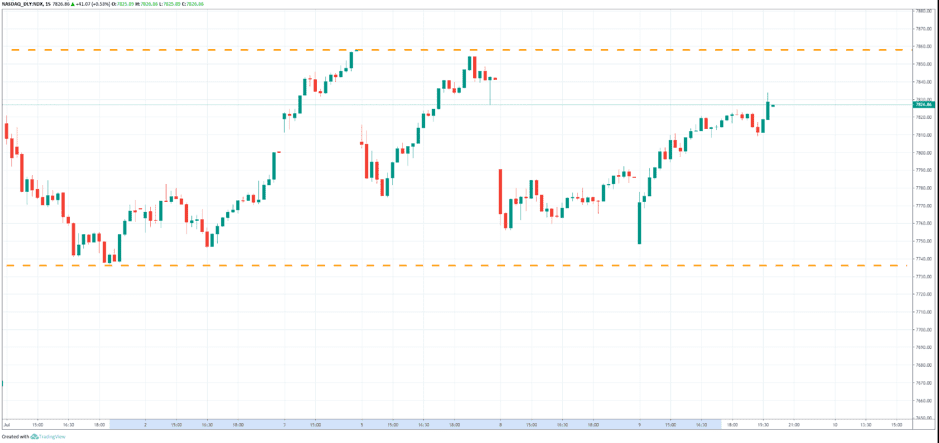 David Kostin at Goldman Sachs has been suggesting a summer lull may be the most likely price action for the near future. With markets already up 18% year to date, a pause before any further rises would make sense. The US Fed's willingness to step in at these levels is giving some investors comfort that there is protection to the downside. This view is hard to challenge as markets enter the summer season but it doesn't stop analysts and traders devoting time trying to establish the direction of the next significant move.
US tech – the big four
Investment website Seeking Alpha reported on 9th July that Apple, Amazon, Facebook and Google will be called to testify at next week's House Judiciary Committee antitrust hearing. Indeed, there is genuine and increasing public concern about the size and power of the four main players. The anti-trust hearing could simply represent a good old fashion 'shake-down' by the political authorities as they look to 'repatriate' some of the corporations' profits and convert them into public spending. The message from president Trump during an interview with Fox Business is that.
"We should be suing Google and Facebook and perhaps we will." 
Source: Seeking Alpha
Apple in particular has very significant exposure to China as it manufactures there and sells there on a considerable scale. Around 20% of Apple's revenue comes from China, which makes the stock price very sensitive to trade war related news flow.
Would Trump really want to tie up what are effectively national champions working on a global stage? As the president comes from a business background, is he sensible enough to not kill the goose that lays the golden egg?
The uncertainty surrounding those questions might actually be holding their share price back at the moment. Within the tech sector, the most elevated valuations (in terms of future earnings to share price) are in mid-cap software right now – firms such as Square Inc, for example. The big four are dragging their feet and AB Bernstein has a target price of $190 on Apple, and a status of 'only' Market Perform.
UK Short Interest 
The FTSE tech stock sector might not contain firms with the reputation or market capitalisation that is found in the US. They do still offer investors a chance to invest in what is potentially a racier part of the market and IG.com has even provided a list of the top 10 UK tech stocks.
In line with UK regulations, hedge funds that sell short FTSE stocks are required to report the size of that short position. Taking five random names off the list provided by IG allows a study of the nature of the current levels of short interest in the sector. The below reports even disclose the identities of the funds that are betting that the price will fall.
Two of the stocks on the list provided by IG, Sage and Aveva, currently have zero short interest in their stock.
It's worth noting that hedge funds running a market neutral strategy need to short something to balance against their favoured long positions. Their analysts are actively scouring the markets for stocks to bet against, so zero short interest is a notable statistic.
Micro Focus and Ocado both show short interest between 1-2% of their market capitalisation. Both have previously been shorted to a much greater extent. Micro Focus has seen short interest hit 4% within the last six months. Ocado saw staggering short interest in its stock – during 2016 and 2017, levels reached in excess of 20% of its market cap but has now dropped down to 1.2%. The last in this sample of five tech stocks is Just Eat, with short interest currently at 7.36% of market cap. This stock is seeing some considerable downward pressure being applied to its share price. Eight separate funds have run through the numbers and are so sure that the price of JE.L should be lower than it currently is that they have taken a position to back up their analysis.
Investors looking for pointers from short interest reports are well advised to note the change in the levels as much as the absolute amount. Of the five stocks shown below, only one (Just Eat) has a trend leaning towards greater short interest. The number of stocks in this study sample is small, more research is definitely needed, but an early indication is that it doesn't look like there is any kind of ground swell of short interest in the UK tech sector.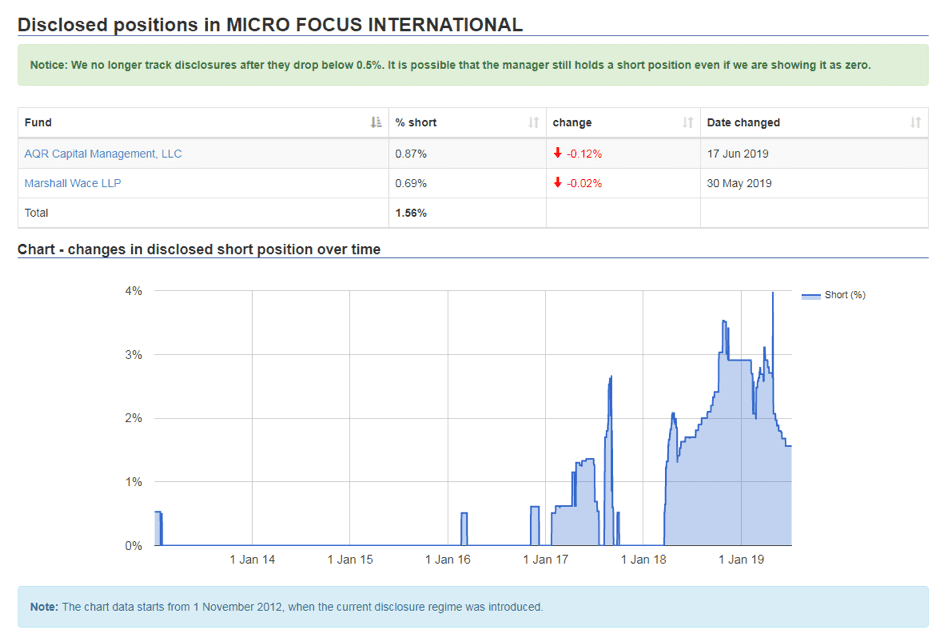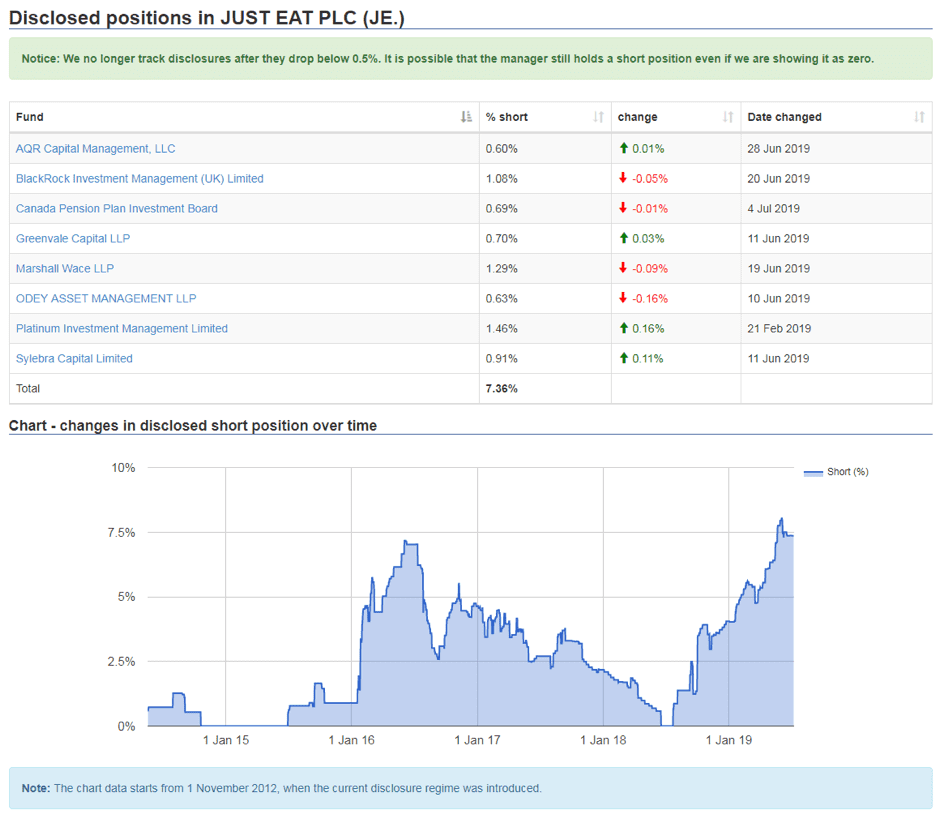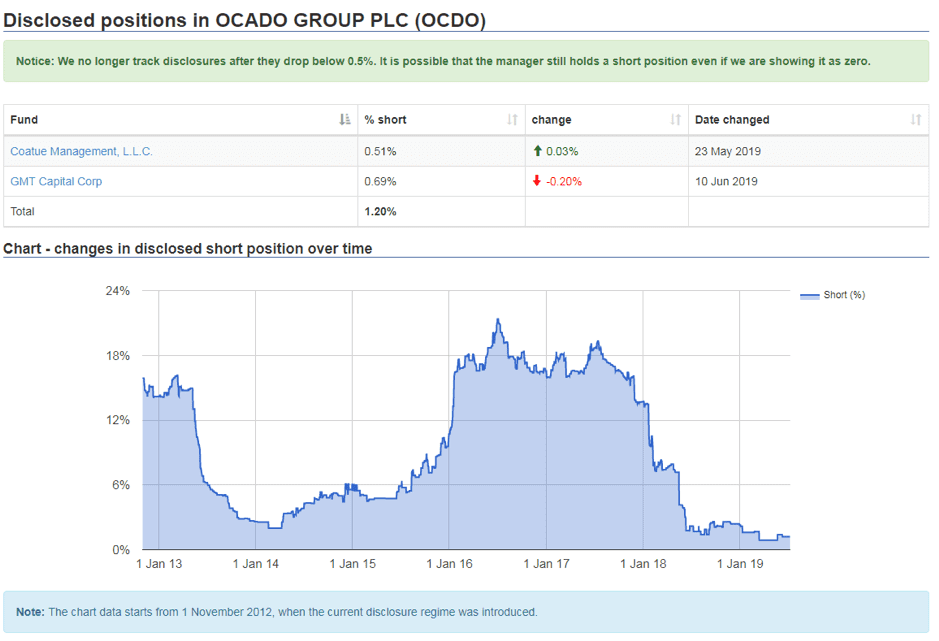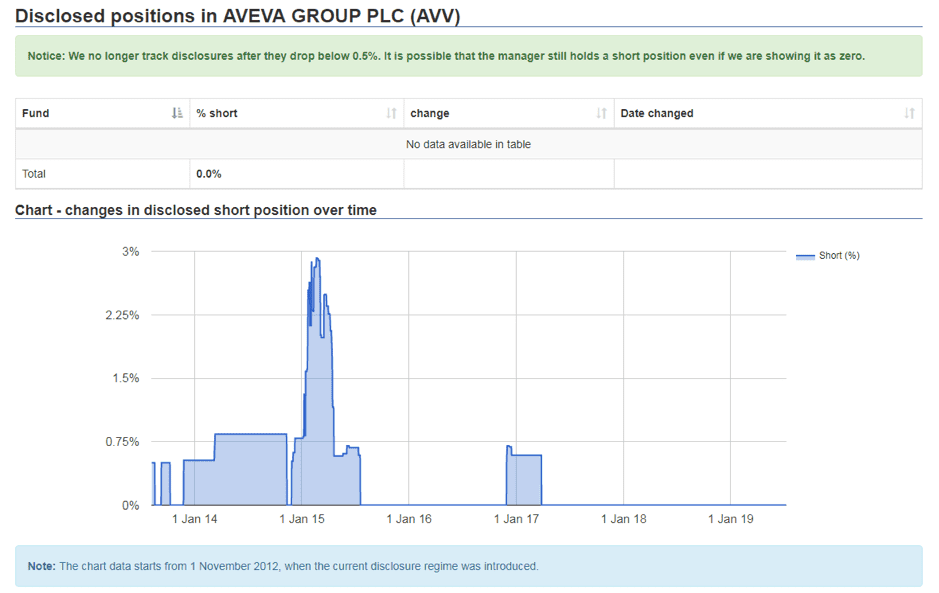 Reports of stocks setting new records in terms of their fundamental valuations quite rightly generates news headlines. Early signs are that active shorting of the wider tech sector is not taking place but Sacconaghi's views carry a lot of weight. As CNBC states:
"Sacconaghi is frequently the top tech analyst in the annual rankings from Institutional Investor magazine."
Source: CNBC