SPX futures (/ES)continue their rising price action into the mentioned area of 3340. We do have a positive sentiment in tech and small cap RTY as well. Looking forward to see how these days will bring some gapping trades with momentum. Its definitely harder than in May and June but its still a great time to trade the markets.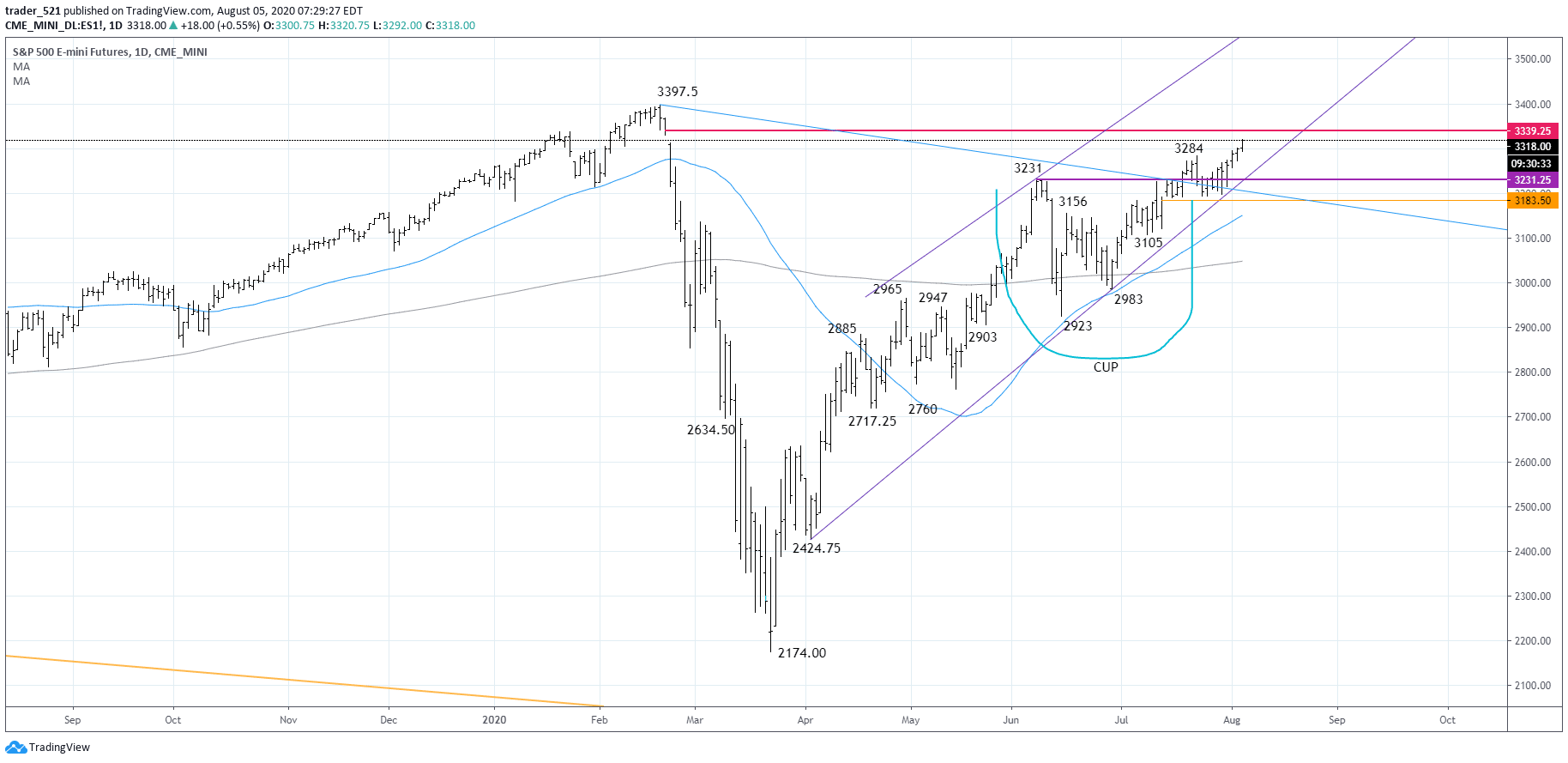 Europe and Asia is helping the upside momentum. The markets look positive and FTSE +1.01%; DAX +0.79%; CAC40 +0.91%. Despite some resistance in the major indices, we continue to see higher highs and higher lows. Some momentum stocks move into parabolic setups. That is why even with more choppier action you remain to stay positive and take slowly the trades that make sense.
https://money.cnn.com/data/world_markets/europe/
$TDOC and $LVGO agreed to merge in a $18.5B deal including stocks and cash. The headline sent LVGO to $167 price peaks in the pre market. One of the best performing stocks in a year.
https://www.marketwatch.com/story/teladoc-and-livongo-health-to-merge-in-deal-valued-at-185-billion-2020-08-05
Gold futures don't stop and are hitting new local highs trading at 2055 at the moment. We do expect a pull-back but so far it didn't happen, we continue to hold a very small part of the position to complete our long term portfolio. Will be watching for a pull-back to add.
There are more than 330 gappers this morning according to the pre-market scan in TC2000. Lots of things morning as companies reported yesterday and this morning. On top of this we do have the momentum move in the futures. It is harder to spot a great gap and trade the move but by being picky you increase the change of long-term success. Happy Trading.
https://www.cnbc.com/2020/08/05/stocks-making-the-biggest-moves-premarket-apple-cvs-blackstone-wynn-resorts-and-more.html
For more ideas, market videos and analytics, sign up to our premium room: https://www.asktraders.com/stocks-live/