SPX futures (/ES)are in the resistance zone and the reaction is clear. We are selling off just a little bit this morning, it's a tiny drop of -0.22%. We can say that the market is flat. The opening will likely trigger a deeper pull-back and maybe a test of lower prices but, this opportunity must be taken as a filter for relative strong stocks and sectors.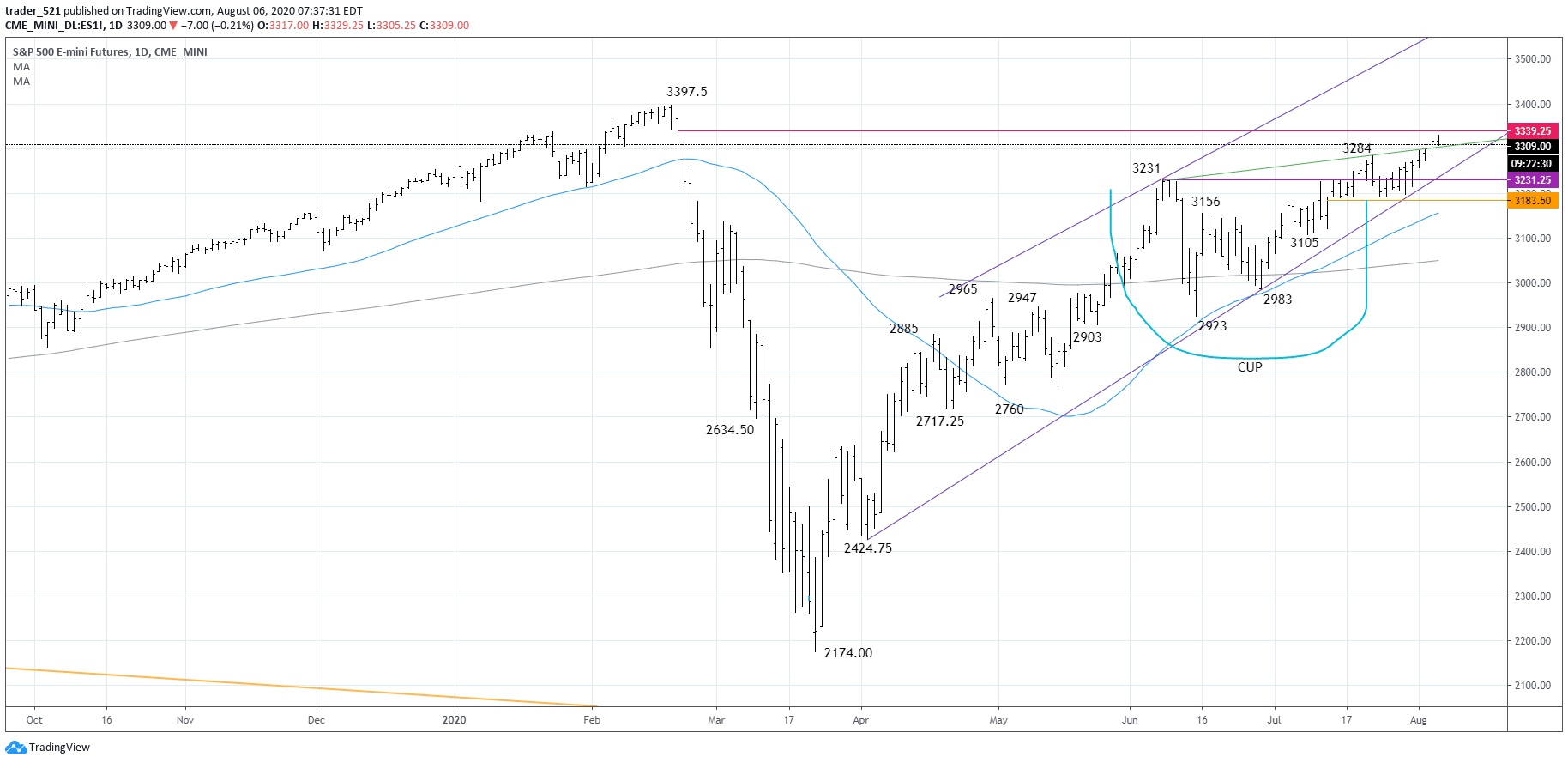 Europe lost Momentum. The FTSE 100 is showing the biggest drop vs other European indices, -1.98% vs DAX -0.82% and CAC40 -1.14%. We are looking forward to see if we can find a bottom with US market opening in less than 2 hours. The trend is your friend so we continue to consider longs in the US Stocks despite the slowdown in momentum.
https://money.cnn.com/data/world_markets/europe/
Best I saw is COST from this list but it has to gap the Resistance on Weekly charts. The rotation into restaurant and hotel business is great for positions in IWM and RTY futures. Looking to see that these sectors can help the market achieve its near all time highs in the next few weeks.
https://www.cnbc.com/2020/08/06/stocks-making-the-biggest-moves-in-the-premarket-hilton-restaurant-brands-bausch-health-more.html
Gold futures a bit slower this morning but Silver futures and etfs are doing just fine. The rally is great and reminds the Fomo rally of Silver when it touched %50 an ounce. Consider holding your holdings in Gold and Silver but make sure you cover some if you hold from lower. This is not a place to start a new position here, I would rather miss a part of the move rather than try to jump in a running train. $GLD $SLV
$JETS Etf along with $ITA so basically airlines and Aerospace and defense sectors moved well and might try higher this morning. We are looking forward to see if the resistance in the 50sma in both sectors will show enough sellers to stop the price from rising. Consider watching the airlines $AAL, $DAL, $UAL and $BA for continuation from a pull-back intraday.
For more ideas, market videos and analytics, sign up to our premium room: https://www.asktraders.com/stocks-live/