SPX futures (/ES)do see the resistance and are slowly drifting lower in the middle of yesterday session. So far, we are at resistance in SPX and SPY+ futures. The Nasdaq has been leading along with IWM being the rotation vehicle. I would definitely not start a lot of positions here but 1-2 trades in clean setups is something we are looking for.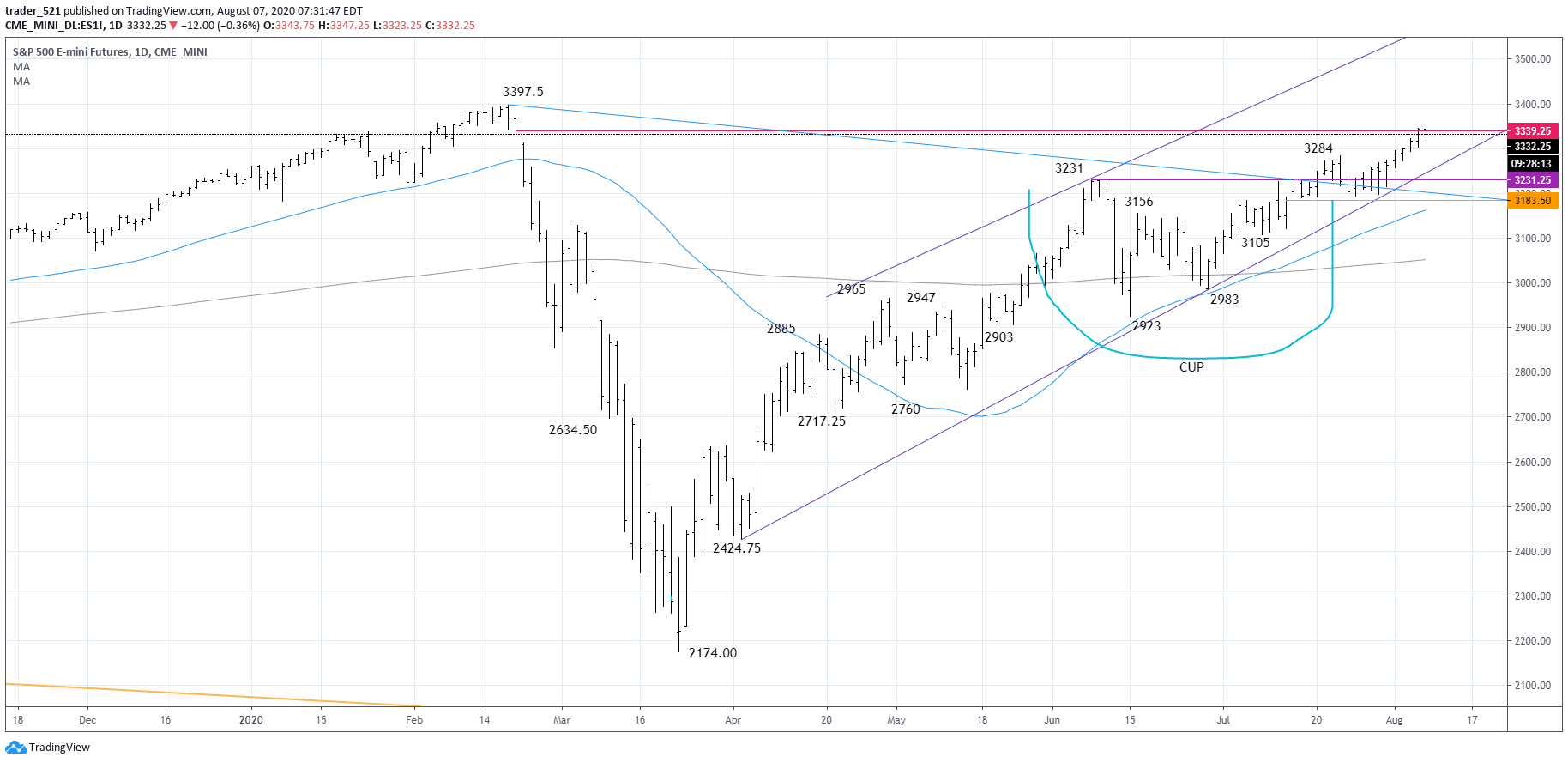 Slow morning for international markets. Asia is in the red zone but Europe is flattish. FTSE +0.02%, DAX +0.24% and CAC40 -0.23. This can help us understand that August is in its beginning. All the markets are waiting for some US futures action. The Chinese sectors FXI and KWEB + CQQQ are lower this morning. Stay humble and over-trade.
https://money.cnn.com/data/world_markets/europe/
We have some companies that reported yesterday and this morning are showing gaps. Overall the gappers went bad in most of the reports after hours but there is one to check it out this morning. $BIIB – news gap related to Alzheimer research. Other stocks and comments in the article.
https://www.cnbc.com/2020/08/07/stocks-making-the-biggest-moves-in-the-premarket-tripadvisor-t-mobile-us-fedex-uber-more.html
Gold and Silver was all over the news and in the past week or so, a large group of Robinhood traders bought it. You know, when the crowd joins the trend, we have a problem. Expecting a correction within 5-10 trading sessions, probably a sideways action. Its not a reason to cover your full positions if you have from lower but definitely make sure you unload some. Also check Dollar Index correlation to GC futz.
Looking for some news this morning, again unemployment rate for July. Some data for Non-Farm Payrolls Private. Nothing Major but still can trigger some volatility. It was a slow week for some sectors so we do not expect a lot happening today.
https://www.investing.com/economic-calendar/
For more ideas, market videos and analytics, sign up to our premium room: https://www.asktraders.com/stocks-live/