Facebook (NASDAQ:FB) has posted a big 'earnings-beat' for Q3. Strong figures across the board include revenues growth of 29% to $17.65bn.
In what was seen by a challenge from its rival, Twitter (NYSE:TWTR) announced it would stop all political advertising on its site. The global ban comes as the UK and US build up to big elections and marks a significant shift for the social media site.
Facebook CEO, Mark Zuckerberg has dismissed the move by its competitor as being of minimal consequence to FB. There is a suggestion that he's downplaying the impact the move might have on the firm's bottom line.
Twitter CEO Jack Dorsey has announced that Twitter will no longer accept political ads. A cynic might suggest that the firm made little return from that income stream compared to Facebook, so can afford to make such a gesture. There is certainly likely to be some jostling as the two sites reposition themselves in the run-up to major elections in the UK and US.
Regardless of whether the move is inspired by commercial reasons or political principles, the challenge made by Twitter will require some kind of a reaction by Facebook. So far, the Facebook response has been to play down the significance of political revenue but scanning Wednesday's figures shows there may actually be a cause for concern.
On Wednesday, Twitter co-founder Jack Dorsey tweeted the following: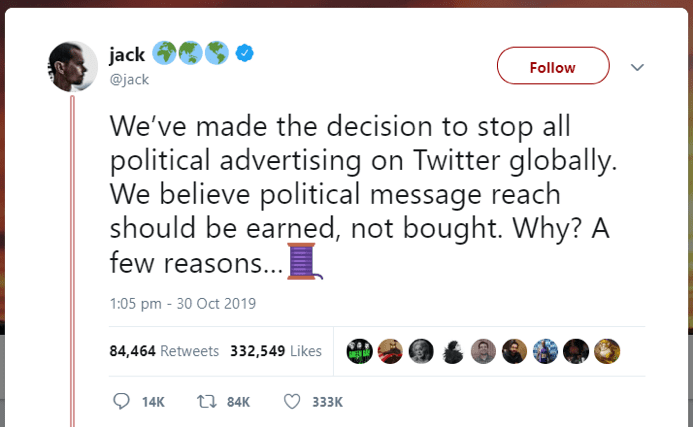 Twitter needs to disrupt the playing field as its stock continues to lose ground to its rival. The comparative share price of the two firms makes uncomfortable reading for those investors who backed the social media platform, which requires messages to be of digits or less. For investors, the 179 percentage-point underperformance over five years at least blows the idea that 'less is more' out of the water.
Twitter (NYSE:TWTR) and Facebook (Nasdaq:FB) — Five-year comparative price chart: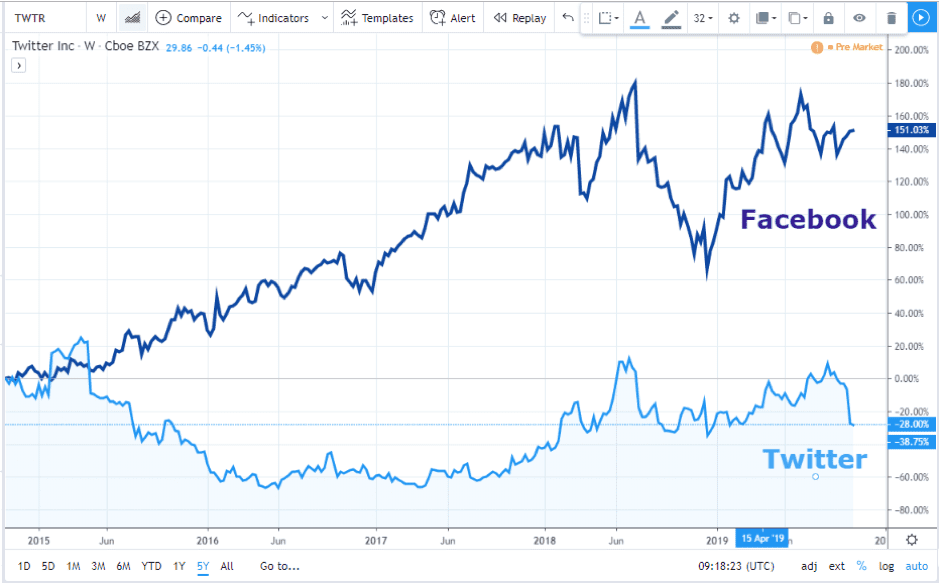 Over that time, Facebook has taken the approach that 'more is more' and expanded and diversified its business model through organic growth and acquisitions. The figures released on Wednesday show that Facebook's 'family' of apps hosts 2.8 billion monthly users and more than 500 million daily users for the 'Stories' features across Facebook, Instagram, WhatsApp and Messenger. It continues to expand its global client base with user numbers in Europe up on the last quarter from 286 million to 288 million. In the US and Canada, user numbers rose over the same time period from 187 million to 189 million.
The tweet by Twitter co-founder, Jack Dorsey, allows the social media site to turn the tables on its rival. With an almost zealot-like approach, Dorsey reels off the long list of complaints made against social media sites.
"While internet advertising is incredibly powerful and very effective for commercial advertisers, that power brings significant risks to politics, where it can be used to influence votes to affect the lives of millions… Internet political ads present entirely new challenges to civic discourse: machine learning-based optimization of messaging and micro-targeting, unchecked misleading information, and deep fakes. All at increasing velocity, sophistication, and overwhelming scale."
Source: Twitter
Within 12 hours of posting the message, it had collected 331,000 'likes' and been retweeted over 84,000 times. The challenge has been laid down.
Facebook profits — for the many, not the few 
Mark Zuckerberg's delivery at press conferences is renowned for being down-beat. Speaking Wednesday, he described his firm's success across the board as:
"We had a good quarter and our community and business continue to grow."
Source: CNBC
Not too much can be taken from his first reaction to the banning of political ads by Twitter. Zuckerberg's first response included comments such as:
"We are focused on making progress on major social issues and building new experiences that improve people's lives around the world… Some people accuse us of allowing the speech because they think that all we care about is making money, and that's wrong." 
Source: CNBC
The Zuckerberg Q&A is then reported by CNBC to include the Facebook CEO claiming that political ads only account for 0.5% of revenue. The suggestion is that the firm's beating of analyst expectations will not be impacted by any decision to follow Twitter to the higher moral ground.
The earnings figures tell a different story. Refinitiv forecast earnings would be $17.37bn and Facebook posted a 'beat' by bringing in $17.65bn. Take only half of one per cent off the total earnings and the $17.65bn looks good, but not as good.
The hosting of political ads incurs costs that are other than monetary. Facebook has had to devote extensive time and resources to managing the political fallout that comes from the social media site's involvement in the controversial Libra project.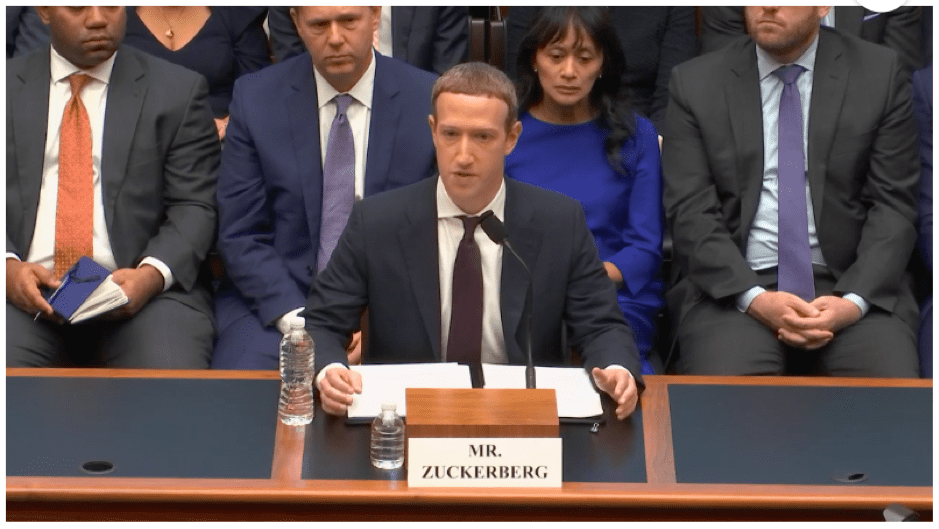 Industry site TechCrunch reported on the hostile welcome given to Zuckerberg's presentation to the US Congress in October, quoting US representative Maxine Waters as saying:
"Perhaps you believe that you're above the law, and it appears that you are aggressively increasing the size of your company, and are willing to step over anyone, including your competitors, women, people of color, your own users, and even our democracy to get what you want… In fact, you have opened up a serious discussion about whether Facebook should be broken up."
Source: TechCrunch
While investors will be keen to learn more about the Facebook approach to political ads, the firm is dealing from a position of strength. The Q3 earnings will buy it some time to come up with a considered response. Twitter looks likely to be the stock with more to win, or lose, from the change. It's Q3 figures, which were released on 24th October, caused a sell-off and share price fall of 18%.
The stock has a long way to go to get back to its five-year highs, but it hasn't broken the recent up-trend support. A test of that level might be seen as a buying signal for those believing commercial gains might come about from 'kinder, gentler politics'.