News updates on the US-China trade talks have started appearing through more formal channels.
Markets continue to welcome the news. Half-way through the European trading session, the DAX Index is trading up 75 basis points on the day.
The process appears to be agreed, but there are some warning signs that the finer points of the negotiations are yet to be agreed.
After several days of positive news reports, confidence is building that the US and China will soon make an official announcement to confirm trade terms between the pair are improving. The source of the reports has stepped up a grade in terms of quality. To date, most of the disclosures have been provided on a no-names basis, but on Thursday, Gao Feng, a ministry spokesperson for China's Commerce Ministry was quoted by Xinhua, the Chinesestate broadcaster.
The latest update is that both countries will "simultaneously cancel some existing tariffs on one another's goods" (Source: CNBC)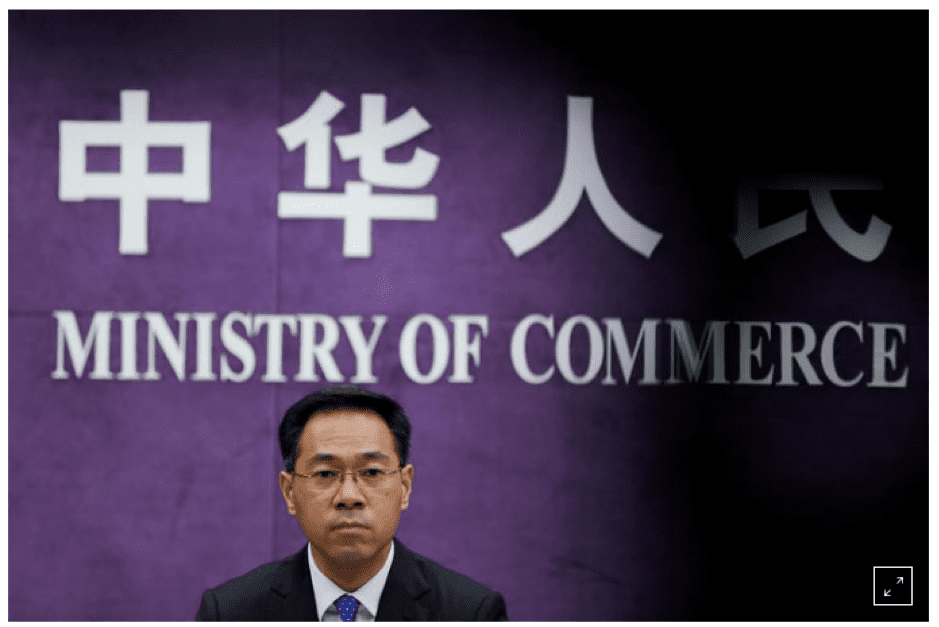 Lifting the lid on the process so far, the snippets of news that have been released to the press do appear to match what was going on behind closed doors. Gao Feng notes:
"In the past two weeks, the lead negotiators from both sides have had serious and constructive discussions on resolving various core concerns appropriately… Both sides have agreed to cancel additional tariffs in different phases, as both sides make progress in their negotiations."
Source: Reuters
Feng reflects the somewhat simplistic approach being taken to unravelling the dispute. The escalation through the summer of 2019 was very much a tit-for-tat process with both parties failing to notice that the dispute was a lose-lose situation. Speaking at a news briefing, Feng added:
"The trade war started with tariffs, and should end with the cancellation of tariffs."
Source: Reuters
Out of the woods?
The simplistic approach also includes playground-style demands, which flags up a degree of distrust by both parties. It is reported that the tariffs set to be removed as part of 'phase 1' must be cancelled 'simultaneously.'
It is suggested by some analysts that any agreement will be accompanied by an 'enforcement mechanism'. This can be interpreted as good practice and a way to ensure the situation is resolved. Or alternatively, it can be seen as a sign that both parties are so distrusting of each other that they are willing to delay any agreement until they can gain more comfort about the other party's intentions.
Reuters reports that the good news might get better, or indeed worse. The talks have resulted in an agreed process rather than an agreement on which tariffs to cut.
"The proportion of tariffs canceled for both sides to reach a 'phase one' deal must be the same, but the number to be canceled can be negotiated, he added, without elaborating."
Source: Reuters
Possibly more concerning for investors is that no timeline has been agreed. The shared calendar notes that a series of tariffs are set to come into place and there are also dates on which existing ones will be scaled up. Dates and tariffs go hand-in-hand. For example, US imports of a range of Chinese toys and electronic goods are due to have tariffs imposed on them on 15th December to coincide with the Christmas shopping boom.
A final potential obstacle is that there is still no sign of the two leaders agreeing on where they should meet to sign the deal. US commerce secretary, Wilbur Ross, told Bloomberg TV on 4th November: "that should be the easiest part of the whole thing to negotiate". But the matter of location is still not resolved. Alaska and Hawaii have been mentioned by Wilbur Ross who also acknowledges: "I'm sure the Chinese will have some suggestions in China" (source: Reuters)
Iowa would appear to be President Trump's preferred location for a summit as agricultural states are set to be a keenly fought battleground during next year's presidential elections. However, the Chinese leaders need a means of securing an elegant exit, which they can project to the domestic market as a success. Travelling to non-neutral ground appears to be an issue for President Xi.
European markets peak
European stock markets have performed strongly through the Thursday trading session. Trading at around 13,267, the DAX index is close to all-time highs.
Ger 30 index — monthly candle — August 1998–November 2019: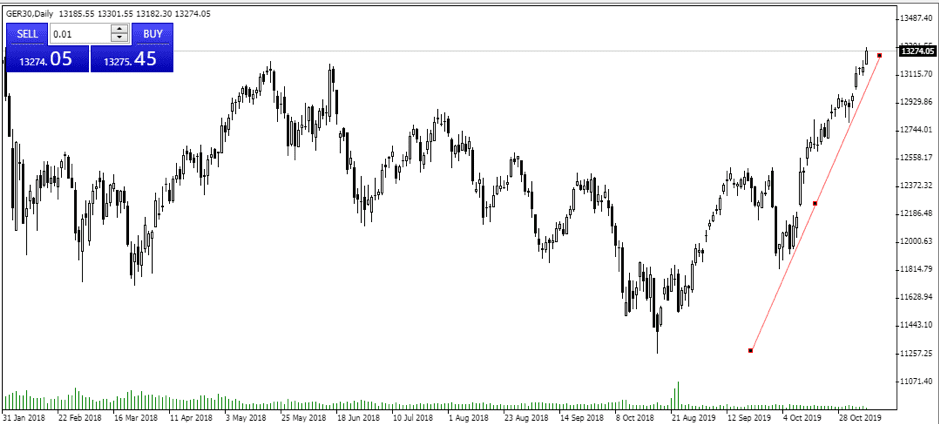 The daily candle chart has a 63-degree support line, which shows how the rate of change has been increasing.
Ger 30 index — daily candle — January 2018 – 7th November 2019: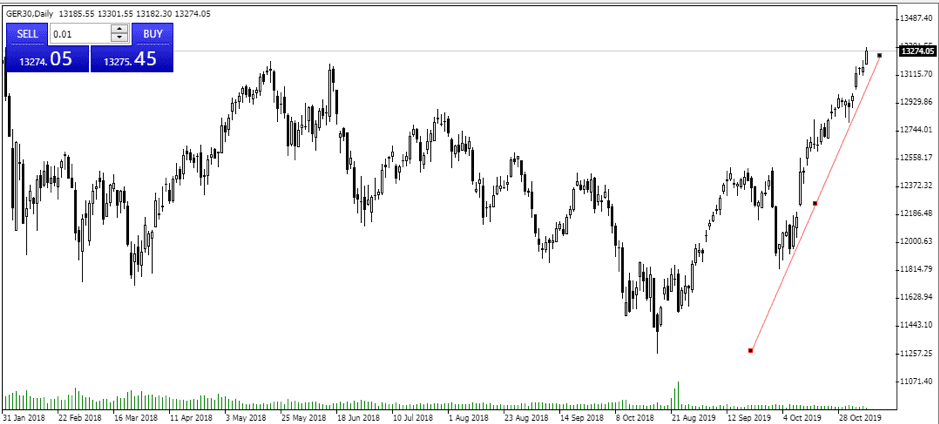 Source: MetaTrader
Yuan
When it comes to a deal being agreed, one signal that the market is still banking on is seen in the dollar-yuan forex pair. The yuan jumped through the key benchmark figure of 7.00 on Tuesday and by Thursday had reached its highest level since 5thAugust — trading at $6.965065.
USDCNH hourly candle — 24th October – 7th November: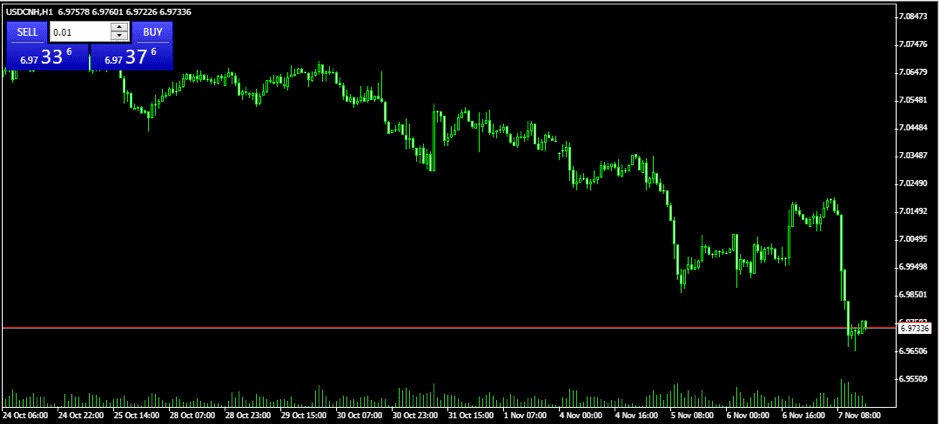 Trading below the psychologically important seven per US dollar level means that the currency has crossed a key support level, which had been in place for more than 11 years. The weakening of the yuan in August was described by Claudio Piron, co-head of Asia rates and foreign exchange strategy at Bank of America Merrill Lynch Global Research, as: "clearly a retaliation that in the past China has refrained from doing" (source: CNBC).
The market price of USDCNY can only trade within a certain range — with the mid-point being set by the Chinese administration. The move, therefore, signalled Beijing making a move towards a more conciliatory policy, possibly in-line with the more collaborative mood between the two nations. Tuesday also saw the People's Bank of China (PBOC) cut interest rates on its one-year medium-term lending facility loans for the first time since 2016.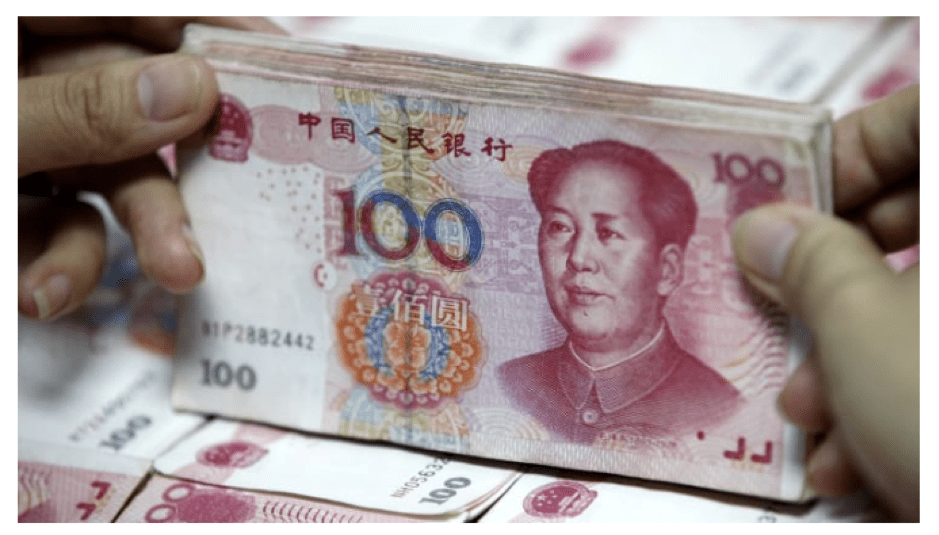 The months of escalating trade conflict that marked the summer of 2019 stemmed from relatively minor issues being mismanaged. It's worth noting that in Q1, when the stakes were lower, an agreed deal still managed to unravel just before being signed off.