US unemployment figures better than expected
Bureau of Labor Statistics reports economy adds 224,000 jobs in June
Equity markets initially slide on the announcement (down approx. 1% intraday)
Recover into the market close
US interest rate policy may harden due to economy showing signs of strength
Market looking for further signs from the next Fed
Friday 5thJuly saw the Bureau of Labor Statistics release job figure data that was better than consensus projections. The US economy added 224,000 jobs in the month of June whilst a poll run by the Dow Jones in the run up to Friday's announcement revealed that economists had thought the number of extra jobs would be only 165,000. This miscalculation came after the number of new jobs in May was notably soft, totalling only 72,000 in that month.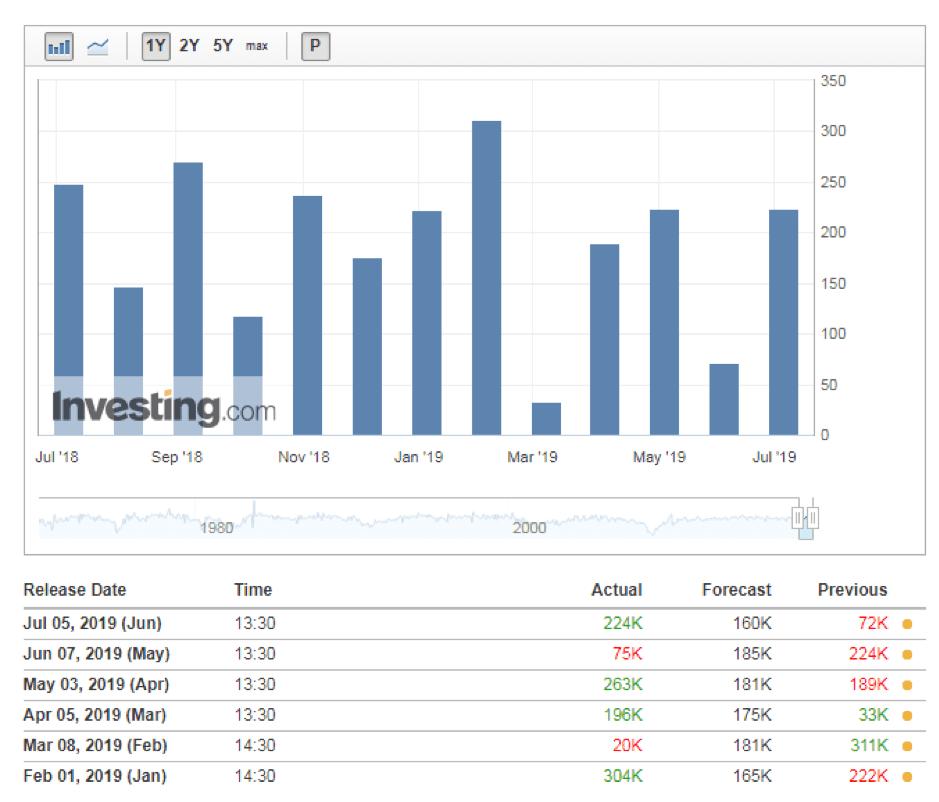 With the non-farms payroll data released prior to the opening of the US stock markets – at 08:30 CET, on the first Friday of every month – the US stock markets had some time to consider the data before trading began. What was apparently 'good news' in terms of increased jobs, actually brought about a slide in equity markets. The Nasdaq index opened trading down about 0.5% and its intraday low was 0.93% off the close on 3rdJuly before the US national holiday.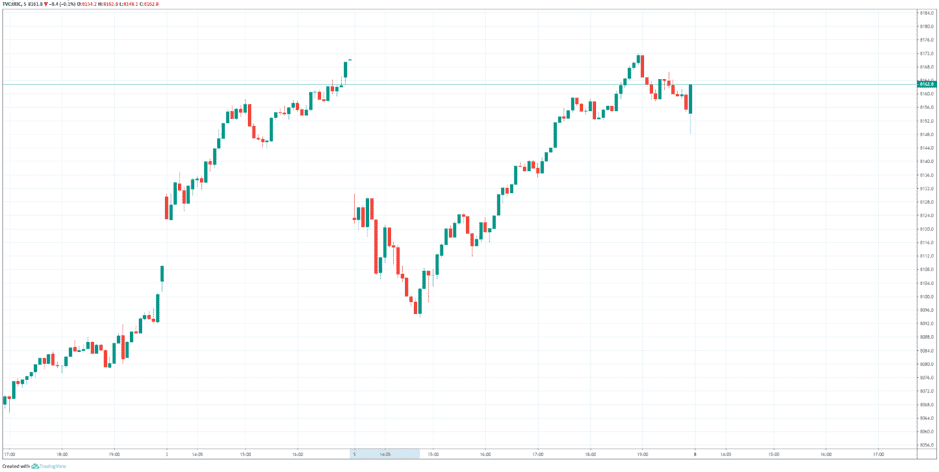 Prices rallied in the run-up to the close. Some might argue that the 'closing of the gap' actually opens the way to extra downward price action next week. Looking at two charts based on different time horizons illustrates that significant resistance levels are in play.
The daily candlestick chart for the last year gives signs of a double top forming: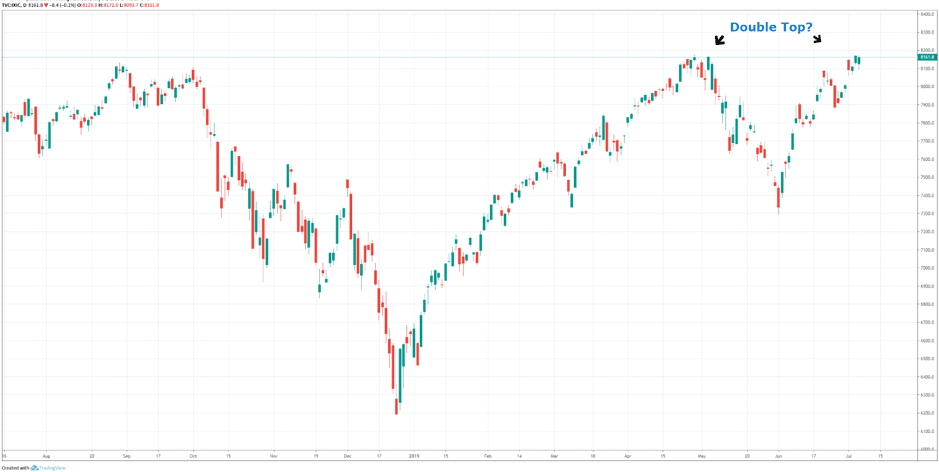 The three year chart with weekly candles reconfirms the resistance at this level – price had previously fallen away in September 2018 and May 2019. Does the hammer style weekly candle point towards this being the moment for markets to push on?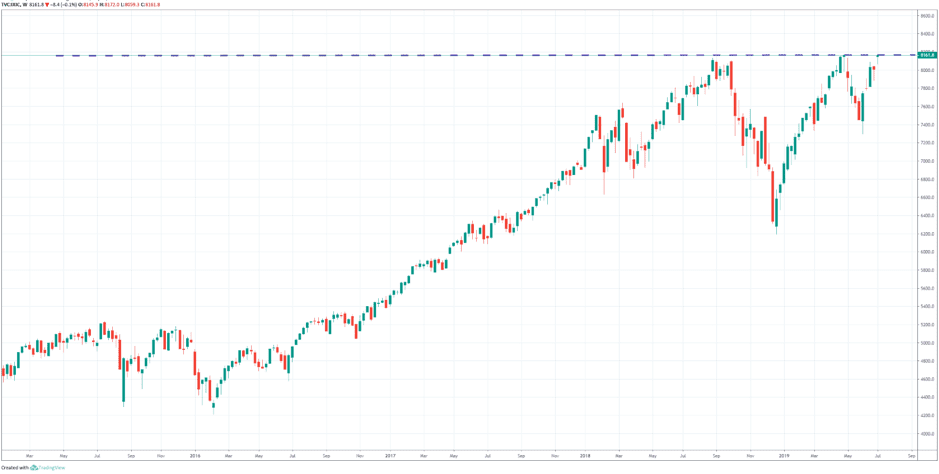 It's going to be interesting seeing what does happen once analysts have considered whether the underlying strength of the economy justifies higher equity prices. Should the hardening of Fed interest rate policy happen, will mean the bull-run comes to an end?
Chief Economist at Allianz, Mohamed El-Erian, saw a way for both fundamental strength and Fed policy to combine and support equity prices. El-Erian said on Friday:
"The economy is not in trouble. Today's employment report is actually very good news for the economy, and it's good news long term for the markets."
"I think you're going to get a 25-basis-point cut this month… I think putting it as an 'insurance rate cut' is the right way."
Source: CNBC
The 50 basis points cut in US interest rates, which some had forecast for July, was according to El-Erian the market base just getting"carried away".
Those cross-referencing to other analysts will find analysts at TD Securities stating that:
"We continue to believe the Fed will deliver a 25bp cut in July as global growth fears remain present."
"We look for 75bp of Fed eases in 2019, followed by a further 75bp of cuts in 2020."
Source: FXStreet
With the presidential elections looming, it's unsurprising that comment from the White House calls for the Fed to take a relaxed approach to policy. Speaking with Bloomberg TV on Friday 5thJuly, Larry Kudlow, president Donald Trump's top economic adviser, said:
"They should take back the interest rate hike… With a weak global economy, taking out an insurance policy is not a bad thing."
 Source: Investing.com
Prior to the release of the non-farm payroll numbers, analysts had been showing concern for the health of the US economy. The stronger job numbers led some to instead turn to weaker global performance as a justification of further interest rate cuts.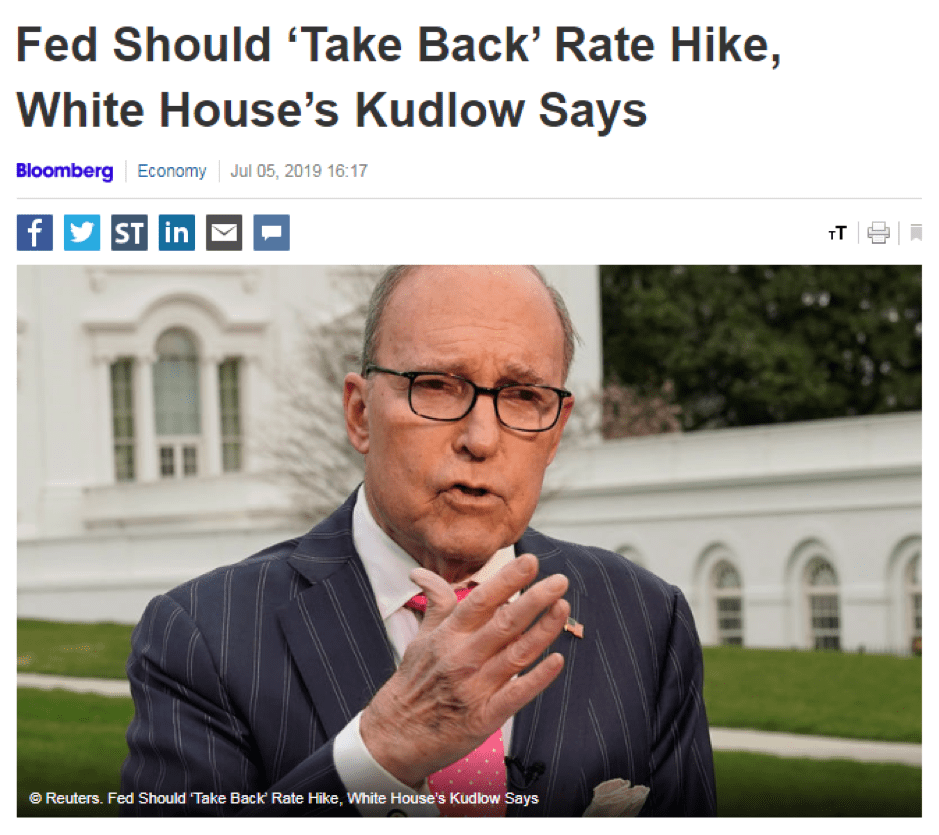 The next signposts
There are some company announcements this week that could offer some indication of consumer health. PepsiCo, always a good barometer of consumer appetite, is the largest US firm releasing data this week and its figures are due on Tuesday 9th.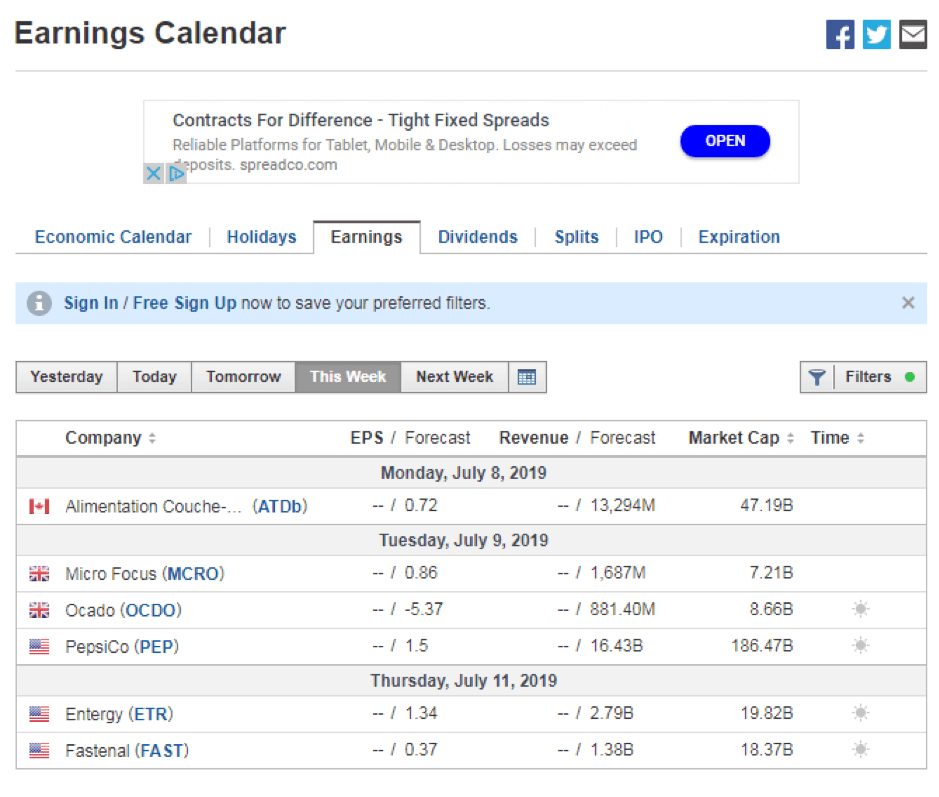 The next meeting for the Federal Open Market Committee is scheduled for 30thand 31stJuly with the report released on Friday 2ndJuly. Prior to that date there will be signs given to indicate the Fed's next move. Analysts from ING, in their review of the 5thJuly jobs data, offered a reminder that:
"Federal Reserve Chair Jerome Powell testifies to Congress next week and looks set to validate market expectations of precautionary interest rate cuts to head off the threat of a downturn. He may repeat yet again his view that 'an ounce of prevention is worth more than a pound of cure'."
Source: ING
The ING forecast for the rest of 2H of 2019:
"President Trump will be well aware that pushing too hard for too long on trade risks a weaker economy and plunging asset markets, which would undoubtedly hurt his re-election chances. As such, we would expect him to strike a deal around the turn of the year."
Source: ING
Straight after the non-farm payroll announcement, the equity markets approached fundamental economic strength and relaxed interest rate policy as being mutually exclusive. They then rebounded from an intra-day drop of approximately 1%, partly on the realisation that being an election year, there may be pressure applied so that both factors to work in tandem. With markets already extended, it will be interesting to see whether there is enough momentum to push through the significant Resistance levels that exist at these levels.
The non-farms payroll report (NFP) is the monthly release of data on the 80% of the US workforce employed in manufacturing, construction and goods.
As the name suggests, it does not include those who work on farms, and also excludes private households, non-profit workers and government employees.
Source: IG