After weeks of record falls, government and central bank intervention looks like it might be about to finally steady the financial markets.
Three stocks look well-positioned to catch any move to the upside.
Careful analysis shows that even if it doesn't happen yet, they also offer some protection if there is another downturn.
Applying traditional and long-term principals, these stocks look cheap.
US stimulus measures are bringing the bulls back to life. The US Federal Reserve's proposal for a multi-billion-dollar asset-buying program is tip-toeing towards being signed off by the US Congress and released into the markets. US employment data is due out on Thursday and is an extremely politically sensitive topic as the coronavirus pandemic takes hold. This marks Thursday as the time by which any Republican vs Democrat haggling will be completed. For many, though, the time to buy is now.
Three stocks that are worth considering are well-positioned to benefit from any market rally. They also have the ability to hold up quite well if fears about the coronavirus pandemic cause a further market sell-off.
Market conditions 
While the three stocks are chosen for their ability to outperform others in rising and falling markets, it's still worth establishing just where the markets are at this moment.
Tuesday's trading has seen the Asian markets rally with the Japan Nikkei 225 equity index, which is up 7.13%. European and US asset groups are trading close behind.
Monday's markets, however, were a different story and saw volatile price movements set within a relatively tight range. An initial sell-off was followed by a rally on the back-breaking news of the US plan. Bonds, gold, equities and forex markets are all responding to the news. By the time the US markets opened the 'will-they, wont-they' questions about the plan, this saw markets give up their earlier gains.
S&P500 index — Monday's intra-day volatility: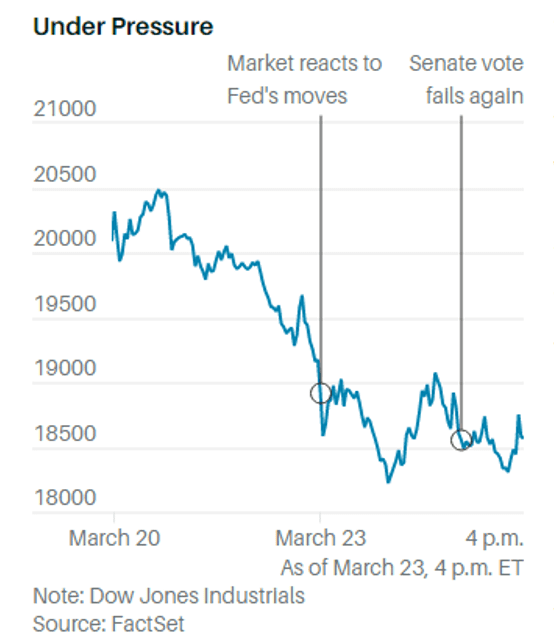 The churn would have suited some shorter-term trading strategies. Any analysts looking to position themselves into a break-out trade and a ride on a long-term trend would have been disappointed. If the US plan comes into action and overrides Covid-19 fears, the tables will be turned. Traders backing longer-term trends would stand to benefit.
Those who have limited time to follow the markets can still benefit from trading in them if they catch the right trend. Brokers such as eToro also offer copy trading where the ideas and instructions of other traders are used to manage your portfolio. It's possible to find out more about this form of 'hands-off' trading by clicking here.
Amazon (Nasdaq:AMZN)
Amazon stock is beginning to look like it could offer returns regardless of the next broader market move.
If the coronavirus outbreak turns out to be worse than expected, and economic lock-downs drag on for months rather than weeks, then the home delivery service stands to benefit.
As the outbreak escalates, shoppers have flocked to Amazon to stock up on basic supplies like pasta, water, and toilet paper. The 'Amazon Pantry' has been something of a slow-burn project for the firm and will receive a welcome boost from the current change in consumer habits. The firm will hope the change is permanent and investors would do well to consider the probability that this is the case.
First take this quick quiz to help us find the best path for you
Less than 1 min to do
The firm doesn't even need to worry about its recruitment program driving up wage costs. The 100,000 workers it says it is hiring to cope with extra demand are desperate for the work after being laid off from their previous roles. A demonstration of the strength of Amazon's business model is that, as of October 2019, the total number of employees was 750,000, so the intake of staff is a significant 13% increase.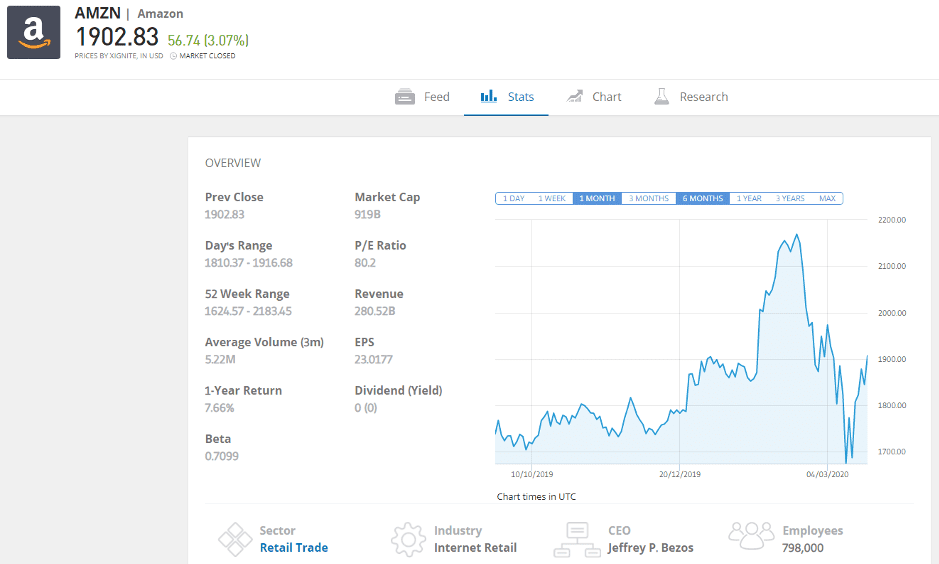 The only potential banana skin is Amazon's inability to keep up with demand. Product shortages have occurred and delivery times have lengthened. Even though, the firm appears to be benefiting from its customers accepting the extraordinary nature of current circumstances and that the firm is still their best bet for delivering what is required.
Amazon's next earnings report is due on 23rd April. While other major corporations might struggle due to the coronavirus crisis, it's likely that Amazon's news will be better, considering this increase in demand. Earlier in the year, Amazon predicted Q1 2020 net sales would climb between 16% and 22% to as high as $73bn. There is the possibility that this may be a situation where it is best to buy the rumour and sell the fact, but that still leaves ample time for the share price to rally.
The broker eToro is well known for offering its clients crowd-sourced news and views on stocks. This would be useful for those looking to time their entry into the trade, and indeed, the pricing terms offered by the broker compare well to the rest of the peer group. Taking a virtual position using their free demo account might be a good start for the uninitiated, and live accounts are available here. Both can be set up in a very short period of time.
Royal Dutch Shell (LSE:RDSB)
The falling oil price is a significant problem for oil giants such as Royal Dutch Shell (LSE:RDSB). The stigma surrounding carbon fuel-based firms is a long-term drag on the stock, but the threat posed by environmentalism isn't actually as new a phenomenon as some would suggest. While Greta Thunberg might represent a tipping point, Royal Dutch has always been an attractive income stock and that is even more the case now.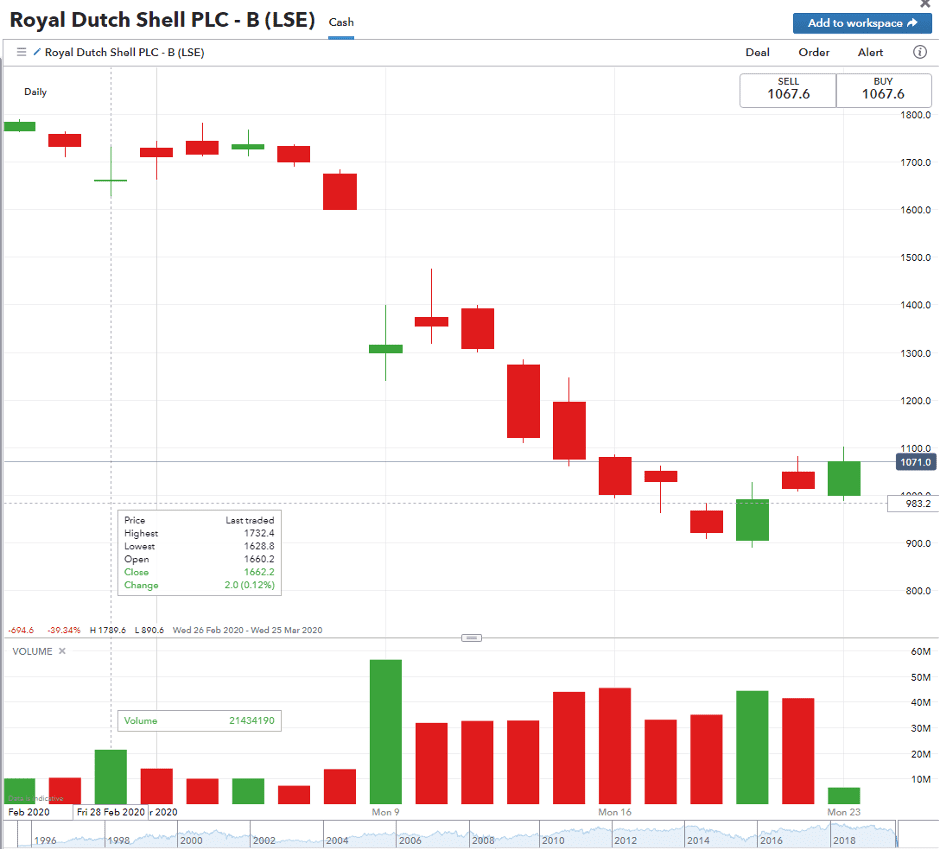 The share price of RDSB has dropped 56% in three months and this means its price-to-earnings ratio is just six. At current prices, the shares offer an extremely generous prospective dividend yield close to 14% and the firm prides itself on having never cut its dividend since World War II.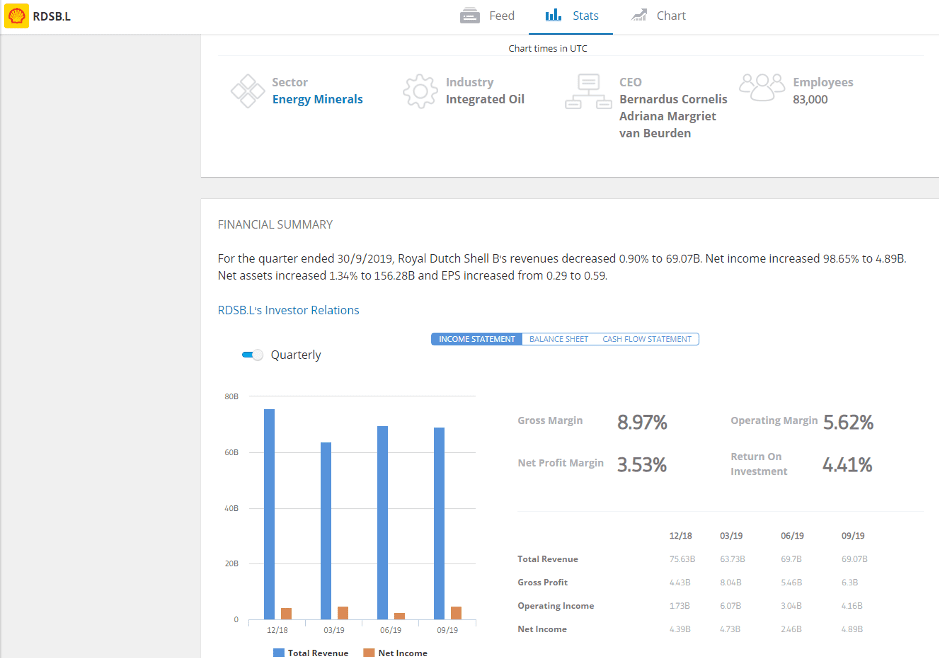 Friday saw the oil price rally. Talk of $20 per barrel might be premature and even at these levels, the stock looks like a good bet if only due to its income stream potential. After all, there is nothing that states dividends have to be reinvested into stock.
Oil — Brent Crude Futures — one-hour candle chart — Thursday 19th March–Tuesday 24th March: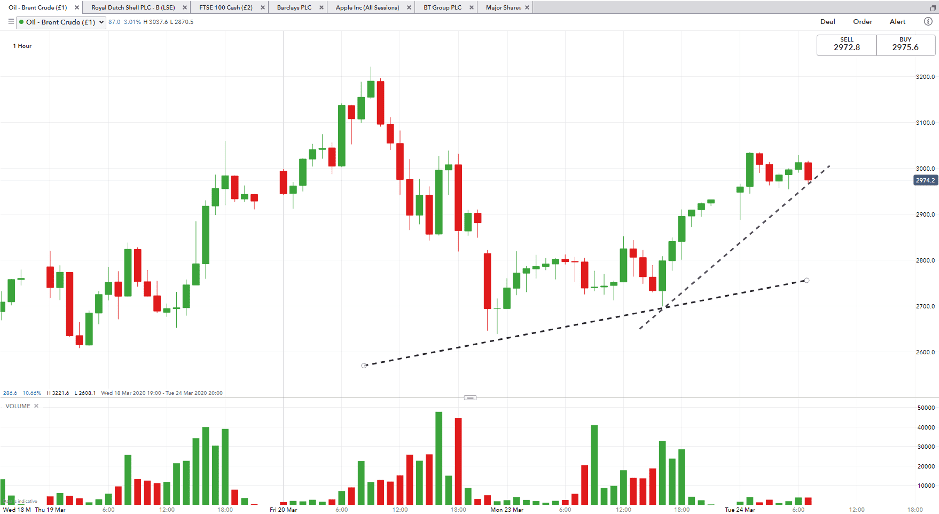 Altria Group (NYSE:MO)
It's a tough time in the markets and if you're looking to profit from backing an oil company, then why not consider a tobacco giant? Altria Group is another firm that, while not fashionable, continues to make money for its investors.
The eToro 'stats' report shows that, at current prices, the firm generates a significant 9.68% dividend return for its investors. A return of almost 10% per annum looks particularly attractive now that bank interest base rates have been cut to near-zero.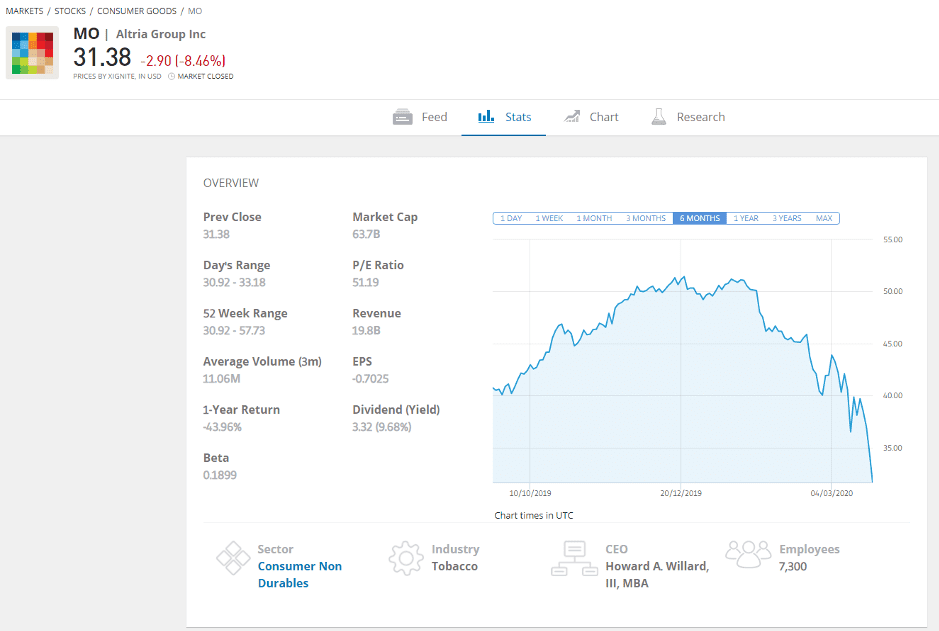 Although adult cigarette smoking rates have hit an all-time low, Altria has been able to pass on price hikes on its premium Marlboro brand.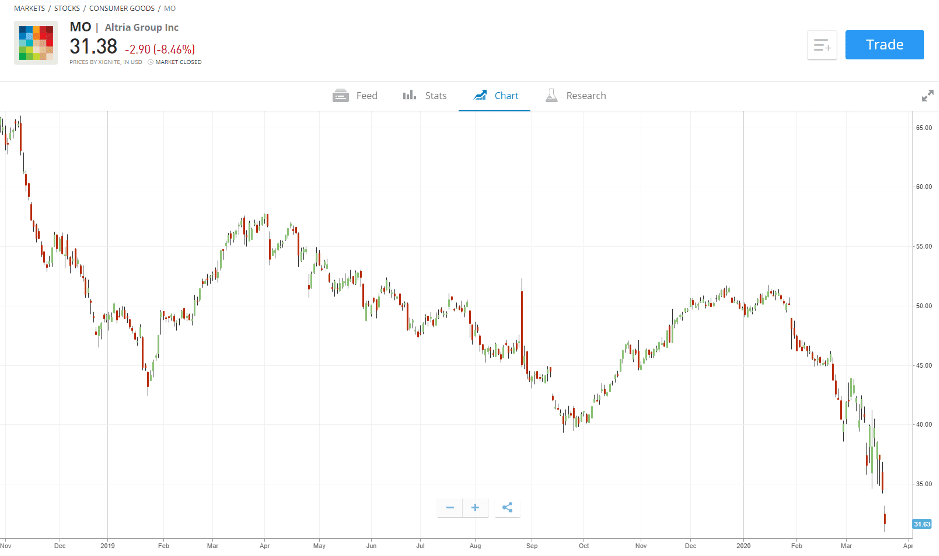 Altria has restructured its business operations to cut prices and actively bought back its own stock in the market to the benefit of those who hold onto their position. Less stock means higher prices.
Altria is also focused on tobacco alternatives. How this will work out is uncertain, but for traders, the good news is that for now, it is paying greater attention to delivering a superior dividend to shareholders.