The epic sell-off caused by the coronavirus pandemic caught many off guard. 
Panic caused investors and traders to bail out of all asset groups and into cash.
After the free fall, price action has steadied and buying opportunities are now appearing.
Working into long positions is one thing – adopting strategies that play the bounce in different ways can also help spread the risks involved.
Financial markets have had a tough few weeks. The across-the-board fall in asset prices had been driven by a flight from risk and a rush to liquidity. As investors and traders retreated to safety, prices crashed and now look low enough to attract bottom fishers. Working into long positions benefits from following the classic rules relating to diversification of holdings. The good news is that there is a wide variety of strategies available to profit from a rebound. Zoom Video Communications is a play on the coronavirus pandemic bringing societal changes that will bring long-term profits. Bank stocks may be oversold and are simply trading below their book value. Bitcoin is showing signs of coming to life and offers a different angle from trading the rally.
S&P 500 – Monthly candles – Aug 2016-March 2020 – (Std Fib Retracement from March 2009 low)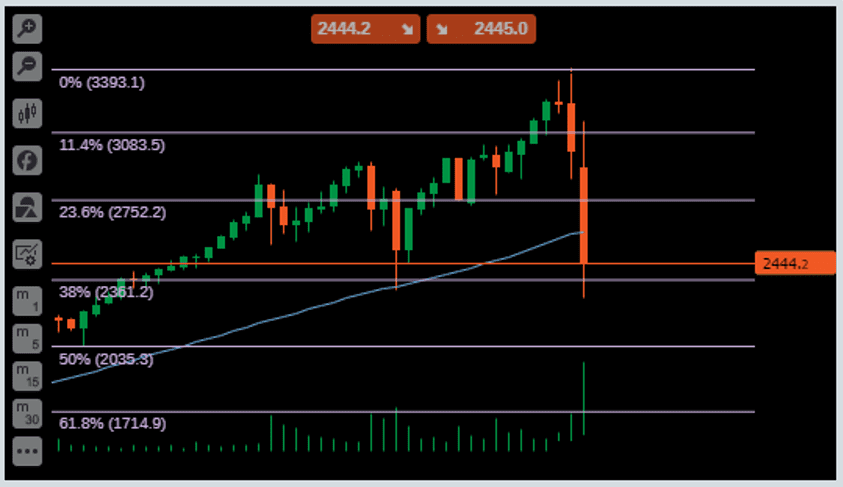 Buy – Zoom Video Communications (ZM) – talking your way out of (corona) trouble
Zoom is one of a handful of stocks that has risen in value during the coronavirus pandemic. The Nasdaq-listed tech firm came to the stock markets in April of last year and rallied 73% in its first day of trading. The stellar debut was just the start of the stock's meteoric rise in value. It has now been listed for almost a year and is easy to trade using broker platforms such as that offered by IG.
While the stock has received greater attention during the coronavirus outbreak, the performance in 2019 highlights that it's not only a pandemic stock. Saying that, the provider of online meeting and collaboration tools is certainly benefiting from the current crisis. As firms rotate employees into homeworking, the most valuable of tech stocks to IPO in 2019 looks set to take a substantial share of the global conferencing market.
Rory Sutherland, vice chair of Ogilvy Group, has a career background in advertising but carries significant weight as a student of behavioural science and futurology.
"Memories of early video conferencing melt-downs still linger, though the reality today is much better (services such as Zoom function well, and increasingly, even at home, people finally have the bandwidth to make full use of them)."
Source: Spectator
With a large chunk of the global workforce about to start working from home, that bandwidth may be subject to extreme testing. More importantly, it could form a tipping point in terms of social acceptability. That tipping point is key to Zoom's share price. Speaking with industry magazine Campaign, Sutherland said:
"If someone says, what technology is exciting you, and I say video conferencing, I look like a total idiot, like I've been in a cupboard for the past 15 years. The extent to which you can do business with people really effectively once you make it socially acceptable to use this technology is, I think, genuinely the most exciting thing."
Source: Campaign
The buzz about Zoom is that it provides video conferencing technology of a standard that makes it an adequate alternative to physical meetings.
Tipping point
The COVID-19 pandemic may have bumped environmentalism off the front pages, but it is one of the major underlying trends within the business community. 'Flygskam', which translates from Swedish to English as 'flight shame', refers to the embarrassment faced by frequent flyers. The awkwardness applies to travellers within the business community as much as it does to holidaymakers. Sutherland specialises in behavioural science and suggests that it takes only 15% of those invited to a face-to-face meeting to request that it is carried out using video conferencing for the event to go to the digital format. If 10 executives from disparate global offices are summoned to a physical meeting in one location, it only takes two to refuse and instead the meeting is held on Zoom.
The share price reflects impressive EPS growth ranging from 275% to 800% over the last three quarters. The EPS growth does start from a low single-digit base point, but fans of the stock appreciate being involved in a tech IPO stock that is revenue generating rather than selling promises.
Zoom Video Communications (ZMC) – Monthly candles – April 2019-20th March 2020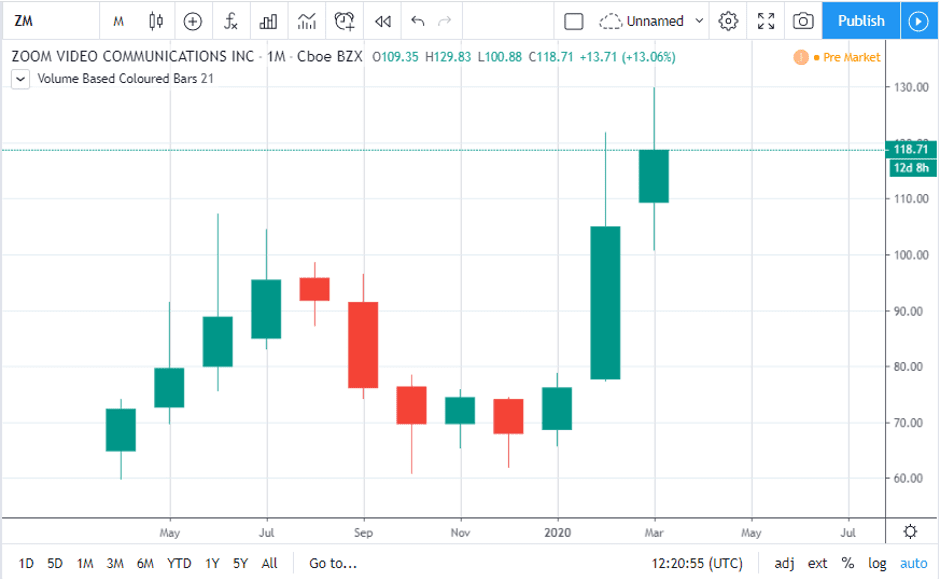 Buy banks – bargain-basement prices
Bank stocks have been hit particularly hard by the coronavirus pandemic. The meltdown of normal economic activity has impacted on their day-to-day business. The free fall in asset prices is also causing many traders and investors to have flashbacks to the financial crisis of 2008.
Some analysts though feel that the sector has been oversold. They say that dividend returns are safe and measures to reinforce the industry have worked.
A report by MarketWatch provides reasons to add banks to a 'buy' watchlist.
The MarketWatch total return chart factors in reinvested dividend income as well as share price changes. The MarketWatch team think that investors have overreacted. The KBW Bank Index has fallen by almost twice the amount as the S&P 500 Index.
KBW Bank vs S&P 500 (Total Return) – Year to date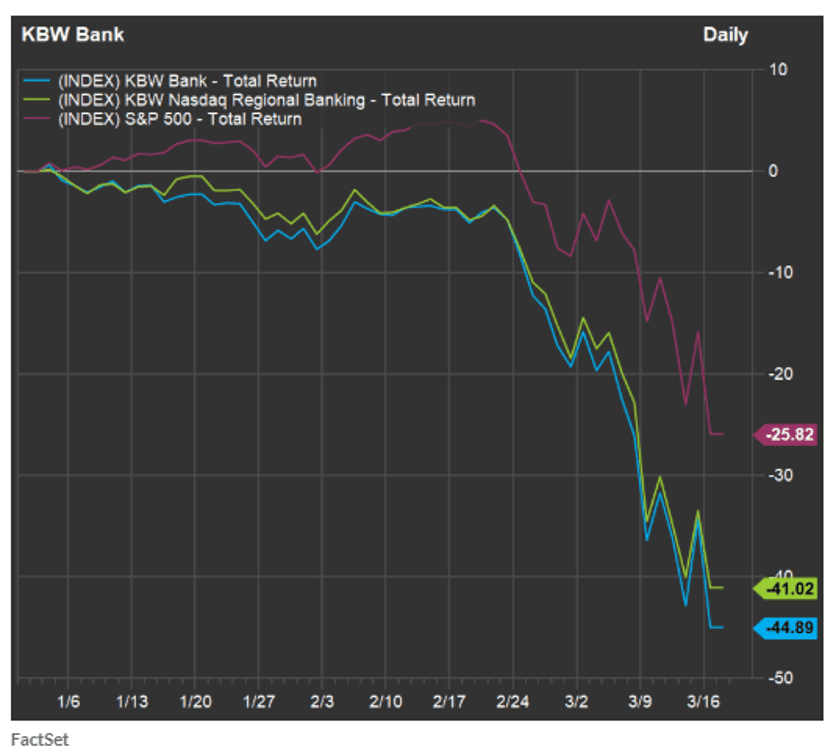 One recent development not referenced in the report is the slashing of interest rates in the UK and the US. European banks that have been operating in a low-interest-rate environment offer testimony to how quirks associated with near-zero lending can squeeze margins. Radically low interest rates may be the 'new normal' and so act as a caveat to the buy signal. While keeping this in mind, the 'mis-pricing' relating to default risk is a larger and more immediate influence on stock price.
Christopher Marinac of Janney Montgomery Scott wrote in a note to clients on Monday that the decline in bank stock prices "implies loan charge-offs between 7% to 10% [of total loans] on banks of all market-cap. sizes".
At first glance, this might not appear too implausible. Annualised gross loan charge-offs are calculated by totalling loan losses (defaults), excluding any recoveries from repossessed property or other collateral.
The disconnect stems from banks being valued below their book value. The forecast of 7% to 10% of loans incurring charge-offs might sound intuitively correct, but even during the financial crisis, annualised gross charge-offs for banks with more than $1bn in assets came to 1.9% of total loans.
Flipping the situation around, Marinac said:
"Banks were part of the problem in 2008 and 2009, and now banks are part of the solutions."
Source: MarketWatch
Only one of the top 10 shorted firms in the UK is a bank. The short interest of 8.5% in Metro Bank plc (MTRO) relates to long-running concerns over accounting anomalies.
Barclays Bank plc (BARC), HSBC Holdings plc (HSBA) and Standard Chartered plc (STAN) all register zero short interest in ShortTracker. At the same time, relatively mundane names such as WM Morrisons Supermarkets (MRW) and Royal Mail plc (RMG) have been shorted by 5.52% and 5.5%, respectively. The market is a volatile place at the moment and timing entry points will take some skill, but the absence of significant short interest opens the door to long positions.
David George, senior research analyst at Baird, raised his rating on Bank of America (BAC) on Tuesday. He said:
First take this quick quiz to help us find the best path for you
Less than 1 min to do
"While recession is now closer to our base case for 2020, we are optimistic there will be a recovery and see 30%-50% upside in bank stocks if investors can hold on until then."
Source: Barron's
How to play it – Italy
Those holding off on calling the bottom of the market, at least until infection rates near their peak, might look to pairs trades. With the extra volatility in the market, the spread between one long bank position and a short one can still provide a return. The Barclays/Unicredito spread diverged on Thursday following news of the European Central Bank's plans to support the Italian banking sector. The promised cash injection is equivalent to $820bn. This could be an opportunity to position for the spread converging in the near future. Trading the two stocks in tranches that are denominated in the same currency takes forex movement out of the equation, and platforms that specialise in offering a wide range of equity markets include CMC Markets, which offers markets in more than 8,000 equity markets.
Barclays (BARC) vs Unicredito (UCG) – Year-to-date price chart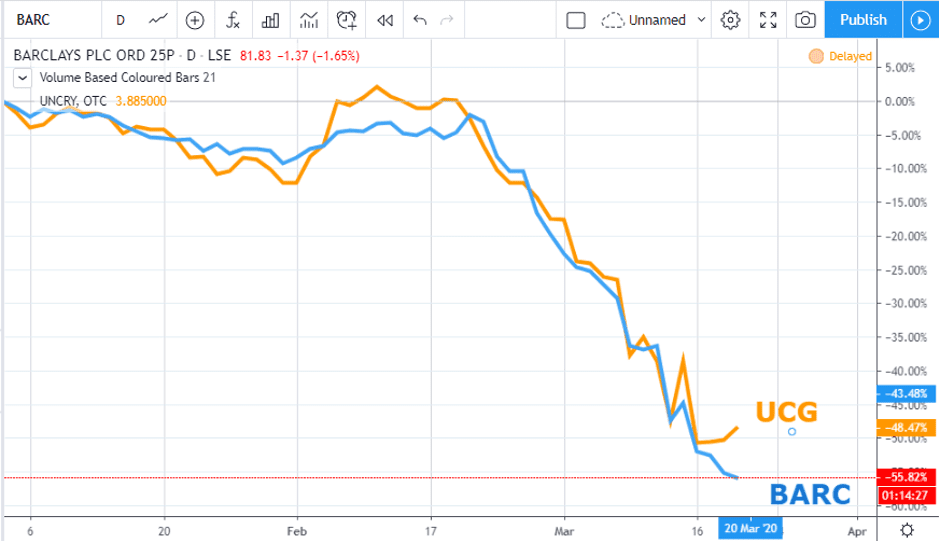 Triggers for this trade paying off include the fact that central banks are at present struggling to make their policy initiatives stick.
The Italian government's hands are quite tightly tied. The package to bolster the economy against the effects of coronavirus has to date only amounted to approximately $28bn. While some say that 10 times that amount is needed, there is a very real fear that any amount larger than this could spook international investors.
In addition, the financials of the two groups also point to Unicredito struggling to perform as well as Barclays. Four of the last five ratings changes for Barclays stock have been upgrades. The issues facing Unicredito were laid out by Nicola Borri, a finance professor at Luiss, a university in Rome. He said:
"We expect a large recession, and Italian banks are typically very concentrated on the Italian economy. When the Italian economy goes bad, the banks don't do well."
Source: New York Times
Considering how bad things could get, he said:
"It's likely that banks will need to be rescued. The economy has basically been stopped. We are probably going to see massive defaults. Clearly, Italian banks will be badly hit."
Source: New York Times
Analyst ratings – Barclays Bank plc (BARC)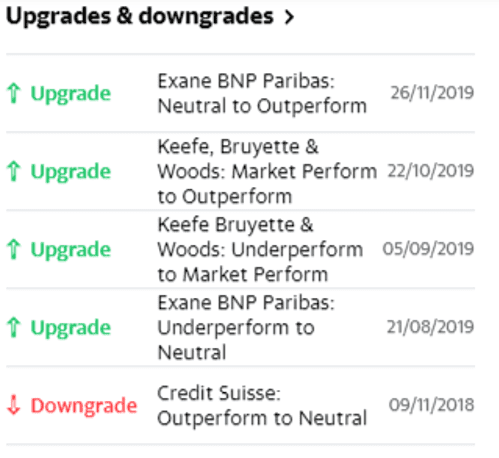 Financials – Barclays Bank plc (BARC)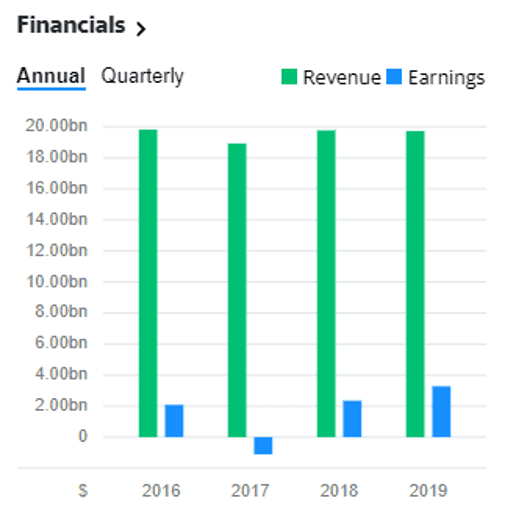 Financials – Unicredito S.p.A. (UCG)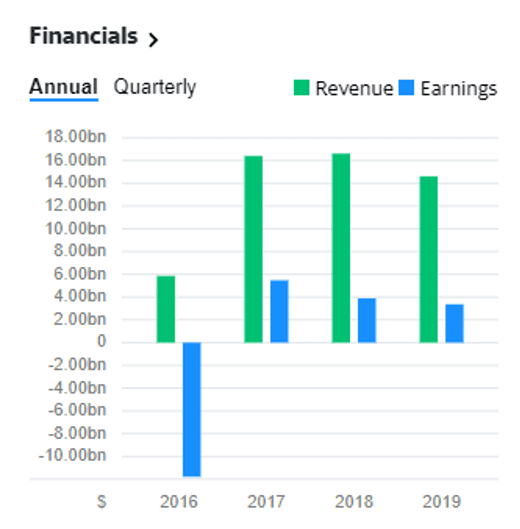 The analyst price target for BARC is currently 165% above current trading levels, and for UCG, the same number is 125%.
Analyst price target – Barclays Bank plc (BARC)

Source: Yahoo Finance
Analyst price target – Unicredito S.p.A. (UCG)

Buy – bitcoin
Bitcoin is starting to stir. The cryptocurrency has like gold fallen in price since 9th March, when traditional theory might suggest that it should have risen. Markets are illogical, especially when a dash for cash means that all holdings take a haircut.
Bitcoin (BTCUSD) – Daily candles – 20th January 2020-19th March 2020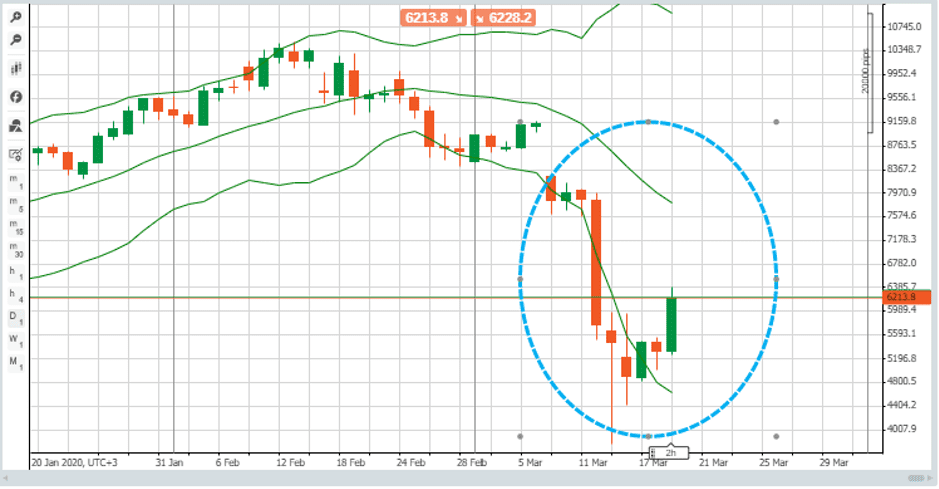 Thursday saw the crypto start to make a move to higher ground. There are good reasons for this, and for it to continue. The earlier sell-off reflected panic selling as traders craved the liquidity that comes with holding cash, and little more.
Bitcoin (BTCUSD) – Hourly candles – 16th-19th March 2020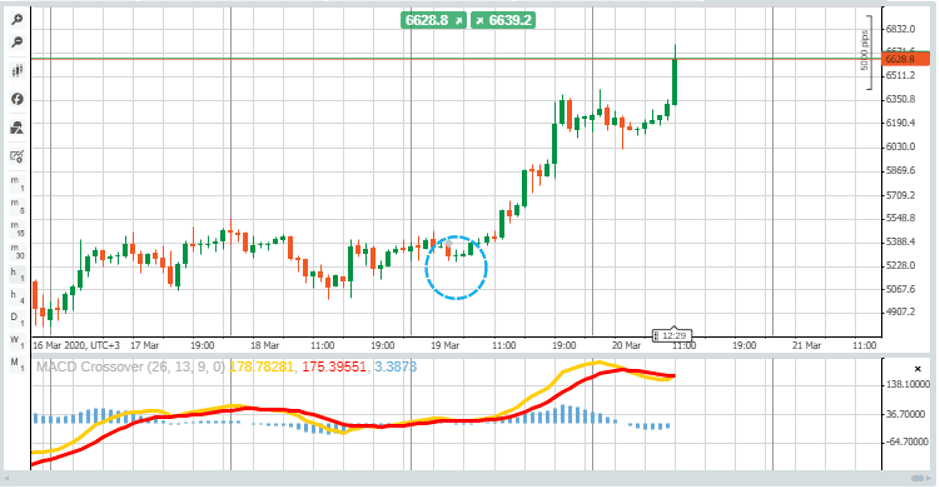 BTCUSD has historically performed well during periods of financial market distress. It is viewed as a digital safe haven, gold for the next generation. The truth is that this still holds, but the unprecedented uncertainty regarding coronavirus momentarily at least changed the rules of the game.
Cryptos as a whole also benefit when central banks release extra liquidity into the markets. The reduction of US and UK interest rates to almost zero should be positive for BTCUSD prices. Anything that deflates the value of fiat currencies by increasing the amount of money available makes alternatives more attractive. Bitcoin does after all have a hard cap on its total supply of approximately 21m coins. Being right doesn't always translate into profits though. It might be more of a timing issue. The increased activity from central banks has caused a groundswell of buying support.
Cryptocurrencies are by design a contactless form of payment, but there is a slow take-up of the options that it provides for a peer-to-peer electronic cash transfer. The 'payments network' aspect of the product may not necessarily be a driver of price during this crisis, but whatever the driver is, it's beginning to gain momentum.
Even without the added spice of crypto being a viable payment system, BTCUSD prices are rallying. In 24 hours, trading BTCUSD rose 16%. This represents $23.8bn surging into the market. Despite the breakout, BTC is still trading lower than where it was at the start of the year, leaving the door open to those looking to catch the next trend.
Hardcore trading of crypto can involve specialist exchanges and wallets. Brokers such as XTB work as an interface between the market and their clients and provide crypto trading in the form of CFDs. XTB also offers execution spreads as tight as 1.0 points, and setting up an account is an easy process, as outlined here. Trading CFDs has the added benefit of allowing traders to sell short as well as long – a note for those wisely considering their exit strategy as well as their entry point.