The battered travel and leisure sector are emerging from lockdown and seeing record demand from holiday-hungry consumers.
The complicated schemes designed to balance COVID-risk and the need for a vacation are by design prepared for outbreaks and set-backs.
Traditional plays on the sector are a fairly transparent play on coronavirus risk.
Investors need to hold onto their hats because there is one firm in the sector that looks to prosper from coronavirus risk in the same way tech stocks did in the first half of the year.
The travel sector has lobbied hard to project a sense that it has been particularly harshly treated during the lockdown. Measures to control the pandemic, which required restrictions on movement by definition were always going to hurt. As countries, one by one, tip-toe out of lockdown the sector is actually receiving preferential treatment. This suggests that governments are basing decisions on the morale-boosting aspects of its citizens going away on holiday or on the existential threat the travel sector faces if politicians don't roll the dice.
Policies that embrace risk and free up travel guidelines could all end up in vain. Hotspots of secondary outbreaks of the pandemic, are as expected, appearing, but not necessarily according to plan. A more nuanced trading strategy works off the changing nature of travel and picking the firms that offer consumers the leisure experience they want, regardless of whether total infection count is rising or falling.
Holiday rental bookings are surging since the lockdown was eased. Everybody needs a break after weeks of enforced captivity, but rental firms will have to wait a little longer before they get some time off. In the UK Travel firm, Tui, said it had seen a 50% spike in bookings this week compared to the previous one, with holidays to Spain and Greece proving popular.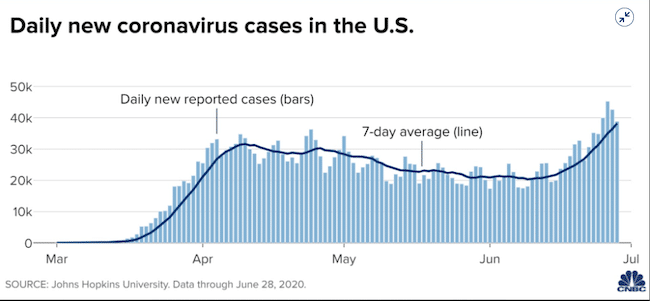 In the US, the situation is more mixed and possibly reflects that the UK and European governments are going out on a limb by firing up the holiday industry at this stage. The need for beach closures this 4th July weekend is a big set-back for South Florida's tourism industry. The effects of COVID-19 are also being felt inland at Disney's Orlando-based theme parks. Magic Kingdom and Disney's Animal Kingdom are set to open 11th July, followed by Epcot and Disney's Hollywood Studios on 15th July. All have been closed since mid-March.
Bridges over troubled waters
'Airbridges' looks set to be the buzzword of the summer as countries develop some kind of reciprocal arrangement where citizens of different countries can travel from one to another without having to endure a period of quarantine.
The list of quarantine-free countries is due to be published on Wednesday, with restrictions lifted as soon as 6th July — two dates for those holding travel sector stocks to keep a close eye on. Industry site Travel Weekly reports that Tui Managing director Andrew Flintham said.
"We're pleased the government has finally confirmed that holidays overseas will be able to go ahead, and the full list of green and amber destinations will be released on Wednesday. It's a hugely positive step forward for the travel industry and I know our customers will be ecstatic that their summer is saved"
Source: Travel Weekly
While the TUI share price holds its position above the 50 SMA there is hope for those who are hoping a good season sees the shares take off.
Tui Share Price — Daily Candles — 21st Jan 2020–30th June 2020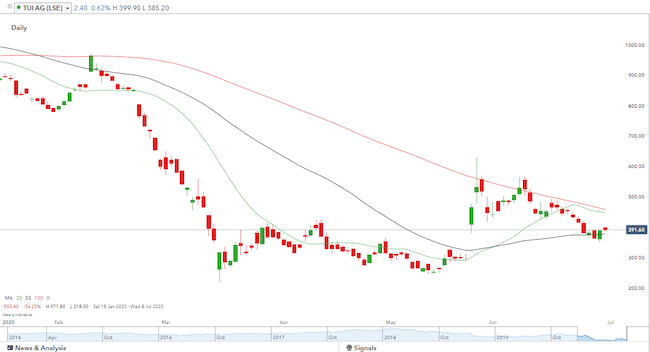 There are risks associated with buying into a mass-market operator with a strong emphasis on flight-orientated package holidays. The Government has confirmed, mask-wearing, with face coverings is to, be made mandatory by law on planes and ferries. A reminder that packing people from all over a country into a confined space could cause a flare-up of infections.
Compare this to the UK domestic policy, which shows no sign of relaxing restrictions on gyms and swimming pools. Expressing the opinion that the travel sector was receiving unfair preferential treatment Adam Peaty, Olympic swimming champion tweeted.
"Don't worry, you can go abroad and get access to a swimming pool and then come home from 6th July."
Source: Twitter
The Airbridge system relies on a traffic light-style risk system that categorises countries as green, amber and red, based on the prevalence of coronavirus within each nation's borders.
Tabloid newspapers are probably already preparing templates of headline-grabbing stories of traffic lights changing, holidays cancelled and passengers stranded in distant destinations. The UK government has announced that as part of the program, holidaymakers could return to find they unexpectedly have to lock themselves away for 14 days. Such high-profile dramas would feed through into increased volatility in the Tui share price and mean investors endure a bumpy ride.
The seasonality of holiday travel (and the Tui share price) could be another developing trend. Infection rates are expected to climb during the autumn and winter months. Colder, damper conditions and more time spent indoors could drive the count higher. This challenges the long-term progress the travel sector has made in turning itself into a year-round operation. Being forced to resort to peak summer season means overheads will drag on performance.
The outbreak of the disease in Europe has, in many cases, been traced back to alpine sky resorts. The Tyrolian town of Ischgl earned the moniker 'super-spreader' after the spread across the continent was found to have started there, in many cases. The government of Tyrol, where Ischgl is located, is currently facing a lawsuit for how it handled the crisis and faces that it covered up the severity of the situation to save the town's economy.
French authorities will be hoping skiers have short memories. In March, they used a loophole, which allowed them to refuse to declare their resorts closed.
"We [asked] our commune to issue an order forcing us to close our doors so that we could then cancel on our clients," explained Chardons Ltd's director Mark Hayman. "The representatives of our commune expressly refused to oblige us." Source: BBC News
This catch-22 situation allowed chalet owners to avoid expensive refunds to customers who were unable to get to the resort due to non-essential travel being banned by both France and the UK on 24th March.
Long-haul
Even demand for the 2021 season appears fragile. A poll carried out by holiday home insurer Schofields Ltd in early May found that booking holidays for next year comes with a number of concerns.
The fears Britons expressed in the survey were:
Travel companies going bust — 51%
Risks to personal health when travelling — 35%
Travel being more expensive — 9%
Difficulties in finding good value travel insurance — 3%
The effects of Brexit — 2%
The only glimmer of light is the 2% of participants who see Brexit as a threat. How the travel industry would welcome the coronavirus situation slipping from public awareness to the same extent.
Phil Schofield, Head of Inbound Marketing at Schofields, commented on the findings: "Back in March, travellers weren't too concerned about their future holiday plans when the outlook appeared that they simply needed to delay trips for a couple of months. Now it has become clear that the effects of Covid-19 will be felt well into 2021, both in terms of personal health while travelling and the financial status of travel companies."
Source: Travel Daily News
The big buying opportunity
There is light at the end of the tunnel, the Euro Tunnel to be exact. Getlink (formerly Groupe Eurotunnel SA) is listed on the Paris exchange with ticker EPA:GET. The firm has a market cap of €7.23bn and manages and operates the Channel Tunnel between England and France, including the Eurotunnel Shuttle vehicle services, and also earns revenue on other trains passing through the tunnel.
Getlink Fundamentals

The key attraction of the stock is that the Le Shuttle service requires users to remain in their own vehicles for the 35 minutes taken to transport them from the UK to mainland Europe. While ferry and plane passengers mingle while wearing masks.
The secondary attraction is that the Getlink share price does not yet show signs of responding to increased demand for its services. The flagship bearer for the 'new normal' economy, Amazon, has seen its share price rally. Since its March lows, the Getlink share price has increased by only 50.38%. The Tui share price, by comparison, is up 71.88% from its year low, despite that firms greater exposure to a second wave of Covid-19. The Getlink share price was trading above the €17 level earlier in the year and had for some years been plotting an upward trajectory.
Getlink Share Price — Daily Candles — 21st Jan 2020–30th Jun 2020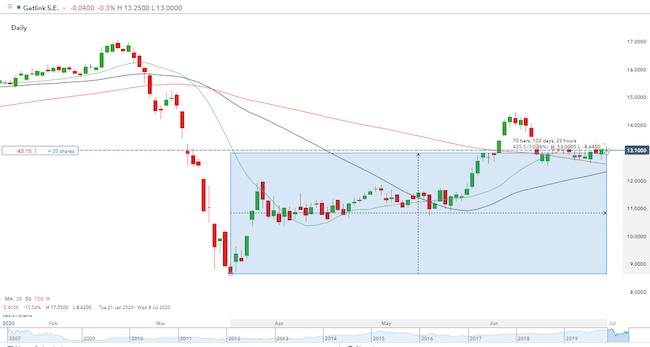 Getlink Share Price — Monthly Candles — April 2016–30th Jun 2020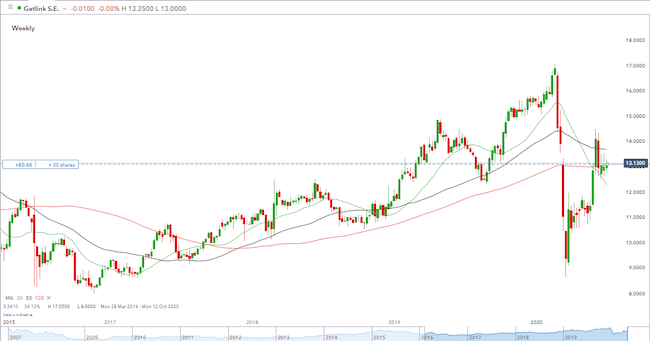 Amazon Share Price – Daily Candles – 21st Jan 2020 – 30th Jun 2020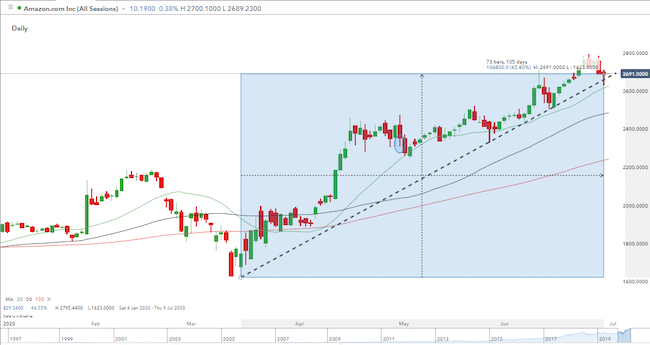 Getlink is literally struggling to keep up with customer demand. A spokesman for the firm said thousands of people were booking trips and the website slowed down as a result. The surge of people trying to book last Saturday was representing three times the number trying to do so the year before. Leading to the firm issuing an apology through its Twitter account.
"Please accept our apologies for those who have been impacted by our booking system issue or been asked to wait on the phone. We're doing as much as we can to respond and reinforce our system. As already said, it's due to a very high demand. Stéph"
Source: Twitter
The good news for investors is that it can't be too long until prices rise to reflect the shift in consumer appetite. Short-term 'frictional' costs associated with drafting extra staff would also be minimised by a price hike.
It could also be a stock for those looking for extra exposure to the eurozone and the French market in particular.
See you on the other side
Arriving on the other side of the Channel in their own vehicles will allow Le Shuttle users to pursue a holiday that fits a pattern outlined by Brian Chesky, joint founder of Airbnb.
"Travel as we knew it is over," Chesky told CNBC during an interview with Deirdre Bosa. "It doesn't mean travel is over, just the travel we knew is over, and it's never coming back."
Source: CNBC
Outlining a restructuring of the travel sector, one which plays into Getlink share price strength, he said.
"People are saying they want to get out of the house, but they want to be safe," he said. "They don't want to get on aeroplanes. They don't want to travel for business. They [don't] want to go to cities, they don't want to cross borders."
"What they are willing to do is get in a car and drive a couple hundred miles to a small community where they were willing to stay in a house."
Source: dezeen