The month of August has been good for Bitcoin enthusiasts, as the world's favorite digital asset recovered lost ground from the lower $9,000 territory and marched north to attack $12,000 once again. Alas, it has been unable to stay above this formidable resistance level, but now hovers in the low to mid $11,000s. The current storyline is still compelling, and a general consensus has formed in the analyst community that investors have willingly conferred "safe haven" status upon Bitcoin. One analyst has taken the consensus a step further and foresees $15,000 as a logical target in weeks.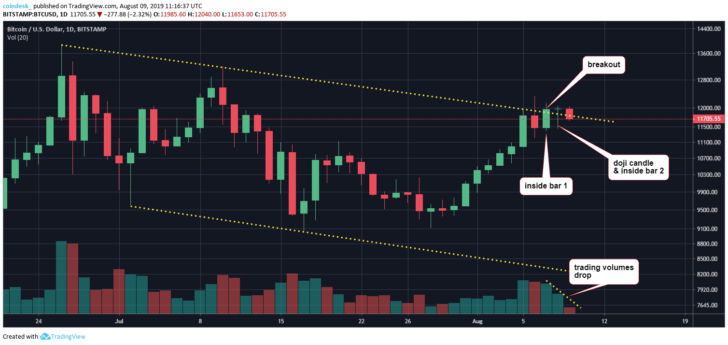 The above daily chart for BTC, courtesy of Coindesk, depicts a tale of two months. The string of green candlesticks in August is impressive, especially when viewed from the context that equity markets have been weak of late. Yes, Bitcoin has recovered much of what it gave back to the market in July, but the bulls are once again taking a breather over a weekend, a time when Asian markets have tended to bolster trading. How many times can BTC be driven back, without losing investor confidence?
As we recently reported, Nigel Green, chief executive of financial consultancy firm deVere Group, is one analyst that buys into the "Bitcoin as digital Gold" phenomenon: "Bitcoin is becoming a flight-to-safety asset during times of market uncertainty. Bitcoin is currently realising its reputation as a form of digital gold. Up to now, gold has been known as the ultimate safe-haven asset, but bitcoin – which shares its key characteristics of being a store of value and scarcity – could potentially dethrone gold in the future as the world becomes increasingly digitalised."
This notion has resonated more lately within the investment community due to the escalating trade wars between China and the United States. When the Chinese central bank withdrew its intervention support for the Yuan, it depreciated to a value in excess of 7 to the USD, a position it has not witnessed in over a decade. The Trump administration may wish to call China a currency manipulator, but the U.S. Dollar has remained strong due to its perceived "safe haven" status.
Green, however, has recently elaborated on his thinking as to how powerful a driver this "status" might be in Bitcoin's future prospects. Geopolitical tensions are rising in several quarters, although the majority of analysts has tended to focus on correlations between the Yuan and BTC: "The legitimate risks posed by the continuing trade dispute, China's currency devaluation and other geopolitical issues, such as Brexit and its far-reaching associated challenges, will lead an increasing number of institutional and retail investors to diversify their portfolios and hedge against those risks by investing in crypto assets." Central banks across the globe are devaluing fiat currencies, as well.
How high could Bitcoin prices go under this premise alone? Green concludes that: "This will drive the price of Bitcoin and other cryptocurrencies higher. Under the current circumstances, I believe the Bitcoin price could hit $15,000 within weeks."
Before you run to your computer to execute a "Buy" order, "safe havens" can be a bit of a trap, if you are not careful. As quickly as capital from "weak hands" may rush in, it can just as easily rush back out, reversing its steps in tandem. The apparent drop in volumes and the flattening out of prices would seem to indicate that the current wave of capital flight might have run its course. If trade chaos fears continue or escalate, we could see another spike, but the current counsel is one of caution.