How can I find profitable trade setups using swing highs?
A swing high is defined as a level that is reached when the price is in an uptrend, and the price starts falling as a bearish trend comes into effect. There are several ways in which traders can use prior swing highs to find high-probability trade setups from which they can profit.
For example, a trader can use a series of swing highs as confirmation that an asset is in a strong uptrend, which means that the trader should be looking for bullish trades. A swing high could also indicate that a bullish trend is about to end and that a bearish trend is about to begin, which could help traders find excellent bearish trade setups. You can also trade swing highs when price is stuck in a sideways trading range to find short trade setups.
Taking short trades at swing highs
One of the best ways to find profitable trade setups when looking at swing highs is to take short trades at swing highs that have held in the past, as shown in the chart below.
Chart 1: Swing high short trade setups on the WTI 4-hour chart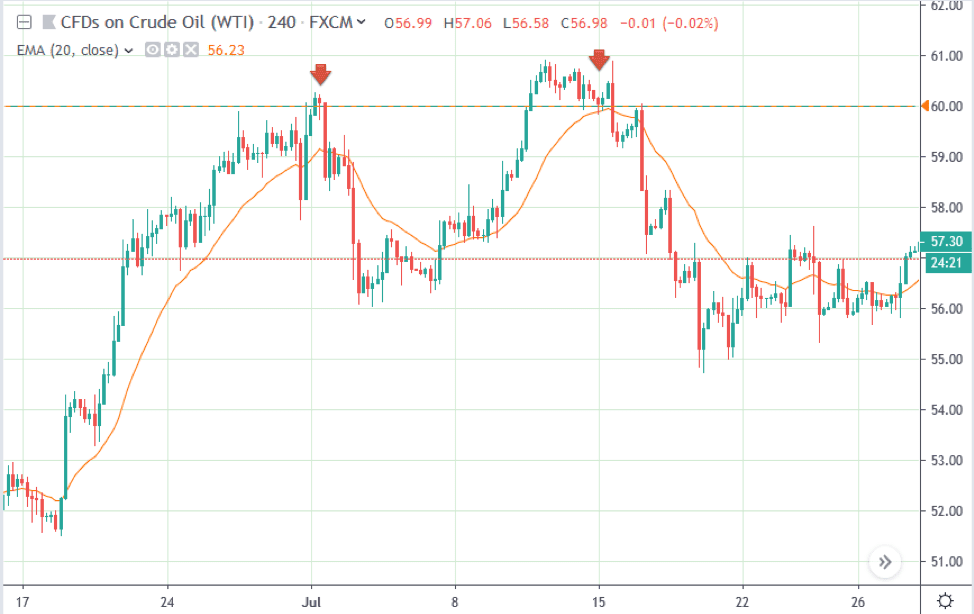 Traders looking for trade setups on the West Texas Intermediate index above, which tracks the prices of North American crude oil, would have gotten an excellent bearish trade setup on the swing highs in the chart above.
Aggressive traders had a choice of entering into short trades at the first swing high, but conservative traders would have had an excellent option to take a short trade at the second swing high.
Trend trading using swing highs
Trend traders who are looking to capitalise on trends that last for several weeks or months can use swing highs to get into short trades and add to their trades for maximum profits.
Chart 2: Trend trading using swing highs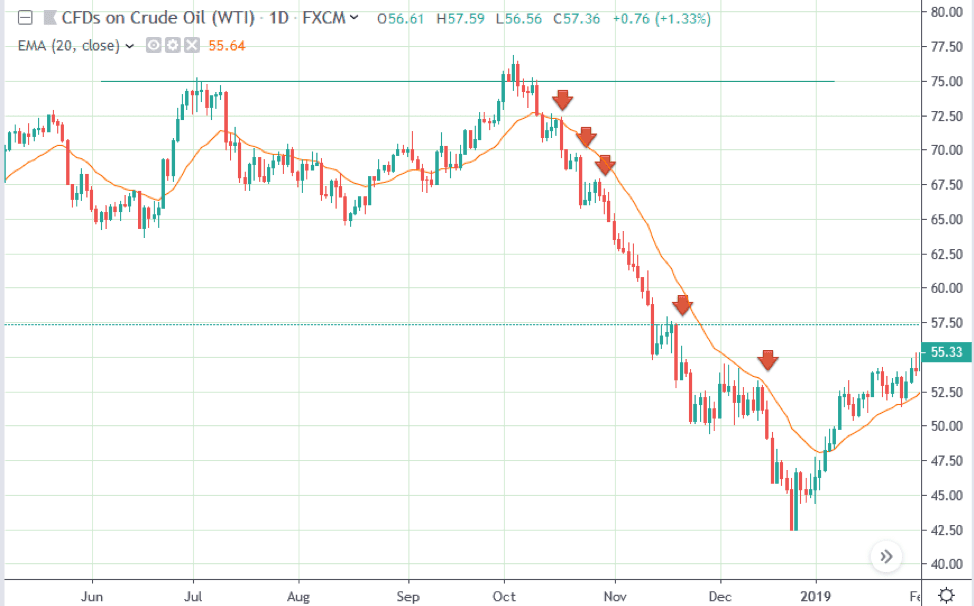 The above chart shows several opportunities for short traders to add to their short trades during a downtrend that lasted from early October 2019 to late December 2019 on the WTI chart.
This setup is perfect for trend traders because the above chart is a daily chart, and each of the points highlighted by the red arrows represents a swing high that presented an opportunity to add to a very lucrative short trade on North American crude oil.
Trading swing highs in range-bound markets
Range-bound and sideways trending markets also provide excellent opportunities for traders to exploit trade setups generated via swing highs. Trading swing highs in a range is quite simple; all you have to do is wait for the price to hit the top of the range and then enter into short trades as price reverses and heads lower.
You can use the same logic to enter into long trades at the swing lows created when price strikes the bottom of the range and heads higher. This strategy is especially useful when an asset is stuck in a range, especially at the top of a sustained uptrend or downtrend, which is typically followed by a corrective structure before a new trend is established.
How to improve trade signals generated by swing highs
In cases where you are not sure whether the price will keep heading lower after hitting a new swing high, you could look at other indicators to confirm the trade setup. For example, you could add the relative strength index (RSI) indicator to a chart to identify oversold and overbought conditions on the price chart.
Chart 3: Swing high combined with RSI on WTI daily chart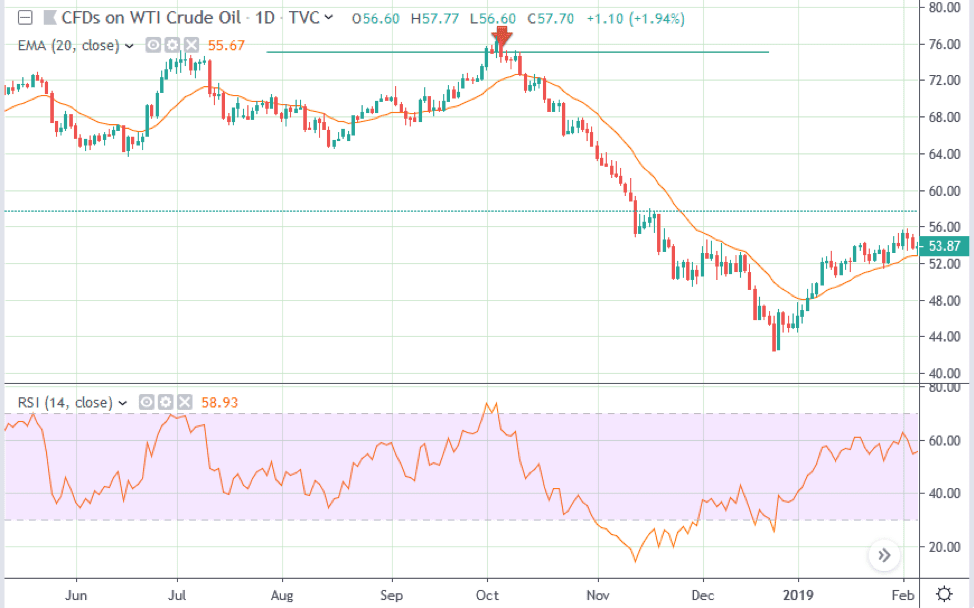 In the above example, the RSI indicator would have been very helpful when taking the first trade given that the swing high occurred just as price reached overbought levels (above 70) and quickly fell back into the indicator.
This was a very strong signal that the price trend had reversed and that a downtrend was about to begin. However, the RSI would not have been very helpful for the rest of the swing highs, where trend traders added to their open positions.
The bottom line
Swing highs offer high-probability trade setups for bearish trades and can be used by all types of traders to find excellent short trade entry positions. Moreover, you can use other indicators, such as the RSI indicator, to confirm whether a swing high will hold and that price will reverse, establishing a downtrend.
1
28