How to open a CFD position?
A typical online interface used for trading CFDs looks something like the below and once you've completed the administrative part of opening an account with a broker the opening of a CFD position is pretty much a case of 'click to trade'.
Traders holding Demo or Live accounts at broker trading platforms are able to instruct the quantity they want to trade and click on 'buy' or 'sell' in line with their chosen trading strategy. The below is taken from the demo account of City Index and shows that at the time of trade there is also an opportunity to set limit orders and stop losses.
In this specific instance by clicking on 'Place Trade' you would instruct the broker to buy 200 Sainsbury CFD at 303.6 with stop loss price of 264.00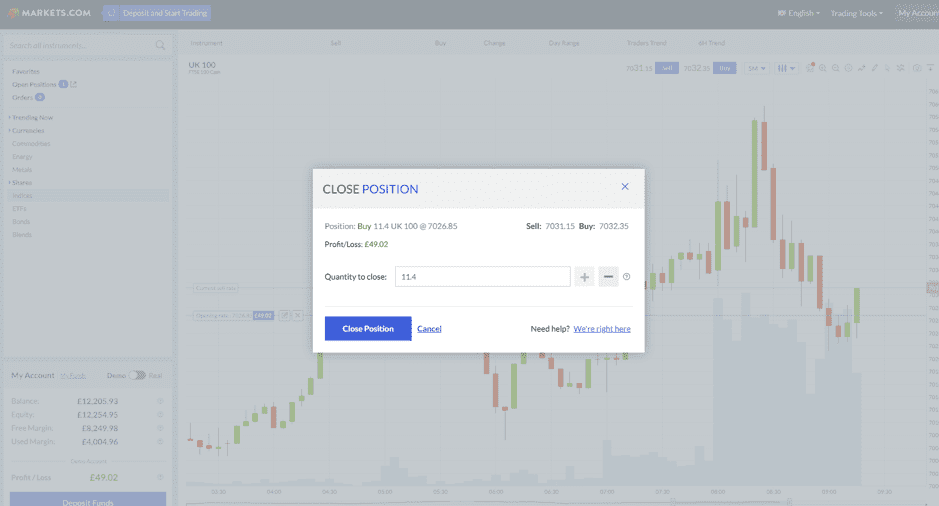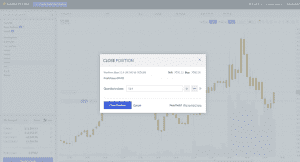 As you'd expect there are a range of Help functions on the platforms that offer more detailed explanations of the different fields and actions, but it is a quite intuitive process to follow.
Your open CFD position will fluctuate in value in line with the changing price of the underlying security and profit and loss (P&L) associated with each trading position will be shown in line in the account summary section of your account. This area also reports the behind the scenes aspects of trading CFDs, such as the daily financing costs that are applied to trading positions.
The Demo account for Markets.com has an interface like that below. You'll note that just looking at these images from the two platforms we begin to see some differences between the Markets.com platform and the City Index one. The differences between the respective platforms can be important, you might even find that one layout works better for you visually. Platforms may also have strengths and weaknesses in different markets or products, so you can begin to see there are very good reasons for carrying out your own broker analysis to try to find your best fit. A good place to start that analysis is at this Broker Comparison link and each broker offers detailed information on the terms and conditions of trading with them. A more thorough analysis would involve setting up Demo accounts at the brokers.
Looking again at our Demo trade in the Markets.com account, clicking on 'Place Order' button below triggers the account to Buy 11.4 contracts of the UK100 Index.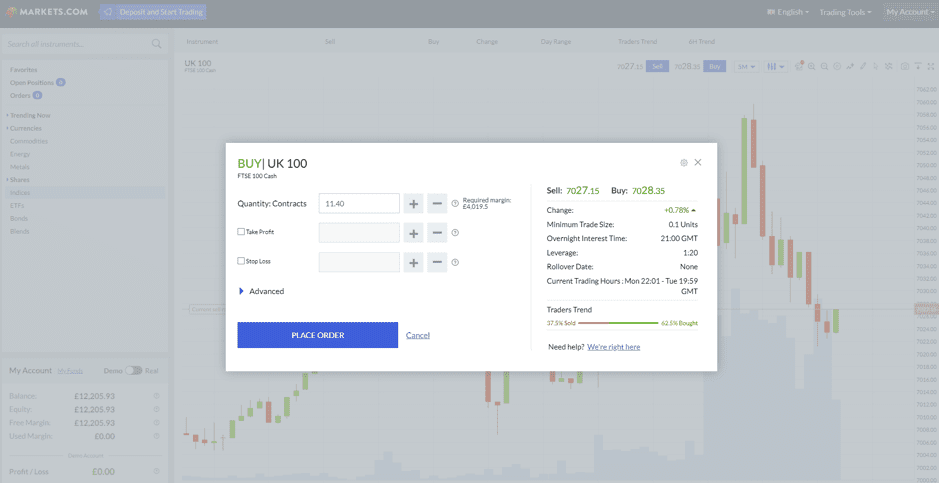 Pretty much the same click to trade procedure is used to increase or reduce positions or indeed close them out completely. In this example, a quick profit of £49.02 is taken about 5 minutes later when the price of the CFD rises to 7031.15 and the whole position is closed out by clicking on the 'Close Position' button.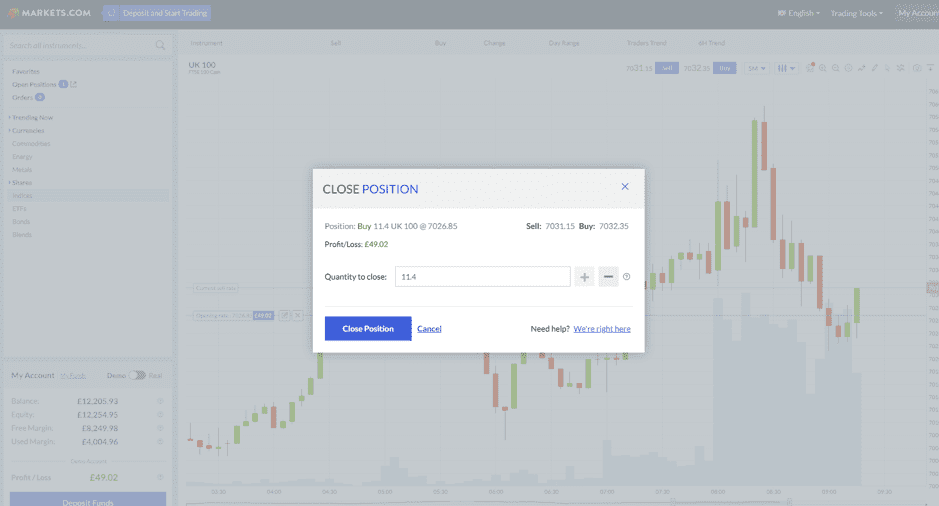 While the above explains the 'Life of a trade', the trading platforms offer more than just trade execution. Each of the platforms offers a wide range of tools to help you carry out market analysis and develop your trading strategies. Charts and tables offer the chance to monitor your portfolio performance and to keep on top of costs. It can't be stressed enough that trading using a Demo account and ensuring you are aware of the process is to be strongly recommended as a first step into trading CFDs.
1
293