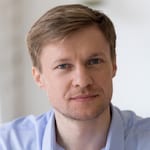 Whether a stock is a good addition to a portfolio or not is a personal decision. However, we can take a look at some numbers to judge Dell's current position. Dell Technologies will release its earnings report on Thursday, May 30th. The company's earnings are expected to be $1.22 per share, while the sales are expected to be $22.27 billion.
Taking a look at Q1 2018, Dell Technologies reported a profit of $1.53 per share, while the sales came out to be $21.54 billion. If Dell manages to meet the analysts' forecasts for this quarter, the results would represent an earnings decrease of over 20% on 4% higher sales.
Analysts have lowered their estimates for both the EPS and revenues in the past 90 days, and made no revisions upwards. Dell ranks as Neutral with most analysts.
Throughout the decade, many people have declared themselves as Satoshi Nakamoto. However, no one could prove that they stand behind the pseudonym of the maker of Bitcoin. Wei Liu, a Chinese citizen currently residing in California, claimed copyright to the BTC's whitepaper on May 24th.
This seems to be a response to Craig Wright's copyright claim which happened recently. Craig Wright is known as self-proclaimed Satoshi Nakamoto and the creator of Bitcoin SV (a fork of Bitcoin Cash).
It has to be noted that the Copyright Office does not investigate who the real Satoshi Nakamoto is.
Australia is one of many countries that acknowledge the existence and importance of cryptocurrencies. The Australian Government seems to be crypto-friendly and is trying to regulate the crypto firms so they can operate in the best way possible.
The Australian Securities and Investment Commission (ASIC) published new ICO, cryptocurrency and mining guidelines on May 30th. ASIC described what a firm needs in order to run a cryptocurrency business in Australia. The guideline specified that if a crypto asset is a financial product, then the issuer and companies dealing with it need to have a license with the Australian Government.