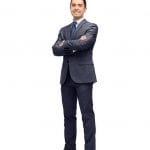 Shares of Bank of America (NYSE: BAC) tumbled in session on Tuesday after executives said the American investment bank's income growth is declining due to lower interest rates and U.S. economy concerns.
Even though the company reported record hitting Q1 profits, BoA's stock fell 2.6% in the very beginning of the session. The stock managed to recover by 12:55 p.m., and the stock was down 0.22% at the time (see the BAC stock chart here). The BAC stock is on the brink of breaking the diagonal resistance.
"The economy is expected to grow more moderately in 2019 and rate expectations have been lowered, plus we have some seasonable headwinds in Q2," said Chief Financial Officer Paul Donofrio.
Bank of America's shares have rallied above 20% in 2019, which is better than most of its rivals and the KBW Bank Index.